Also known as the 'Seven Sisters' or 'Postcard Row', the 'Painted Ladies' of San Francisco are without a doubt the Bay City's most famous houses.
The term refers to the row of colorful Victorian and Edwardian houses located at 710–720 Steiner Street in Alamo Square in San Francisco, made famous by their unique appearance, pastel colors and quintessential Queen Anne-style architecture.
Located across the street from Alamo Square Park — a hilltop park with scenic views of the city — the Painted Ladies are some of the most sought-after real estate in the seaside California city.
And if you're suddenly humming the Full House theme song, it's no coincidence.
These charming homes are seen in the intro of the popular sitcom (and they're located less than 6 minutes away from the real Full House).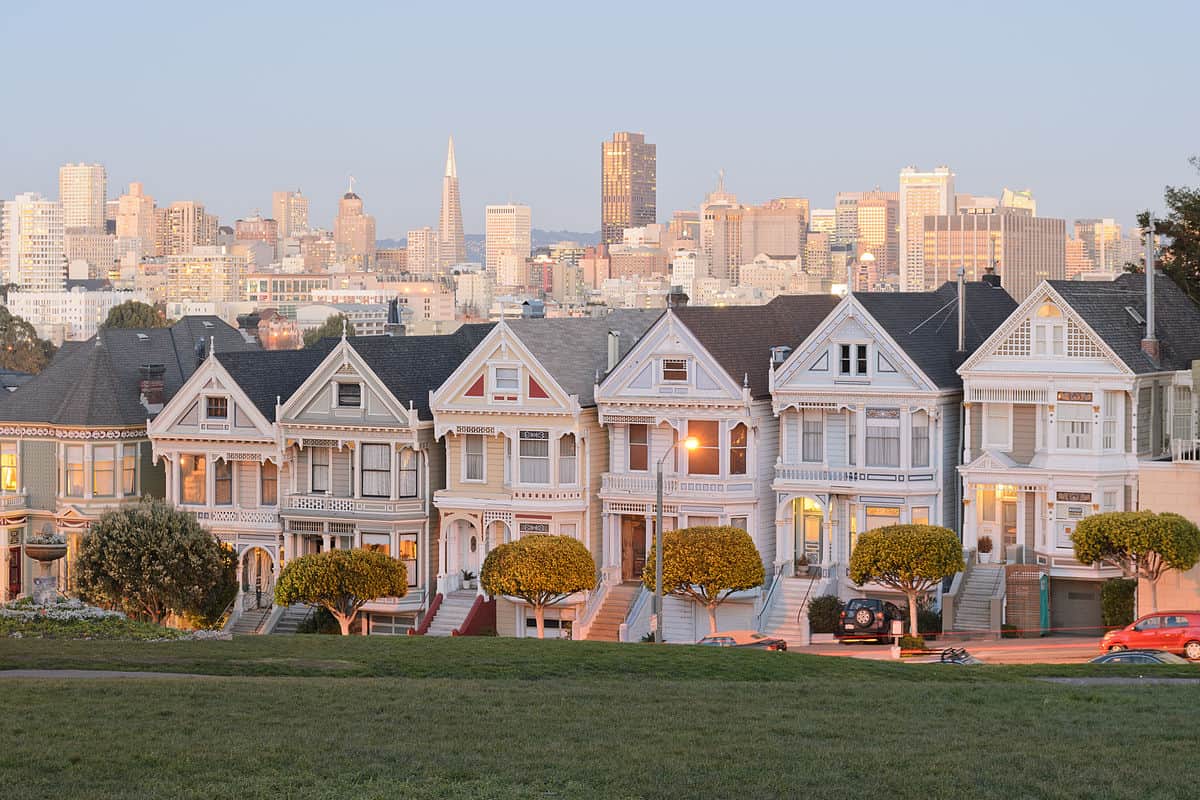 But as it turns out, D.J., Stephanie and Uncle Jesse aren't the only ones who love this idyllic block in San Francisco.
So, what is their history and what are they worth? Continue reading all about San Francisco's infamous homes dubbed the Painted Ladies.
The Painted Ladies on Postcard Row: one of America's most recognizable blocks
Sometimes referred to as Postcard Row, the iconic homes are also known as the Seven Sisters.
The Painted Ladies were built between 1892 and 1896 by developer Matthew Kavanaugh, who lived next door at 722 Steiner Street. Kavanaugh's house is considered to be the 7th sister, even though it doesn't share the same design (or quirky paint job) as the rest of its neighbors.
With their emblematic Queen Anne-style architecture, the Painted Ladies are reminiscent of the Victorian building boom that began after the 1849 gold rush, when the city's population started growing significantly, spurring the need for extra housing.
But their rise to fame came a little later, in the 1960s, when they were repainted in bright colors that embellish and enhance their architectural details.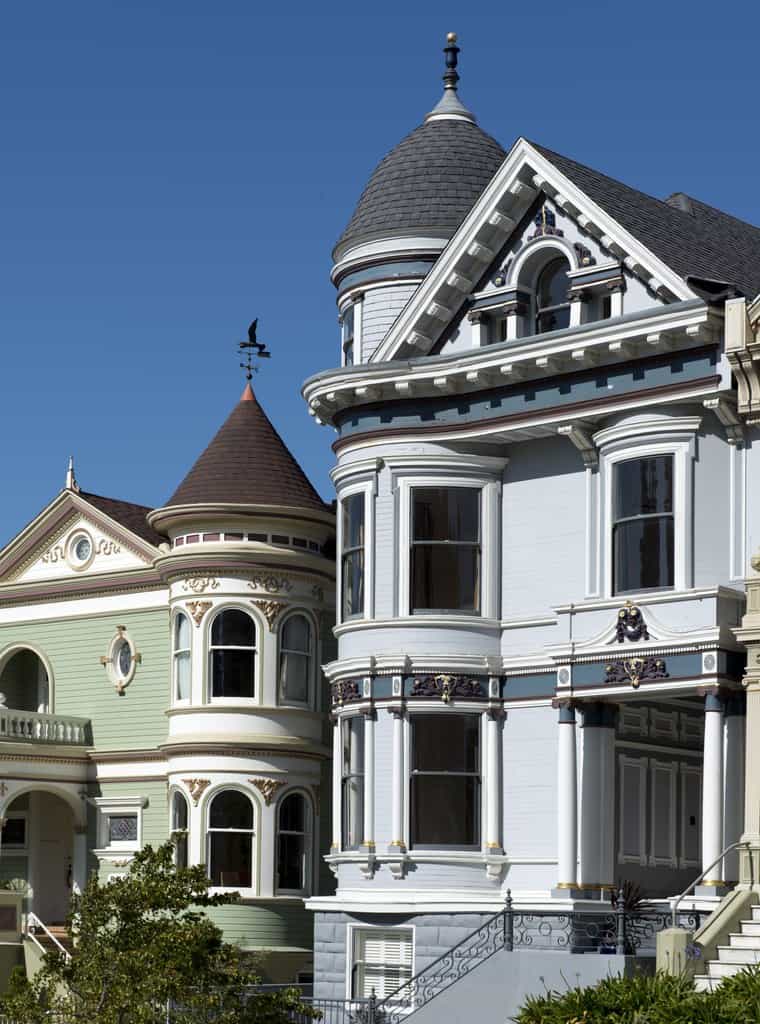 While they're infamously seen in the opening credits of Full House and Fuller House, the Painted Ladies have also appeared in an estimated 70 ads, movies and television programs throughout the years.
They're also one of San Francisco's most popular tourist destination. Other than the Golden Gate Bridge, no other spot in all of San Francisco is as frequently Instagrammed as this idyllic row of homes that sits on the east side of Steiner Street.
A Lady has recently been listed for sale
Look at the Lady that just hit the market!
In May 2022, the current owner of the "Painted Pink Lady," Leah Culver, listed the iconic home.
"It is with a heavy heart that I've decided to sell the Pink Painted Lady," Culver announced via Instagram.
"This was an extremely difficult decision that I have been considering for several months. I've come to realize that I do not have enough time or resources to dedicate to truly restoring this home with the care and attention to detail that it deserves."
Culver shares a link in her bio for interested buyers, and adds her hopes for the future residents of 714 Steiner Street.
"I would love to transition to a new owner who cares as much as I do (or more!) about this special home," writes Culver. "That's why I am listing it for sale for the same price I purchased it for and am including the current building plans, permits, and social media accounts with the sale (if desired)."
Listed at $3.55 million, the 2,996-square-foot 19th century home offers 5 bedrooms and 3.5 baths, as well as the opportunity to literally own a piece of San Francisco.
This naturally got us thinking: How much do the other Painted Ladies cost? So we set out to find the answer.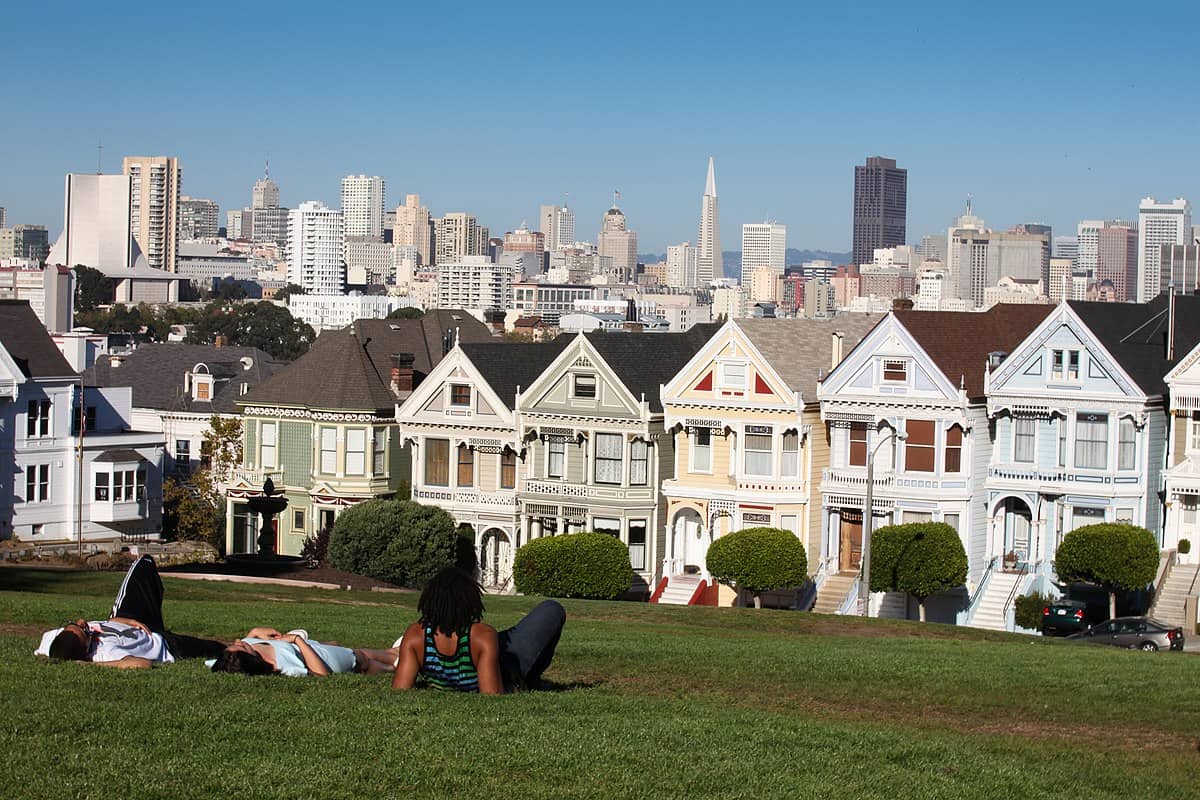 Looking at both past selling prices and current market estimates, we used public records and popular real estate portals like Zillow, Redfin, and Realtor.com to narrow it down and place a $$$ figure next to each property set on the infamous Postcard Row.
What are each of the Ladies worth?
Whatever happened to predictability in the real estate market?
Everywhere you look, there's rising prices in the housing market. And the Painted Ladies are no exception.
While 714 is currently listed for over $3 million, let's take a look at the other Ladies. Are they worth just as much?
Offering that quintessential San Francisco charm, let's take a look at the past and present value of each of the Ladies — and what they have to offer outside of their touristic appeal.
710 Steiner Street:
Public records show the first Painted Lady, located at 710 Steiner Street, last sold in 2012 for $2,386,500.
Spanning 2,500 square feet, the four-level house packs 5 bedrooms and 2.5 baths, hardwood floors, period lights, three fireplaces (one with carved mahogany dragons), and plenty of exquisite Victorian details.
The charming home is now estimated to be worth well over $4 million. Zillow estimates its worth at  $4,343,100, while Realtor.com puts a $4,144,900 price tag on the Painted Lady, and Redfin comes in with a slightly more ambitious price of $4,441,126.
---
712 Steiner Street:
In 2001, 712 Steiner Street sold for $1.25 million.
But today, the iconic 2,690-square-foot, 4-bedroom single family home is estimated to be worth somewhere around $3 million (Realtor.com places it around $3.2 million, while Redfin has a more conservative estimate of $2.85 million).
---
714 Steiner Street:
Currently, 714 Steiner Street (a.k.a. the Painted Pink Lady) is on the market for $3.55 million. Back in 2020, the now-hopeful seller paid the same price, Zillow reports.
But since no major upgrades were made during her ownership, the seller couldn't add a premium to the asking price — and would rather sell her iconic house to someone that can give it the attention it deserves.
This 1890s Victorian is currently configured to host 2,588 square feet of living space, 5 bedrooms and 3 baths.
But the owner is also offering plans and approved permits by David Armour Architecture to restore the building to its former glory and split into two units: a grand, house-like upper unit (3 levels) with 5 beds and 3.5 baths, measuring 2996 sq. ft. and and 845-square-foot rental or in-law suite on the lower level with 2 beds, 1 bath, and separate entrance.
---
716 Steiner Street:
The current zestimate for 716 Steiner Street clocks in at a cool $2.2 million, but Redfin and Realtor.com have a more favorable pricing outlook for the property: they estimate its value in the $2.8 to $3.1 million range.
But other than that, not much information is available on this secretive Painted Lady.
We couldn't find any records showing how much its current owner paid for the 2,480-square-foot single family home.
---
718 Steiner Street:
Offering 2,600 square feet of living space, 718 Steiner Street has 5 bedrooms and 2 baths.
According to Trulia, the home hasn't changed owners since 1995, when it last sold for $491,000.
Now, the iconic home is estimated to be worth somewhere in the $2 million range, with the lowest estimate around $1.7 million (Redfin), and the highest, $2.3 million (Realtor.com).
---
720 Steiner Street:
This is the only house on the block to have had a famous owner. It was once owned by The Color Purple author Alice Walker
Currently zestimated at a value of $3.6 million, the final Lady, located at 720 Steiner Street, was last sold for $1,210,000 back in 2001. Redfin's estimate is somewhat close to the Zillow one, at $3.2 million, while Realtor.com doesn't think the property is currently worth more than $2.7 million.
Factored into the price: 5 bedrooms, 2 baths, and nearly 3,000 square feet of living space.
---
Except for the property set at 718 Steiner St, each of the Painted Ladies have an estimated worth ranging from $3 million and $5 million.
That's considerably higher than the city average, with the median home sale price for San Francisco being $1.6 million.
If they are to sell, the properties would likely fetch even more than the estimates above.
Real estate portals use automated value models when estimating the value of a home, taking into account tax assessment records and recent sale prices of comparable properties, among others.
But their automated nature doesn't factor in less tangible data points like a property's popularity and cultural significance — and these ladies have that in droves.
More stories you might like
Hillside House Overlooking San Francisco Looks Like the Perfect Villain Lair
You Can Buy the San Francisco House Where Frank Herbert Wrote 'Dune'
'Full House' Creator Jeff Franklin Asking $85M for Former Cielo Drive Murder House in LA
Wonderfully Witchy: The Full Story of the Spadena House in Beverly Hills