If you grew up in the 90s as I did, you likely watched Father Of the Bride, erm, let's say more than a handful of times.
I'm also willing to bet that, while you sat there admiring Annie's eternally bouncy curls with utter certainty that stonewashed mom jeans and layered turtleneck sweaters would never go out of style, you also dreamt about growing up in a home as warm and welcoming, (not to mention downright huge) as the Banks' house.
To be fair, Annie's outfits have come full circle and are once again considered the height of cool-girl fashion. As for our love of that fairytale family home, you're not the only one still pining to step inside over 30 years later.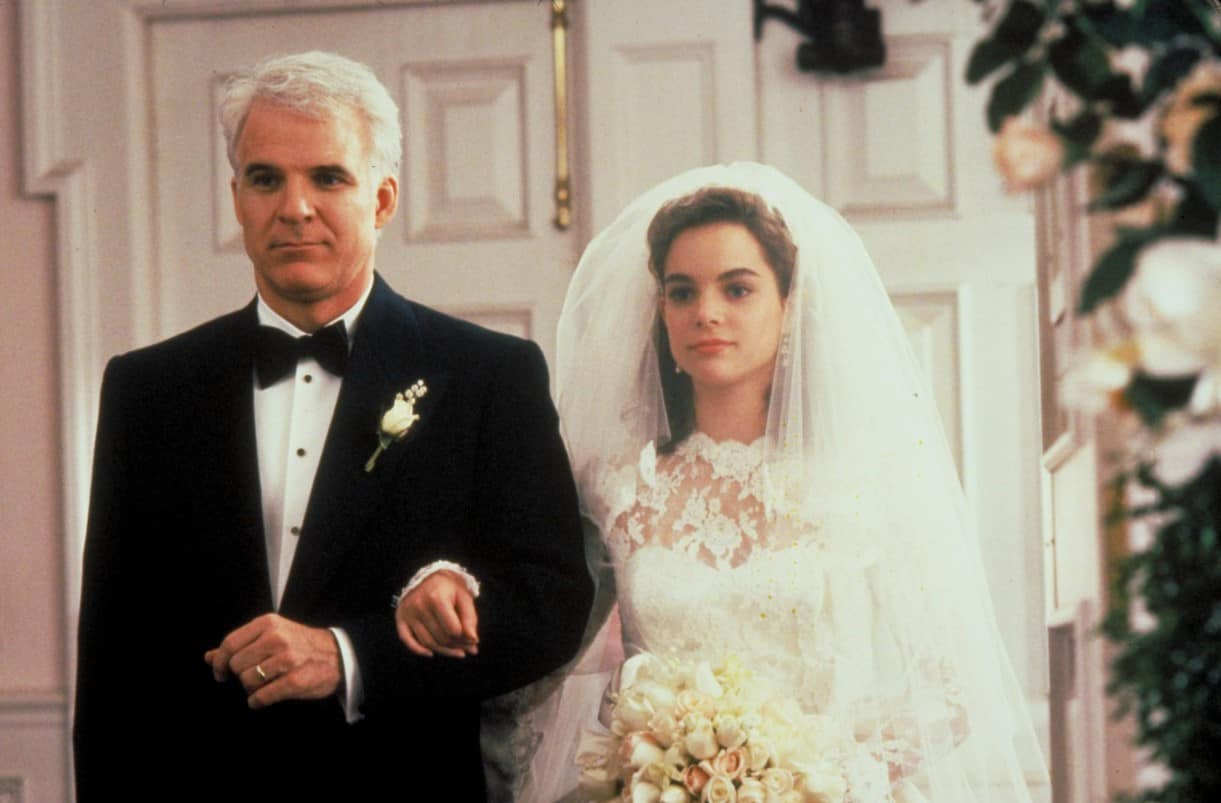 To this day it remains one of the most searched-for movie houses on the internet and after a quick re-watch (or three) since the film joined Disney+, I was instantly reminded why.
It also got its fair share of recognition in the 1991 movie that starred Steve Martin as George Banks, Diane Keaton as Nina Banks, Kimberly Williams-Paisley as Annie, Kieran Culkin as Matty, and Steve Martin's Only Murders in the Building co-star Martin Short as the eccentric wedding planner extraordinaire Franck Eggelhoffer.
Steve Martin's character, George, proudly boasted that "I love this house. I love that I taught my kids to ride their bikes in the driveway. I love that I slept with them in tents in the backyard. I love that we carved our initials in the tree out front. This house is warm in the winter, cool in the summer, and looks spectacular with Christmas lights. It's a great house, and I never want to move." Safe to say that if we lived at the Banks' house, we'd stay put too!
So, is the Father of the Bride house real? Can we go visit it? And, most importantly, can we too carve our initials on the tree out front?
Probably a firm no on that last one but in answer to the rest, I've done some digging and finally know everything I've ever wondered about this heart-warmingly nostalgic home. And spoiler alert, it's not in San Marino, where Steve Martin's character, George Banks, said it was.
"We live in a small town in Southern California called San Marino. I love this town and not just because it's the kind of place where people still smile at each other. But because it hasn't changed much in the past 25 years."
Is the 'Father of the Bride' house real?
Yes, the Father of The Bride House is absolutely real! However, as it turns out, they actually used two homes to bring the movie together. The first, built in 1913, was used to film interior scenes and features as the front of the home that George pulls up to at the beginning of the movie.
"This is our house, 24 Maple Drive"
It has an incredible total of 8 bedrooms and 5 bathrooms and remains as charming today as it was back in the early 90s. 
Though the true address isn't quite as pretty sounding as 24 Maple Drive, it is, as George says, located in California. You'll find the house looking just as dreamy as you've always remembered it at 843 El Molino Avenue in Pasadena, California.
It's a private residence of course so any trips there should be respectful and discreet, making sure not to trespass on the property or disturb residents and neighbors. There's been plenty of that in the past; according to betweennapsontheporch.com, the young couple who purchased the property shortly after the movie was made even had people ringing their doorbell and asking for a tour.
However, if you're noticing that the first house doesn't have those same iconic pink flower-lined white picket fences you remember from the movie, that's because they were constructed especially (and temporarily) for the film.
The new owners had them taken out and replaced with new ones when they moved in.
The second house was used to shoot scenes for Annie and Bryan's backyard wedding.
A Colonial home built in 1925, that property boasts 5 bedrooms, 4 bathrooms, and almost half an acre of land. There's also a partly furnished basement, a working fireplace, and a parking spot outside to keep the family car in. No mention of a basketball hoop (or swans in the bathtub) of course but I like to think the owners have one!
House #2, the wedding house, it's also in California and stands at 500 N Almansor St, Alhambra. 
"I'll be honest with you. When I bought this house 17 years ago it cost less than this blessed event in which Annie Banks Became Annie Banks McKenzie."
A lot has changed since 1992 when Father of the Bride first hit theatres. Not least the cost of huge five-bedroom houses with white picket fences and beautifully landscaped backyards.
So, three decades on and, sadly, more in the know about the cost of real estate, I couldn't help but wonder just how much the Father of the Bride house would set you back today. Zillow had the answer. Though it's currently off the market, they estimate that the iconic 4,339 square-foot house is worth over 3.5 million dollars!
And, if you're hoping the house used for the backyard wedding scenes might be more reasonable, you're in luck… kind of. Also off the market, Zillow estimates this equally striking family home's worth at around the 2.5 million dollar mark. It was last sold in 2016 for $1.998 million.
I'm suddenly considering giving up writing in pursuit of owning my own cook nook or perhaps an athletic shoe company!
Featured image: The real-life house featured on "Father of the Bride", photo credit: Peter M. CC BY-SA 2.0 via Flickr
More stories
Mrs. Doubtfire's house is hiding in plain sight in San Francisco
The real-life Brady Bunch House: Then & Now
Where to find Edward Scissorhands' house, castle, and town in real life