One of the most exquisite private homes in the entire San Diego area is now up for grabs.
Those of you who have a passion for architecture will have probably heard the name Richard Requa before. His firm, Requa and Jackson, was arguably the busiest architecture company in the 1920s in San Diego.
Whenever you see a charming, classic Spanish Revival property as you're driving or walking around the city, chances are it was designed by Requa.
The architect was heavily influenced and inspired by the Andalusia area of Spain, and his works tend to reflect this. Requa even developed a signature style, known today as 'Southern California Architecture.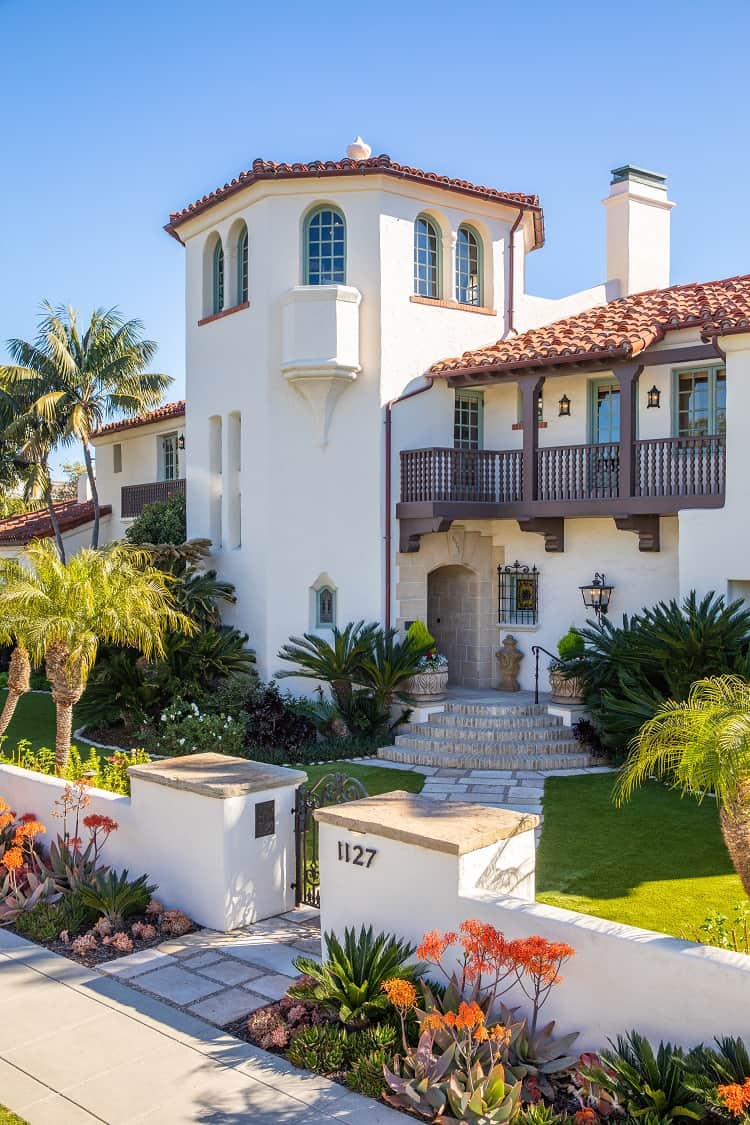 The Old Globe Theater in Balboa Park, the D. E. Mann House at 1045 Loma Avenue in Coronado, the Del Mar Castle – these are some of Requa's most well-known works, and they all showcase his unique, laid-back, Spanish-inspired Californian style.
Another one of Richard Requa's iconic projects is the William A. Gunn House, located at 1127 F Avenue in Coronado.
It was designed by Requa and Jackson, with Milton P. Sessions serving as landscape architect, and completed in 1925 for Michigan furniture maker W.A. Gunn.
It's one of the most beautiful examples of Requa's Southern California Architecture, and it's now looking for a new owner whose pockets run $39 million deep. 
How Coronado Castle's current owner Brian Mariotti took Requa's design into the 21st Century
The jaw dropping mansion at 1127 F Avenue is also known as the Coronado Castle, and for good reason.
The property is reportedly roughly four times the size of an average Coronado lot, totaling 26,000 square feet and offering a lot of privacy and outdoor space.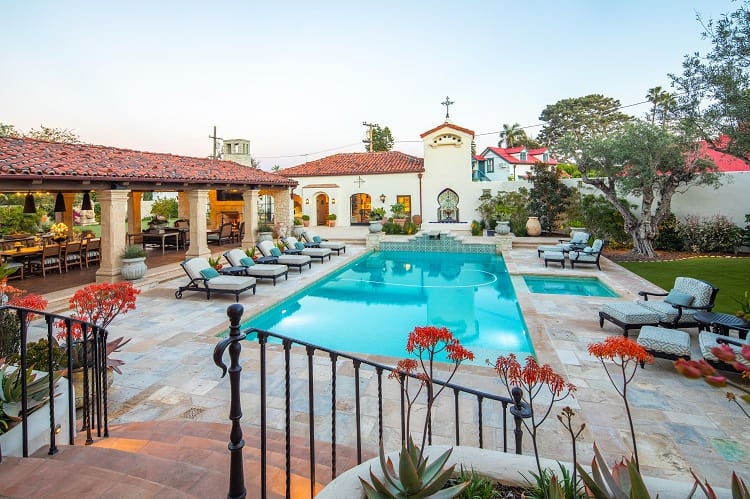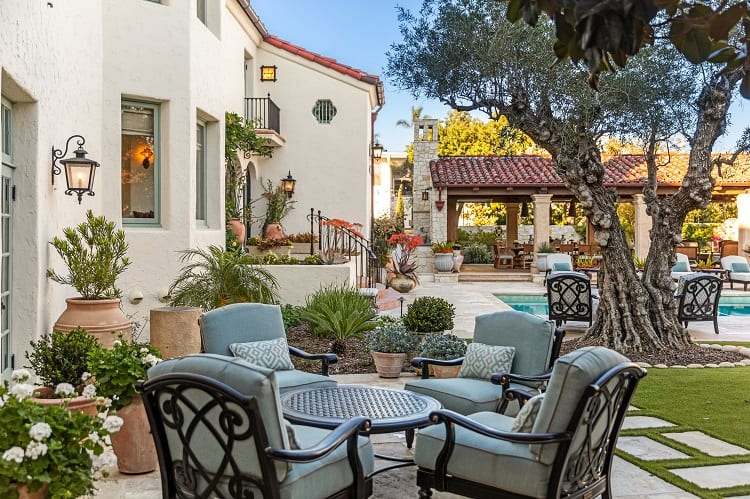 Coronado Castle is an architectural gem protected by the Mills Act — a status that serves to significantly lower property taxes for the property. While lower property taxes are definitely nice to have, this property offers a lot – and we mean A LOT – more than that.
The current owner of the Requa-designed Coronado mansion is Brian Mariotti, the CEO of Funko, the toy company best known for its licensed vinyl figurines and bobbleheads.
Marriotti bought the 6,000-square foot property in 2017 for $12.2 million, and then purchased the lot right next to it, thus significantly expanding the site at 1127 F Ave.
The owner also invested heavily in upgrades at the Gunn house, but was careful to also preserve the building's historical heritage.
The result is a stunning mix of 1920s Spanish Revival architecture and modern, laid-back California touches. Everything that was added to the home had to blend in with Requa's original vision.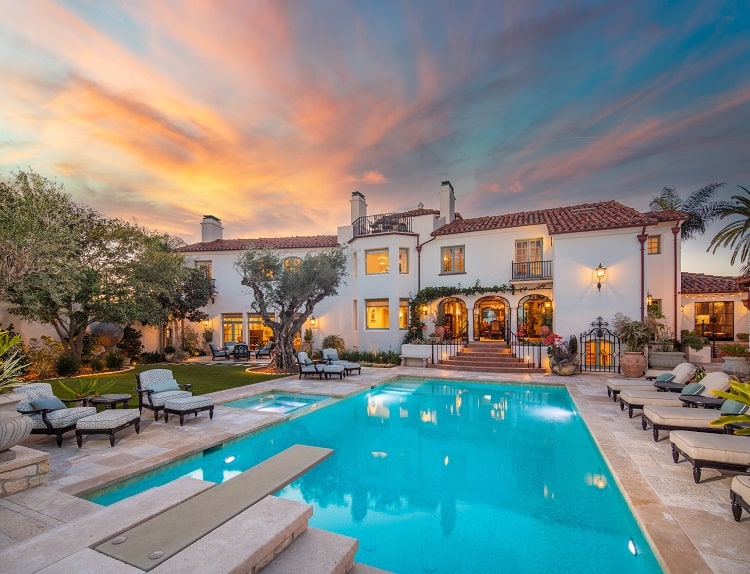 Paul Schatz, the owner of Interior Design Imports, who worked on the house with the Mariottis, told the Wall Street Journal that 'the goal was to make everything new look as old as possible.'
Mixing business with pleasure – from home office to Star Wars-themed home theater, this property has it all
There are many highlights to this incredible property, but this is definitely our favorite: a 26-seat home theater featuring life-size Star Wars memorabilia, such as statues, weapons, and helmets.
Just imagine hosting a Star Wars movie marathon with family and friends, watching the original trilogy on a 20-foot screen powered by state-of-the-art 4k Max laser projector. Not too shabby, right?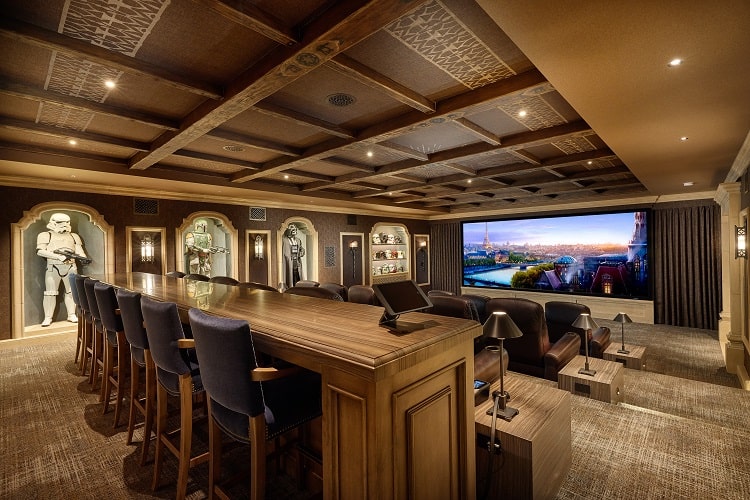 The 7,000-square-foot Star Wars-themed basement also features an indoor golf room with a simulator, a tennis area, and it houses Mariotti's impressive collection of toy figurines.
But the most impressive feat is the basement itself, which was not part of Requa's original design.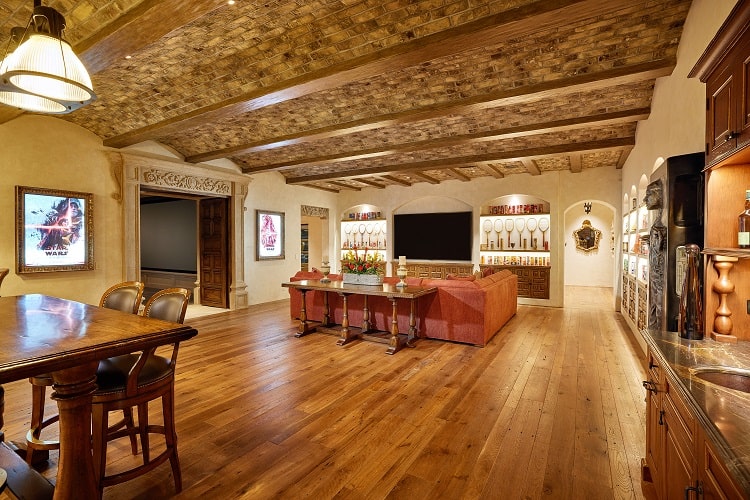 The 15-foot-deep basement took six months to complete and required a 4-foot concrete foundation; the entire thing had to basically be 'shoved underneath the existing house,' as Jim Papenhausen of Papenhausen Construction told the WSJ.
In the end, Mariotti and his team were able to complete the project without damaging the historic structure in any way.
While a Star Wars-themed home theater and a massive toy collection exhibit area might not sound like the most practical amenities, the house does not disappoint when it comes to functionality, either.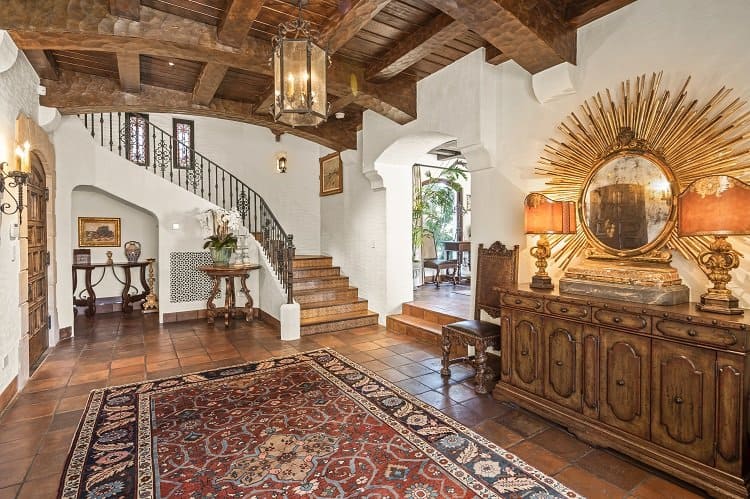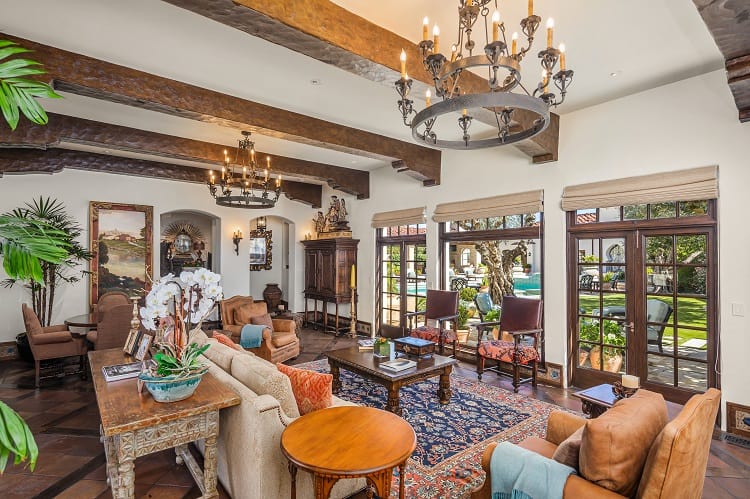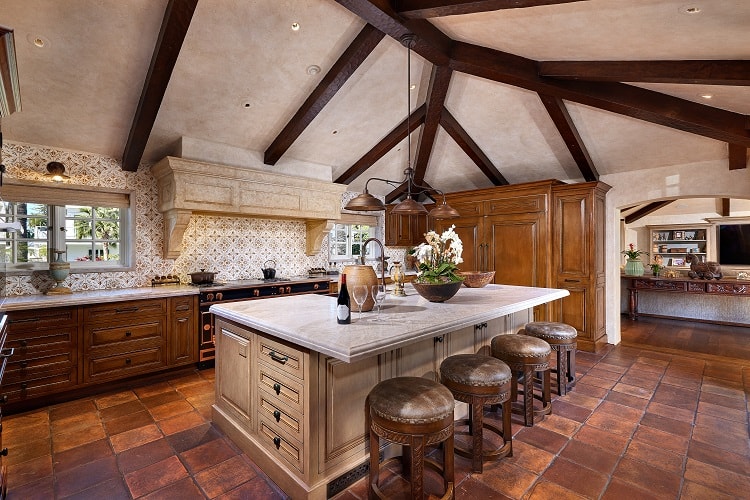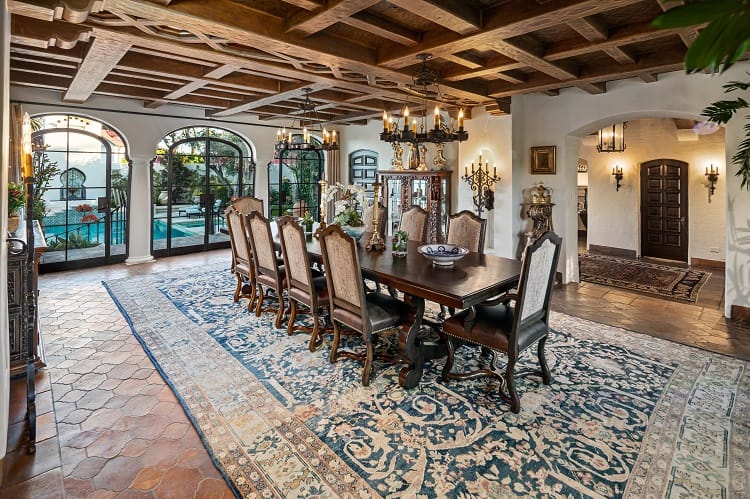 The Mariottis understood the requirements of modern life, and turned the house next door into a four-car garage, and used the extra land to build a new family room wing and expand the outdoor area.
New owners will be able to enjoy a six-hole putting green, an outdoor living room area, a swimming pool, an outdoor kitchen, all bounded by century-old trees.
The house also incorporates four bedrooms, six full bathrooms, three-and-a-half bathrooms, a 14,142-square-foot guest house, a 1,300-square-foot home gym, and a spa with a massage table and a sauna.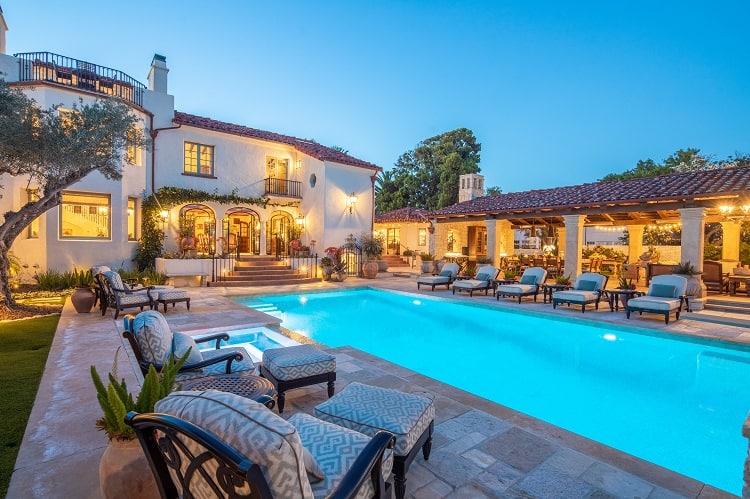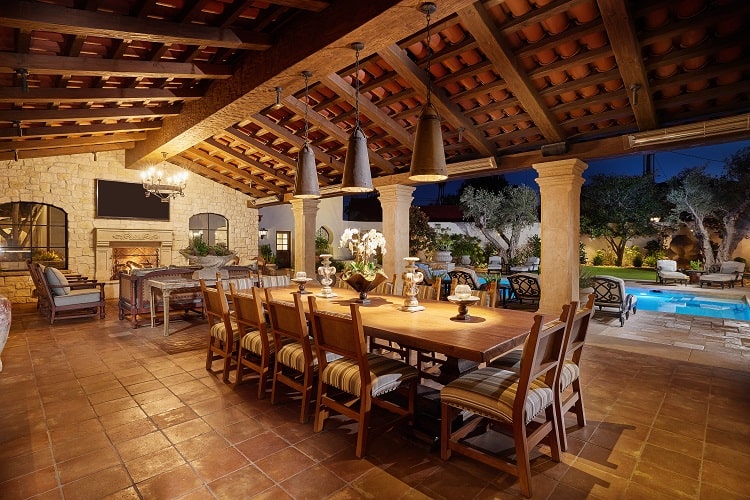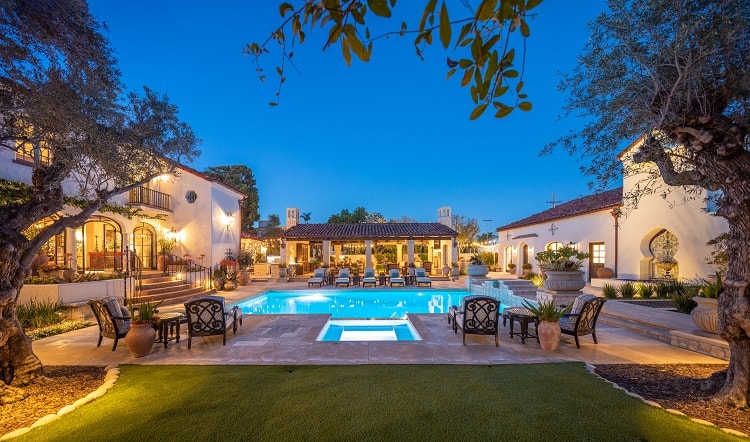 For digital nomads, there is also a home office situated on the third floor at the top of the mansion's castle-like tower. This area offers stunning views of San Diego and also includes an outdoor patio with a bar and a fireplace.
If you're still not convinced that this is a one-of-a-kind property, a Spanish-influenced castle in the heart of California, then feel free to take a virtual home tour below, and find more details about this architecturally distinct house here.
Chris Clements, Jan Clements, and Lennie Clements of Compass are handling the listing.
More luxury homes
$38 Million Rosenthal Estate Has Its Own Vineyard and an Orchard with 600 Avocado Trees
Alicia Keys and Swizz Beatz Own the Razor House, the Most Unique Home in San Diego Area
At $29.5 Million, The Island House is One of Orange County's Priciest Listings
$25M Glass House Sits on 41+ Acres in Napa Valley, Offers Sweeping Views