While Star Wars actor John Boyega is holding headlines and making us cry with an emotional, now-viral video of him gifting a brand new house in London to his unassuming parents, this other home closer to Hollywood got us starstruck (pun intended) for completely different reasons.
A Los Angeles home recently hit the market with a $26.5 million price tag and some of the most extravagant amenities you can think of. Among them: a 5,000-square-foot Star Wars-themed basement packed with millions of dollars' worth of Star Wars prop and collectibles.
The unique property is located in Hidden Hills, CA and is listed with Arvin Haddad, Emil Hartoonian and Mauricio Umansky of The Agency.
Before we get into what the basement holds, it's worth noting the other merits of this magnificent home — and there's a lot of those to go around.
The property has a distinct "Frank Lloyd Wright-meets-Mondrian" aesthetic, with rustic elements blending into the modern design.
According to the listing, the estate was built with sustainability in mind and comes with a fruit tree orchard, grapevines and an organic herb garden. It's energy-efficient, with solar pool heating, a 24-kilowatt solar photovoltaic system, and propane generator.
Related stories you might like
Other standout amenities include an indoor/outdoor pool and spa with a grotto, waterfall and waterslide that can be enjoyed year-round, a deluge shower with steam bath (the type you're likely to see in 5-star hotels), a fully-equipped mirrored gym, a full-size tennis/multi-sport court, a hidden panic/safe room, as well as a large outdoor loggia for entertaining. 
My personal favorite: a 750-gallon aquarium of tropical fish with its own outdoor filtration enclosure.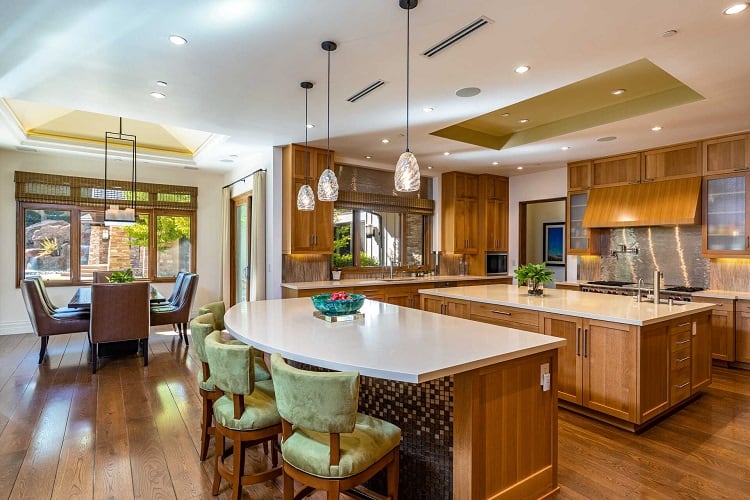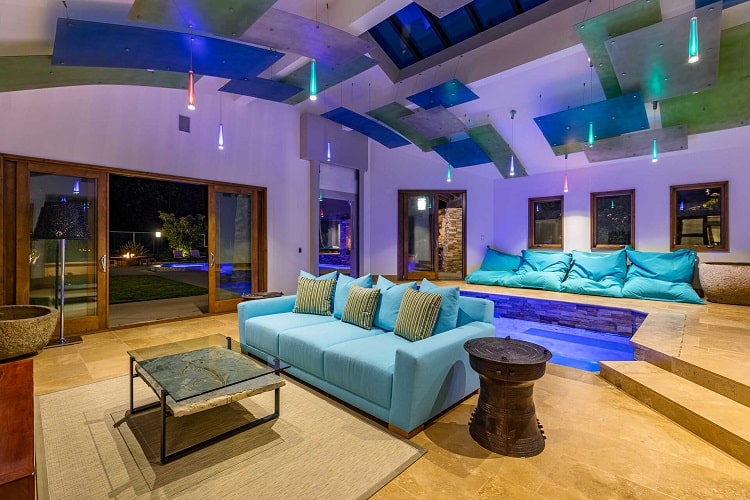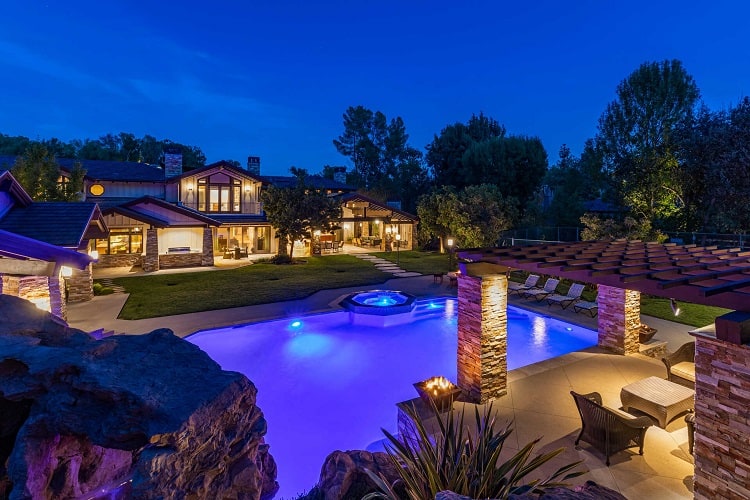 The basement is home to one of the most impressive Star Wars collections in the world
What truly sets the home apart is the 5,000-square-foot Star Wars-themed basement — and all the treasures it holds.
A massive, multi-million dollar collection of props, collectibles, and hundreds of one-of-a-kind Star Wars commissions by numerous artists and prop-makers lines nearly every inch of this unique space.
Among them: a 1/6 scale X-Wing fighter, over 40 life-size figures, and a massive home theater with a 19-foot screen, replete with meticulous Star Wars-themed motifs, including an accurate replica of the Death Star surface from the original film.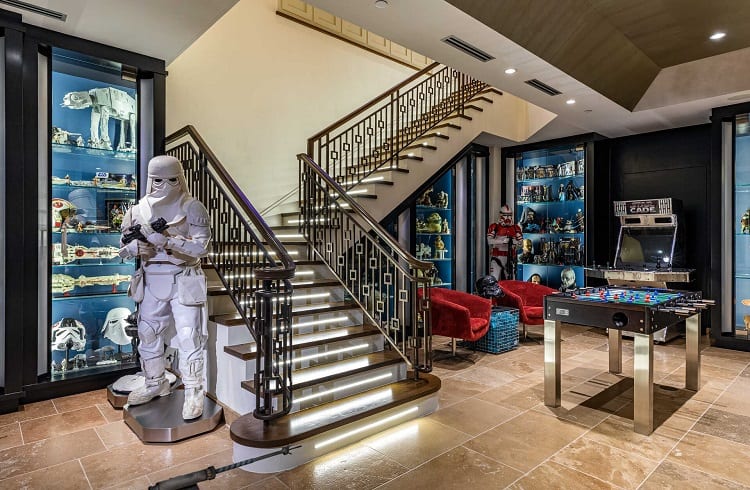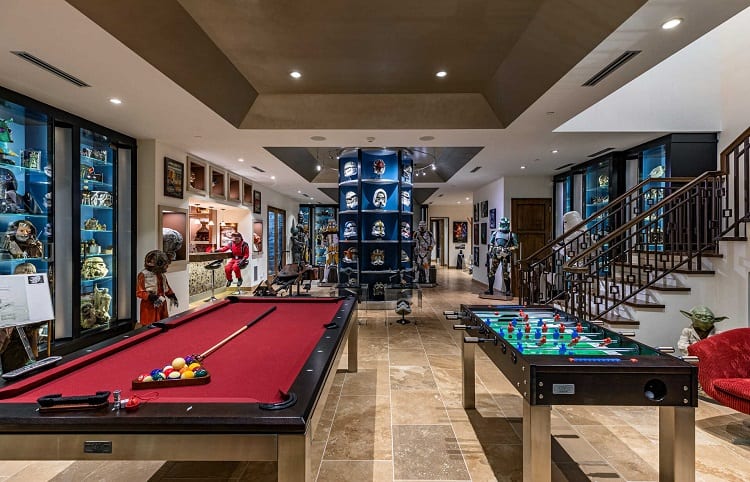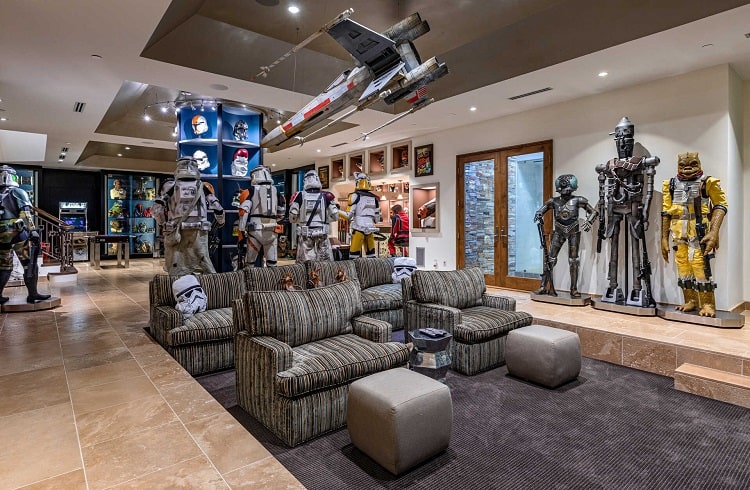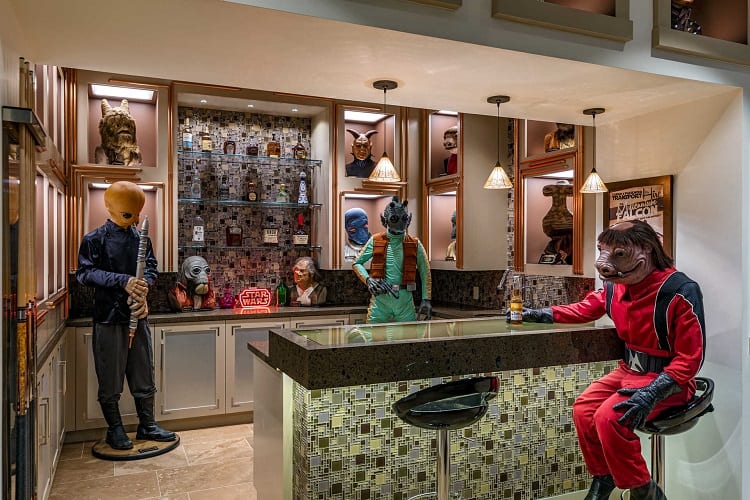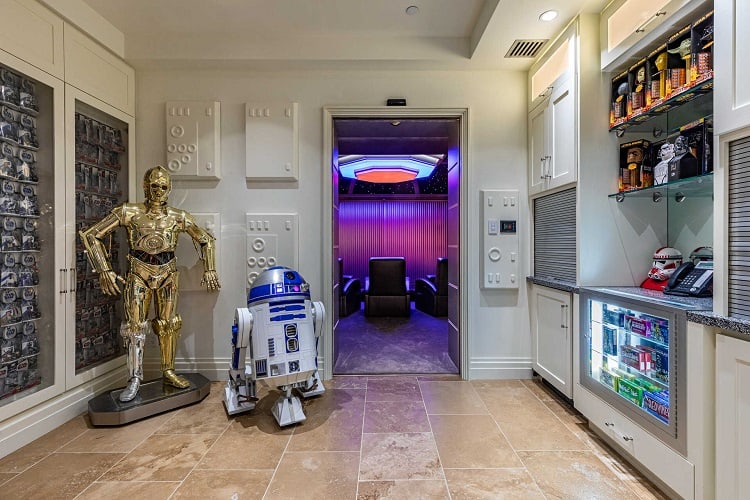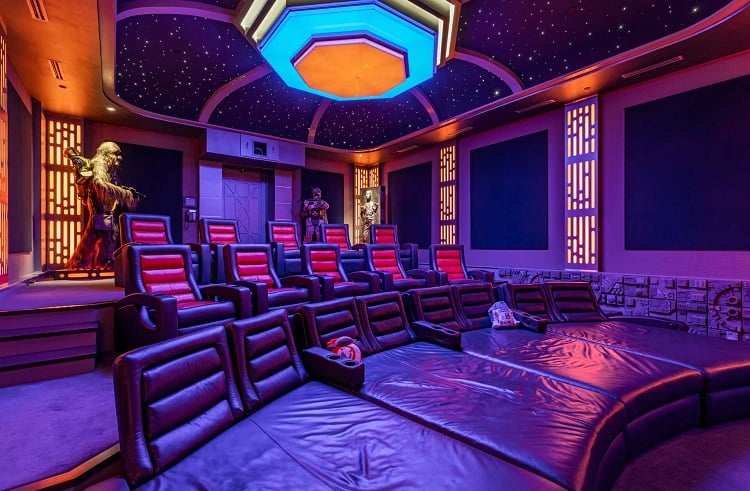 Comicbook.com closely inspected the basement, pinpointing fan favorites and going through the collection; they point out that the elevator is located in a room decorated like the desert planet Tatooine, and comes with a full size Tusken Raider, Sandtrooper, and Jawa, all of them armed with their corresponding weapons.
On display, there are 30 custom made Clone Trooper and Stormtrooper helmets, plus a custom made replica of the Endor speeder bikes from Return of the Jedi. There's also true-to-size mannequin replicas of beloved characters like Yoda, R2-D2, C-3PO, Darth Vader, and Darth Maul.
One room also includes countless shelves of mint-in-box action figures, including some complete sets of toys from years past.
Now, the collection isn't included in the sale. But according to the Wall Street Journal, the owner may be open to throwing in the collection for an unspecified amount.
One can only hope that Star Wars actor John Boyega buys it for himself and that we then get to see the happiness in his eyes when he gets the keys.
Keep reading
The Coolest Movie Homes You Can Build Yourself with LEGOs
You Can Book Tony Stark's 'Avengers: Endgame' Cabin on Airbnb for $1,000/Night
Is it Real? The Futuristic 'Ex Machina' House
The real Conjuring House in Rhode Island