What's your favorite movie home of all time? For some, it'll always be the apartment in Friends, while others have often fantasized about Richie Rich's opulent mansion, JR's insane ranch from Dallas, or the cozy McAllister family residence in Home Alone, to name just a few.
Remarkably enough, an entire generation thinks back fondly to a specific set of homes; those that have graced the screens generously while we were growing up, helping us paint a picture of family life outside of our own.
Bringing together beloved characters in familiar settings, these movie homes had staying power, and we longed to return to them with each new episode or re-run.
And since the beauty of adulthood is the opportunity to tap into whatever brought you joy while you were a kid, we thought it would be a good idea to bring these homes out of the dreamland they're in, and back into our lives.
On top of that, we've added a little extra from our grown-up years, to sweeten the deal (think Stranger Things, Big Bang Theory or Dr. Strange's Sanctum). How do we bring these homes out of their dreamland and into our lives, you might ask? While with LEGOs, of course.
LEGO Movie Homes
The Danish toy manufacturer, with its world-famous interlocking plastic bricks, has created building sets that allow you to re-create some of your favorite movie homes.
We've put together a list with the coolest LEGO building sets you can grab for a weekend project (please note that if you make a purchase using any of the affiliate links in this article, Fancy Pants Homes might earn a commission from that sale).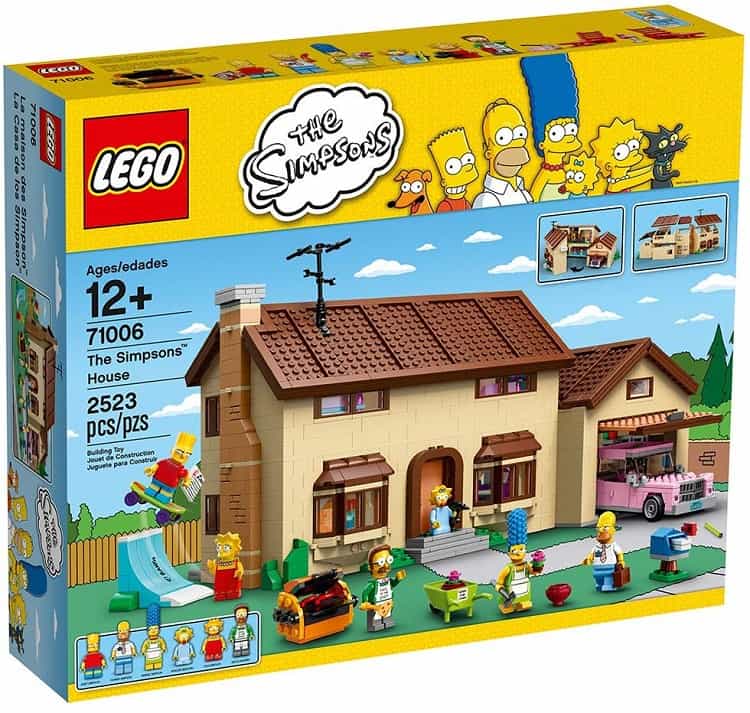 If you've ever wanted to recreate some hilarious scenes from the long-running animated TV series, here's your chance. LEGO has put everything together for you in a box, Homer, Marge, Bart, Lisa, Maggie and Ned Flanders included (as mini-figurines, of course).
Taken right out of Springfield, the Simpsons LEGO house set includes the house itself — with a detachable roof, to allow you to peek into every corner of the house — as well as the family car (dent included), figurines of the show's most popular characters, and all the tools and furniture they need around the house (think everything from the living room couch to pots and pans, even Bart's skateboard ramp with 'El Barto' graffiti and the antenna that goes on the roof).
Admittedly, this is a fairly big project to go into: The Simpsons LEGO house has over 2,500 pieces, which means it might take a while to build.
But it's also one of the most rewarding ones, given how easily you can then just remove the roof and the top floor to access any of the different rooms inside.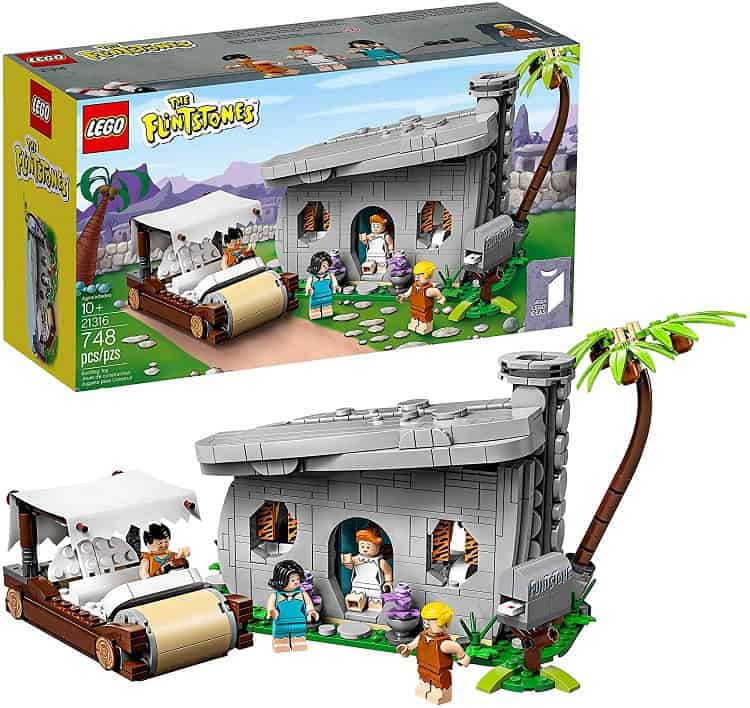 Ah, remember all that humor and warmth packed in a grey, cold stone house? A staple of our childhood, the Flinstones had the most distinctive home of all, carved in a block of stone and guarded by your friendly pet dinosaur, Dyno.
And while the Flinstones may be furthest from us in time, their home is the easiest to re-create with this cool 748-piece LEGO set.
Including 4 mini-figurines (Fred and Wilma Flinstone, and Barney and Betty Rubble), this collectible building set lets you recreate the Flinstone's home, all the way to the palm tree and postbox in front.
To bring you back to the Stone Age entirely, they've also included a family car with an attachable dinosaur rib! Unfortunately, Dyno is not included in the set, so you will have to guard the home yourself!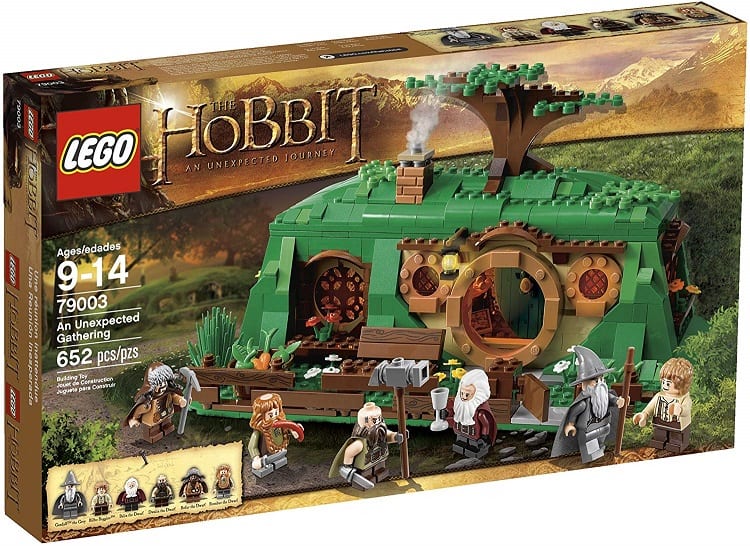 Among the most charming movie homes of all time, Bilbo Baggins' precious hobbit hole is unlike any other home we've seen before.
A treat for Lord of the Rings fans of all ages, this LEGO set perfectly captures the uniqueness of Bilbo's home, down to the smallest details: it includes a fireplace and chimney, a stovetop with pots, a broom, a lantern, several potions, a treasure chest and much more.
And since the set is meant to let you recreate the "unexpected gathering", your trusted fellow adventurers are included in the package. So in terms of figurines, the Bilbo Baggins house set includes Bilbo, Gandalf, Balin, Dwalin (along with his large battle hammer), Bofur, and Bombur (with a little sausage and his own cooking pot).
It's worth noting that this is also a fairly easy-to-make project, as the LEGO set has only 652 pieces, but the attention to detail and all the fun elements included make it a real treat for Lord of the Rings/The Hobbit fans.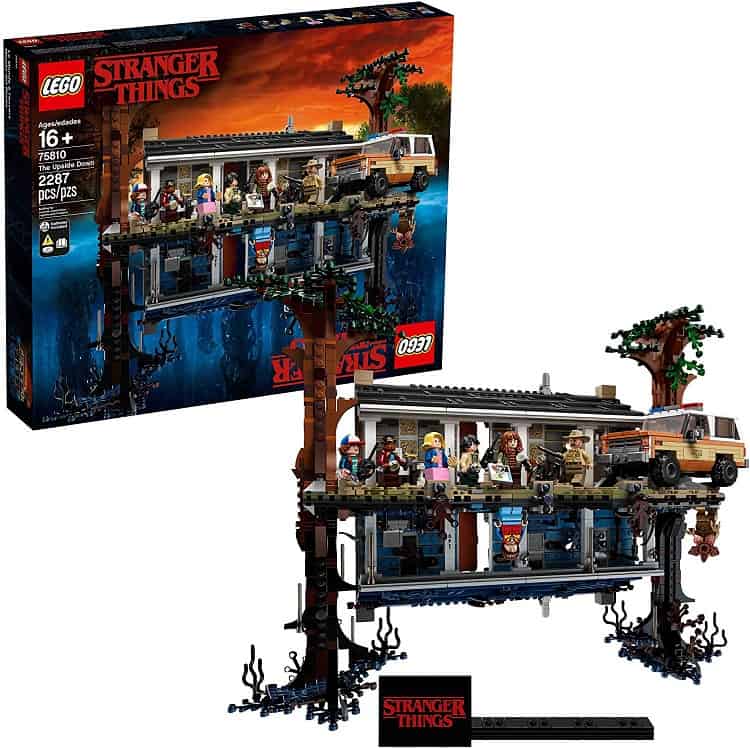 A definite addition to my own Christmas shopping list, this intricate set replicates the home of the Byers in Stranger Things — the Upside Down part included!
Packed with instantly-recognizable details (like the alphabet lights in the living room or Hopper's police truck), this Stranger Things model is a must-have for fans, just in case you were looking for a great gift idea for the holidays.
It's full of play possibilities, you can even flip the model to switch between the real world and the Upside Down. The Stranger Things LEGO set comes with all the figurines you need to bring it to life: Eleven, Mike, Lukas, Dustin, Will, Joyce, Hopper, even a Demogorgon.
With such painstaking attention to detail, it only makes sense that it's not the easiest set to put together. The building kit comes with 2,287 pieces and is only recommended to fans ages 16+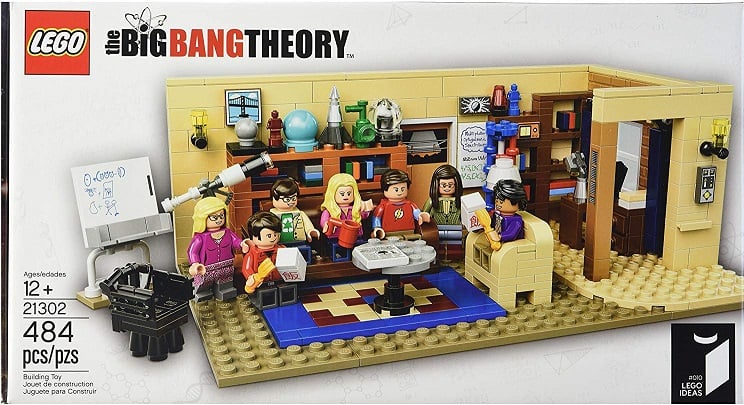 If you're a fan of the long-running series and want to keep a nice momentum of the show, this cool LEGO set lets you create a replica of Sheldon and Leonard's living room out of tiny little bricks.
Hmm, I wonder what Sheldon would have to say about that?
Perfect for display or role-play fun, The Big Bang Theory set includes Leonard and Sheldon's living room with all the iconic elements from the sitcom — including a telescope, whiteboard, DNA display model — and 7 minifigures with to stand for the cast of the show: Leonard, Sheldon, Penny, Howard, Raj, Amy and Bernadette are all included.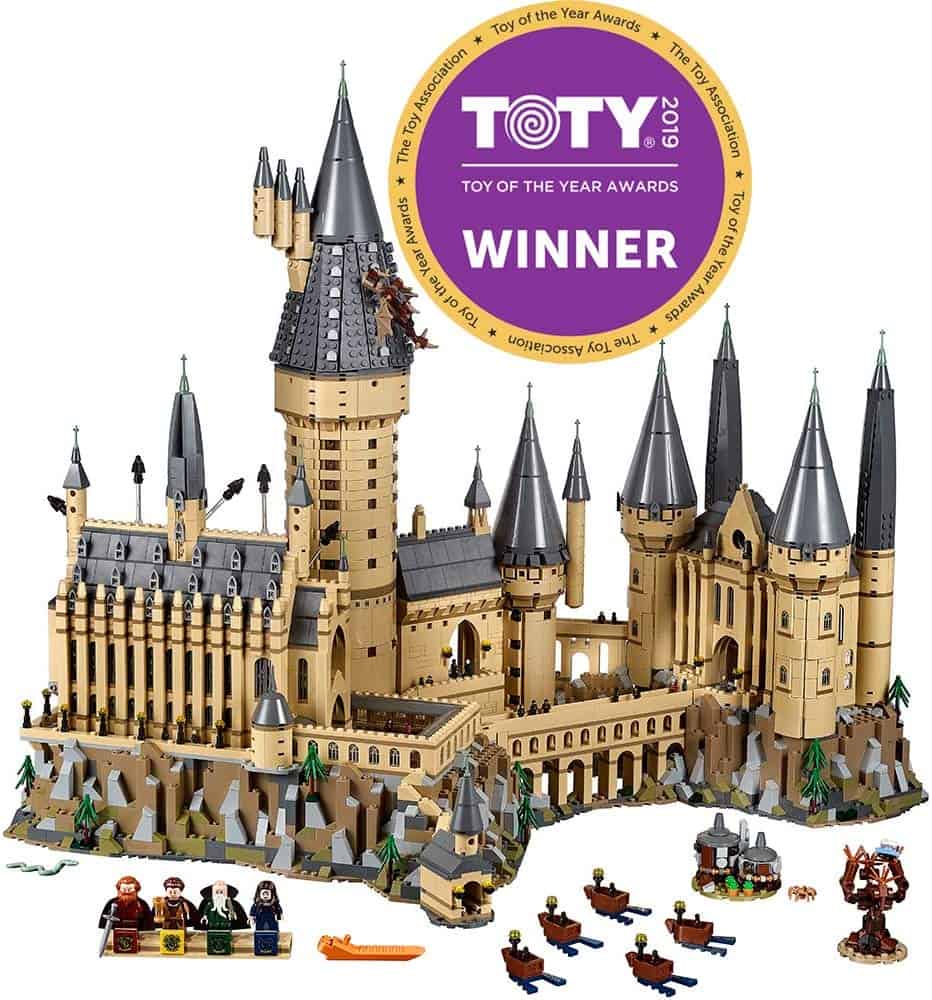 This one's for the pros and braves: build your own Hogwarts Castle, a masterful collectible made out of 6,020 pieces that will make you feel like you've returned to the School of Witchcraft and Wizardry.
This microscale model of the iconic Harry Potter castle building kit comes packed with highlights like towers, turrets, chambers, classrooms, creatures, and iconic Harry Potter characters.
The cool building set includes 4 characters from the Harry Potter houses as well as 27 microfigures, making it perfect for imaginative play for younger crowds, and an excellent Harry Potter gift for adult fans.
When completed, the Castle measures over 22 inches (58cm) high, 27 inches (69cm) wide and 16 inches (43cm) deep, making it a pretty striking decor piece — which just adds to the satisfaction of finishing such a complex project.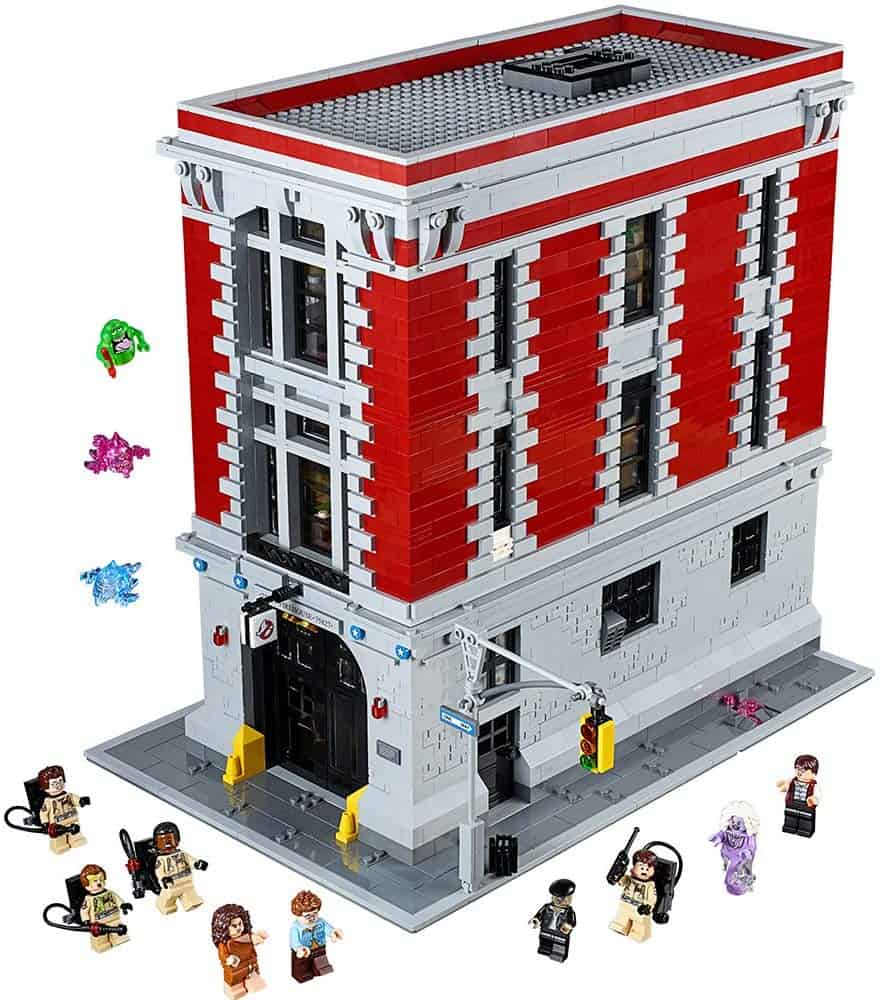 There's definitely something strange in the neighborhood! Slide down the fire pole into action, power up the proton packs and start zapping with the iconic Ghostbusters fire station, from the now-classic 1984 movie.
Also a highly detailed model, but at a smaller scale, this 3-story firehouse headquarters set features a containment unit, lab, living quarters, 9 minifigures, and a Slimer. Plus, it lets you re-enact the craziest scenarios:
Chase the ghosts and secure them in the containment unit
Turn the librarian old lady into a scary ghost with the double-sided face and extra wig
Run tests on Louis in the lab to see if he's possessed
Suspend ghosts around the building's exterior with attachable transparent arms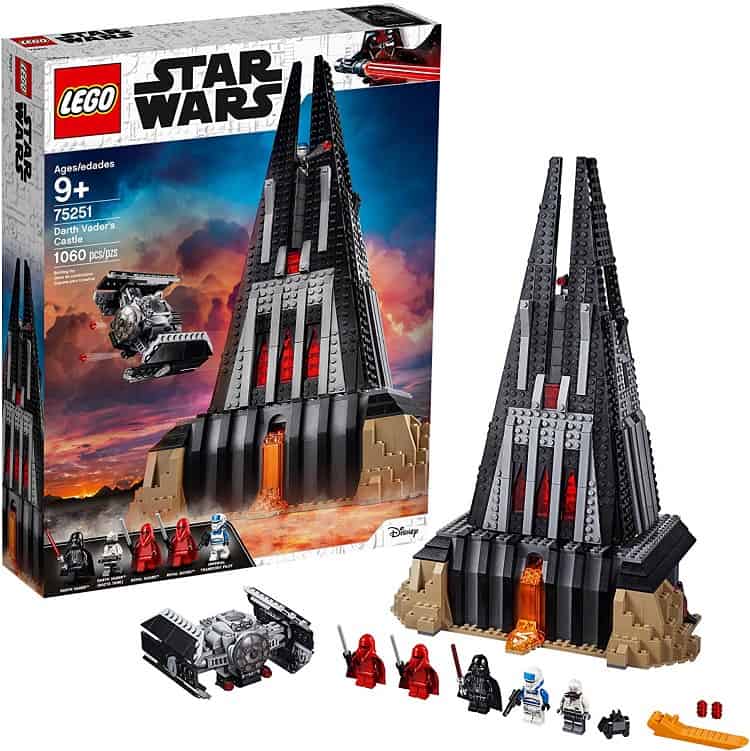 And since no list can be complete without the Dark Lord (or at least we wouldn't dare), Darth Vader's ominous castle must be included.
A fairly quick project to complete, this 1060-piece building set includes Darth Vader's feature-packed castle on planet Mustafar, along with a buildable TIE Advanced Fighter for some cool LEGO Star Wars battling action (especially if you already own other pieces to match).
This LEGO Star Wars kit comes with 6 Star Wars minifigures including Darth Vader, 2 guard figures, and an Imperial Transport Pilot, and Darth Vader's bacta tank.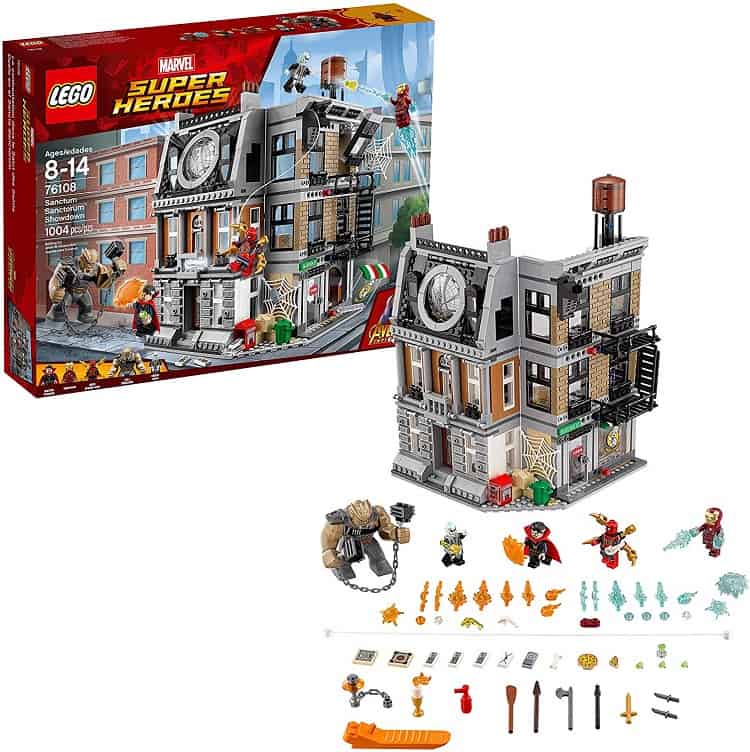 If you want to re-enact some thrilling scenes from Avengers: Infinity War, this LEGO set will let you do just that!
Build a 3-level New York City building including Doctor Strange's Sanctum Sanctorum with an Infinity Stone, a pizzeria with fire extinguisher, a replica of Peter Parker's apartment, window exploder functions and water tower.
If you're looking to fill in some gaps from the Marvel Wiki, the Sanctum Sanctorum is doctor Stephen Strange's mansion, a townhouse set in the heart of Greenwich Village, New York, a location said to be a focal point for mystical energies with a nerve center of dragon ley lines running beneath its foundations, the veins of magic running through the Earth. 
Besides serving as the personal residence of Doctor Strange, the townhouse also served as the headquarters of the Defenders and the New Avengers in the comic books, so it's bound to make quite a few more appearances in the upcoming Marvel movies.
A rather unique collectible that brings together some of the most important movie settings in Avengers: Infinity War, along with their corresponding title characters: Spider-Man, Doctor Strange and Iron Man, the Sanctum Sanctorum Showdown LEGO set is the perfect gift for Marvel fans of all ages.
Hopefully, somebody agrees and leaves one under my Christmas tree this year.