Doja Cat has come a long way from making funny videos on YouTube.
The singer, rapper and songwriter is enjoying her well-deserved success, and with hit after hit rising to the top of the Billboard charts, she is now estimated to be worth around $8 million.
She's now also a Grammy Award-winner, who just nabbed her first statue for best pop duo/group performance for Kiss Me More, a collab with fellow singer/songwriter SZA.
With a huge budget in tow, the singer treated herself to a gorgeous modern bohemian abode located in an affluent neighborhood last year. The property is a unique find and looks to be just the perfect place for Doja, who is known to be uninhibited and outlandish.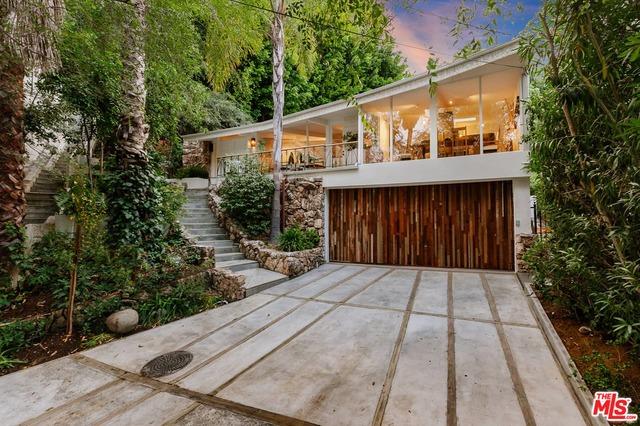 Before she achieved success and became an influential pop star, Doja was known as Amala Ratna Zandile Dlamini, her birth name. She chose the stage name Doja Cat because of her "affinity for weed culture and love for cats".
She has an impressive voice, as well as an amazing stage presence. But, more than anything, her hilarious jokes and funny character are what made her a viral sensation.
Her rise to fame
The 26-year-old singer first broke into popularity through a short clip posted on YouTube back in 2018, which showed her singing a quirky song titled Mooo!
The novelty song became a hit, paving her way to launch a debut album that put her name in the mainstream.
Unlike other pop stars who tend to stick to a particular type of music, Doja stands out with her genre-bending sounds and character-inspired aesthetics. Her song Say So became a viral dance hit on TikTok and the popular platform elevated her fame to superstardom.
Doja's rise to fame wasn't uncomplicated, just like many other celebs in the spotlight. She also had to deal with a couple of controversies that almost cost her career. But, all was forgiven after her sincere apology, and pretty soon, she was back charting high on Billboard.
Her latest album Planet Her features A-list collaborations including The Weeknd and Ariana Grande, and debuted number two on the Billboard 200, cementing Doja's top-tier popstar status.
Doja Cat's house in Beverly Hills
With all the success shooting straight to her pockets, the singer was ready to plant roots in Los Angeles.
In 2021, Doja splurged $2.2 million on a Beverly Hills Post Office home that's described as "the epitome of bohemian-chic". It was originally listed for $2.8 million in 2018, but the singer was able to snatch it for much less.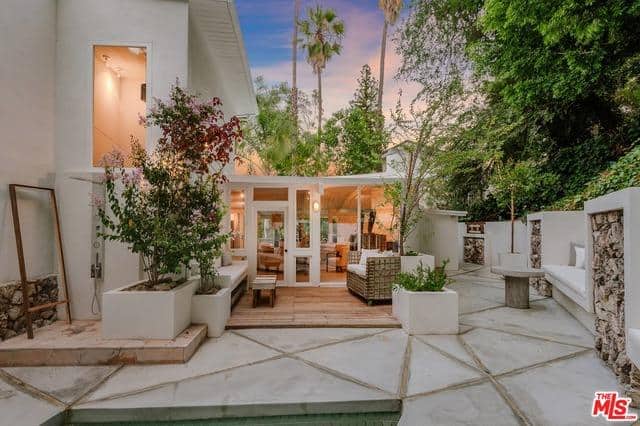 The property was originally built in the 1960s and has already undergone several renovations to modernize its midcentury style, although much of its original form and architecture was preserved.
The multilevel home offers 2,400 square feet of living space and has 4 bedrooms and 2 bathrooms. It is tucked away behind elm trees and lush foliage, with a long gated driveway, offering maximum privacy for the musician.
The property is situated in the mountains above Beverly Hills, making hiking trails a stone's throw away, and providing her with access to the best Los Angeles has to offer.
Natural elements surround the property on all sides, making it a true bohemian getaway.
On the end of the driveway, the unique wooden garage door, which looks like a piece of art installation can be seen fronting the house. A few steps away, there is a concrete stairway that leads to the large two-door entrance of the main floor.
Inside the singer's modern home with a touch of bohemian interiors
The bohemian theme continues inside, with more natural elements brought in from the outdoors — and are complemented by stunning modern finishes.
Wood paneling and concrete-style slate accents are incorporated in some of the rooms. Floor-to-ceiling windows line up the sides of the house, providing natural light to the open plan interiors.
The huge living room sits on the center, accentuated with a dual-sided fireplace.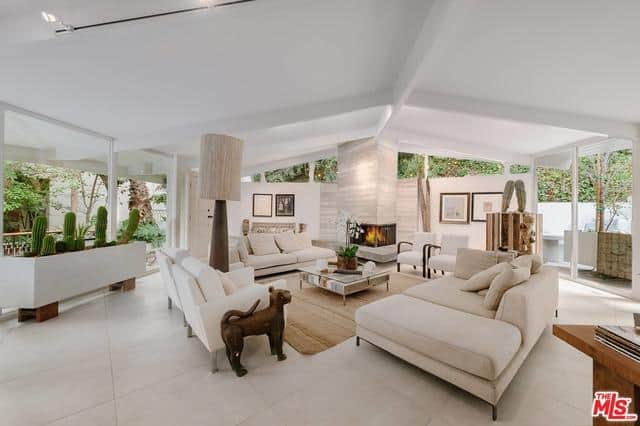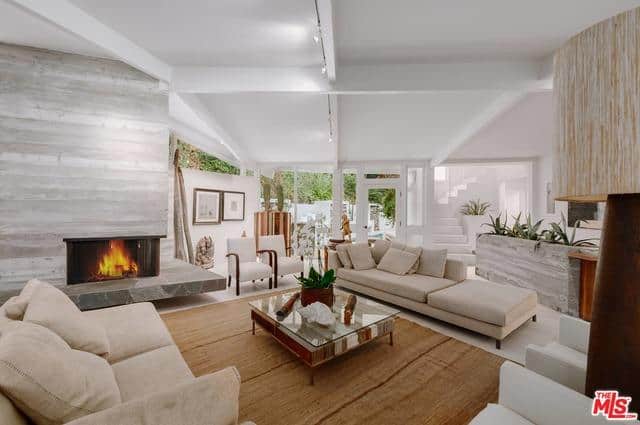 The adjoining skylit kitchen offers a more contemporary vibe, with a unique curved island and an ultra clean white-and-grey palette.
Floor-to-ceiling windows wrap around the dining area, providing guests a great view of the outside.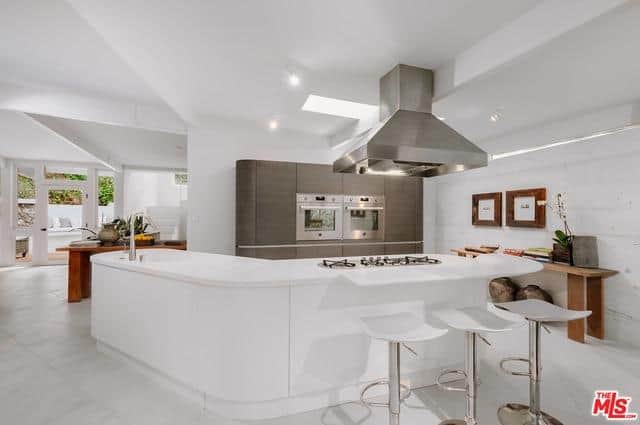 The master suite upstairs is a spacious respite for the singer, with natural wood paneling, a walk-in closet and an e-suite bathroom that looks like a small private Japanese spa with its slate bathtub, wood panels and open-air shower.
A small balcony rests outside the room, overlooking the outdoor and pool area below.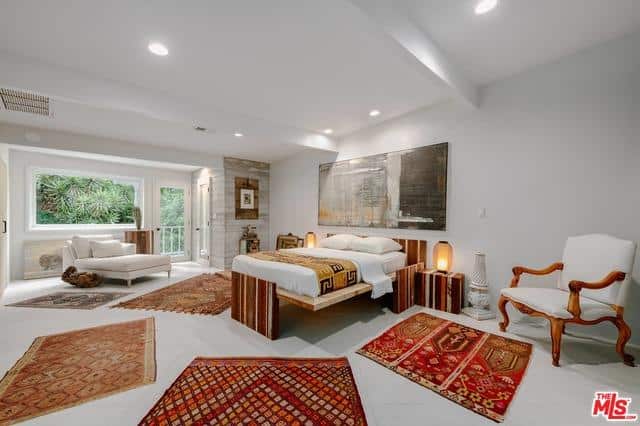 There are also two large storage rooms downstairs, attached to the garage, as well as a bonus room space that can be transformed into an office or a music studio.
Outside the house, there are various sitting areas to entertain guests. The property has a steep slope, making its outdoor area a little more restricted. But, the layout was wisely designed to make the most of the space available.
Adjacent to the living room is the main attraction of the outdoor area — a swimming pool that features a unique shape. The curve and slope of the outdoors are perhaps a little odd but akin to Doja's animated personality, making it a perfect fit for the singer.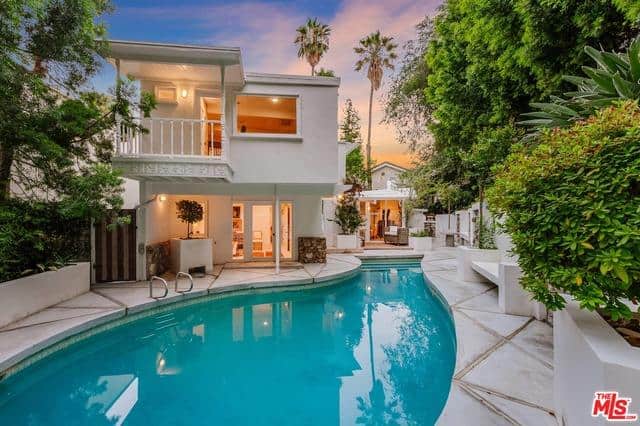 More celebrity homes you might like
Where Will Rihanna Live After the Baby Comes? Her Beverly Hills Farmhouse is a Strong Contender
Post Malone's $3 Million Utah Compound Doubles As a Doomsday Bunker
A Look Inside JoJo Siwa's $3.5 Million Mediterranean-Style Mansion
Celeb Spotlight: Cardi B's House in Atlanta is Pure Old-World Luxury