Abel Tesfaye, more popularly known as The Weeknd, recently made headlines not for his usual chart-topping music but for his latest real estate purchase.
The R&B superstar dropped a cool $70 million dollars for a luxurious Bel-Air mansion, making it one of the most expensive deals closed in Los Angeles this year — and earning him a spot in our list of most expensive celebrity homes in recent history.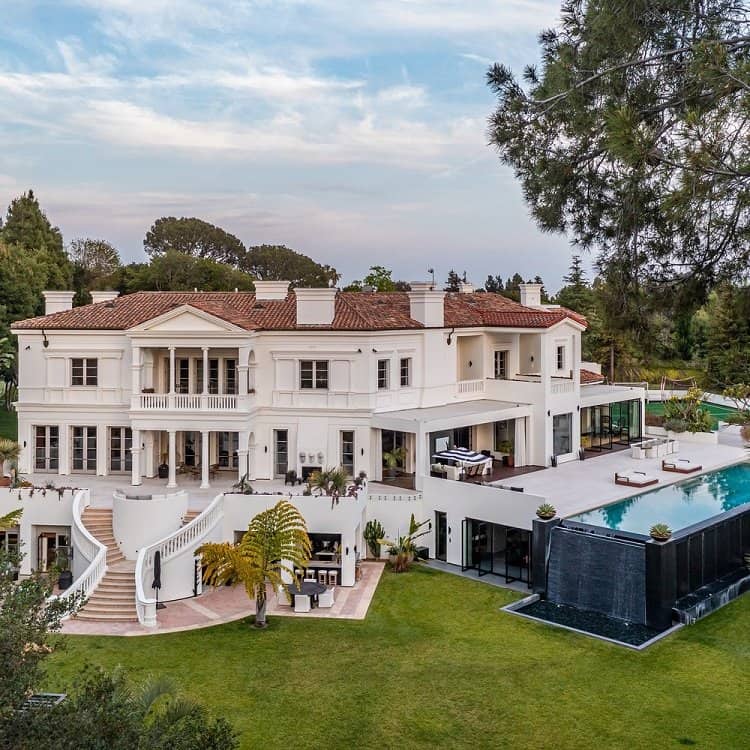 The $70 million manse is a substantial upgrade from his previous 12,500-square-foot home in Hidden Hills, which he sold to Madonna for $19.3 million shortly before closing on his Bel-Air property.
In fact, his Hidden Hills home earned a mention on his last album "After Hours". In his song "Snowchild", Tesfaye sings about never having even lived in his "$20 mil mansion":
"Twenty mill' mansion, never lived in it

Zero edge pool, never dipped in it"

The Weeknd, 'Snowchild'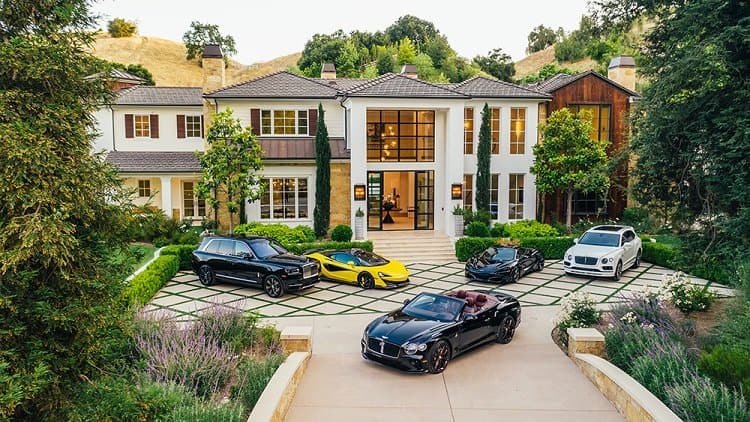 With this confession, it comes as a bit of surprise that The Weeknd chose to go even bigger for his next home. But, since his album did extremely well and with all that extra money to spare, the next obvious course was to go even grander.
This time, he went for a sprawling 33,000-square-foot megamansion. That's triple the size of his previous house!
The Bel-Air megamansion wasn't even on the market
The home's previous owners, Dutch media mogul Reinout Oerlemans and wife Danielle Oerlemans were not even planning to sell the Bel-Air mansion. But, Rayni and Branden Williams of Beverly Hills Estates convinced them to show it to the music star, eventually leading to the sale.
The couple acquired the property back in 2015 for $21.4 million. Originally, the house had an early-2000s Tuscan villa aesthetic. The Oerlemans oversaw a complete redesign of the property to extraordinary results.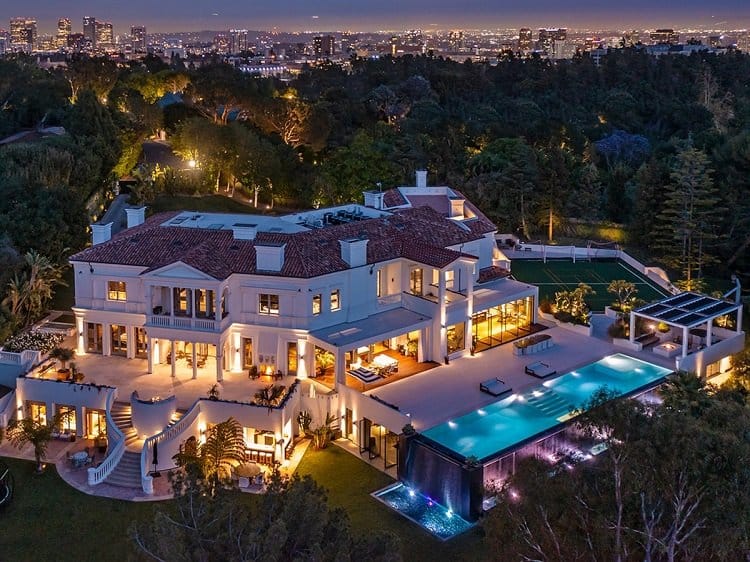 Its interior design was apparently "horrendous" before the renovation. But, Mr. Oerleman saw potential and loved the location. The house sits on 1.6 acres of land and directly overlooks the exclusive Bel-Air Country Club.
Revamping such a massive property is no simple undertaking. It took a whole three years to finish the project.
But, the reconstruction proved to be a great investment because the property turned into one of the most impressive pieces of real estate in prime lower Bel-Air.
The Weeknd's house: Modern contemporary elegance, plus luxurious amenities
A bevy of luxurious amenities and showstopping interiors are present in The Weeknd's new mansion. With the outdated 2000s aesthetics gone, it now boasts contemporary elegance with modern finishings brought in from all around the world.
The mansion's entrance greets with double gates and a lengthy driveway. The house is surrounded by a landscape of greens and lush trees on all sides, with no neighbors nearby, giving the mysterious and reclusive artist the privacy he needs.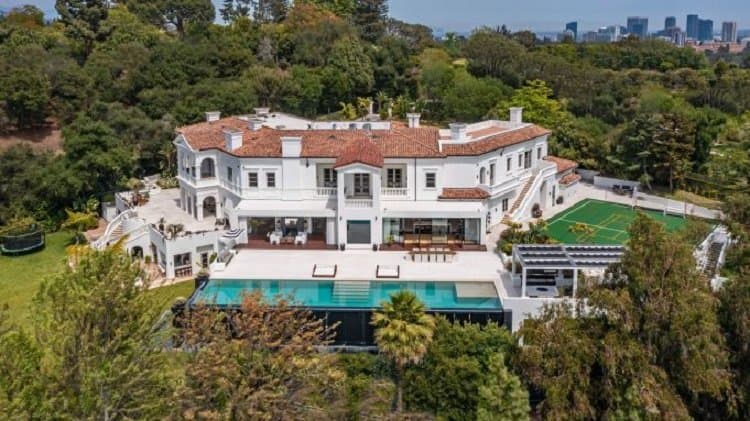 When it comes to amenities, there is no shortage of luxurious facilities inside the pad. There is a spa, a Turkish-inspired hammam, an indoor pool, an outdoor infinity pool with waterfalls, an indoor movie theater, a gym, a tennis court, and of course, a music studio.
It has a total of nine bedrooms, all done with lavish interiors. There is also lots of space for entertaining guests – from an outdoor bar by the waterfall to a poolside lounge area equipped with a fire pit.
The formal living room perfectly encapsulates the modern extravagance of the home, featuring glossy orange walls, a black marble fireplace, and dramatic coffered ceilings with mirror panels.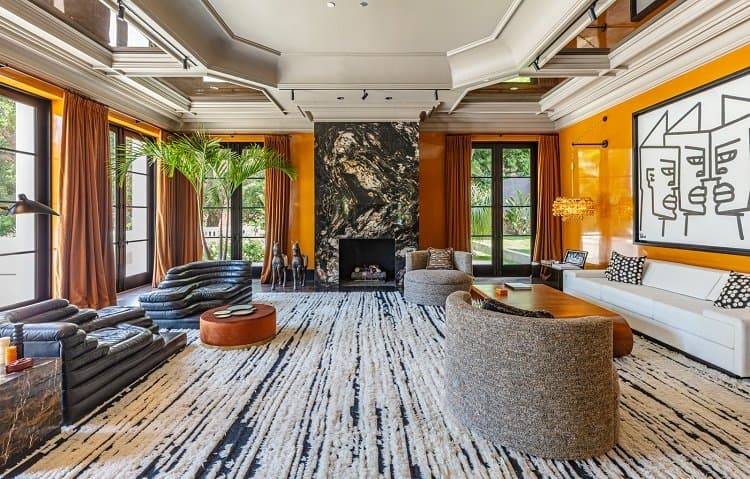 Another standout area in the palatial home is the spacious kitchen, which is equipped with two marble waterfall-edge islands. The gorgeous islands are custom-made with copper cabinets featuring leather belt handles, adding a bit of rustic detail to the space.
The kitchen is also decked with floor-to-ceiling glass doors, which open to the jaw-dropping sight of the infinity pool and golf course views.
Nearly all of the common rooms in The Weeknd's mansion are designed with floor-to-ceiling glassy doors, which gives the space a lot of natural light and also that relaxing indoor-outdoor feel.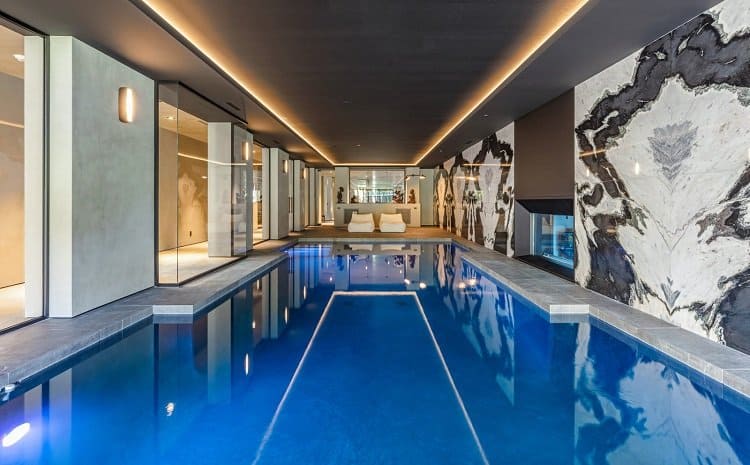 There are several outdoor terraces and a split double staircase that leads to a perfectly manicured lawn.
From homeless to king of the castle
The Weeknd now has a net worth of around $100 million but it hasn't always been easy for the Canadian artist. He had to work his way up from the streets of Toronto and at one point, he was homeless.
Tesfaye dropped out of high school and faced many hardships before turning his life around. He had to sleep on the couches of friends just to keep a roof over his head. A viral mixtape changed his life, leading him to become one of the most successful artists of our time.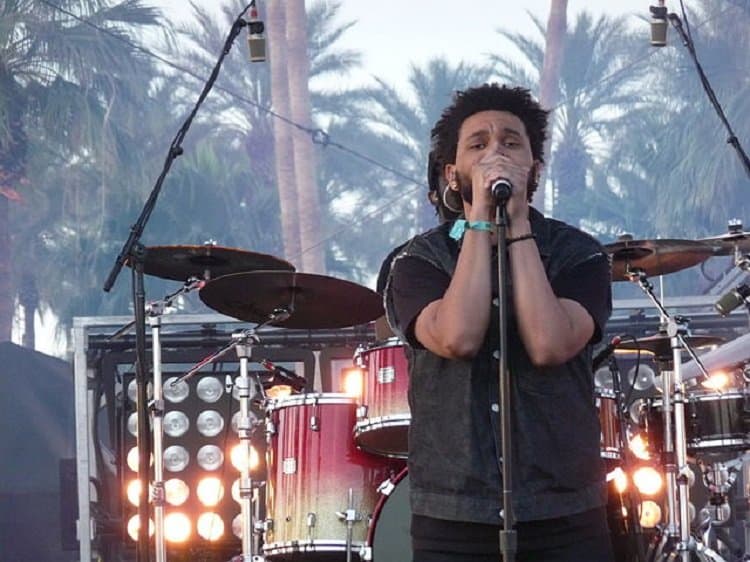 His couch-surfing days are a thing of the past now, and with his record-breaking purchase of the sprawling Bel-Air property, he's ready to be crowned as the new Fresh Prince of Bel-Air.
The road to success may have been a long and difficult one for The Weeknd. But his inspiring story is a prime example that no matter your troubled past, hard work and dedication can change your life for the better.
More striking celebrity homes
Drake's Mansion in Toronto, the Star of his 'Toosie Slide' Video, Is Peak Luxury
Celeb Spotlight: Cardi B's House in Atlanta is Pure Old-World Luxury
See Inside Travis Scott's House: a $23.5M Ultra-Modern, Yacht-Inspired Mansion
Rapper Polo G Buys Million-Dollar Mansion Ahead of Album Release