In early 2022, just days after the Bel-Air mega-mansion he rented for $200k/mo was listed for sale — asking a whopping $67.5 million — Dan Bilzerian's childhood home in Tampa, Florida also re-surfaced on the market.
The sprawling estate that Bilzerian's dad, Paul Bilzerian, built in the early '90s (prior to serving a brief stint in prison for illegal stock manipulation) was up for grabs, asking $5,999,000, giving us a never-seen-before look into Bilzerian's childhood, and a good idea of how the pro-poker-player-turned-influencer came to enjoy the ultra-luxurious lifestyle he's now famous for.
Compass agents Eric Dungy and Jon Fincher held the listing, and we had the pleasure of covering the property at the time. Especially since the mansion is one of Tampa's most notorious estates. So join us on a quick tour of Dan Bilzerian's childhood home, which was famous well before he was.
Known as the Bilzerian Mansion, a moniker that dates back decades before Dan Bilzerian became the 'King of Instagram', the massive 28,000-square-foot home sits on a lush 3.4-acre waterfront lot.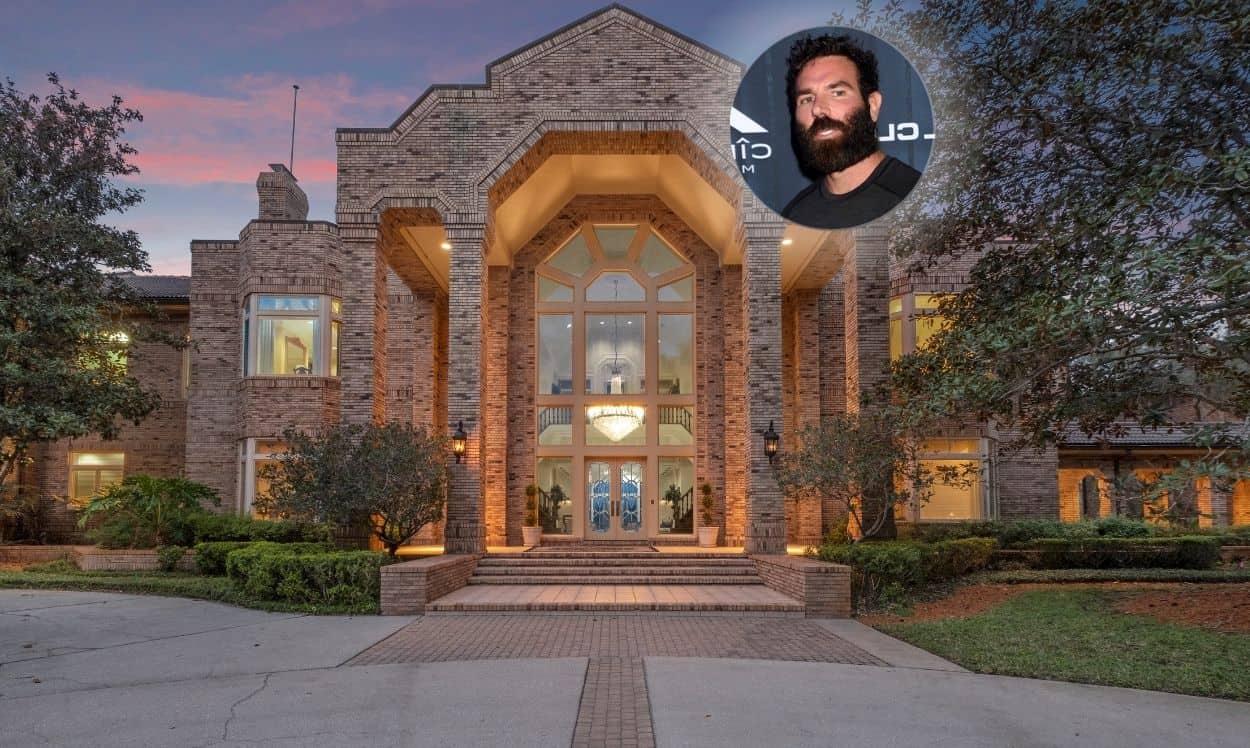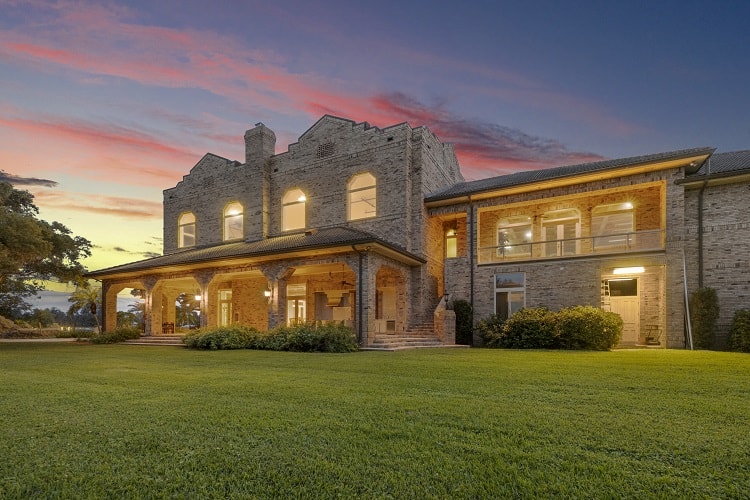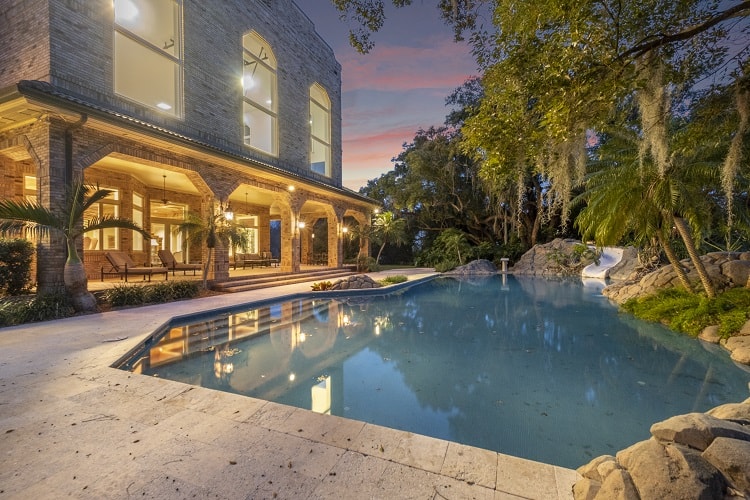 Inside the Bilzerian mansion, one of Tampa's most notorious properties
Dan Bilzerian's house was famous well before he was.
The 28,000-square-foot mansion has often made front-page news following dad Paul Bilzerian's arrest and decade-long legal battles.
It was once listed for $18 million before being foreclosed on and sold for significantly less. Rumor has it that before hitting the auction block, it was still owned by an entity related to the Bilzerians (masked behind an LLC controlled by a family friend).
See also: Joe Rogan's Real Estate Experience: Living a Luxurious Lake Life in Austin, Texas
And while we won't give course to the many controversies that followed both Bilzerian and his dad, one thing's for sure: Dan Bilzerian has always been exposed to the finer things in life, as his childhood home stands to show.
Located in the exclusive Avila gated community, known for its upscale golf course and country club, the house has a total of 10 bedrooms and 19 bathrooms.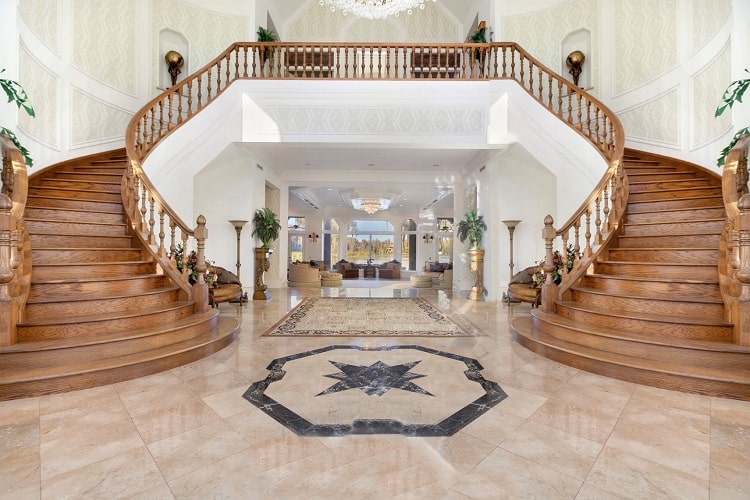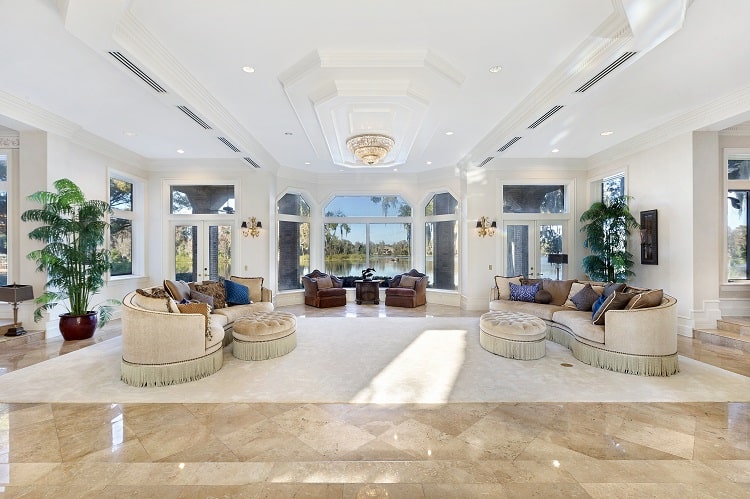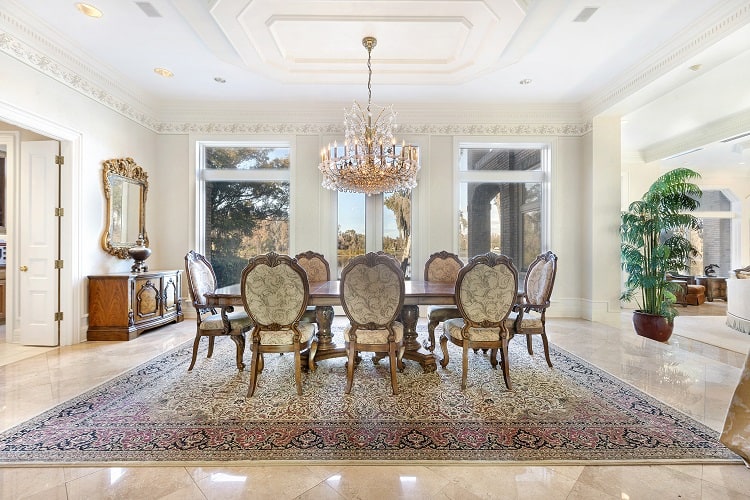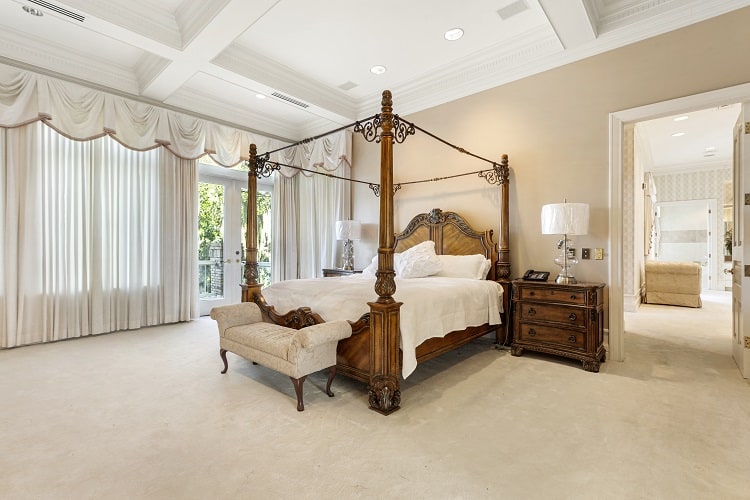 There are entire wings dedicated to entertaining guests, with game rooms around every corner, as well as a grand entryway, master suite, conference room, and indoor basketball court.
A closer look at the childhood home of the pro-poker-player-turned-influencer gives us a good idea of how Dan Bilzerian came to enjoy the ultra-luxurious lifestyle he's now famous for.
Despite being vacant for years, the opulent mansion retains most of the luxury amenities the Bilzerians enjoyed at the height of their wealth and fortune.
That includes a racquetball court, exercise room, vintage movie theater, and a massive open floor game room.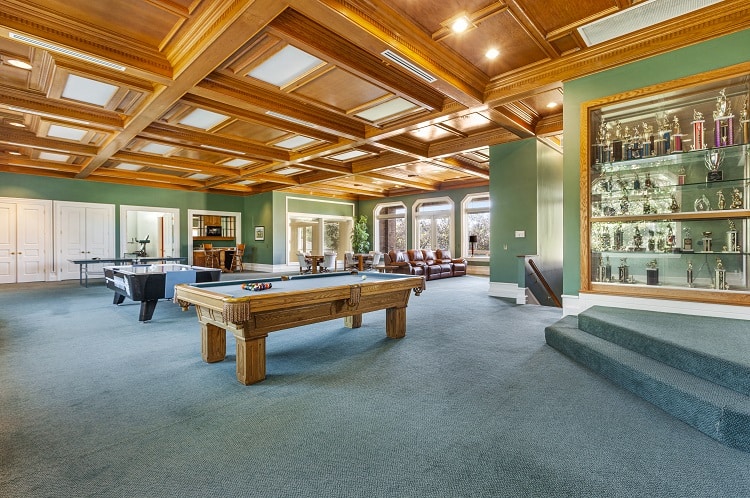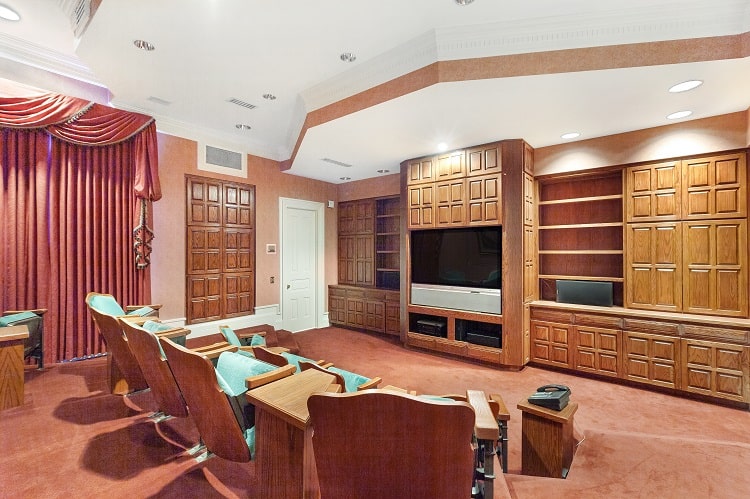 The house's backyard leads straight to the lake, with a dedicated swimming area that includes a waterfall, slide, diving board, and hot tub.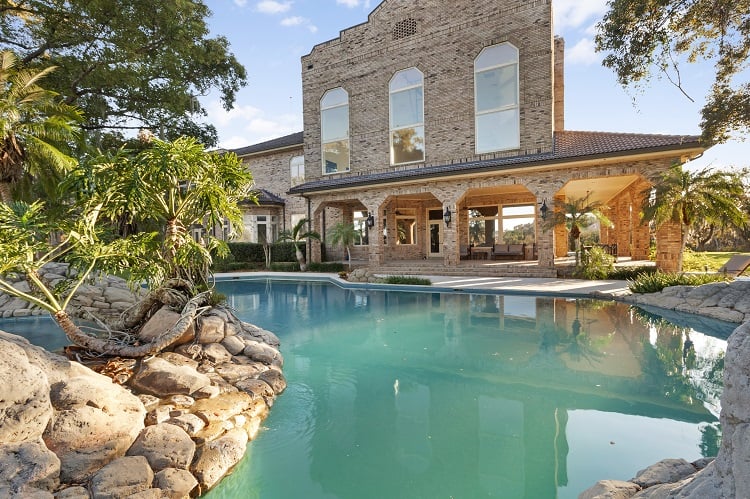 There's also a 5,800-square-foot guest house on the property.
Dan who? What is Dan Bilzerian famous for?
For those of you unfamiliar with Bilzerian, he is an Armenian-American trust fund baby. Born to a corporate takeover specialist, Bilzerian is widely known as a professional poker player and social media influencer.
From his inherited fortune, Bilzerian founded Ignite International Brands, Ltd., which sells electronic cigarettes, CBD oils, vodka, water bottles, and other products. 
While his trust fund money has gone a long way, Bilzerian makes headlines with his lavish lifestyle, which includes lots of women, fast cars, guns, tons of parties, and oodles of mind-altering substances.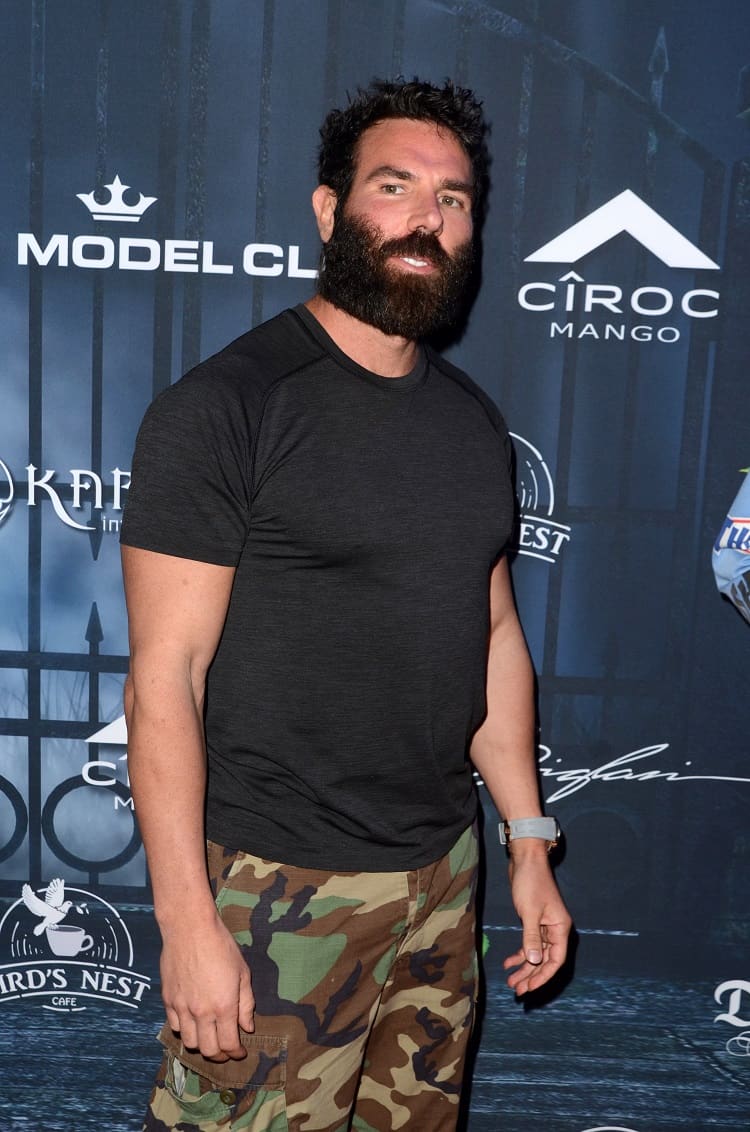 Dan's dad, Paul Bilzerian, is just as much of a controversial figure as his son, if not more.
Initially a prominent local business figure in Tampa, he went on to serve 13 months in prison for illegal stock manipulation. After his troubles with the law, he left the US and sources say he is now living in self-imposed exile on the Caribbean island of St. Kitts.
A look inside the $67.5 million Bel-Air mansion Bilzerian rented in recent years
Love him or hate him, Bilzerian has impeccable taste when it comes to dope dwellings.
In recent years, the Instagram playboy lived in the lap of luxury for a whopping $200,000 per month in this stunning Bel-Air mansion.
Spanning 30,000 square feet, 10979 Chalon Road is one of the most luxurious Los Angeles homes to hit the market in recent years. And the price sure does reflect that: the house was last listed for $67.5 million (it has since been taken off the market, much like Bilzerian's childhood home).
Boasting 13 bedrooms and 24 full bathrooms, the stunning estate in the Bel-Air West Gate offers jaw-dropping views of the Bel-Air golf course, the city of Los Angeles, and the majestic Pacific Ocean.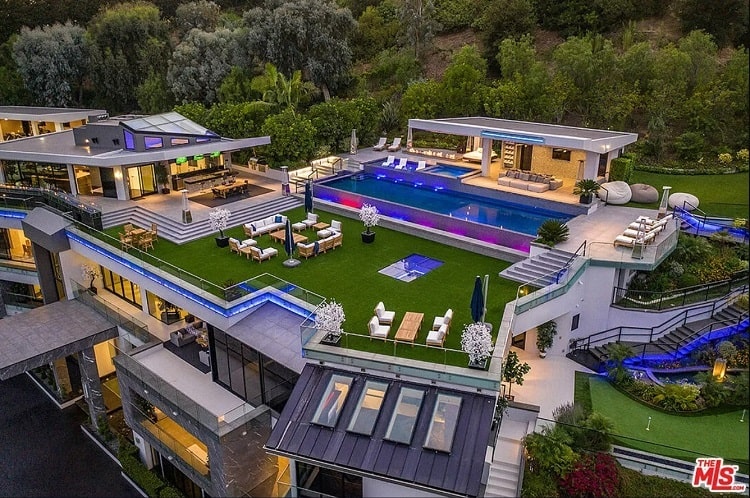 Raising the bar for luxurious living, the 3-story manse sits on 1.03 acres of gorgeous landscaped greens.
The mega mansion features all the bells and whistles you could imagine, including, multiple staircases, an elevator, a 40+ seat home theater, multiple living and dining areas, a 2-lane bowling alley, salon/ spa, 14 attached garage spaces, rooftop infinity pool, rooftop gym, a 12-foot waterfall, tennis courts, putting green and 5 wet bars, to name a few.
More stories
Hype House: the TikTok Mansion Owned by Some of the Internet's Biggest Stars
Grant Cardone's Houses: A $40M 'Castle on the Sand' and a Wildly Colorful Main Residence in Florida
'Cash me Outside' girl Bhad Bhabie's house, a $6.1M Florida mansion