"REALTORS® shall not deny equal professional services to any person for reasons of race, color, religion, sex, handicap, familial status, national origin, sexual orientation, or gender identity. REALTORS® shall not be parties to any plan or agreement to discriminate against a person or persons on the basis of race, color, religion, sex, handicap, familial status, national origin, sexual orientation, or gender identity."
Article 10, REALTOR® Code of Ethics
During Dr. Martin Luther King Jr.'s thirteen years as leader of the American Civil Rights Movement, the U.S. made more genuine progress toward racial equality than the previous 350 years combined.
From the Montgomery Bus Boycott to the March on Washington, Dr. King's contributions have reshaped the American society and inspired a country once divided by hate and ignorance to set aside its prejudice to build a more unified nation — at a time when the country needed it most.
And while his role in establishing core legislation like the Civil Rights Act of 1963 and the Voting Rights Act of 1964 is well known, Dr. Martin Luther King Jr.'s fight for housing equality is often overlooked.
But the Baptist minister and activist had a massive impact in shaping current practices and key industry legislation that made homeownership and tenants rights available to all.
How Martin Luther King Jr. championed housing equality
In the last years of his life, between 1965 and 1968, Dr. King shifted his focus toward economic justice – which he highlighted by leading several campaigns in Chicago, Illinois.
He rallied alongside the Chicago Freedom Movement — also known as the Chicago Open Housing Movement, asking local politicians and business leaders to end discriminatory housing practices.
"We are here today because we are tired," Dr. King said. "We are tired of paying more for less. We are tired of living in rat-infested slums… We are tired of having to pay a median rent of $97 a month in Lawndale for four rooms while whites living in South Deering pay $73 a month for five rooms."
"Now is the time to make real the promises of democracy," he added. "Now is the time to open the doors of opportunity to all of God's children."
To translate the claims into policy, Dr. King supported The Fair Housing Act — now also know as Title VIII of the Civil Rights Act of 1968 — a federal legislation that later on passed to prohibit discrimination on the basis of race, color, religion, sex, disability, family status, and national origin.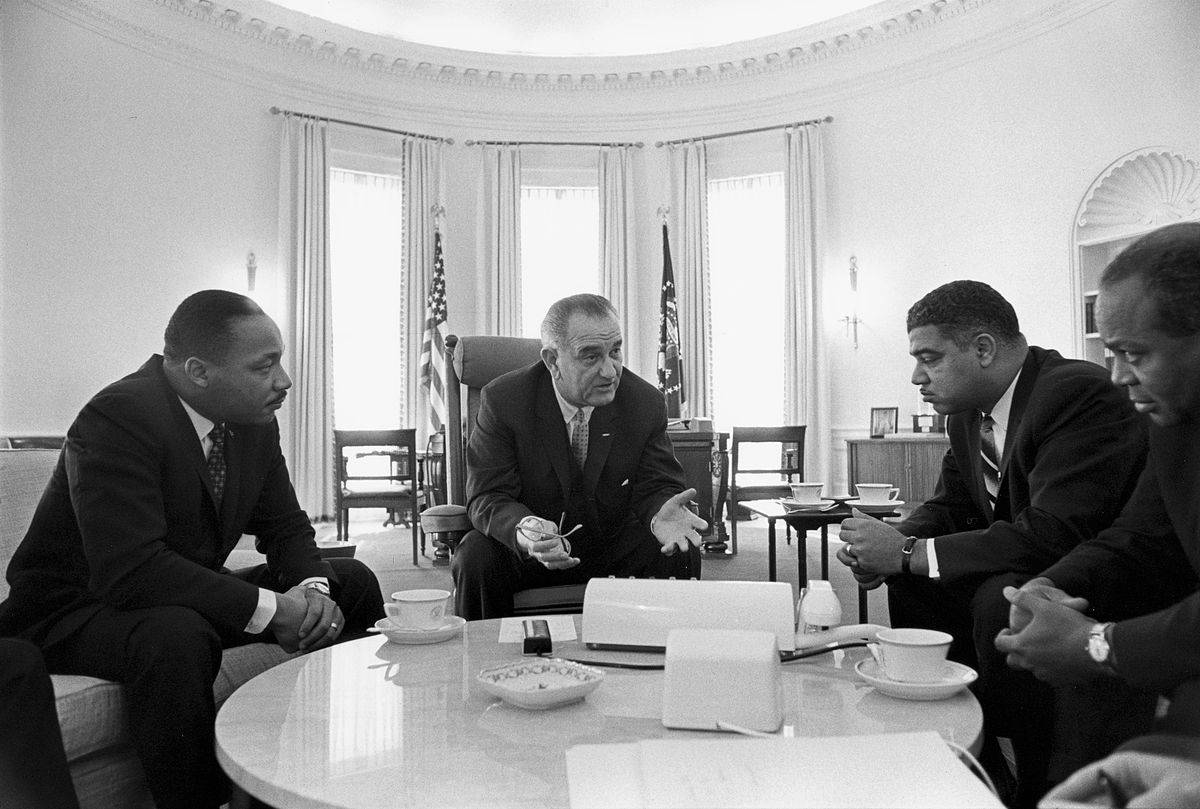 First brought before Congress in 1966, as a response to the many instances of racial discrimination in both buying and renting houses, The Fair Housing Act was often overlooked in the following two years, failing to garner enough support for it to pass.
This in spite of mounting pressure not only from Dr. King, but from numerous equal rights organizations.
In the 1960s, many of the families of African American soldiers who had been killed in Vietnam were facing heavy discrimination when trying find a home, sparking outrage in the community and heavy criticism of how the matter was being handled by the authorities.
It was Dr. King's death that gave Congress the last push needed to pass the Fair Housing Act.
On April 11, 1968, seven days after the assassination, President Lyndon Johnson signed Title VIII of the Civil Rights Act of 1968 — which now protects people from discrimination when they are renting or buying a home, getting a mortgage, seeking housing assistance, or engaging in other housing-related activities.
And while we may be a long way from reaching Dr. King's vision, the Fair Housing Act remains the linchpin of the fight for equitable housing and we are grateful to Dr. Martin Luther King Jr. for his contribution in making it a reality.