One home buyer will soon hit the real estate jackpot in Las Vegas, America's ever-evolving city of entertainment, with this sprawling $25 million estate that's as rare and exquisite as it is expensive.
99 Spanish Gate Drive is far more than a home — it's a massive oasis covering nearly 16 lush acres in the heart of Sin City.
In a place that has quite literally all you need and more — from world-class dining and nightlife to multi-million dollar sports stadiums and concert halls — this ten-building enclave offers enough luxury amenities to rival the five-star casino resorts of the Strip.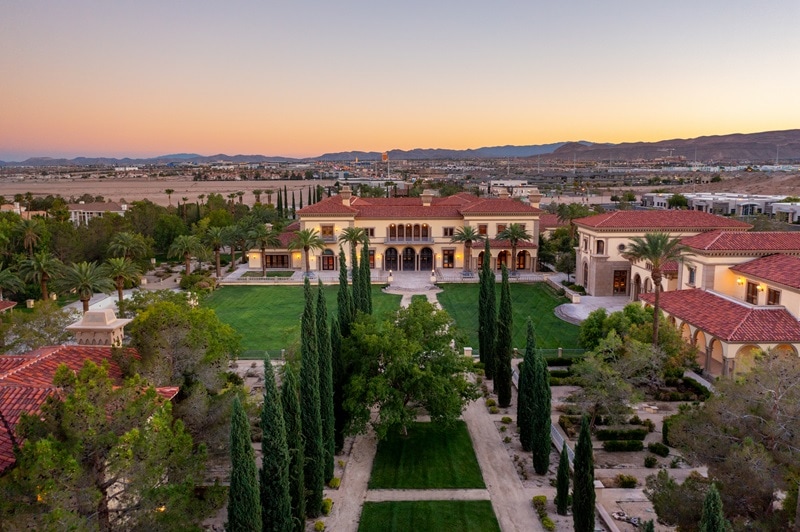 The lavish property is located in the beautiful high-class gated community of Spanish Trail, boasting scenic greenery, glistening lagoons, and a private golf court with a dramatic mountain backdrop.
As an exclusive country club a far cry away from the around-the-clock noise of the Las Vegas Strip, the tranquil neighborhood exudes opulence in every form, and its latest home listing exceeds its already prestigious reputation with unmatched splendor.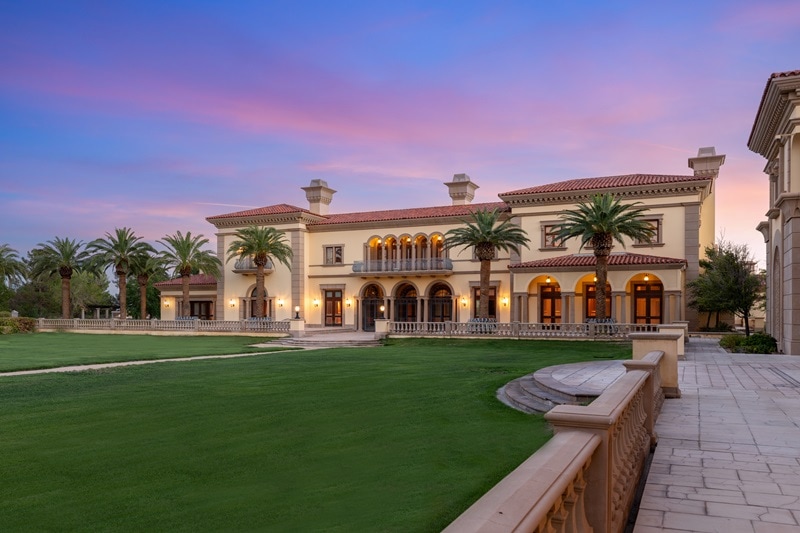 According to Ivan Sher, IS Luxury's owner and principal broker who's also the home's listing agent, "what makes 99 Spanish Gate Drive truly special is its unparalleled combination of size, luxury, and history. This estate isn't just a property; it's a living work of art that captures the essence of opulence. Its vast 15.9-acre lot, 10 interconnected buildings, and a grand total of 110,320 square feet make it a masterpiece unlike anything else on the market."
However, the estate doesn't boast grandeur alone. It features a unique, ornate style and high-end conveniences fit for a king.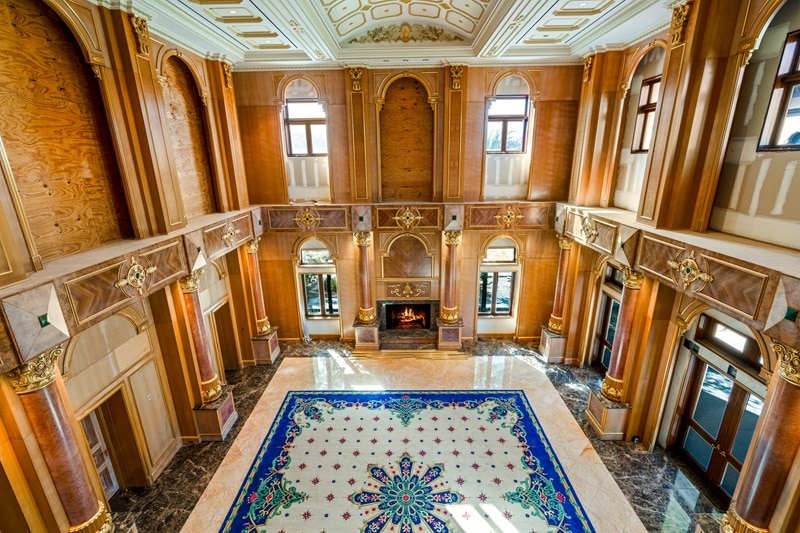 The greatest masterpieces take time, and this regal estate is no different.
Construction of the property first launched in 1997, and it's still being crafted to perfection to this day. Sher considers it an "unfinished masterpiece" that's only missing appliances and a few final touches.
Enter the property grounds and you'll instantly be immersed in the lush, manicured greenery of the grand lawn — a stark contrast from the brown, dusty desert beyond its immaculate gates.
See also: All the luxe houses MrBeast toured in his "$1 vs $100,000,000 House!" viral video
The manor's Main House boasts a colossal great room with soaring ceilings that feels more like a palace than a house. Its lavish dining hall can easily entertain countless guests, and the expansive state-of-the-art catering kitchen is up for the challenge.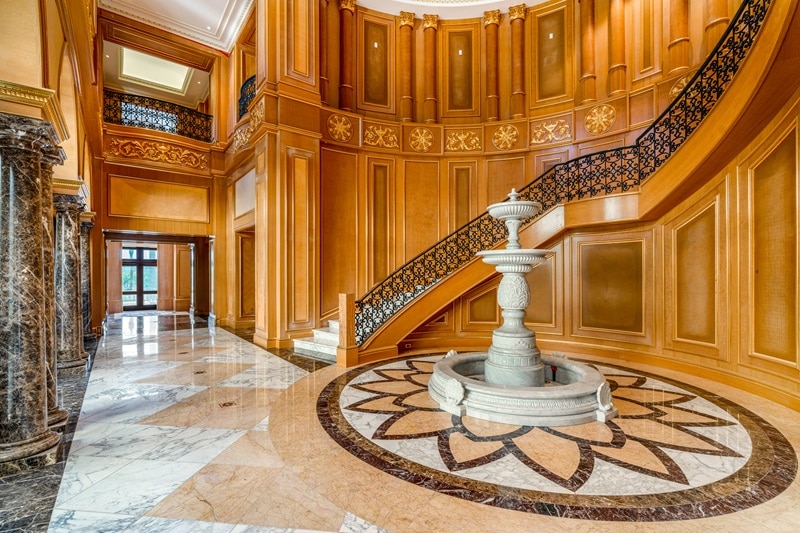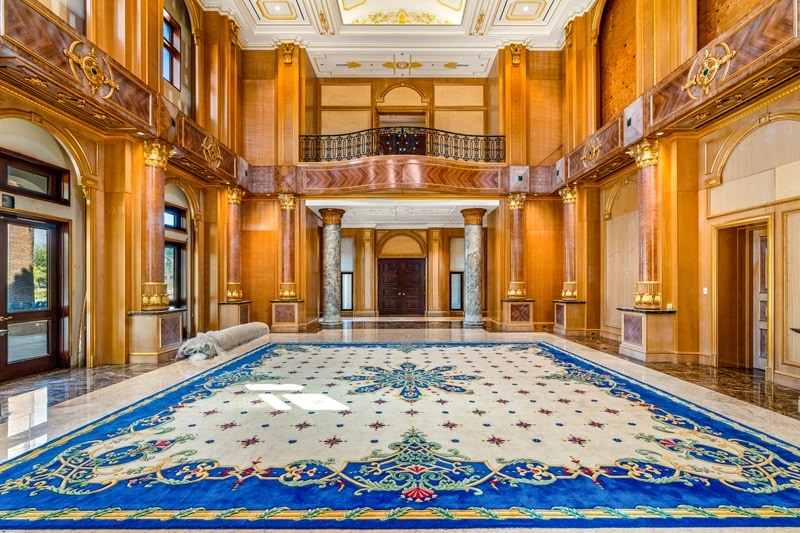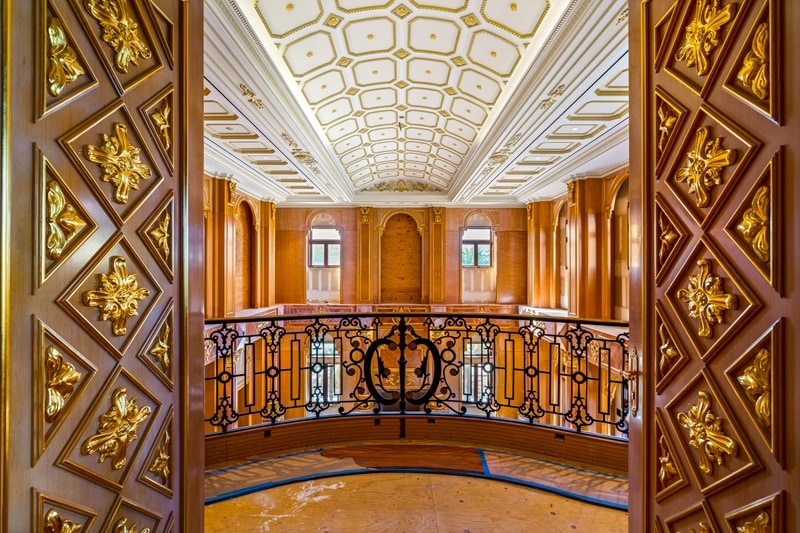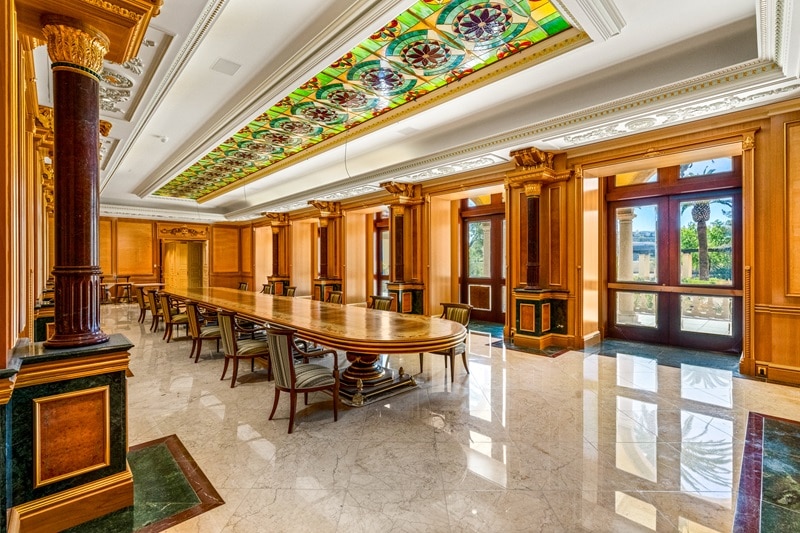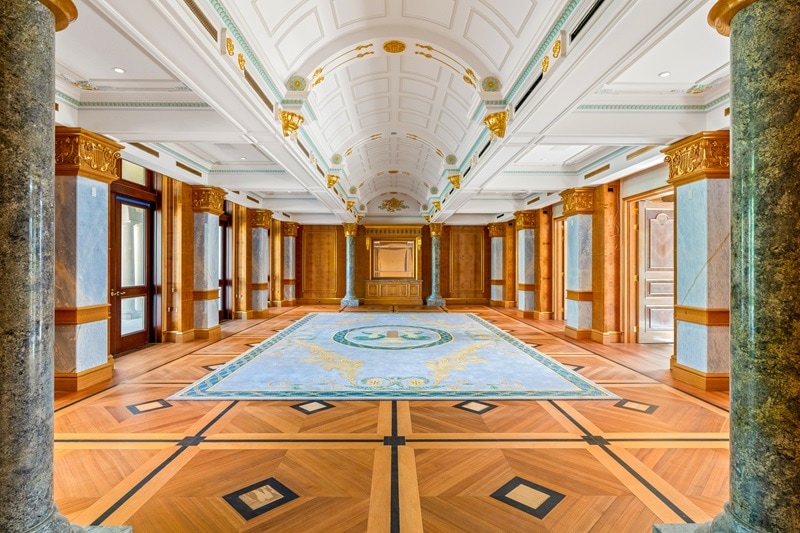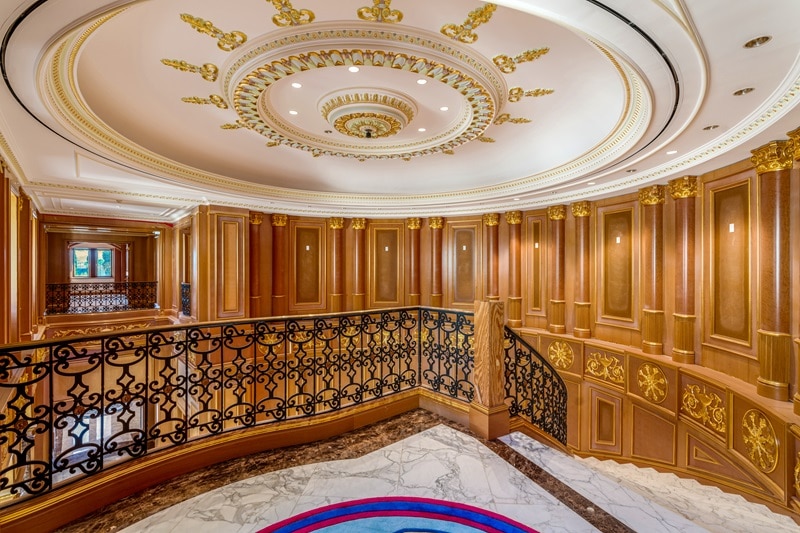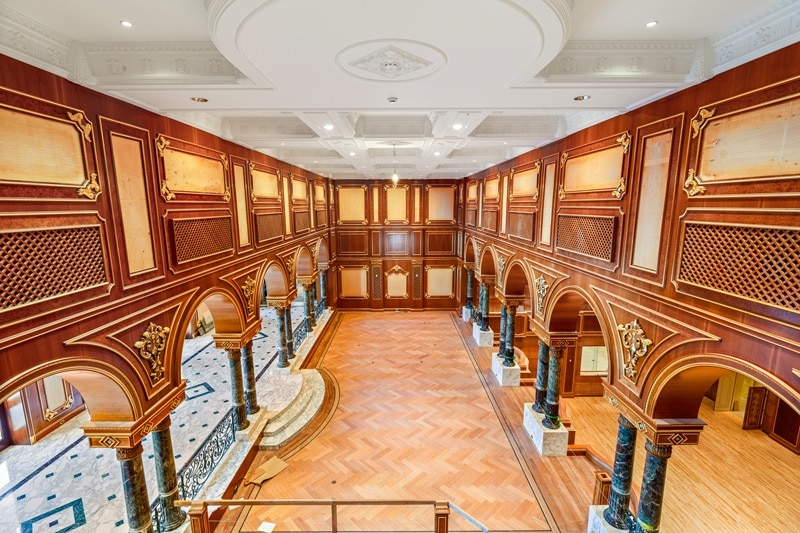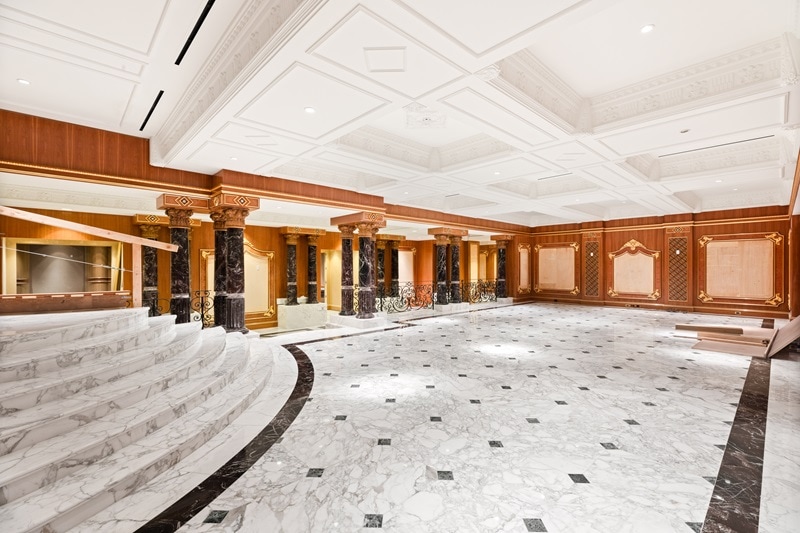 Along with six bedrooms and nine bathrooms (including the butler quarters), the mansion features a music room, entertainment room, and billiard room, all beckoning for the party of the century.
Meanwhile, the athletic club boasts far more than your typical home gym, with indoor sports facilities including badminton and squash courts, a pool, a bowling alley, a gym, and locker rooms. It also includes a guest suite, ten bathrooms, and even a nightclub (because, you know, Vegas).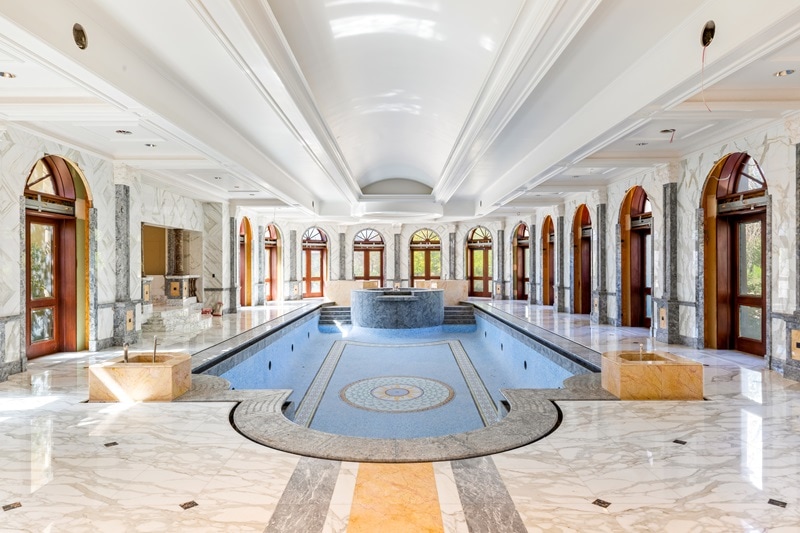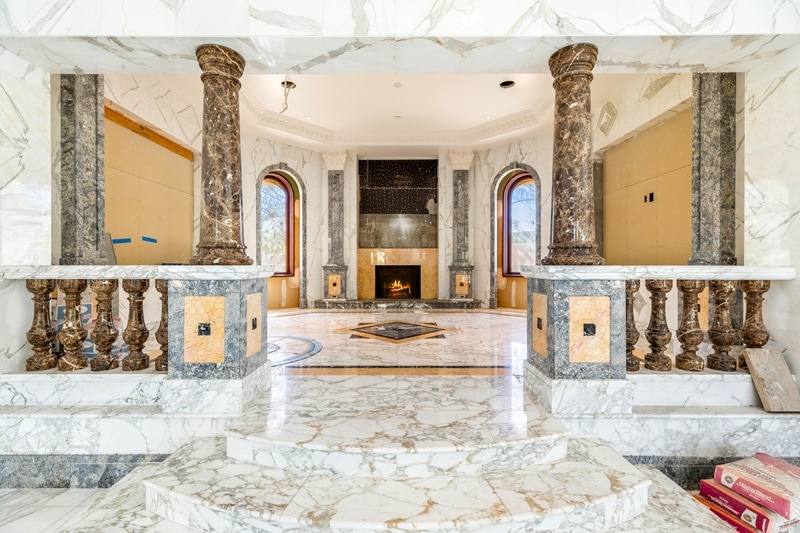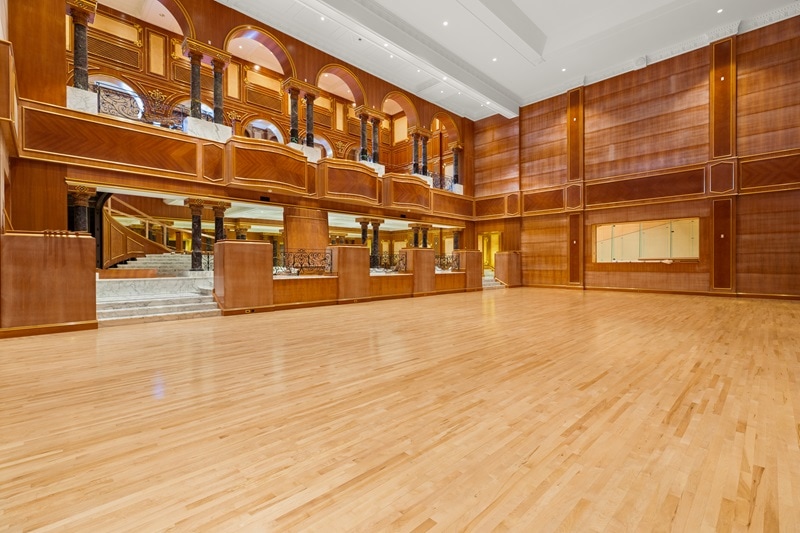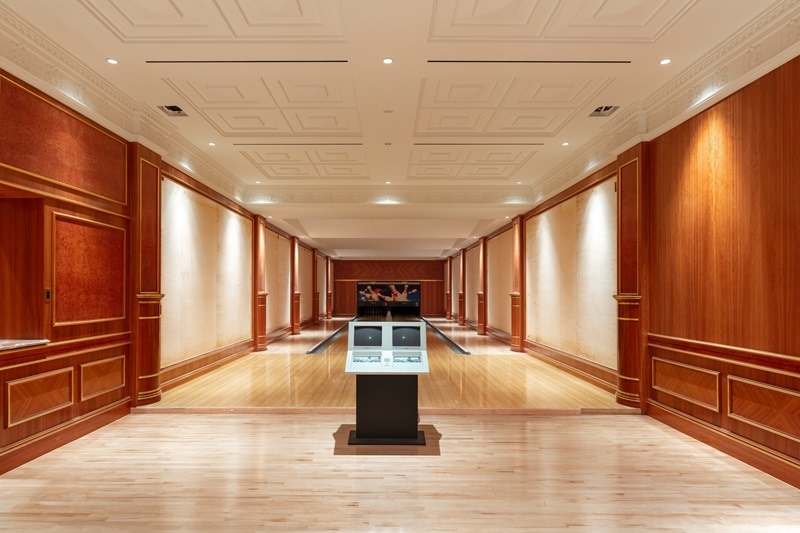 What's an estate without a guest house? Of course, this larger-than-life mansion delivers not just one but four distinct guest structures — two homes and two villas, to be exact — with a private pool, ample bedrooms and bathrooms, and a separate study pavilion.
The nearby carriage house with an eight-car garage and 30 outdoor parking spots ensures more than enough places for everyone's cars. Unless the owner fills it up with a collection of luxury rides, that is.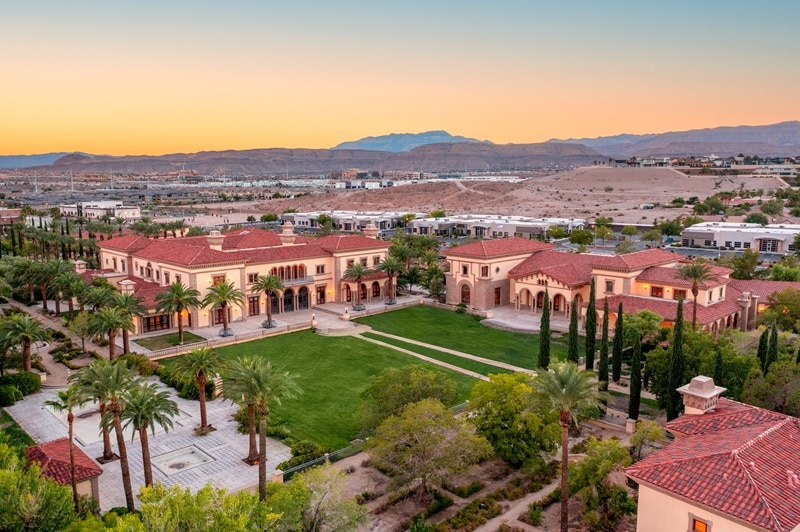 A property this big needs housekeeping on demand.
Luckily, its staff quarters ensure that no domestic need will go unnoticed. Featuring seven bedrooms, nine bathrooms, and an eight-car garage, the caretaker quarters alone offer more than most of us could ever ask for.
Outside, you can admire the picturesque grounds from charming garden terraces, try a hand at tennis on the court, or indulge in a swim in one (or all) of three pools on a hot summer day.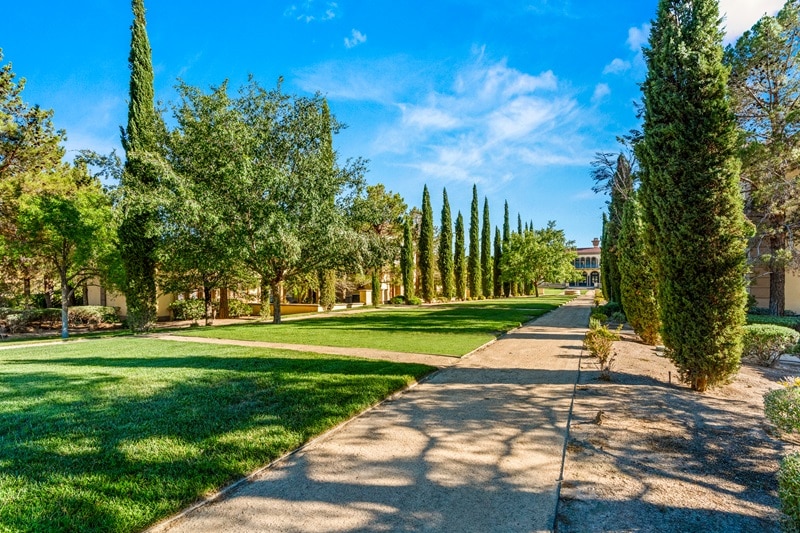 So, who will end up owning 99 Spanish Gate Drive?
Our bet is on a billionaire investor or a high-roller multi-millionaire. Either way, we're sure a top-tier manor like this won't stay on the market long.
More stories
What $23.5 Million buys you at The Summit Club, Las Vegas' most exclusive residential community
Step inside a Las Vegas mansion that Michael Jackson once called home
Carolina Hurricanes' Max Pacioretty Hits a 'Bar Down' with $11M Las Vegas house sale