Tom Clancy, the late American novelist best known for his technically detailed espionage and military-science storylines set during and after the Cold War, also had a great eye for detail in his personal life — and his former penthouse stands to prove it.
After penning seventeen bestsellers and selling more than 100 million copies worldwide, the author of the Jack Ryan novels rewarded himself with a jewel penthouse in Baltimore's Ritz-Carlton Residences, a highly-coveted, luxury condominium complex positioned along the city's waterfront.
And since the building didn't already have a big enough penthouse apartment, Clancy took it upon himself to combine three existing units into a massive 12,000-square-foot trophy apartment, a major overhaul of the space that took two years to complete and cost him $15 million.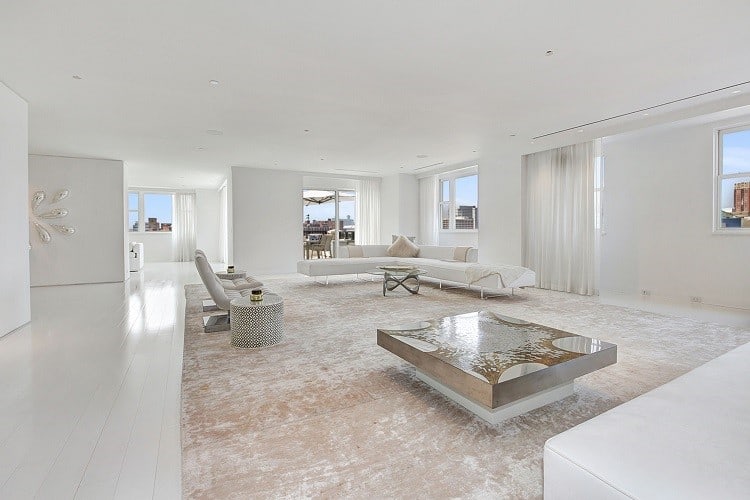 Unfortunately, this was back in 2010, and one year after the renovation was completed, Tom Clancy died of heart failure at the nearby John Hopkins Hospital. He was 66 at the time.
And while he didn't get to enjoy the meticulously built apartment for long, a lucky new owner will — as Tom Clancy's penthouse is now headed for auction.
Tom Clancy's home at the Ritz-Carlton sold at auction without reserve in December 2020, commanding a $3.3 million sale price.
A closer look at Tom Clancy's home in Baltimore
The triple-sized penthouse on the sixth floor of Baltimore's Ritz-Carlton Residences reflects "the exquisite tastes of its owner and the quality craftsmanship of the builders who brought the vision to life," according to Elite Auctions, which is handling the auction sale.
While the nature of the sale doesn't give us many indicators on what the penthouse will sell for, the "without reserve" part means that the unit will be sold regardless of price.
More stories
What we do know is that this is not the property's first stint on the market.
The apartment was first listed in October 2015 for $12 million by TTR Sotheby's International Realty. The price dropped in 2016 to $10.9 million and again later that year to $8.7 million.
By 2017, the Baltimore Sun was reporting that the author's home had dropped its asking price to $7.9 million.
And while that may sound like quite a hefty price tag, it's worth noting that Clancy paid a total of $12.6 million to buy the three separate units — and invested heavily in combining them and redesigning the space to suit his style.
Overall, the author invested $15 million in his trophy Ritz-Carlton residence.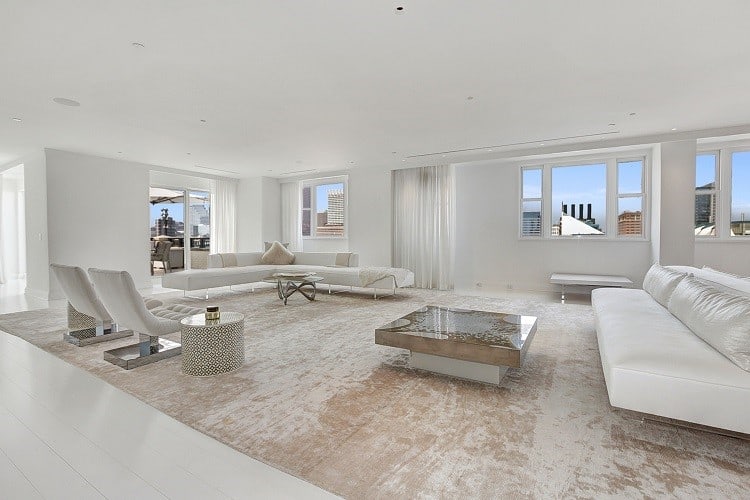 With 4 bedrooms, 6.5 baths, an open floor plan, and a 1,500-square-foot living room with harbor and skyline views, the penthouse oozes luxury with its impeccable white interiors.
A perfectly appointed office with dark, rich furnishings contrasts the brightness of the overall décor (and it wouldn't be surprising if the author had it designed that way in order to trigger his creativity whenever he wanted to write).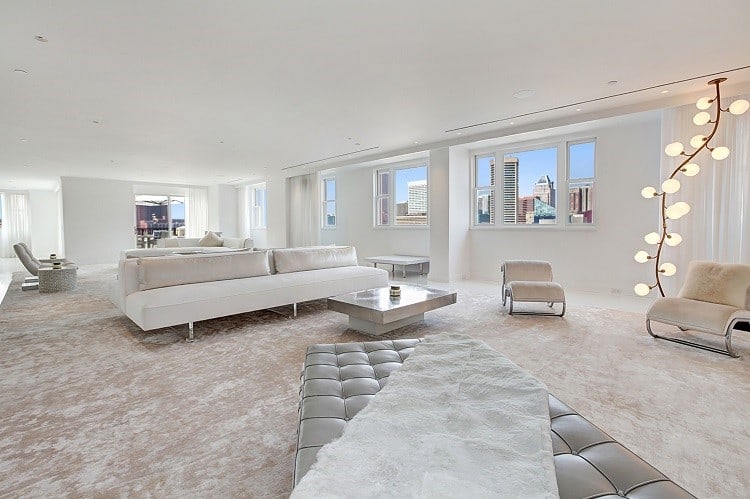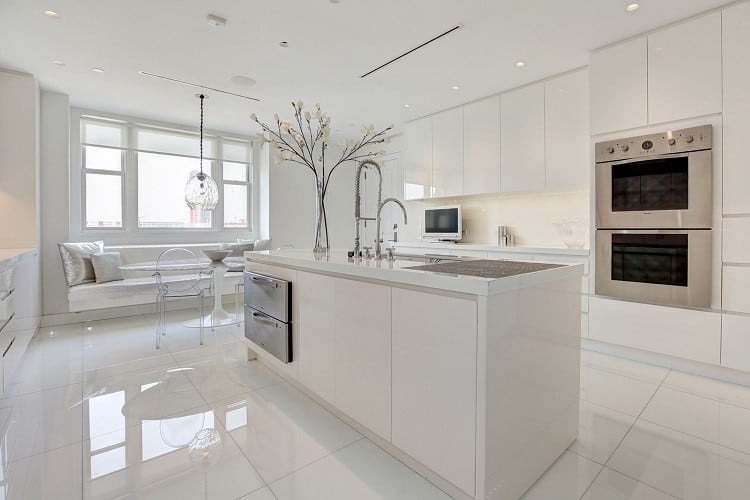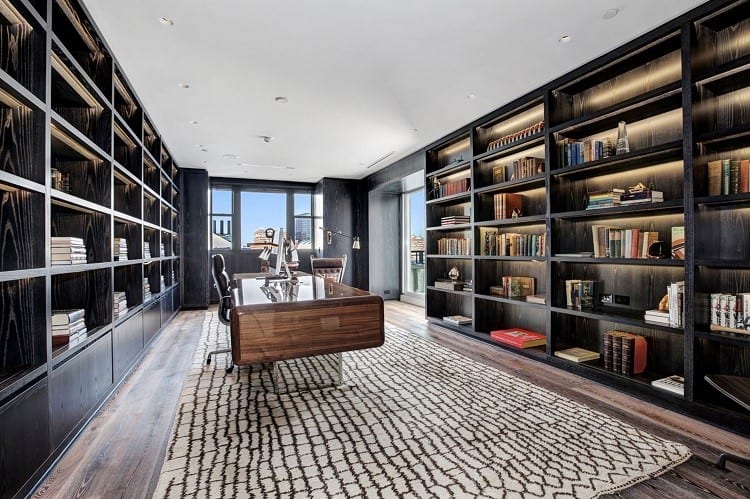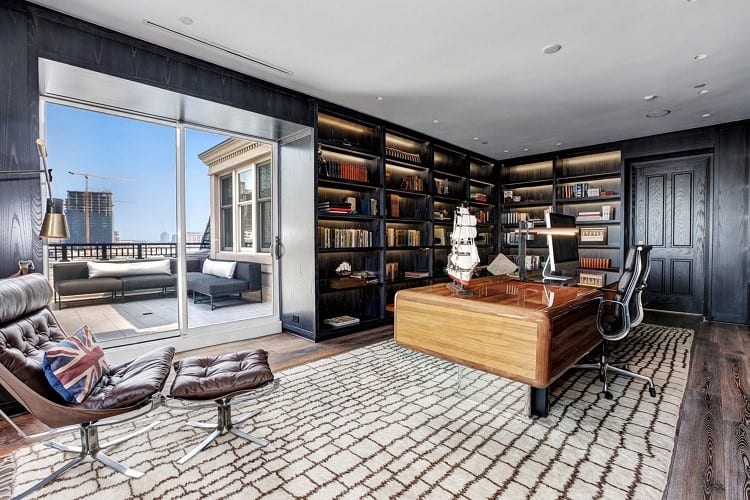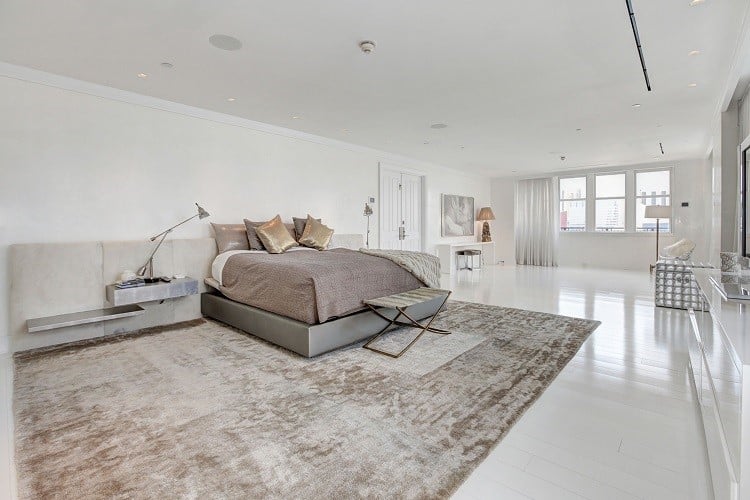 Incorporating smart home tech, all of the penthouse's lighting, window shades, and in-home audio are controlled via smartphone.
Additional features of Tom Clancy's house include five parking spaces, an elevator from garage to private vestibule, panoramic views of The Inner Harbor, Harbor East, Fells Point, Federal Hill and downtown city skyline, two offices, four balconies and two corner terraces.
The building itself sounds like the pinnacle of luxury; set on a five-acre premier waterfront parcel along Baltimore's Inner Harbor, The Ritz Carlton Residences offers five-star amenities including 24/7 front desk attendants, two acres of waterfront gardens with fountains, Ritz-Carlton trained concierge, and free valet parking for residents and guests.
A few other noteworthy amenities include a meditation garden with a waterfall, exceptional security with 88 cameras surrounding the property, dry cleaning pickup and delivery, available maid service, six residential suites for resident guests, and porters to deliver groceries and packages directly to residences through service corridors.
There's also a game and billiards room in site, as well as a resident lounge, 30-seat theater and boardroom.
Lead image credit: Elite Auctions (building) & John Mathew Smith & www.celebrity-photos.com via Wikimedia Commons (Tom Clancy)
More homes of famous writers
Stephen King's House, the Beating Heart of Bangor, Maine
Ernest Hemingway's House in Key West Stands Tall and Mighty After 168 Hurricane Seasons
Menabilly, the Real-Life Inspiration for the Manderley House in 'Rebecca'
'Rich Dad, Poor Dad' author Robert Kiyosaki house in Hawaii