If you find yourself yearning for Caribbean getaways, we found the ultimate luxury retreat in the picturesque island country of Dominica.
Secret Bay, Travel + Leisure's #1 Resort Hotel in the Caribbean, is now branching out and offering its six-star resort perks to buyers seeking to own a sustainable luxury vacation home in the Caribbean.
The resort has recently launched The Residences at Secret Bay, a limited collection of treehouse-style villas positioned on a breathtaking clifftop overlooking the Caribbean Sea.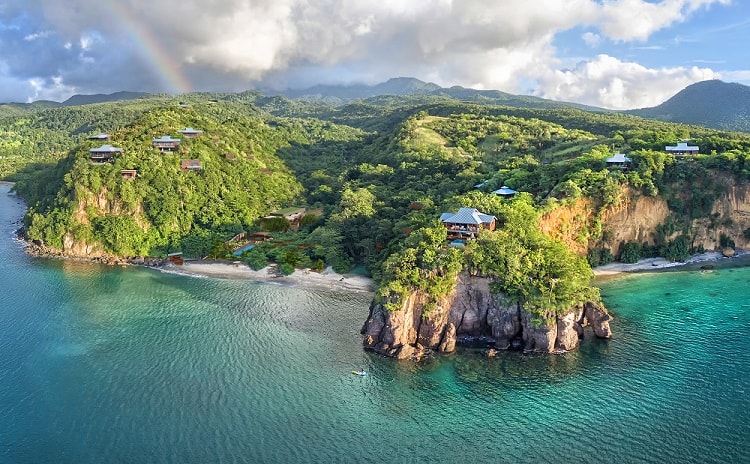 The residences — currently consisting of 12 architecturally stunning villas and 2 multi-villa estates set within the gated confines of Secret Bay — offer a unique opportunity to buy into Dominica's crown jewel development at Secret Bay and enjoy homeownership with all the perks and amenities of one of the best resorts in the world.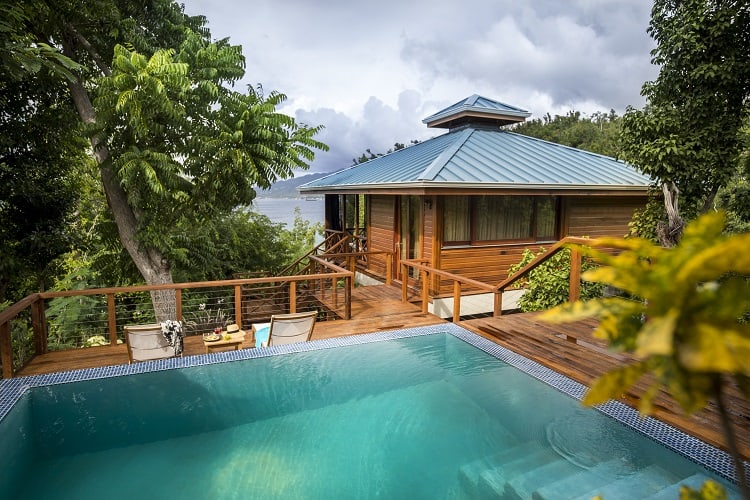 The Residences at Secret Bay: idyllic vacation homes in the Caribbean that come with a second passport
With prices starting at $1.5 million for the smaller villas (larger Secret Bay residences and multi-villa estates are priced north of $4 million), owners get a clifftop treehouse overlooking the Caribbean Sea and gain privileged access to the renowned resort's amenities.
But the perks don't end here.
Buying into The Residences at Secret Bay allows future homeowners to acquire second citizenship through Dominica's Citizenship by Investment program.
While many of the residences are yet to be built, they will include the most popular Secret Bay villa designs that made the resort famous around the world.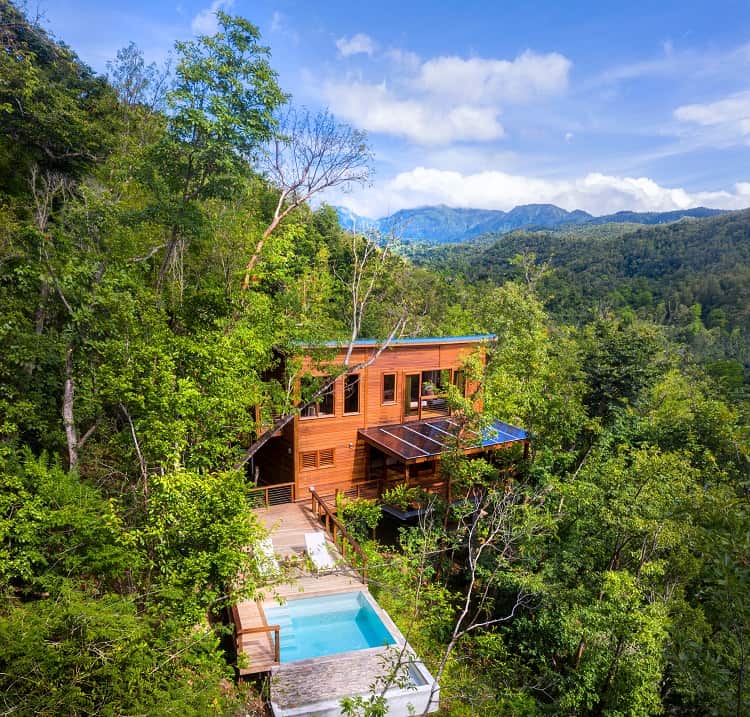 That includes Secret Bay's iconic Zabuco Villa and popular Ti-Fèy Villa designs, as well as larger, multi-villa clifftop estates.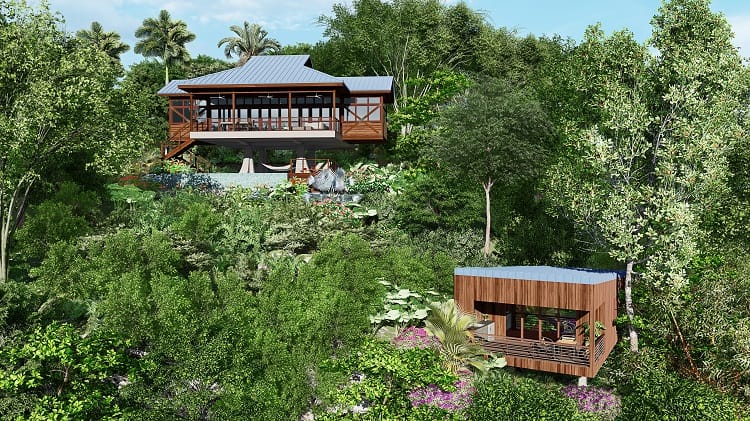 Regardless of their design, each residence embraces casual coastal elegance with stately modern amenities, generous floor plans, and fully-appointed gourmet kitchens.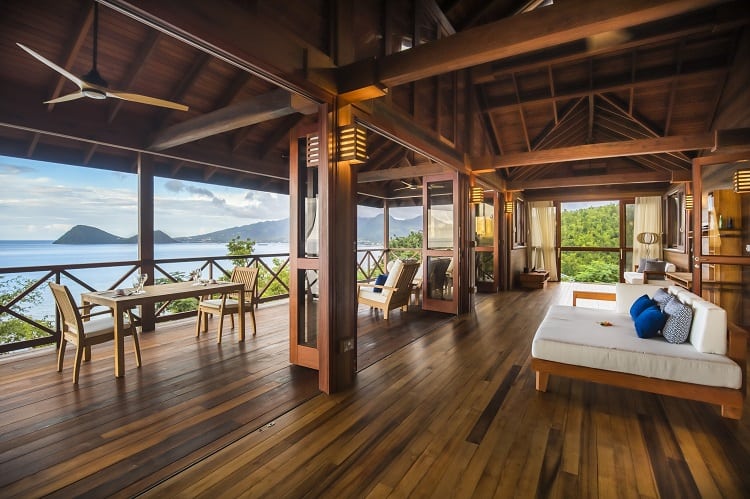 Secret Bay residences come equipped with Siemens appliances, Breville panini presses and De'Longhi espresso makers, wine fridges, iPads, Apple TV, and Samsung televisions.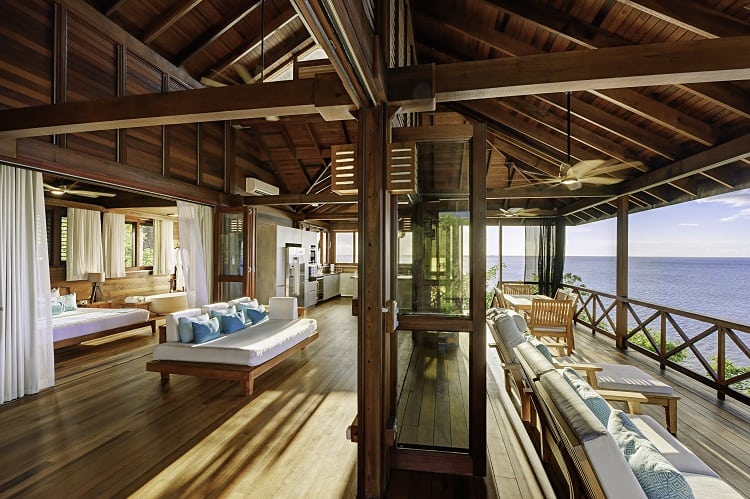 But what caught our eye were the private plunge pools and outdoor showers, hammocks and daybeds that made us daydream about moving to Dominica.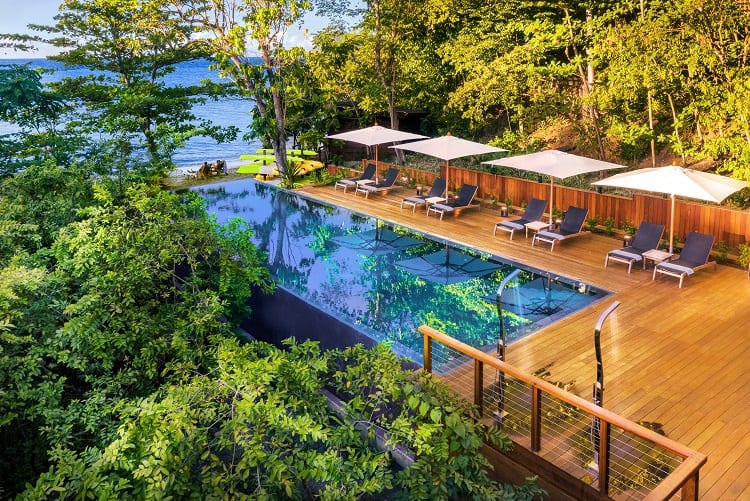 Built with sustainability in mind
The freestanding villas have been built entirely out of sustainably-sourced tropical hardwoods and were developed in accordance with LEED standards in order to protect the local environment.
And there's a lot to protect.
Dominica's Secret Bay resort is tucked on a serene clifftop promontory on the Caribbean's unspoiled 'Nature Island' — a term often used to describe the country island of Dominica and its abundance of natural splendors, ranging from its rainforest landscape to subterranean volcanoes, waterfalls, hot springs, and its white and black sand beaches.
SEE ALSO: Ranking the 15 Best Luxury Pads from 'The World's Most Amazing Vacation Rentals'
Dominica also has 365 rivers (or, like locals will tell you, one river for every day of the year), and much of the island is protected under national parks, one of which has been given UNESCO World Heritage status.
Adding to its sustainability efforts, The Residences at Secret Bay also offer electric vehicle parking and charging stations.
Homeownership with six-star resort amenities
Residents will get to enjoy the same stellar amenities that draw tourists at the Secret Bay resort. Community amenities include:
The Zing Zing restaurant
The on-site, open-air Secret Bay restaurant serves hyper-local gourmet meals under a canopied roof surrounded by lush greenery, while expert mixologists at the bar and lounge prepare specialty cocktails paired with signature bites.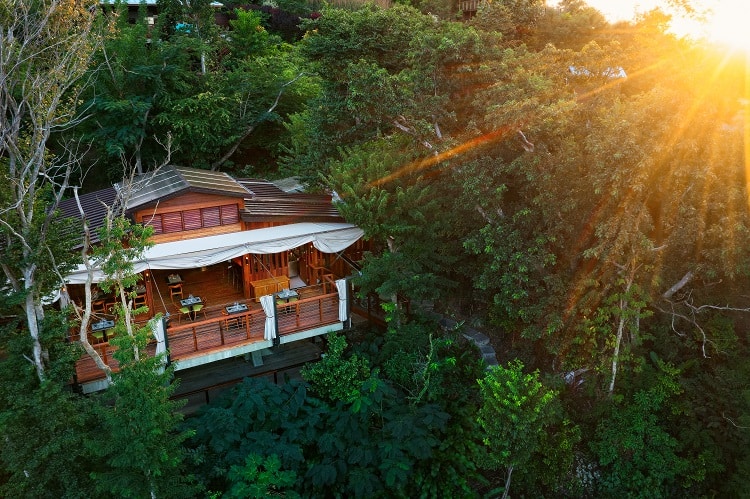 Gommier Spa and Bwa Mang Wellness Pavilion
An idyllic treetop spa and wellness pavilion that serves as a riverside destination for intimate wellness classes and indulgent spa service that uses local ingredients designed for natural healing.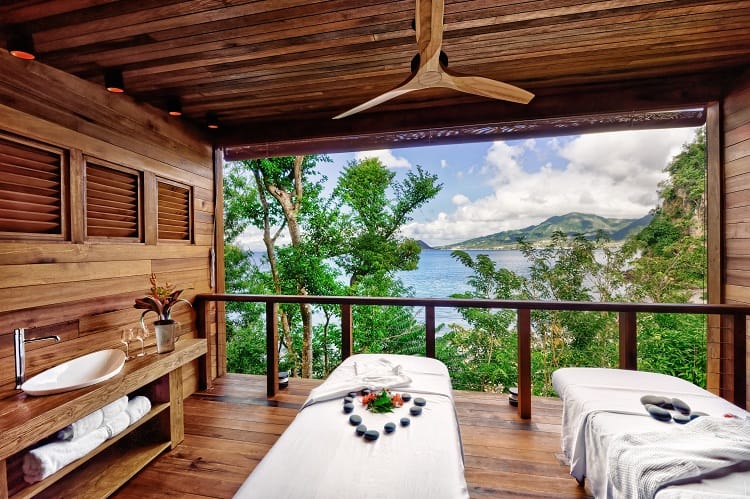 Gwiyavye' Lap Pool & Bar
An in-nature lap pool with a full-service bar and beachfront casual dining.
Mouben Welcome House
The resort's new architectural hub welcomes guests and invites them to socialize. This is where the resort's concierge is based, who can assist residents with their every need, from making restaurant reservations to coordinating spa services or arranging riverside yoga sessions.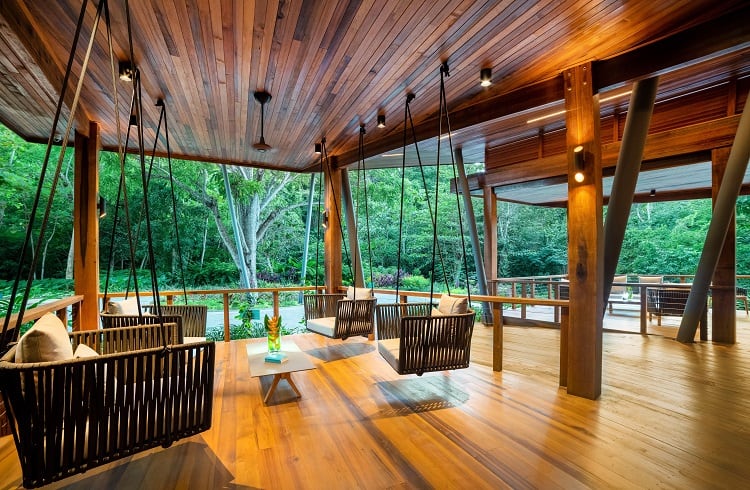 Vetiver Sunset Deck
Ideal for romantic alfresco dining or for a private wedding, this intimate overlook is rightfully touted as a "stage from which to experience Dominica's stunning sunsets".
Zamann Watersports Hut
This beachfront hut houses a variety of adventure gear ranging from kayaks to paddle boards or snorkeling equipment.
But there's also a whole series of new amenities that will be added to Secret Bay Resort's already-impressive repertoire.
New additions will include a state-of-the-art fitness center, microbrewery, curated art gallery, and hillside funicular among them.
Future homeowners will also enjoy access to Secret Bay's high-performing property rental program, management and upkeep of the property, and commitment to leveraging the network to facilitate resale.
Already setting records
With their unique offering and unparalleled location, the Residences at Secret Bay are already breaking records.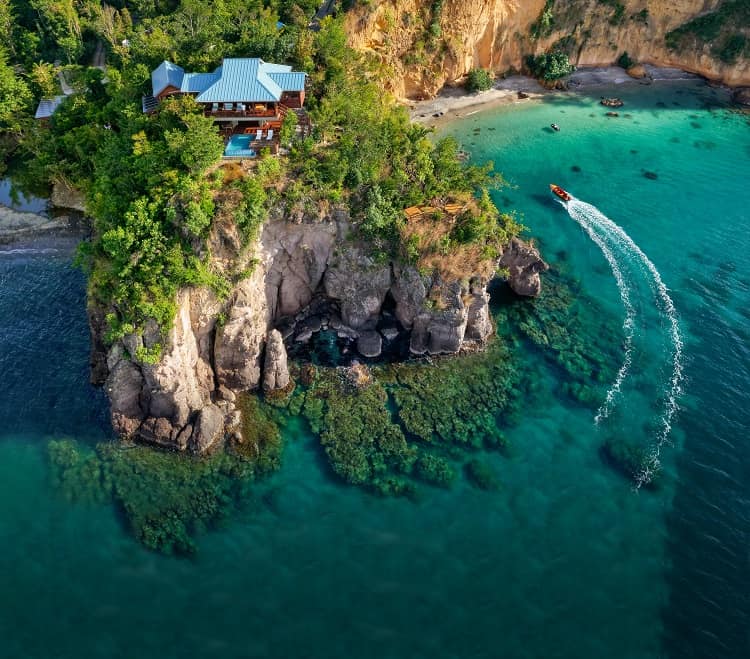 One clifftop villa compound sold for $7.1 million, a price point that made it the most expensive vacation home ever sold in the Caribbean Island of Dominica.
Consisting of four separate villas, the record-setting estate had 9,786 square feet of indoor-outdoor living spread across more than an acre of land.
"This is a significant milestone, not just for The Residences at Secret Bay, but also the country," said Gregor Nassief, proprietor of Secret Bay and The Residences at Secret Bay, when the sale closed.
"This was a collaborative endeavor between the buyer and Secret Bay to fully achieve their dream to have a composition of luxury villas with three pools perched high upon more than an acre of waterfront promontory above the Caribbean Sea."
More stories you might like
The Knives Out: Glass Onion house is actually a luxury resort in Greece
Prince's Beach House in the Caribbean Finds New Owner, Changes Name to Emara Estate
The private homes aboard the NJORD Superyacht are the epitome of nautical luxury
Breathtaking Dolce & Gabbana Villa on Sicily's Idyllic Stromboli Island