Welcome to Throwback Thursday, a web series where we revisit the most memorable properties we've covered in the past — and see what happened to them. Ranging from architecturally distinct properties to luxury listings with some quite unique features, to unforgettable houses that left us daydreaming about potentially moving in one day, Throwback Thursday revives our past favorites and provides an update on whether or not they're still on the market, how much they sold for, and, if the information is publicly available, who bought them. This article has been updated to reflect the current status of the property, but all the information about the house itself as well as the property photos date back to our initial coverage (published on October 1, 2020).
Many million-dollar homes often come with name-bragging rights.
Sometimes, it's because a celebrity once lived in the house, or because a famous designer left its expert touches on the home's interiors; or maybe the address itself is well-known, for one reason or another.
But there's a whole other level of name-dropping that comes with owning a home envisioned by one of our generation's leading architects.
And that's exactly the case for this modern glass home in Sagaponack, NY, designed by world-renowned architect Shigeru Ban.
In fact, the property is the award-winning Japanese architect's first and only work in Long Island. And since it spent some time on the market in recent years, we got to take an exclusive look inside.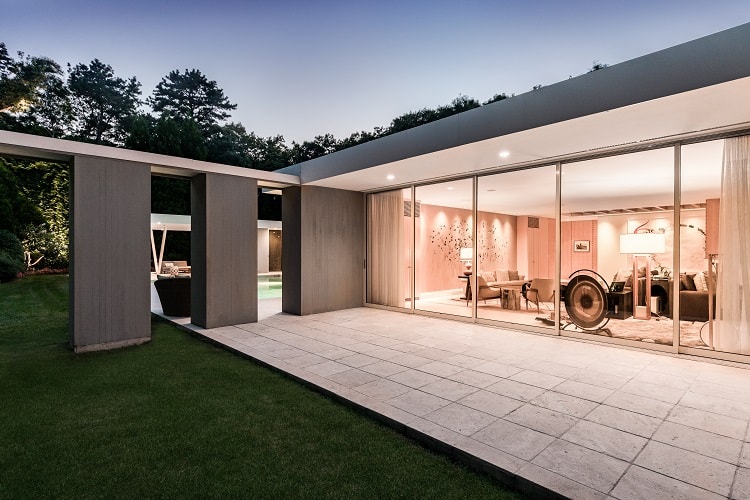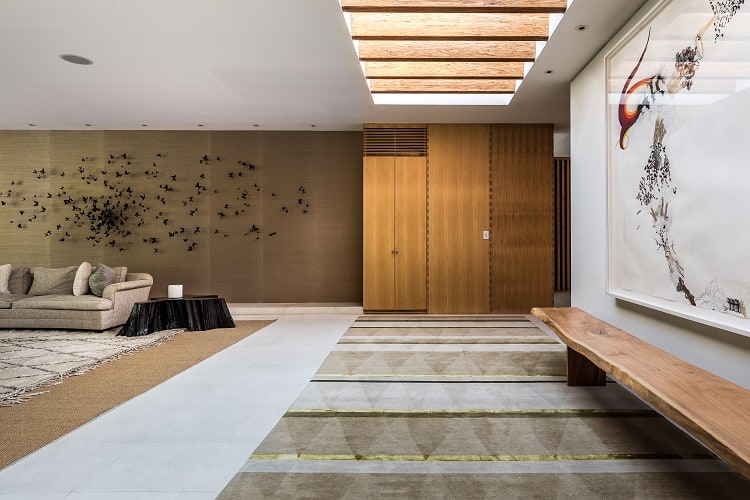 Famous for blending traditional Japanese elements with modern Western architecture, Shigeru Ban was named to TIME magazine's shortlist of 21st-century innovators, won the 2014 Pritzker prize (the biggest distinction in the architecture world), and left his imprint on structures like the Aspen Art Museum, Centre-Pompidou-Metz in France, and Tainan Art Museum in Taiwan.
Despite his many accolades, the Japanese architect is most known for being a champion of sustainable architecture and has been instrumental in designing disaster relief housing from Rwanda to Turkey. 
His design philosophy is centered around creating uniquely free and open spaces with concrete rationality of structure and construction method, and the Hamptons house is a perfect embodiment of this.
With a design based on Ludwig Mies van der Rohe's unbuilt Brick Country House (which dates back to 1924), the 8,000-square-foot home boasts unique architectural features, including a row of pillars that line the path to the front door — that can double as hidden storage.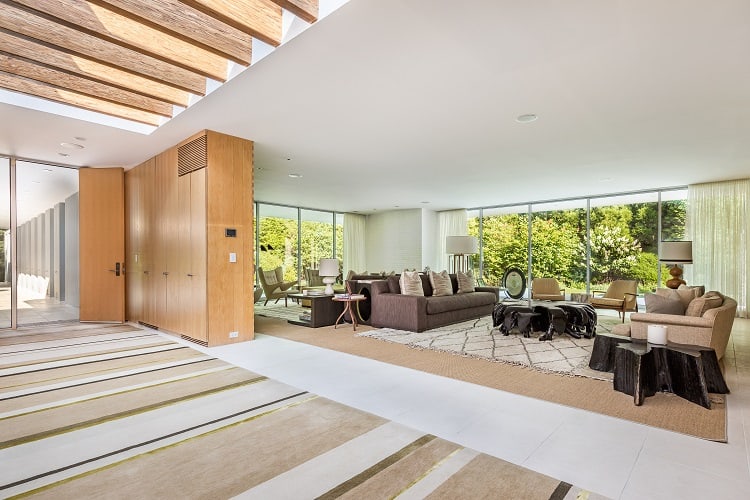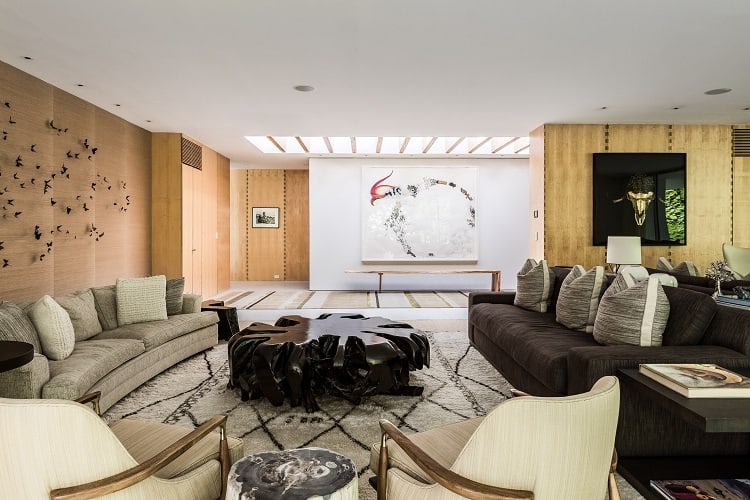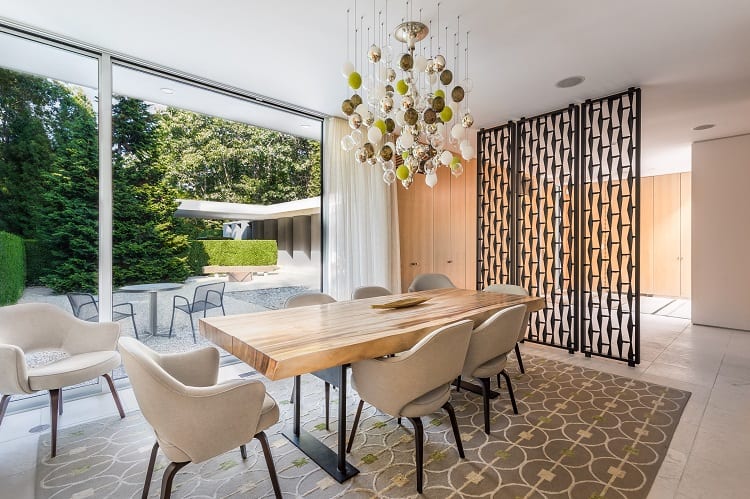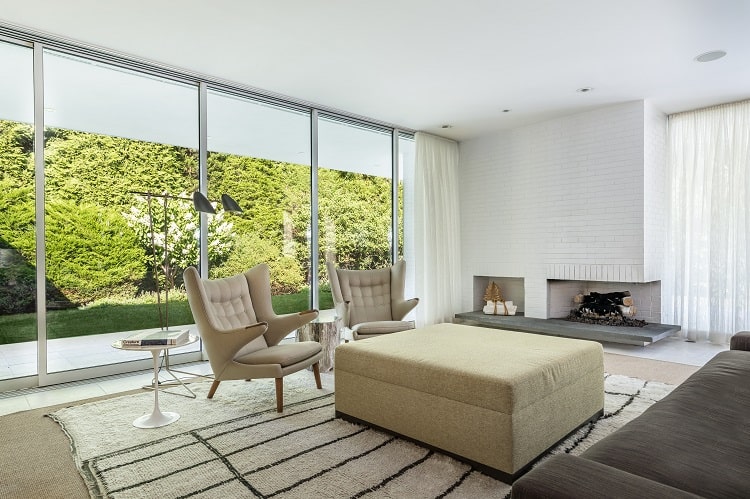 The 5-bedroom, 5.5-bath home features exceptional furnishings by renowned designer Shamir Shah.
It has floor-to-ceiling windows, an oversized living room (with a wood-burning fireplace and wraparound views of the landscaped lawn), and a massive workout room that is more akin to a private high-end gym — complete with oversized mirrors and every piece of equipment you could think of, including a spin bike, elliptical, treadmill, press machines, and more.
See also: This Floating Farmhouse in the Catskills dates back to the 1820s, but you could never tell
The indoors seamlessly open to the outdoor areas, where there's a heated in-ground pool and a pool-side terrace with multiple lounging areas — adding to the tranquil zen garden area (with a modern stone fountain) which greets visitors as they enter the property.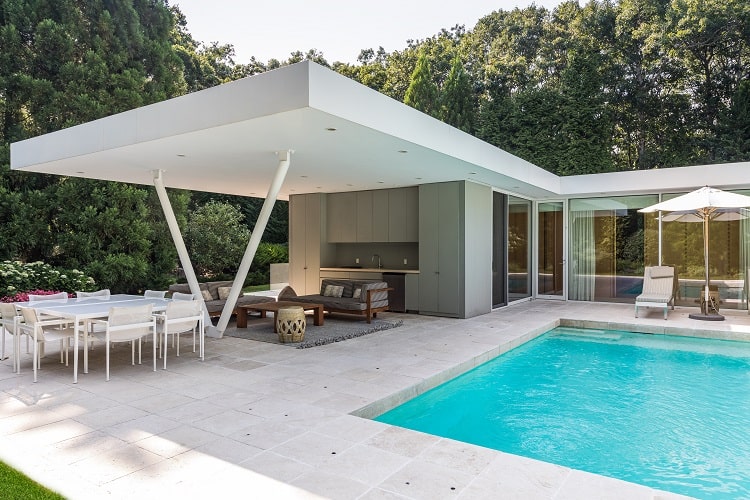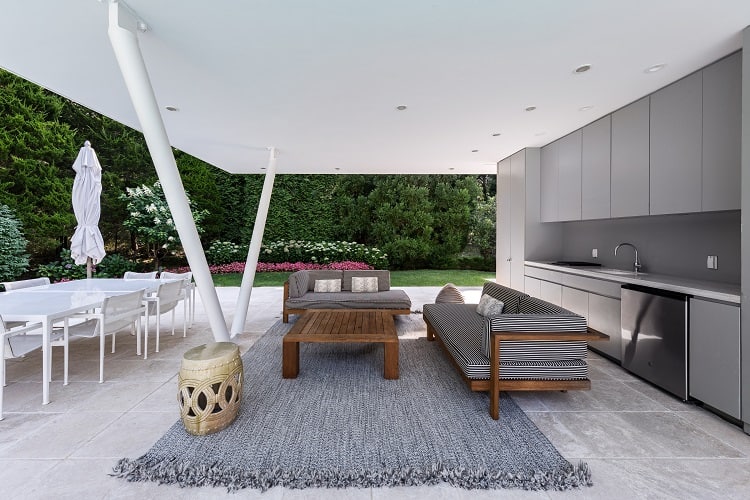 What happened to this Shigeru Ban-designed home?
When we covered this property back in October 2020, it had just been listed for sale asking $4,995,000.
Listed with Matt Breitenbach of Compass, the architectural property was already marked as Contract Signed on the brokerage's website mere days after it came to market, which means it's likely that an architect buff has quickly seized on the opportunity to own a home designed by the Pritzker-prize winner.
As is to be expected for a property of this caliber, the Shigeru Ban-designed home sold for way over its original asking price.
Public records show that the sale closed in March 2021 for $5,250,000. That's 5% over ask.
>> Follow us on Google News for more stories like this, in real-time
More stories
Inside a luxury $7.75M Southampton house with Kentucky Derby-winning horse ties
This $9.5M house in the Hamptons is an oasis of calm with a stunning indoor/outdoor pool