Husband and wife duo Loren and JR Ridinger, who founded retailing giants Market America and SHOP.COM, are ready to get out of the city — and leave their palatial home behind.
The beauty mogul and her husband recently bought a larger home in Greenwich, CT to accommodate their growing family — the Ridingers are proud grandparents to three grandchildren — and are now looking to find a buyer for their posh NYC home in the Jean Nouvel-designed condo building at 100 11th Avenue in West Chelsea.
"It just didn't make sense for us to keep such large properties in both NYC and Greenwich ," Loren said, explaining their decision to part ways with their two-floor condo. "Overall, the new space is just a better fit for our family right now, but I will miss my NYC home so much. It was a tough decision for us."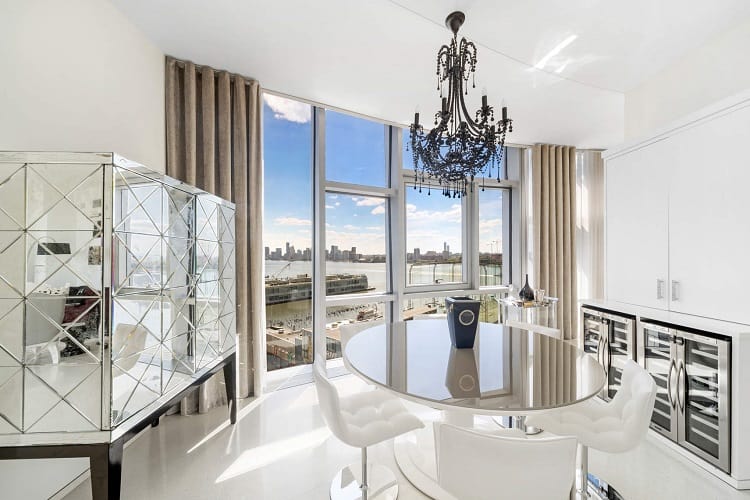 The Manhattan home of the Ridingers — now listed for a whopping $19.95 million — occupies the entire 18th floor and a substantial portion of the 17th floor of one of Chelsea's most iconic buildings: 100 11th Avenue, a 23-story residential tower that bears the signature of starchitect Jean Nouvel and has been described as "a vision machine" by leading architectural magazines all over the world.
A sprawling duplex with its own private elevator, the palatial residence in the sky spans 7,631 square feet, and opens up to mesmerizing views of the city and the Hudson River through Jean Nouvel's dramatic and infamous mosaic glass wall.
Anchored by a 44+ foot long living room, the stunning unit comes with a professional grade kitchen, 4 bedrooms (with the option to convert a 5th one), and a 29-foot formal dining room. Pamela D'Arc with Compass holds the listing.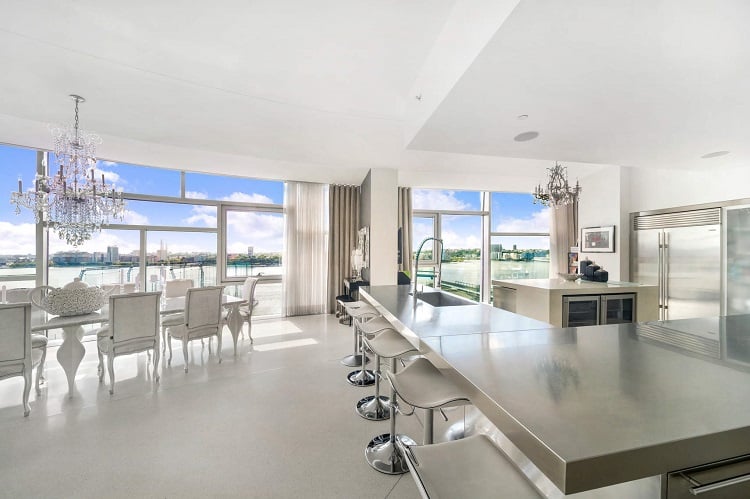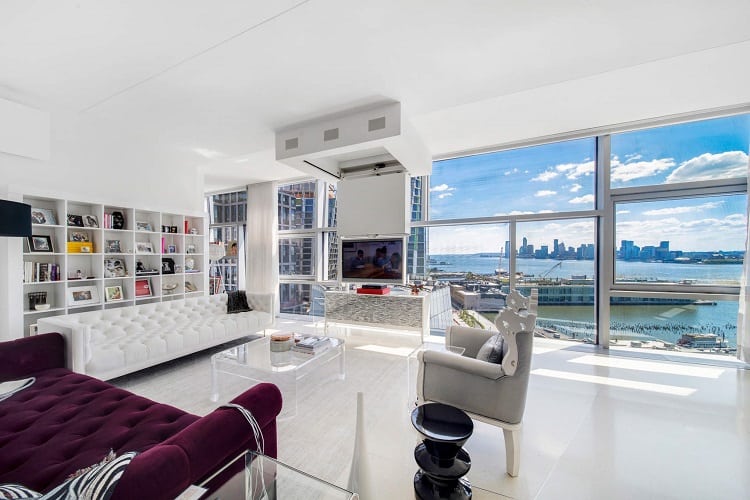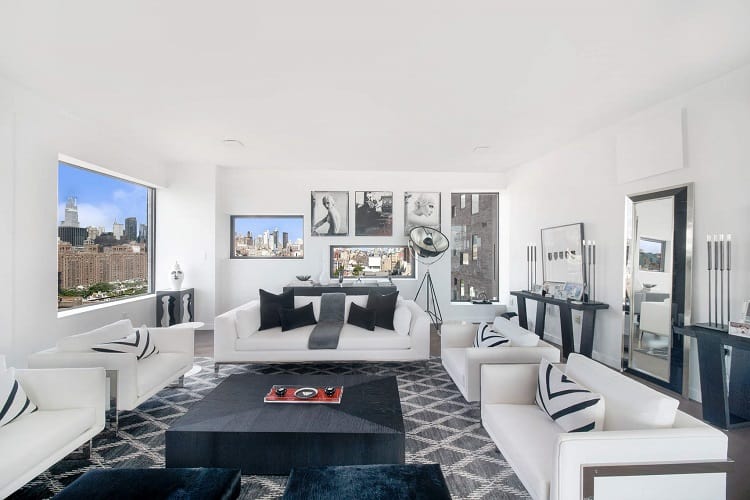 More stories like this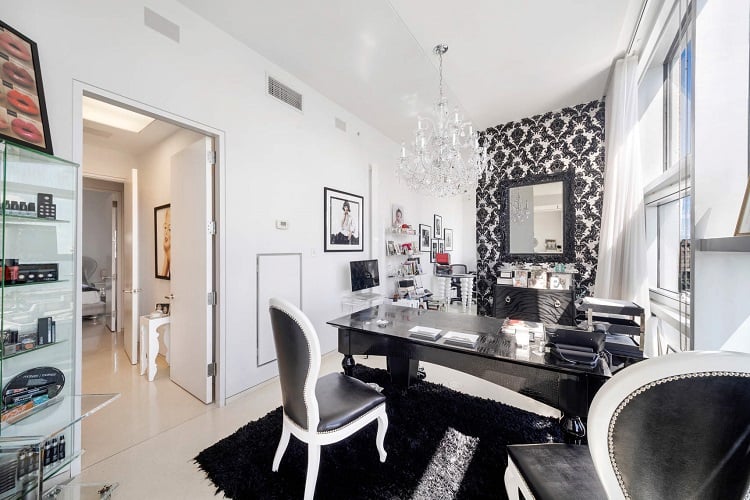 A sophisticated curved staircase leads to a lavish master floor with panoramic river views, anchored by a jaw-dropping 30+ foot long dressing room with an impressive oversized soaking tub.
The bedroom area has an additional luxuriously outfitted bath with a soaking tub, steam shower, double vanity and not one, but two large walk-in closets.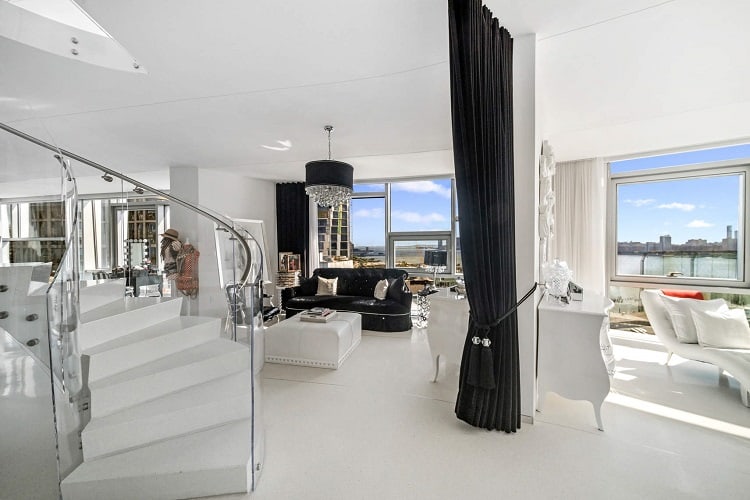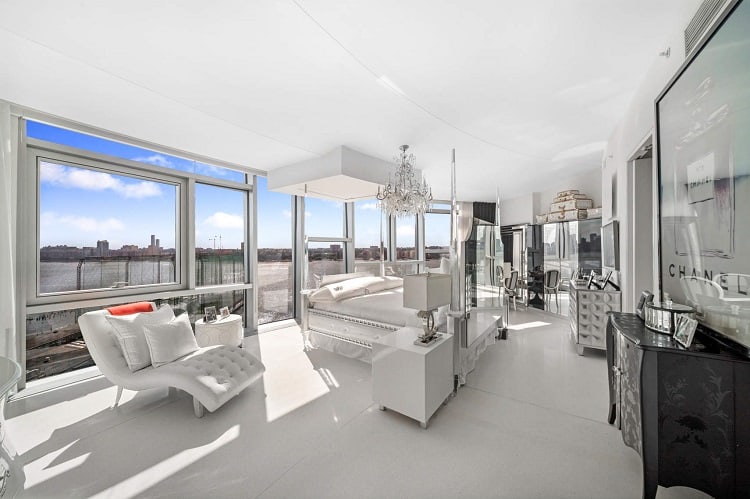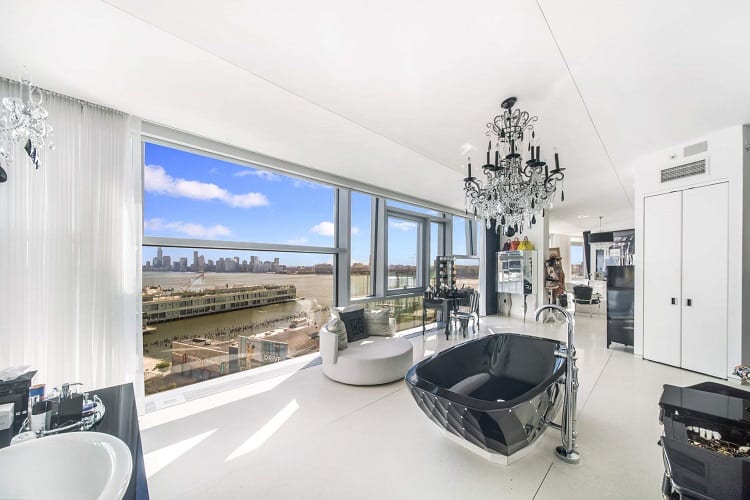 Popular social figures, the Ridingers' inner circle includes A-listers like Jennifer Lopez and Eva Longoria, and are known for throwing star-studded parties.
With humble beginnings working out of their rental home's garage at the time, Loren Ridinger and her husband, JR, co-founded internet retailing giant Market America in 1992, in Greensboro, North Carolina, where the company is still headquartered. Less than two decades later, their company generated more than $5.5 billion in retail sales, and extended operations into Canada, Mexico, Australia, Hong Kong, Taiwan, Singapore and the U.K.
Loren Ridinger also founded the award-winning cosmetics line Motives, created the solution-oriented personal care line Fixx and launched her own jewelry collection, Loren Jewels.
The two split their time between New York and Miami, where they recently bought a new condo for roughly $3 million — set in what's about to become the tallest condo in the downtown Miami neighborhood.
More luxury homes
This Stunning Former East Village Synagogue is Now Seeking Renters
Here's the Long Island Estate that Served as Inspiration for "The Great Gatsby's" Opulent House
Children's Book Author Jordan Chouteau Lists Gorgeous Brooklyn Townhouse
The Story of Taylor Swift's Holiday House — Home to "the Last Great American Dynasty"