Minutes from Boston, in the coveted Country Club section of Brookline, Massachusetts, a remarkable architectural gem has landed on the market with a hefty price tag.
The sprawling Grand Georgian Revival Estate set at 333 Lee Street, priced at a whopping $28 million, is a testament to exquisite craftsmanship and a historic legacy that stretches back to its designer, William Truman Aldrich. Patrice Clunan with Coldwell Banker Realty holds the listing.
Originally built with double-brick construction in 1928, the stately mansion that anchors the estate has 16,233 square feet of living space — with a total of 23 rooms, 10 of which are bedrooms.
And despite its impressive size, it's not the only structure on the property, with a one-bedroom brick and slate carriage house (with its own private garden) adding some extra square footage.
Designed by the esteemed architect William Truman Aldrich (who was also the brother-in-law of John D. Rockefeller) the property bears the hallmark of Aldrich's training at MIT and École Des Beaux Arts in Paris. The architect's impressive portfolio includes projects such as the country estate of Henry Cabot Lodge in Beverly, MA and significant contributions to the Rhode Island School of Design.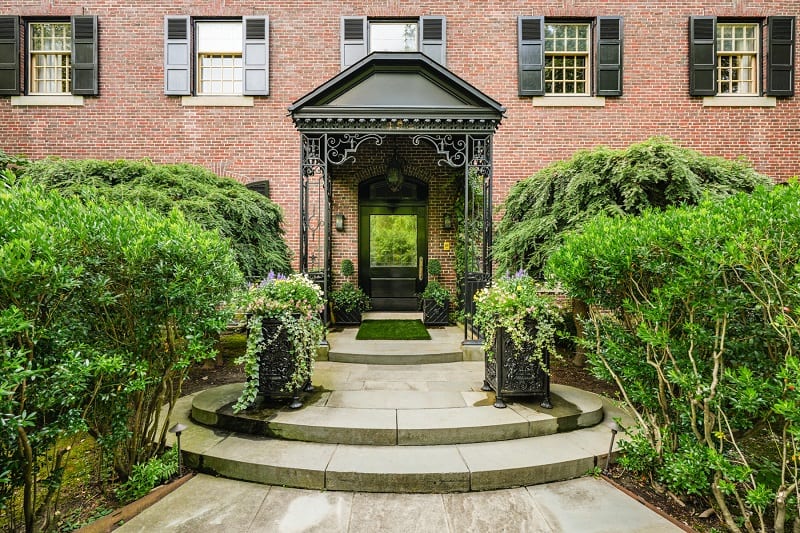 His work, including this Brookline, Massachusetts home, often exemplified the Georgian Revival style, characterized by 17th-century details, carved stone, and elegant French doors crowned with segmental arches. A steep roofline and tall chimneys underline the home's substantial yet refined nature.
The main residence spans a staggering 16,233 square feet across 23 rooms, featuring 10 bedrooms, 7 full bathrooms, 3 half bathrooms, and a total of 9 fireplaces.
As you step into the grand foyer, you're greeted by quarter-sawn oak parquetry floors with a starburst motif. The library, adorned with hand-carved oak paneling and a French-inspired fireplace, exudes timeless elegance. Sunlight bathes the living room, where French boiserie-style paneling and intricate crown molding steal the show.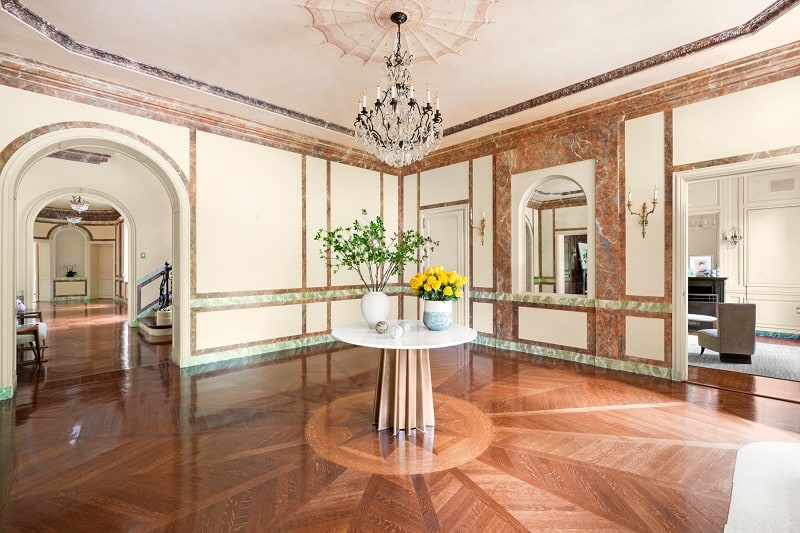 The kitchen showcases a custom-designed Molteni stove imported from France, typically found in the world's finest restaurants, and Sub-Zero refrigerators. An informal dining area opens onto the garden, leading to a spacious family room with a green marble fireplace.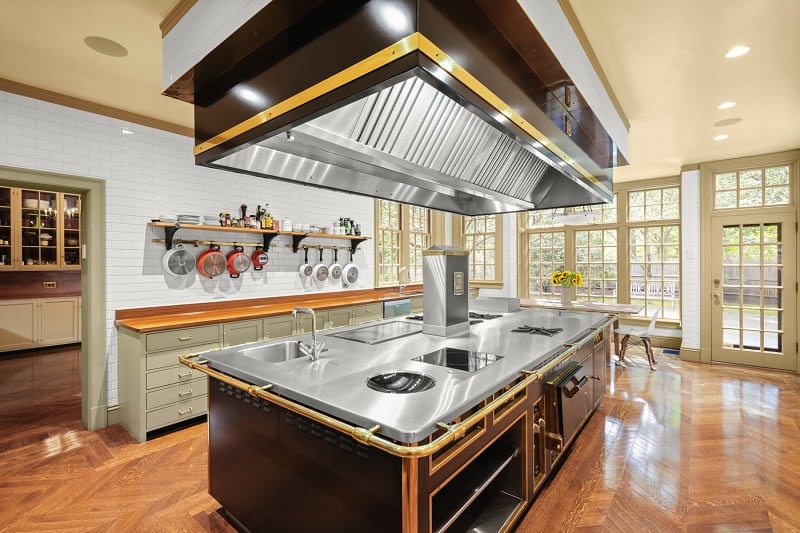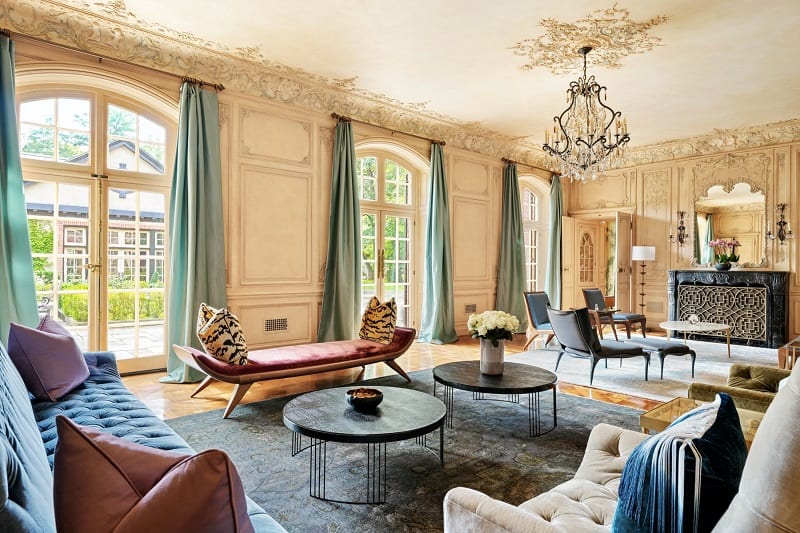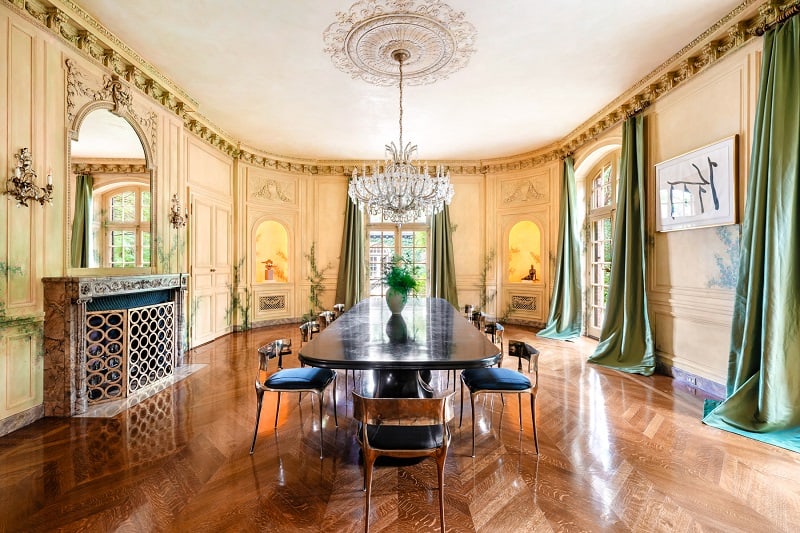 The second and third floors house the home's private quarters, including seven family and guest bedrooms, along with an impressive primary suite.
Descend to the lower level, where a recreation room, meditation room, gym, office, wine cellar, and full bath with a sauna await. From the meditation room, a sixty-foot underground art gallery passageway leads to the pool pavilion.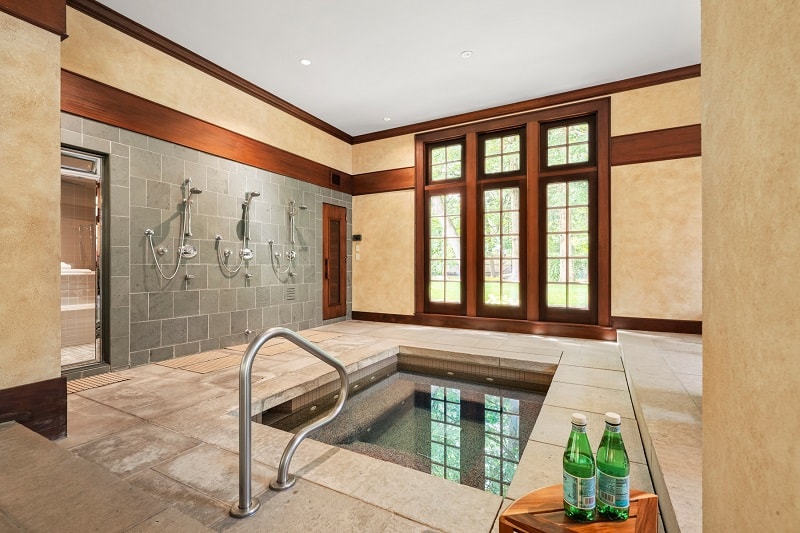 And we can't quite decide what's more impressive: the 60-foot art gallery passageway, or the 6,839-square-foot pool pavilion it leads to.
Spanning 6,839 square feet, the pool pavilion offers an unexpected surprise — an indoor Olympic-length pool, complete with a gourmet kitchen, dining area, hot tub, steam room, and sauna for eight. Trompe l'oeil detailing and a massive outdoor terrace surrounding a round fountain add to its allure.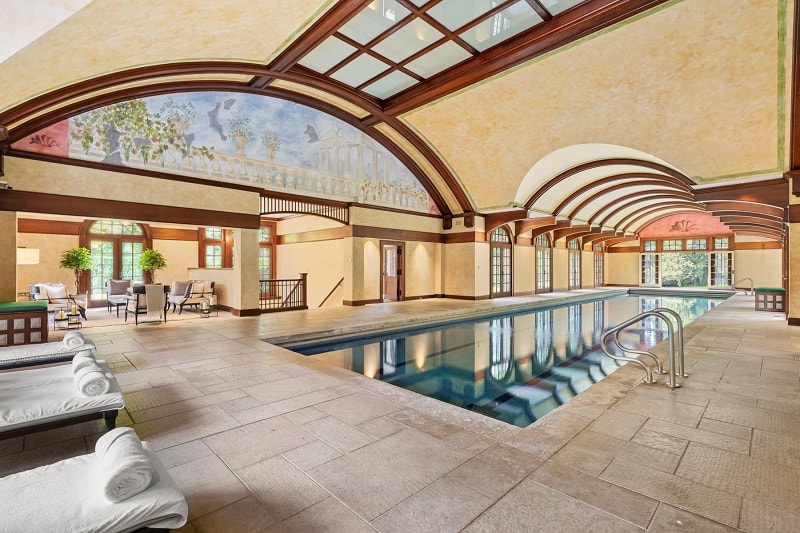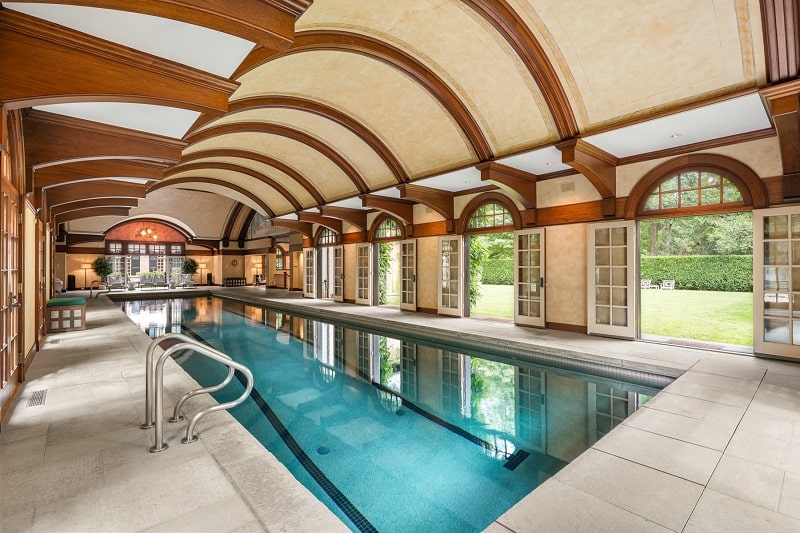 The property also includes a one-bedroom brick-and-slate carriage house with a private garden.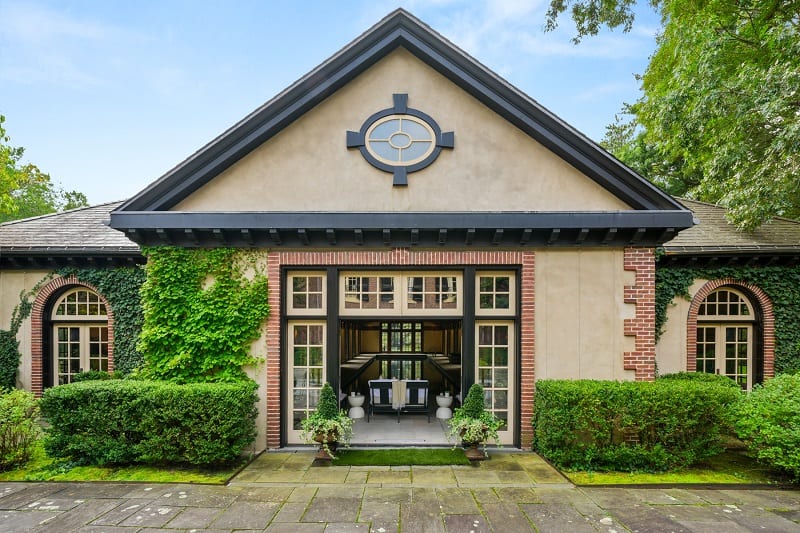 Set within a gated 3.2-acre estate, this property boasts beautifully manicured park-like grounds, an apple orchard, terraces, and a canopy of mature trees, a secluded oasis that seamlessly blends traditional aesthetics with modern comforts, making it ideal for both family living and grand entertaining.
Located steps from Brookline's renowned Country Club, and about five minutes away from Tom Brady's former Boston-area home, 333 Lee Street presents an opportunity that comes once in a lifetime. With its sought-after location, rich architectural heritage, and modern amenities, it stands as a testament to timeless luxury and impeccable craftsmanship.
More stories
This $29M Equestrian estate is Pennsylvania's most expensive home (See inside)
Taylor Swift's Holiday House in Rhode Island — Home to "the Last Great American Dynasty"
The real Conjuring house in Rhode Island and its 300-year history