On the Hawaiian island of Hilo, the last of the 4 larger islands still free of the pressure of rapid expansion and famous for its rainfall and lush jungle vegetation, there's a magical tropical retreat called Reed's Island.
Known among locals as Koloiki ("Little Crawling"), Reed's Island is a 26-acre enclave shaped by the Wailuku River, the largest in the state of Hawaii.
Accessible by a small bridge, Koloiki is only one mile away from historic Hilo but feels like a time capsule of Old Hawaii. Once home to Hawaiian royalty, the island was sold by King Kamehameha IV to businessman William Reed in 1861, hence the name.
Here, on the edge of a bluff adjacent to a double 25-foot waterfall, The Falls at Reed's Island took shape, a zen, nature-enveloped 2,696-square-foot residence that's now looking for new owners.
Recently brought to market for $2,495,000 (Rebecca Hirsch-Keliihoomalu with Compass holds the listing), the secluded property was built by the late San Francisco architect David Morton and is one of the area's most coveted and best reviewed vacation rentals.
Built on the edge of a bluff adjacent to a double 25-foot waterfall on the Wailuku River and surrounded by state and conservation land, the Falls at Reed's Island is a secluded zen paradise.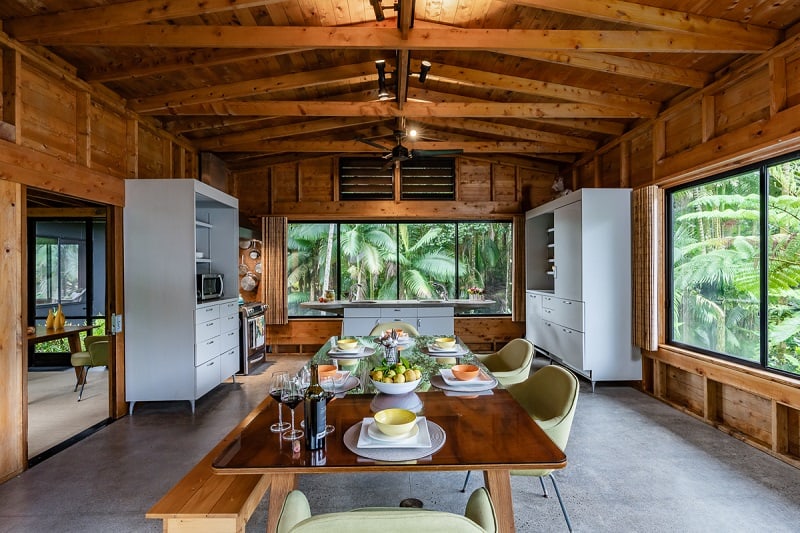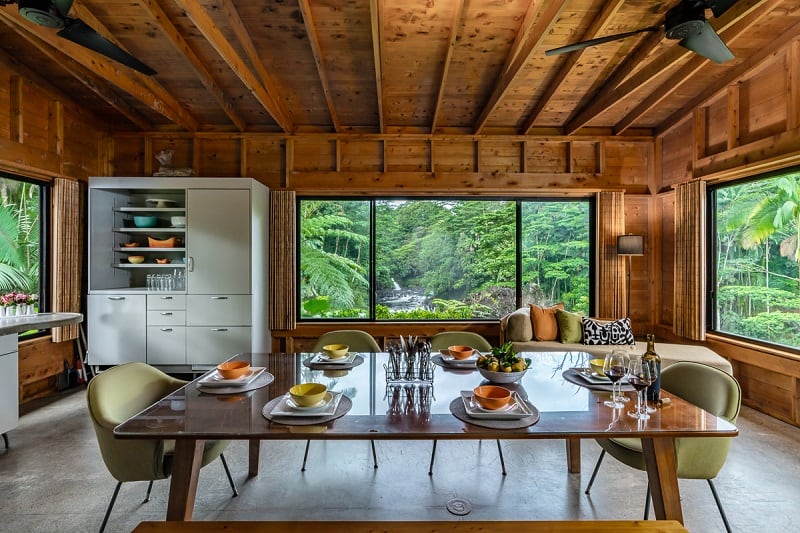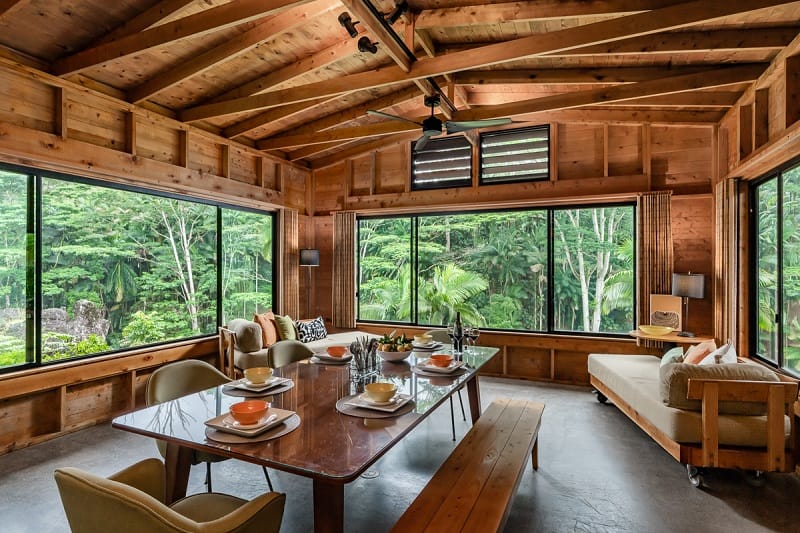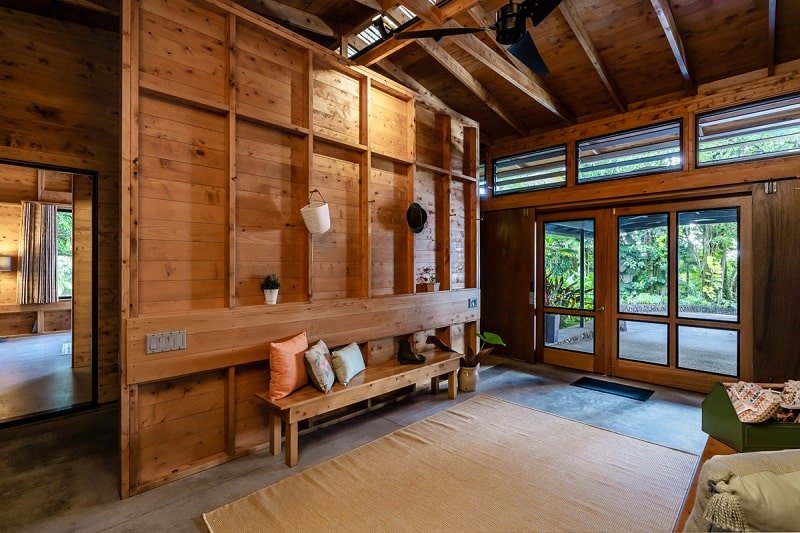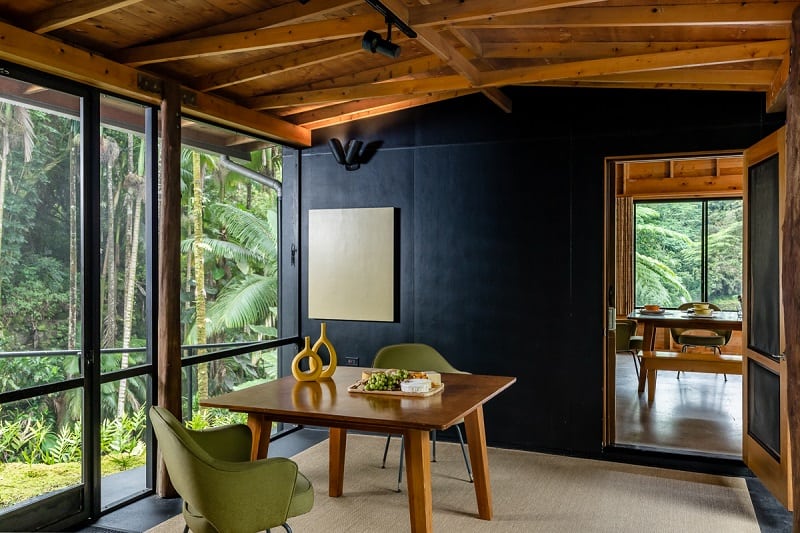 With three bedrooms, three full baths and one half-bath, the 2,696-square-foot residence boasts minimalist interiors with locally sourced materials that complement the environment.
Most importantly, each and every room offers closeup views of the rainforest that surrounds it and the nearby falls, creating a truly magical retreat that's gained quite a reputation among tourists and locals alike.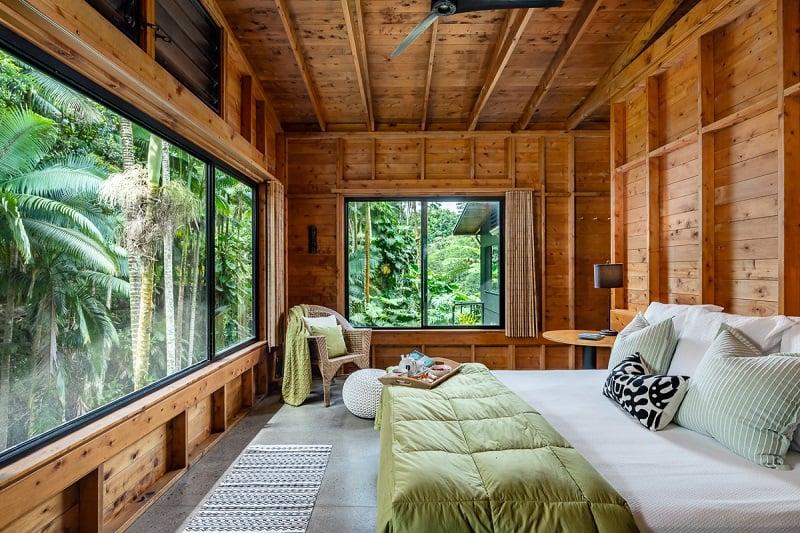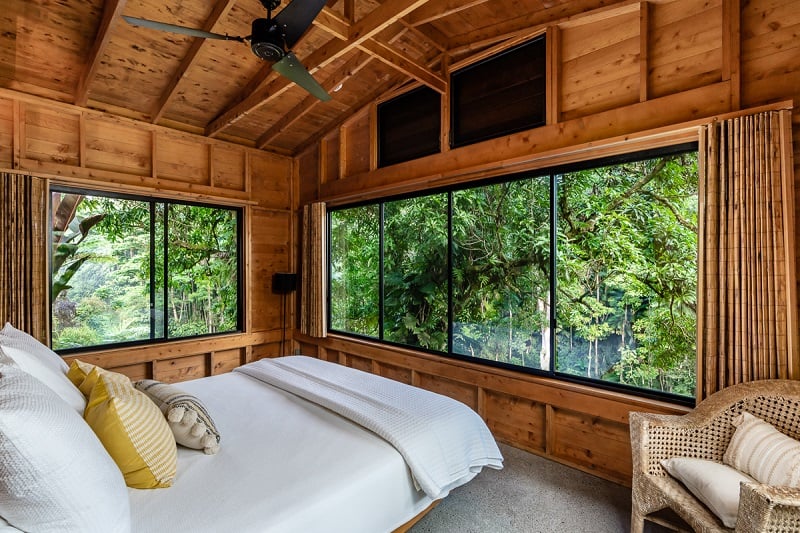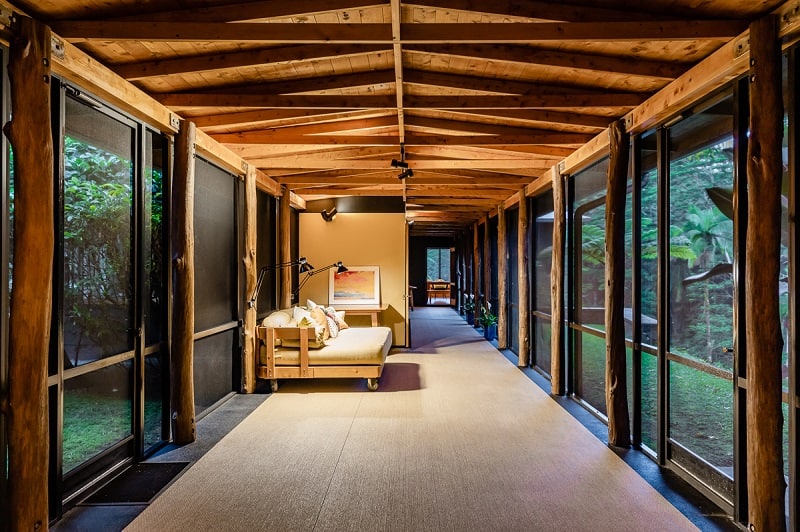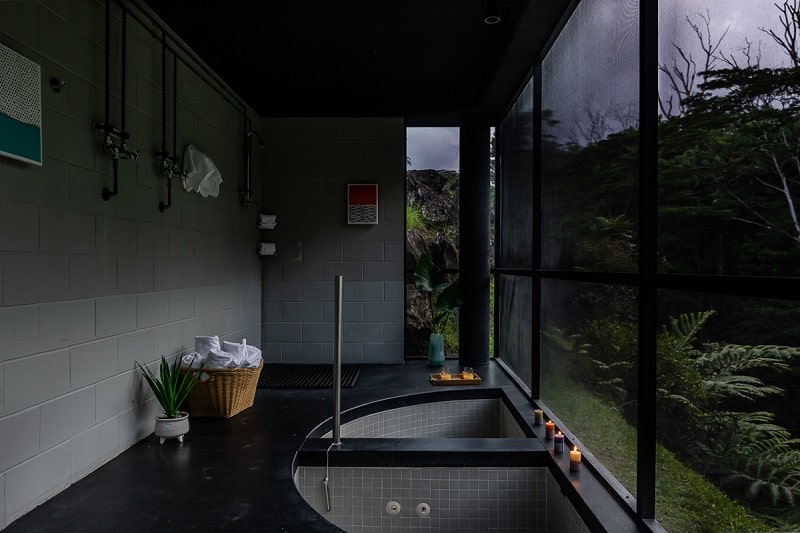 A long breezeway entry screened from floor to ceiling connects the home's three living pavilions.
The late San Francisco architect David Morton created this vertical structure to meet the physical challenges of the long and narrow 2.24-acre parcel bordered by 2 gulches, the rainforest and the river — with the result being a home of distinction hailed in the NY Times as well as multiple award-winning travel sites.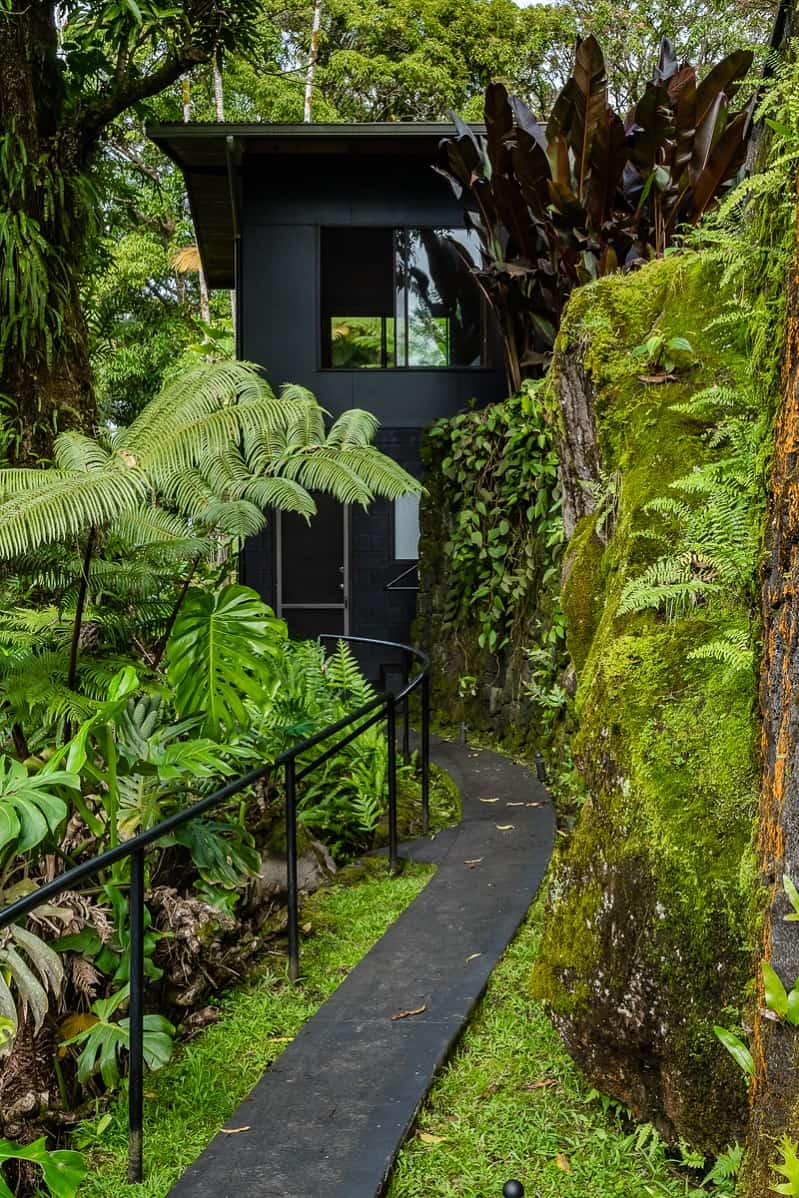 The Falls at Reed's Island nabbed a spot on Frommer's Top Picks – Rooms with a View and on Homeaway's ranking of the Top 10 Romantic Properties in the World, further bolstering the property's appeal among tourists visiting the island.
The secluded home is the area's best rated vacation rental on VRBO.com, making it a savvy investment opportunity for its future owners.
One review in particular (taken from the property's own website) summs up the merits of this zen home better than we ever could:
"We are all stunned by the beauty of this home.  It's location atop the volcanic rocks, looking down past ferns at the river or looking upstream at the waterfalls is truly amazing. The house is elegant in it's simplicity. We all felt immediately comfortable in it. We think this is the most beautiful place we have ever stayed and are sad to be leaving today. I painted watercolors here — so many subjects and views to paint — a kind of Hawaiian Monet's Garden. There is one problem with this home – we all just wanted to stay here and not go to see anything else."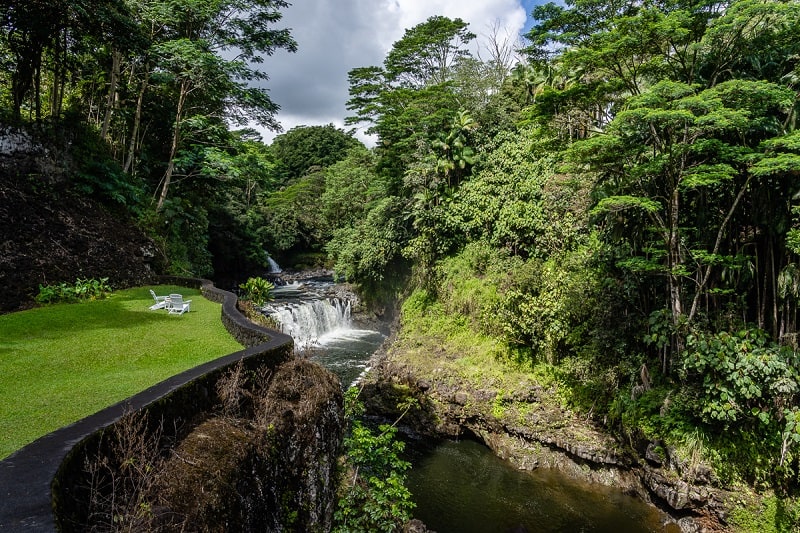 More stories like this
'Rich Dad, Poor Dad' author Robert Kiyosaki selling oceanfront home in Hawaii for $7.35M
Dominica's idyllic Secret Bay Resort now has clifftop tree-house villas you can buy
Prince's Beach House in the Caribbean Finds New Owner, Changes Name to Emara Estate