Season 6 of Selling Sunset set out to prove that a bevy of beautiful real estate brokers and the most luxurious property listings L.A. has to offer will always bring in big ratings… and even bigger drama.
From losing a veteran power player (Christine Quinn), to bringing on ambitious new agents (Bre Tiesi), and dealing with the uncomfortable aftermath of Chrishell and Jason's split, the team over at the Oppenheim Group had no shortage of controversy this season.
But the true appeal of Selling Sunset will always be the ritzy real estate that's showcased on the reality series… and it's Jason Oppenheim's pair of palatial penthouses that still has everyone talking.
Did Jason sell his penthouses?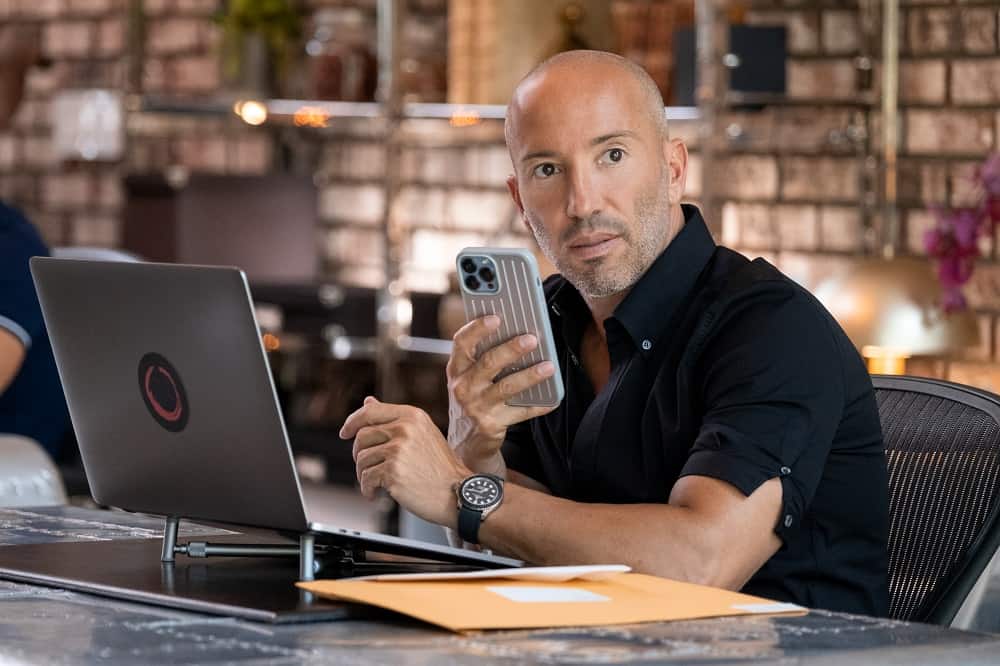 The twin properties are located in the illustrious Hollywood Versailles Tower at the intersection of Hollywood Boulevard and La Brea. Oppenheim's acquisitions are aptly referred to as Penthouse East and Penthouse West and together they account for the entire top floor of the trendy building.
They were originally four separate condos until Jason converted them into two massive penthouses during a lengthy two-year renovation project. As you might imagine, he spent a pretty penny getting the properties into tip-top shape… almost $10 million to be exact.
We couldn't help but wonder what happened to Jason Oppenheim's penthouses after the cameras stopped rolling, so we did some digging and discovered all of the fascinating details.
Related: ALL the houses featured in Season 6 of Selling Sunset and what happened to them
Here we'll reveal how much these penthouses are worth, what makes them so appealing to elite potential buyers, and most importantly, whether or not they're still up for grabs.
7135 Hollywood Blvd. – Penthouse East
This sleek and sophisticated abode was first listed for a cool $7,495,000. For those less ready to make a huge commitment on the spot, Penthouse East was also being offered as a rental for $49,900/month.
The slightly smaller of the two spaces, this property boasts 3 bedrooms and 4 baths over 3,580 square feet of lavish living space.
With an open floor plan, breathtaking panoramic views of the city, a sprawling 2,885-square-foot private deck, and state-of-the-art features throughout, this penthouse certainly provides the best that money can buy.
Penthouse East also comes with an array of amazing amenities including 24/7 concierge service, valet parking, a swimming pool and sauna, and a fitness center.
Status update: Despite being on the market for several months, Oppenheim still hasn't found a buyer for this regal residence. But the Selling Sunset penthouse hasn't had its price reduced, which likely means the brokerage is confident that they can sell it for top dollar.
7135 Hollywood Blvd. – Penthouse West
If deluxe digs are your thing, prepare to be amazed by Penthouse West. This extravagant 3,820-square-foot apartment is marginally larger than its counterpart but has a more modest (by Hollywood standards) private outdoor deck that spans 1,685 square feet.
Enjoy the perks of upscale living with 3 spacious bedrooms and 4 impressive baths that invite a spa-like experience. With European oak floors, dual home theater systems in the living room and bedroom, and floor-to-ceiling glass windows, there's no denying that this property is a remarkable piece of real estate.
Status update: Despite all of its incredible attributes, Jason's Penthouse West unit is also still on the market.
This property was originally put on the market with a $7.5 million price tag but has since seen a bit of a price drop since Season 6 of Selling Sunset aired, now being offered at $6,995,000 (down 6.7%). Just like Penthouse East, this also has the option to rent for $49,900 a month.
Jason's entrepreneurial spirit combined with his eagerness to keep himself busy following his breakup with Chrishell inspired him to invest so much time and money into these magnificent penthouses. But after ponying up millions of dollars in cash to fund their extensive remodels, he has yet to see a return on his investment.
With these penthouses remaining on the market and Jason hemorrhaging money every day they don't sell, there's a really good chance this storyline will continue to develop in Season 7 of Selling Sunset.
More stories
Chrishell Stause's House is a $3.3 Million Midcentury Ranch in Hollywood Hills
What happened to Hillside, the $40 million house from 'Selling Sunset'?
Bling Empire's Kane Lim Lists $1,888M House with Selling Sunset's Chrishell Stause