The mastermind behind some of LA's most affluent homes, Ramtin "Ray" Nosrati has done it again.
The prolific designer/developer, who built more than 100 luxury homes across L.A. for the rich and famous, has completed his newest masterpiece and is now bringing it to market with a $29.888 million price tag.
Dubbed 'Allure', the 14,000-square-foot behemoth is located in the coveted suburban neighborhood of Brentwood, Los Angeles, and is packed with amenities — some of which you'd be hard-pressed to find anywhere else. 
In fact, 'Allure' is inspired by "The Greats" across various domains — including elite athletes, top Hollywood stars, influential C-suite executives, and international business tycoons. Some of these luminaries are friends and clients of Ray's, while others are icons he holds in high esteem.
"Designing and building 'Allure' was an opportunity to push the boundaries of luxury and design in Los Angeles, to create a property that's truly in a league of its own. Like the Michael Jordan of Brentwood homes, 'Allure' stands alone," says Ramtin 'Ray' Nosrati, founder of Huntington Estates Properties and designer/builder of Allure.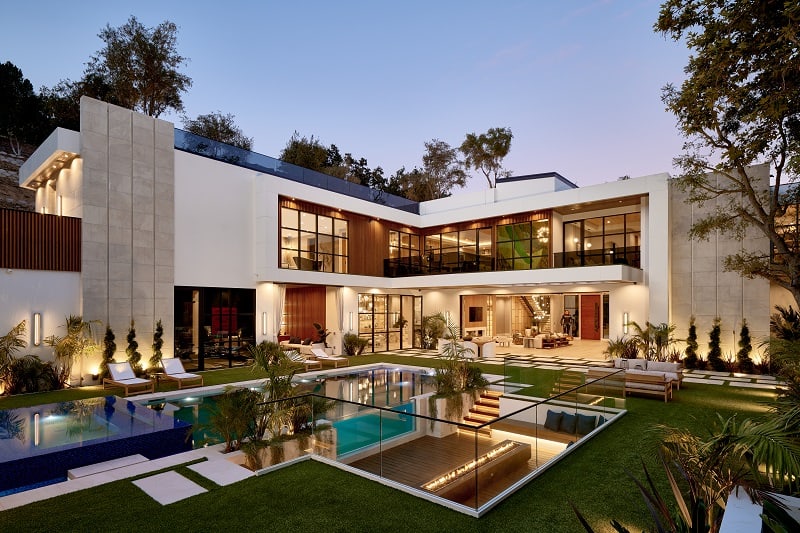 'Allure' isn't just about its features; it's about the unforgettable experiences and transformative moments it promises. Every detail is a piece of a larger narrative that speaks to my team's relentless pursuit of perfection. I believe in creating homes that are not just lived in but that live and breathe with their inhabitants. And that's what we've achieved with 'Allure'," he added.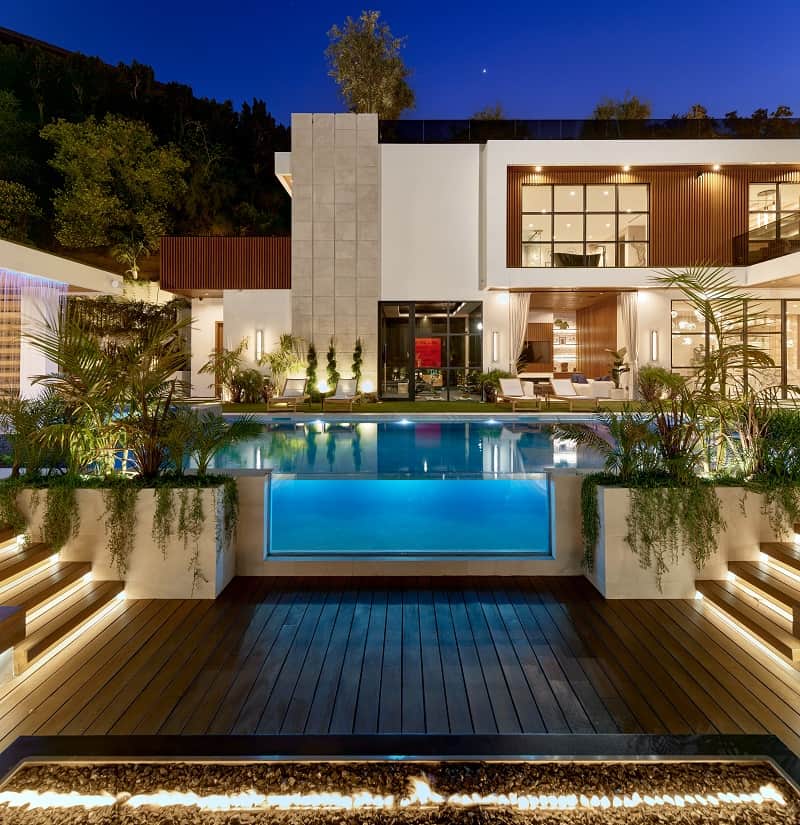 Offering an incomparable level of privacy, Allure is located roughly four football field lengths away from its nearest neighbors. 
To achieve that, the property was carved into the mountainside, an arduous process that included the removal of approximately 680 truckloads of dirt to create over an acre of flat land.
Related: Everything you need to know about Brentwood, one of LA's most coveted neighborhoods
With a total of 14,000 square feet of luxurious living space, the Brentwood home has seven bedrooms, nine bathrooms, and a whole series of upscale amenities — many of catering to sports fans.
But before we get into those, I'd like us to take a minute and appreciate some of this property's upscale interiors, including the gourmet chef's kitchen, which has been equipped with brilliant book-matched stone slabs, a triple waterfall island, and the finest Miele appliances (as well as a commercial-grade walk-in refrigerator in the caterer's galley).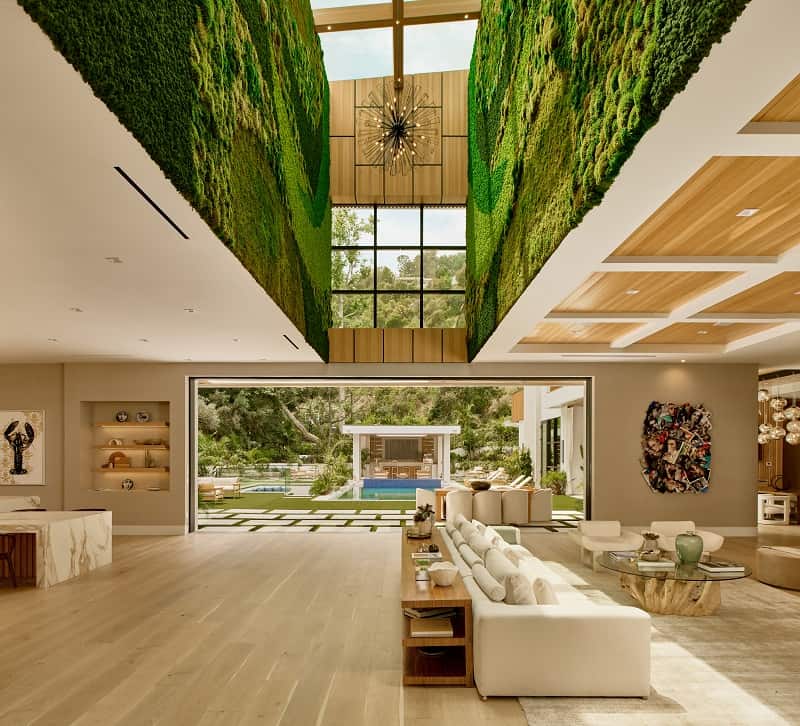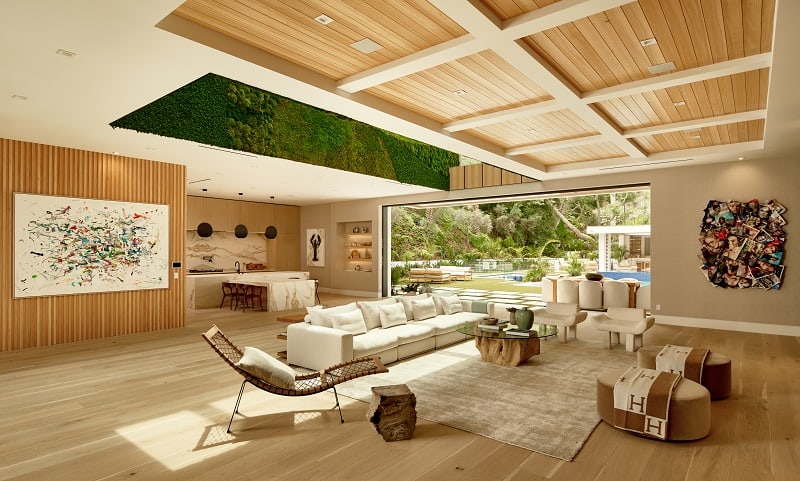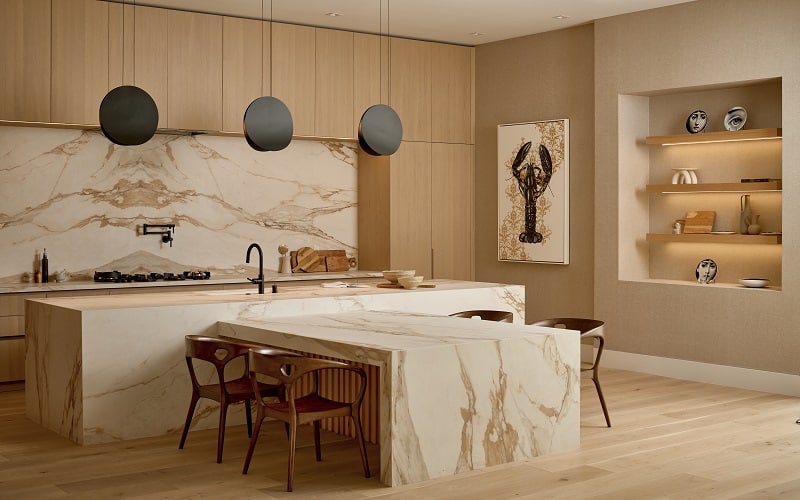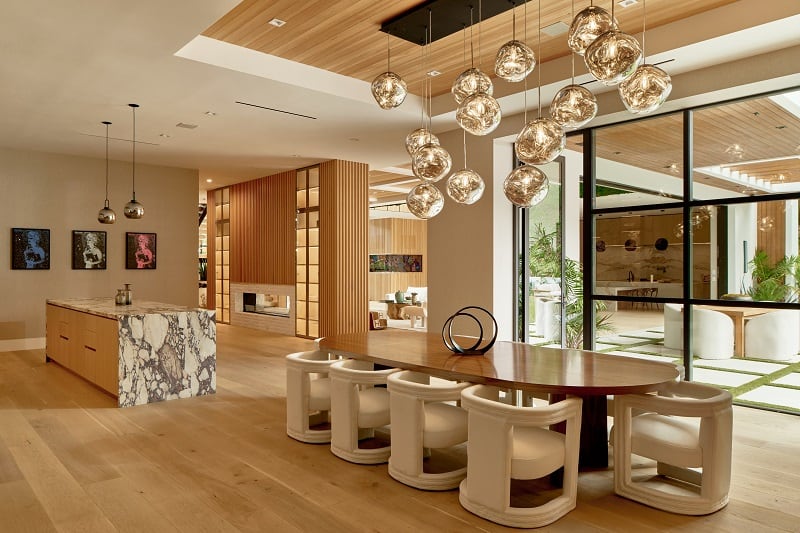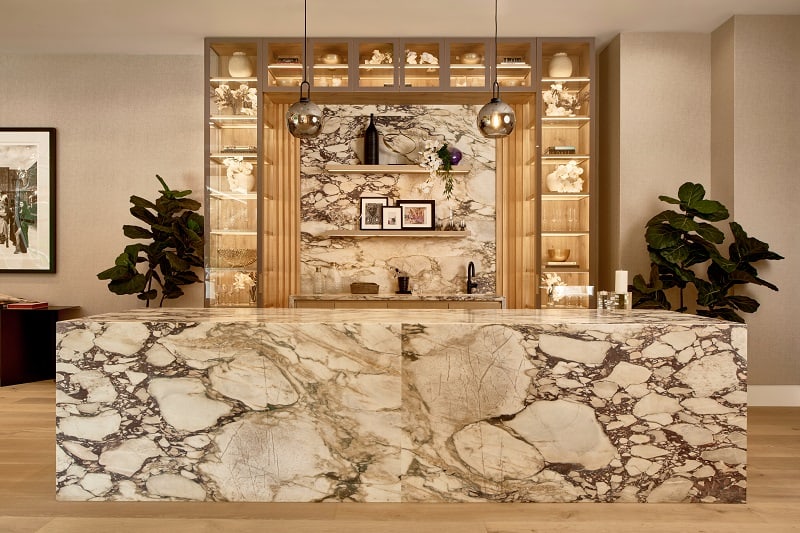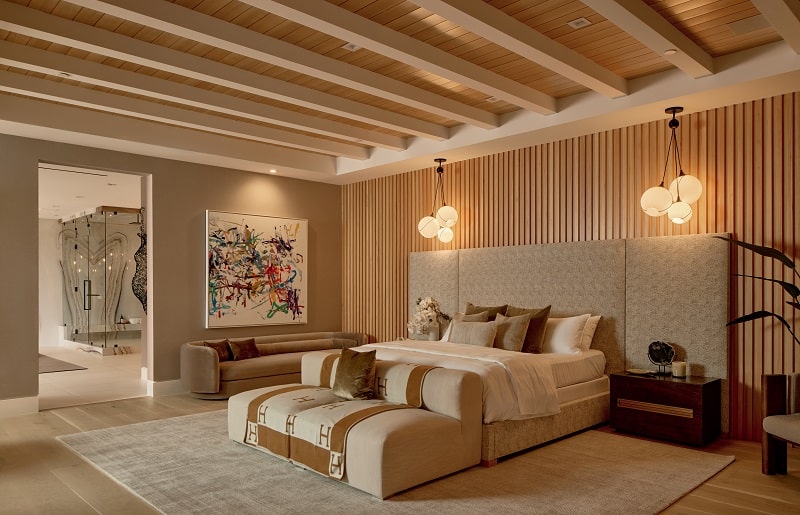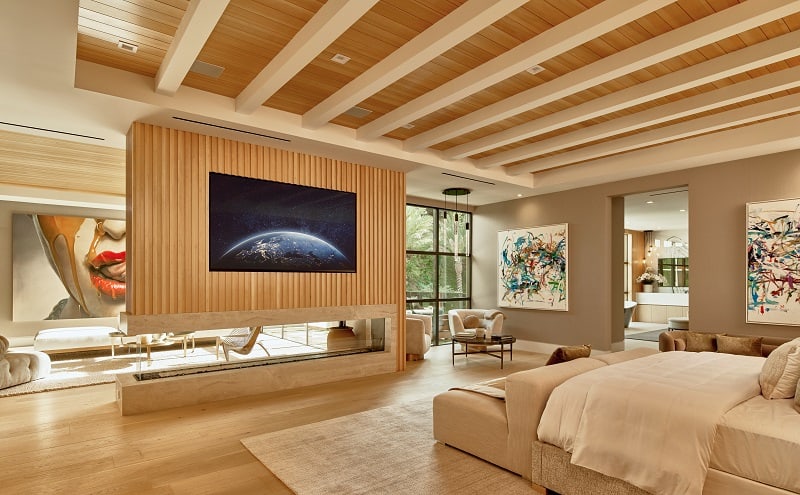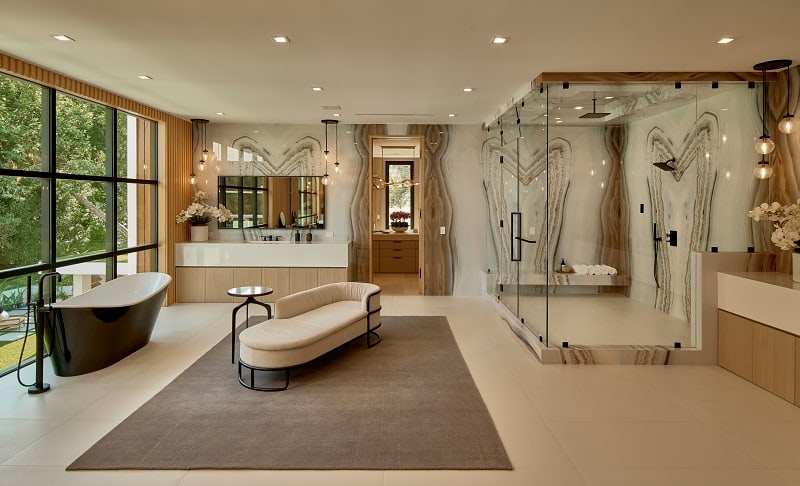 The property also features a highly Instagrammable bar and equally visually appealing wine room, a movie theater with a Rolls Royce starlight ceiling, the ultimate comfort station with a candy lounge and wine fridge, an organic garden, and much more.
A home designed by Nosrati wouldn't be complete without one of his signature living moss walls.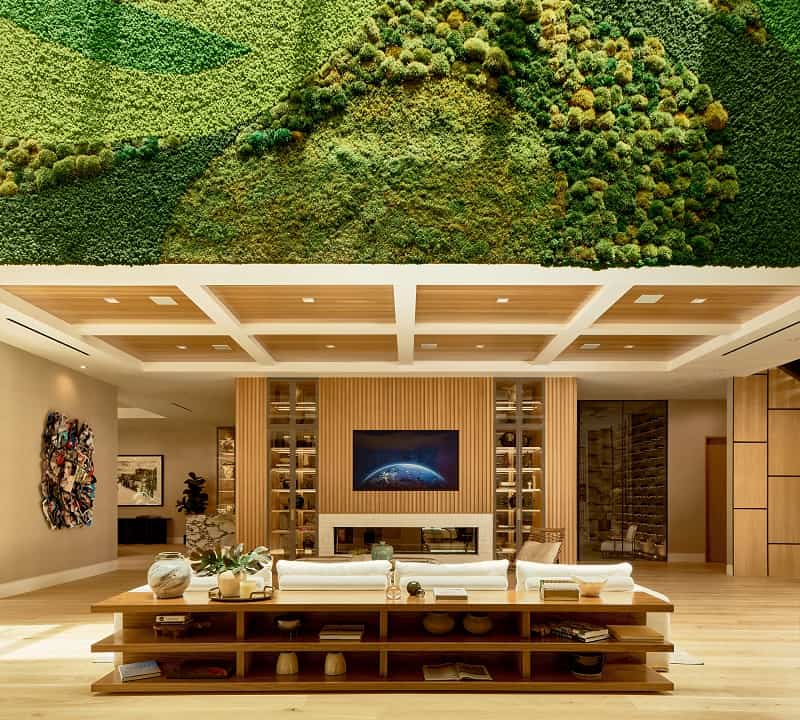 In fact, Allure boasts two separate living walls — hand-assembled piece by piece and towering approximately 30 feet above the main living area — showcasing four varieties of moss that blend into the skylight above.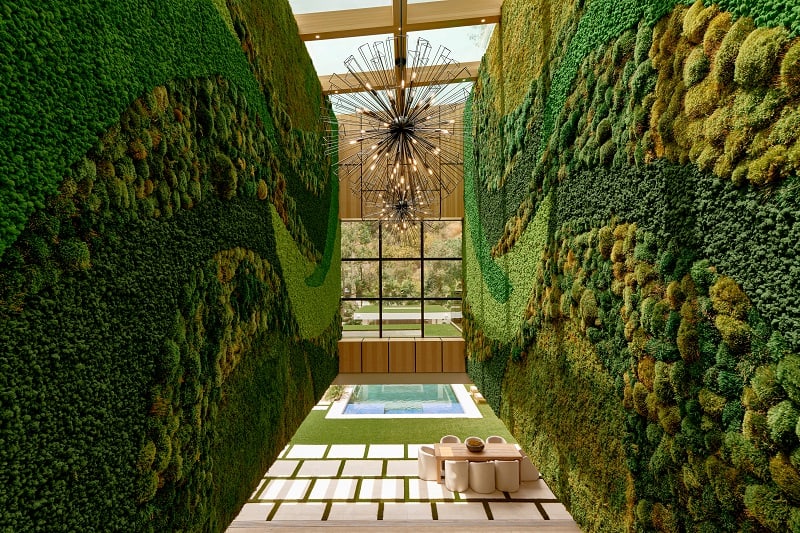 Allure is listed with Sally Forster Jones and Nicole Plaxen of Sally Forster Jones Group at Compass, Santiago Arana at The Agency, Shauna Walters at Beverly Hills Estates, and Josh and Matt Altman of The Altman Brothers at Douglas Elliman.
"Ray has seamlessly integrated his distinctive touch into every detail, from the epic sports complex to the artistry of his signature living moss walls," Sally Forster Jones and Nicole Plaxen from Sally Forster Jones Group at Compass shared, adding that "This home transcends the ordinary; it's in a league of its own, offering the ultimate family living experience with unparalleled privacy and exclusivity. With 'Allure,' Ray's pursuit of perfection continues to push the bar of luxury, reflecting a home as unique and extraordinary as The Greats that inspired it."
Speaking of that epic sports complex, the $29.888 million Brentwood mansion boasts a dedicated regulation-sized pickleball court, an NBA-sized half-court sporting a Michael Jordan design, a putting green, and a sanctuary spa with a fitness center and sauna.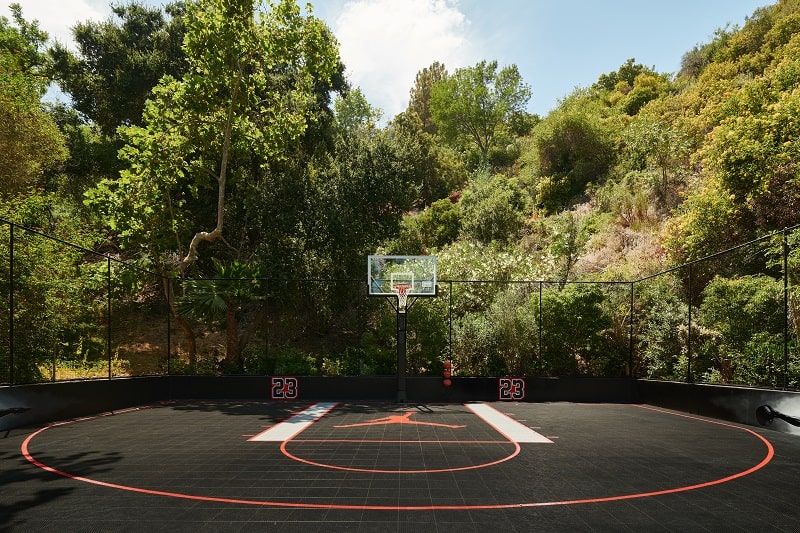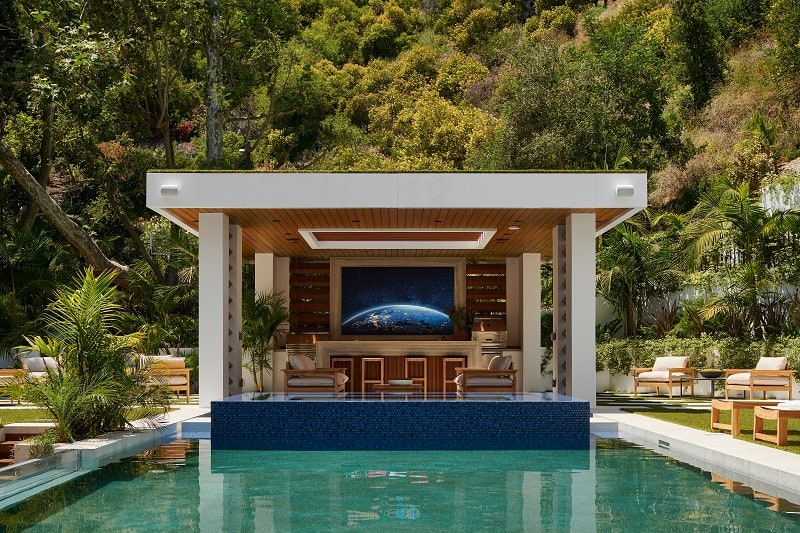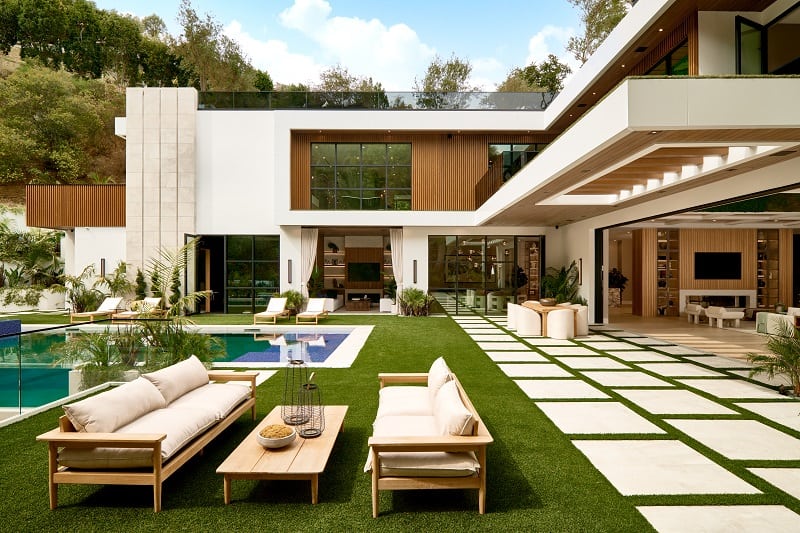 Ramtin Nosrati left no stone unturned with Allure. The ultra-modern, high-end home boasts resort-like qualities, creating an ultra-luxurious-yet-tranquil oasis.
If the list of amenities wasn't packed enough, future residents will also receive an Allure Black Card. This grants the owner access to fine dining and concierge services. Welcome to a higher level of posh.
More stories
Home of the Week: Architect Harry Gesner's personal home, the $22.5M Sandcastle House in Malibu
Good vibes in Hollywood: Luxury home with energy crystals lists for $24.995M
'The One' mansion saga: from a $500M listing to its $141M auction sale