With its sixth and final season set to air in 2024 (SAG-AFTRA depending), The Handmaid's Tale is still as captivating and poignant today as it was when it first aired six years ago.
Based on the award-winning 1985 novel by Margaret Atwood, the series stars Elizabeth Moss (Mad Men, The Invisible Man) as Offred. A Gileadean handmaid, torn away from her family and forced to live with a commander and his wife on the prospect of providing them with a child that he will father.
Set in a dystopian future where the majority of the world's female population can, biologically, no longer conceive children, its main setting, the Republic of Gilead, feels stark, unnerving, and impenetrable.
The television series, like the book that preceded it, has created a world in which we never want to step foot, and yet, we want to know all we can about how it came to be.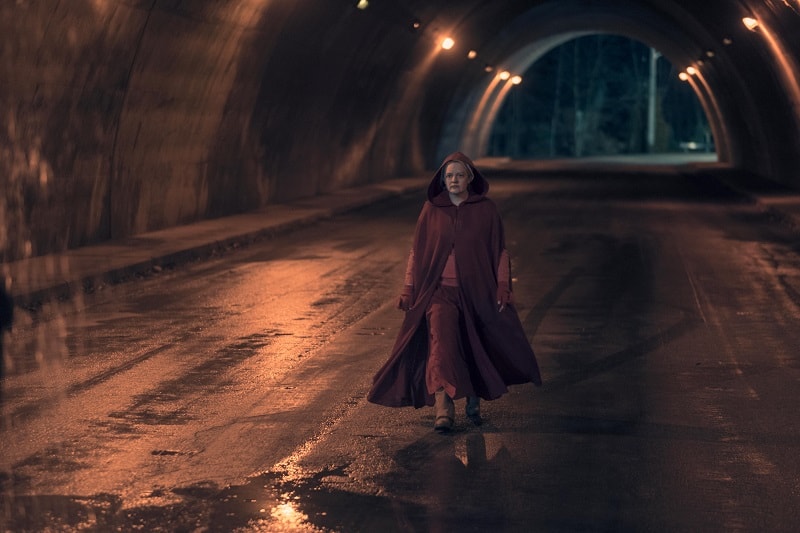 Join us as we discover the most iconic filming locations that play as much of a character in the show as its critically acclaimed cast members.
First off, is Gilead a real place?
No. The totalitarian Republic of Gilead as depicted in The Handmaid's Tale is not a real place. That said, there is a mountainous region named Gilead which can be found in modern-day Jordan, east of the Jordan River. But, it in no way resembles the country we know (and despise) from the show.
Then where did they film The Handmaid's Tale?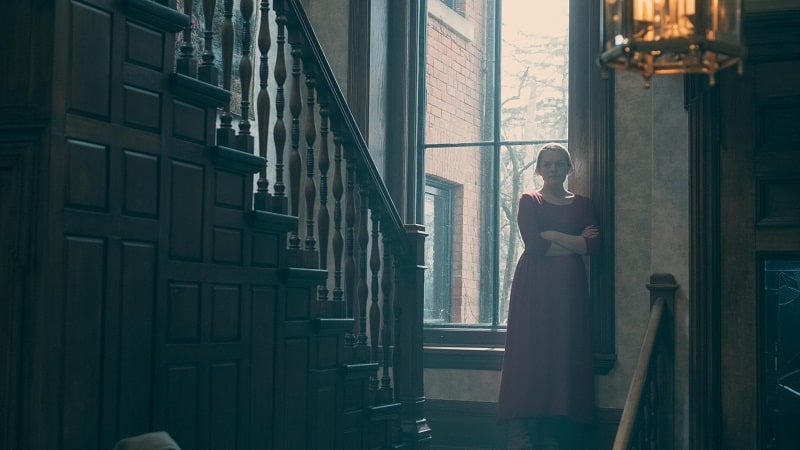 According to show creator Bruce Miller, the fictional Gilead thrives across the majority of the United States with only Alaska and Hawaii being exempt. These two states alone make up what's left of the US.
Fictionally, Offred's story takes place in what was formerly known as Cambridge, Massachusetts, just outside of Boston. However, and it might come as a surprise (especially since Canada is portrayed as a safe haven welcoming Gileadean refugees) but most of the series so far has been shot in and around Toronto, Canada.
According to Pure Wow, they've also filmed in other Canadian locations including Hamilton, Ontario which is home to one particularly noteworthy dwelling.
Fred & Serena Waterford's House is located at 105 Aberdeen Avenue in Hamilton, Ontario
Arguably the most important and memorable location of the first series, the Handmaid's Tale Waterford house is home to Offred, her commander Fred Waterford (Joseph Fiennes – Shakespeare In Love, Elizabeth), and his wife Serena (Yvonne Strahovski – Dexter, The Tomorrow War).
Though it may be enormous and undeniably impressive to look at, the house, much like its fictional owners, has intentionally been made to feel unwelcoming and oppressive on the inside.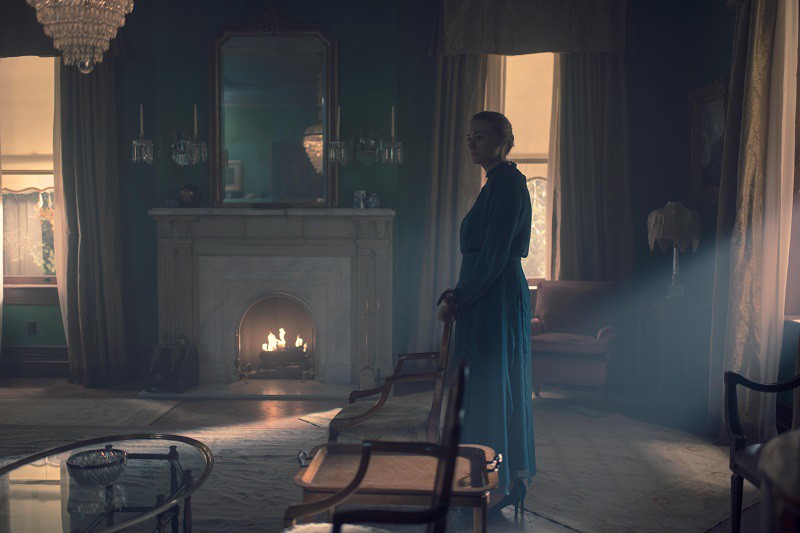 Dark wood and leather finishes are used throughout making every room feel sombre and serious. Meanwhile, regulation shades of deep green and blue cover almost every wall whilst little to no light gets in through the heavy drapes.
Located at 105 Aberdeen Avenue Hamilton, Ontario this sprawling 19th-century mansion with seven bedrooms and 12ft ceilings would never have featured in the show if it wasn't for the current owners. By closing on the house exactly when they did, they saved it from a demolition scheduled for the very next day!  
Filming here included shots of the exterior as well as scenes inside the sitting room. Meanwhile, the greenhouse and the garage, including Nick's apartment on top of it, were added to the 1893-built residence, especially for the show. 
As for the other rooms 'inside' the house such as the bedrooms, kitchen, dining room, and library, these were filmed on a soundstage elsewhere in Toronto.
Other recognizable Handmaid's Tale filming locations
The River Path – Mill Race Park, Cambridge
Most recognizable as the location of 'the wall', where Giliadean's labeled as criminals are hung, the river path we see Offred (June) and Ofglen walk together in season one is, in real life, located in Mill Race Park.
Whilst it's not depicted in the best of lights here, it's actually a stunning area and, perhaps surprisingly, a popular wedding destination!
Jezebels – Fairmont Royal York Hotel
In series one, Commander Waterford and June steal away to a secret brothel named Jezebels attended by Gilead's top commanders. It's here that we, and she, discover her best friend, Moira (Samira Wiley – Orange Is The New Black, Nerve), is still alive.
These scenes were filmed at the Fairmont Royal York, a luxury Toronto hotel steeped in history that dates all the way back to 1907.
The Red Centre – The Church of St. Aidan
It's where it all starts in Gilead. Offred and the others are sent to The Red Centre to learn how to be handmaids. Scenes here were shot in two places. The Church of St. Aidan's in Toronto and King George School in Hamilton.
June, Luke, & Moira's house in Canada – 11 Williams Street, Weston, Toronto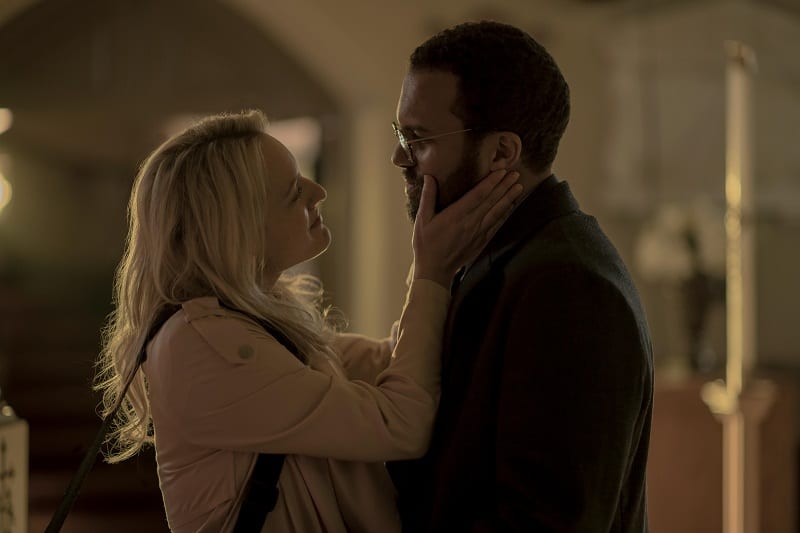 Certainly, the warmest and most welcoming location in the series, June and Luke's Canadian abode is one of the only properties located in the country it's depicted in. The house is also real and can be found at 11 Williams Street in Weston, Toronto.
The Handmaid's Tale will return in 2024 for its sixth and final season and we're as eager to know June's fate as we are to see the latest set designs and filming locations.
More stories
'The Watcher' house: Facts vs. fiction, the true story of 657 Boulevard in Westfield, NJ
'Big Little Lies' houses: Tracking down the Monterey Five's stunning California homes
The Picture-Perfect Houses of Wisteria Lane in 'Desperate Housewives'