Here's a treat for architecture lovers everywhere: a mid-century masterpiece that bears the signature of architect extraordinaire, Frank Lloyd Wright, is now up for grabs in New Canaan, CT.
Known as Tirranna — a moniker inspired by an Australian Aboriginal word meaning "running waters", as the home is cantilevered over a pond and overlooks a waterfall on the Noroton River — the property is one of Frank Lloyd Wright's largest residential properties.
It was also one of the legendary architect's last projects, built by Wright in 1955, just a few years before his death in 1959.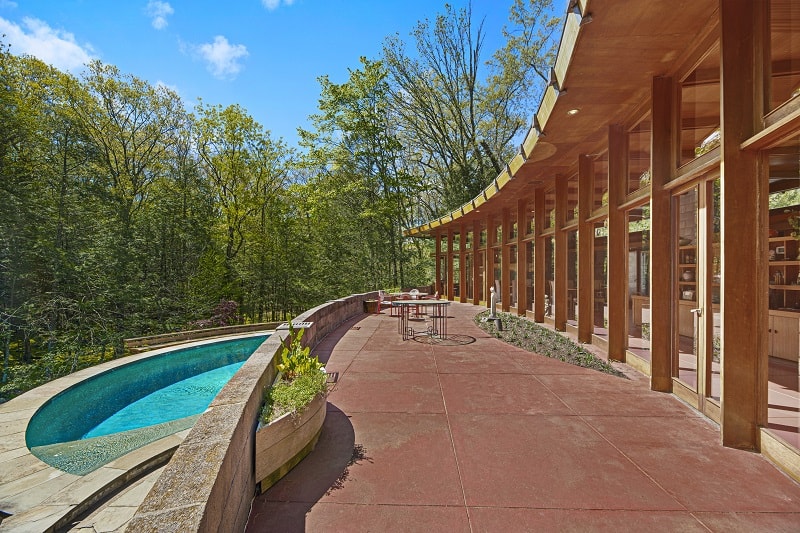 But this isn't just a Frank Lloyd Wright-designed property.
The architect also lived here while building the Guggenheim Museum — and even used some of the scalloped glass windows from the Guggenheim Museum project to complete the home's south-facing greenhouse.
Now, the sprawling 7,000-square-foot Tirranna house is on the market, listed for $8 million with Marsha Charles and Albert Safdie of Coldwell Banker Realty.
Inside an $8M Frank Lloyd Wright-designed home
The property, also known as the Rayward-Shepherd House or the John L. Rayward House, sits on 14 acres of protected land in New Canaan, Conn., a Fairfield County town that consistently ranks as one of the wealthiest towns in the country.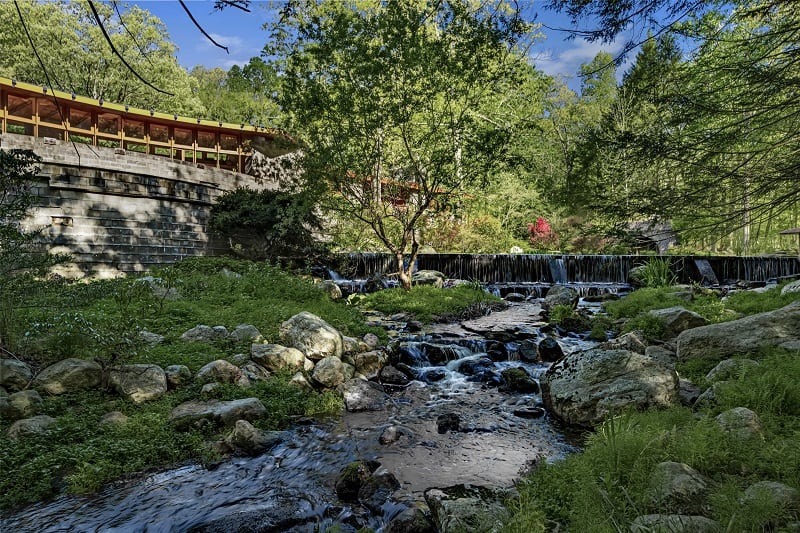 And while location is the name of the game when it comes to luxury real estate, this property has so many things going for it that the great location pales in comparison to some of its most enviable attributes.
Clocking in at a generous 7,000 square feet, the 7-bedroom, 8.5-bath home blends geometric complexity with nature's flowing curves, in typical Frank Lloyd Wright style.
Throughout the home, the architect combined and contrasted soaring ceilings and open living spaces with cozy and cocoon-like mahogany-paneled bedrooms.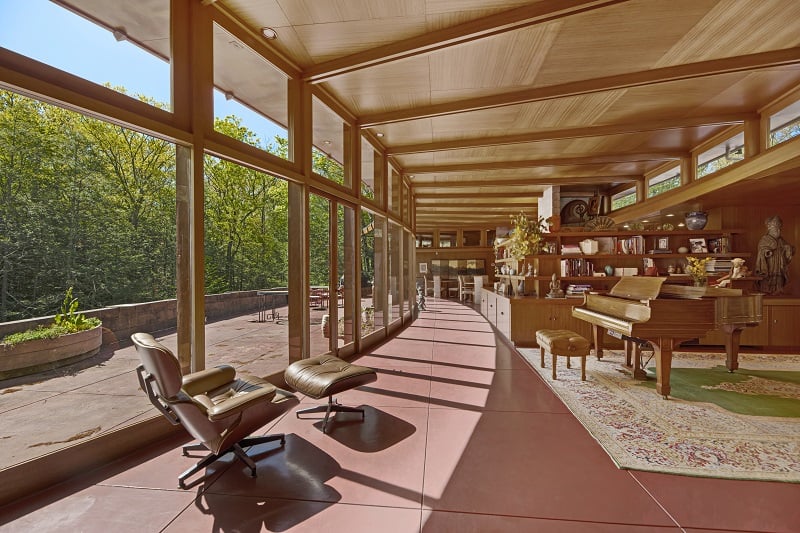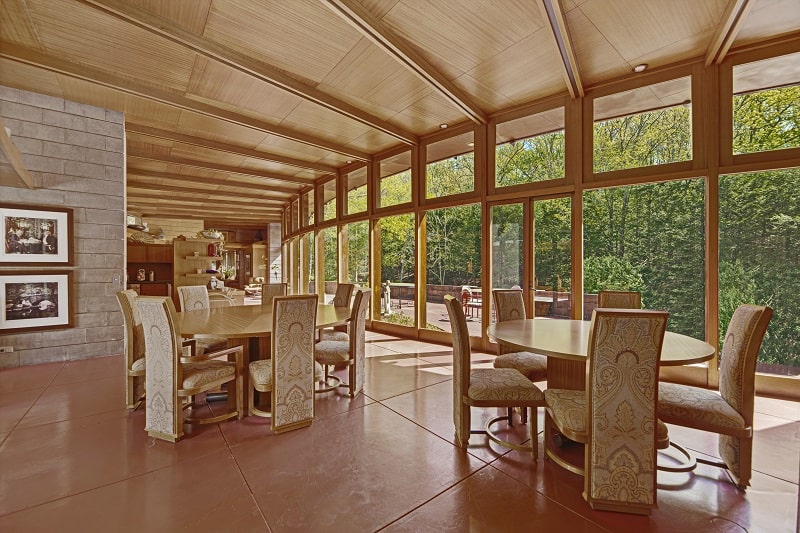 The living room and dining area opens to an expansive circular patio that overlooks the pool and nature reserve beyond.
Related: Frank Lloyd Wright's Taliesin house and its three (tragic) lives
The home's functional wood-paneled and stainless-steel kitchen epitomizes the mid-century modern aesthetic, while each of the bathrooms are spa-like and adorned with spectacular wood panels and unique features.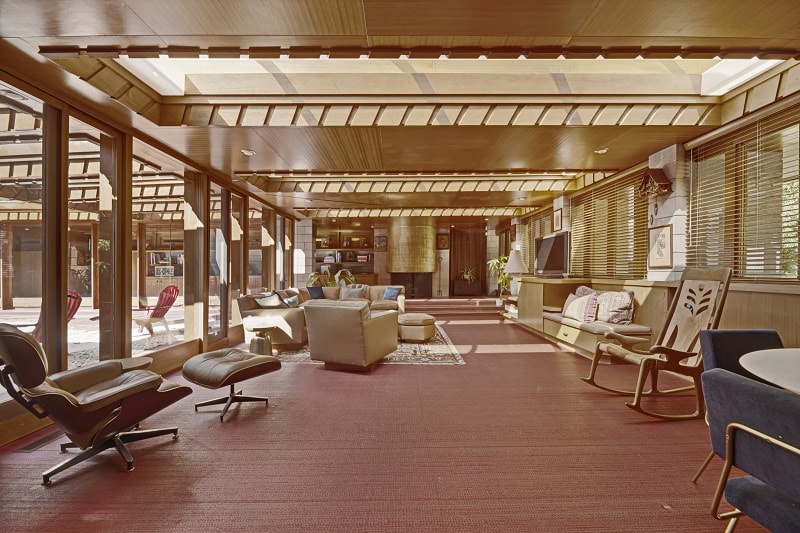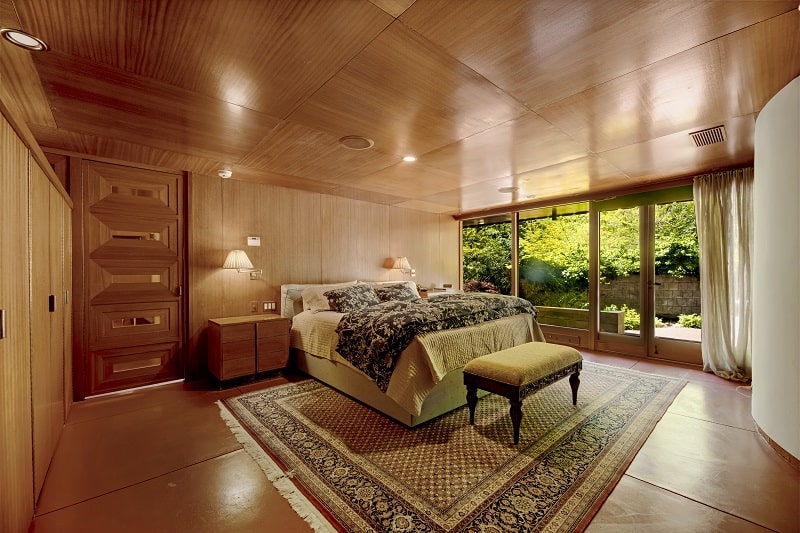 A 200-foot covered outdoor walkway leads to a greenhouse with caretakers/guest quarters, along with a carport. This is a full one-bedroom house with a lovely kitchen, cozy bedroom, and full bath.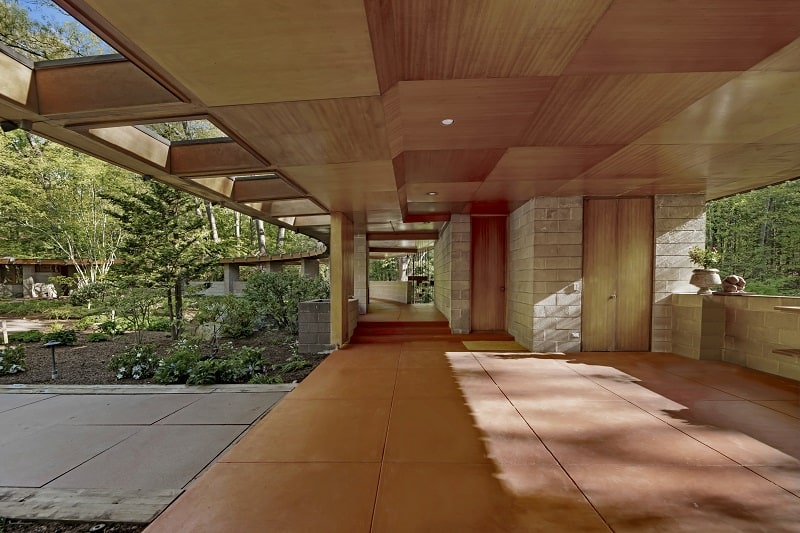 There are a few other structures and amenities on the property, including a cozy guest studio with a full bath, a tennis court, a large barn, a wine cellar (which is actually a converted bomb shelter), a playhouse, and even a rooftop observatory complete with a telescope.
Public records show that the current owners/sellers bought the property in 2018 for $4,800,000. At the time, Frank Lloyd Wright's Tirranna house had been listed for the first time in 20 years, and sported a similar price tag of $8 million.
A fusion of nature and architecture
From an architectural standpoint, Tirranna embodies Wright's classic hemicycle design, seamlessly blending curved lines with rectangular angles, and combining geometric and spatial complexities for optimum functionality.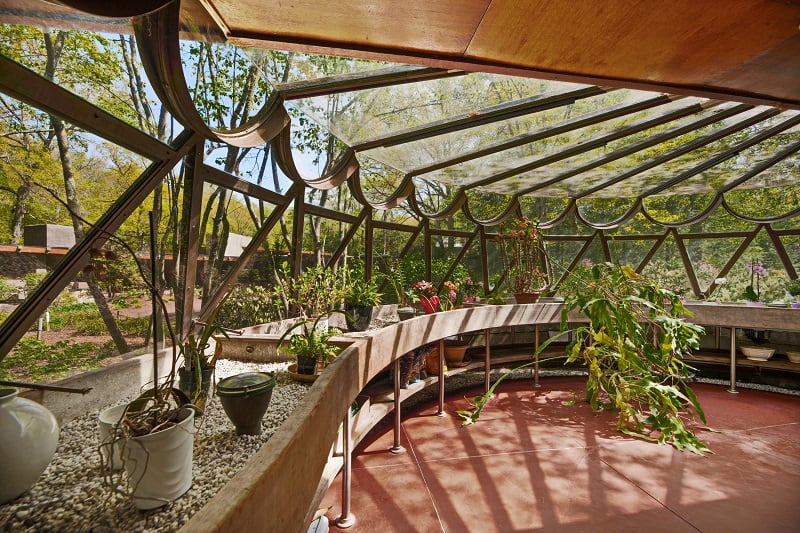 Standing as a perfect example of Frank Lloyd Wright's organic architecture, which strives for a perfect balance between man, nature, and design, Tirranna reflects nature's flowing curves and incorporates many of the architect's staple design elements.
That includes low-slung roofs, Philippine mahogany walls, large windows, and Cherokee red concrete floors with radiant heat. It was built of concrete block and glass, trimmed with mahogany.
Related: Frank Lloyd Wright's Ennis House also known as The Blade Runner House
The current owners have lovingly maintained the original architectural integrity, preserving details like built-in bookshelves, brass hardware, original lighting, cabinetry, and furnishings.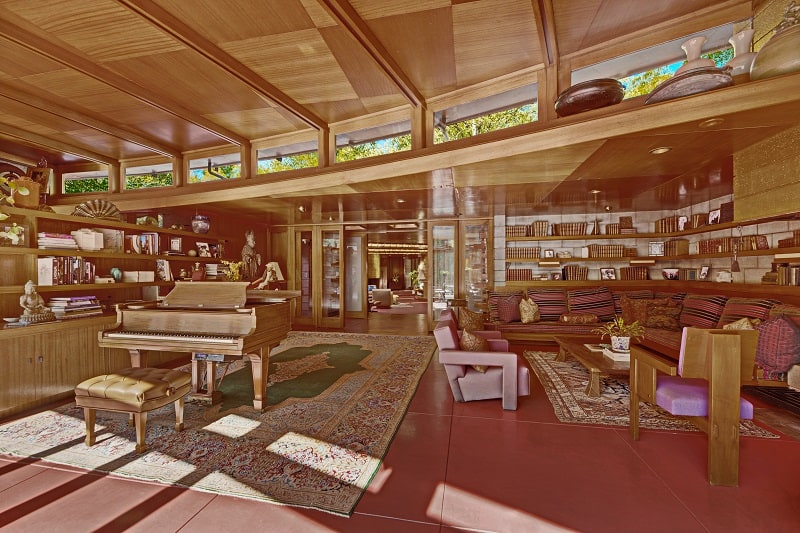 But it's not just the house that comes with an illustrious name attached to it.
The beautiful grounds of the property were thoughtfully designed by Frank Okamura, the landscape architect known for restoring the Japanese gardens at the Brooklyn Botanical Garden in the late 1940s. The Japanese-born American horticulturist is also known for helping popularize the cultivation of bonsai in America.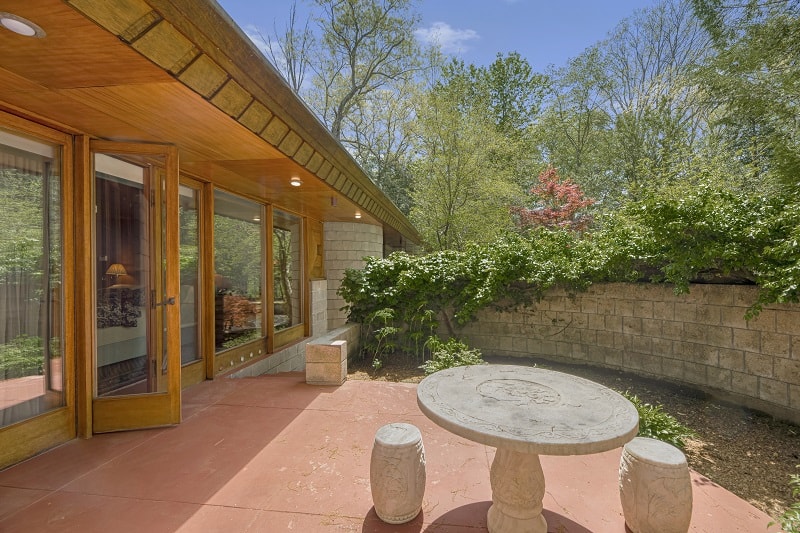 Along with Charles Middeleer, another famous landscape architect of the time, Okamura carefully designed the landscape to ensure privacy, making Tirranna the ideal sanctuary for those seeking a tranquil lifestyle.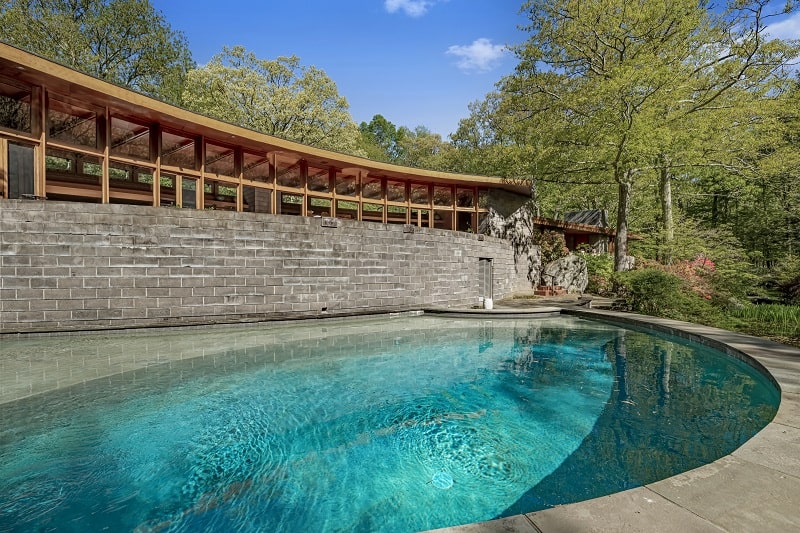 As the brokerage that holds the listing told us via email, "Tirranna is more than just a home; it's a mid-century masterpiece that will transport you to another time and place."
We couldn't agree more.
More stories you might like
Frank Lloyd Wright's Taliesin house and its three (tragic) lives
The Chemosphere House and 6 other striking John Lautner-designed homes
Frank Lloyd Wright's Ennis House also known as The Blade Runner House
The Remarkable Sheats-Goldstein Residence in LA: Past, Present and Future