The fabulous home we're about to show you is one that you'll likely fall in love with at first sight, just like we did.
You'll feel as if you've just been transported across the ocean to the green fields and romantic villas of Tuscany, and you'll suddenly start to hear mandolins playing in your head. Or is it just me?
The exterior of this mansion seems plucked right out of that feel-good Diane Lane movie, Under the Tuscan Sun, but with a slightly more modern twist.
Yet the mansion is located quite a long way from Italy, in Palo Alto, California, and it bears the signature of a well-known architect in the area.
That's right, the property you're looking at is one of the creations of Palo Alto's best-loved architect, Birge Clark, and was originally built back in 1927.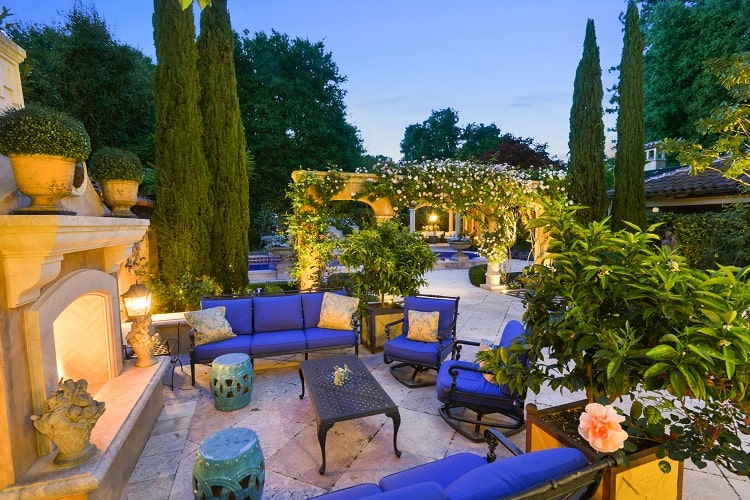 Boasting a beautiful French Riviera-inspired design, this lovely Italianate-style villa is located at 51 Crescent Drive in Palo Alto's exclusive Crescent Park neighborhood, and it's currently on the market for $16.8 million.
Sotheby's Gloria Young and John Young along with Coldwell Banker's Joel Goodrich are handling the search for a new owner for the property dubbed The Hannaston Estate. And here's what it has to offer, should you be tempted to make an offer.
The Hannaston Estate features two separate structures connected by a beautifully-landscaped outdoor space and a fabulous pool.
The 6,155-square-foot main residence features 4 bedrooms, 4 bathrooms, 2 powder rooms, a spacious living area and a formal dining room, a large kitchen, a library, and a temperature-controlled wine cellar that can store roughly 1,000 bottles of fancy pants wine.
To go from one level to the next, you can use an elevator, or take the grand, curved iron staircase that greets you when you first walk in.
The second structure on the property is a 990-square-foot guest cottage that includes 1 bedroom, 1 bathroom, a full kitchen, a living room area and a private, landscaped outdoor patio. I definitely wouldn't mind being a guest at this property–it looks pretty darn fabulous.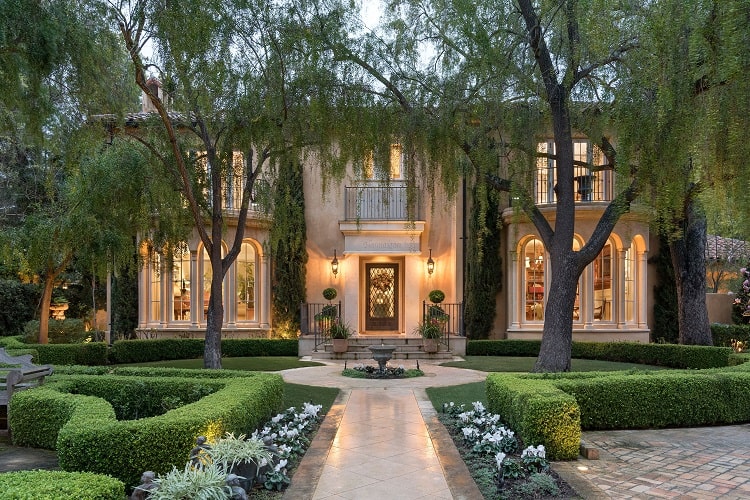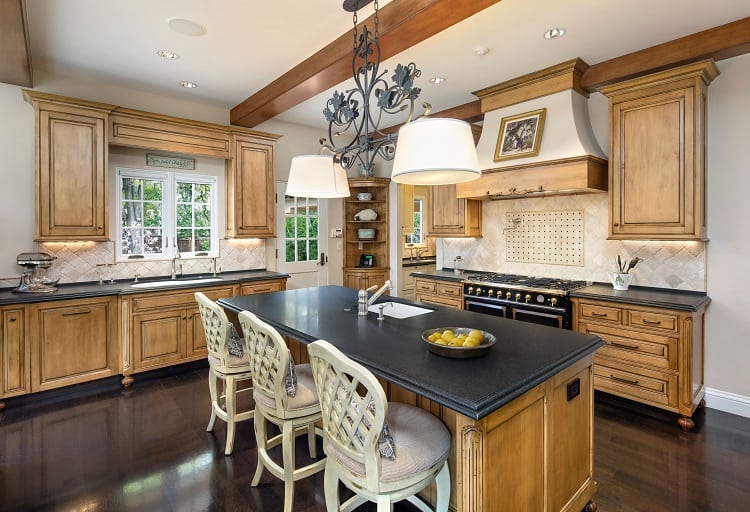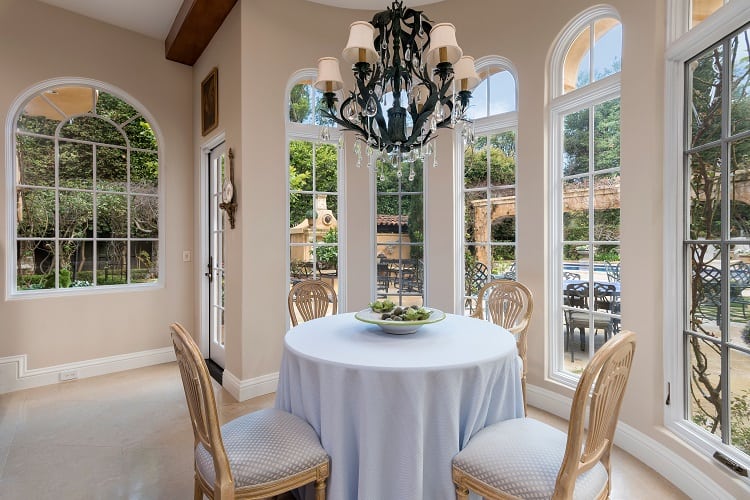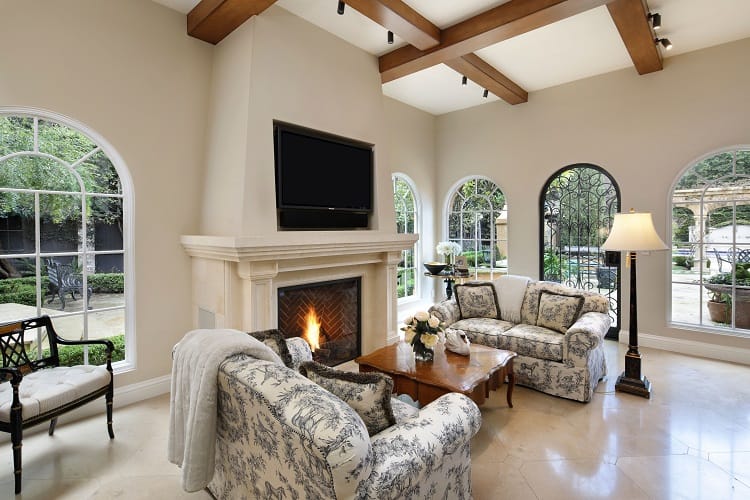 Residents and guests at The Hannaston Estate will have access to a three-car detached garage, as well as a porte-cochere, and a motor-court that offers parking for more than 10 cars.
Given that the outdoor space at the property can fit up to 200 guests, those parking spaces can prove very useful. Since we're on the subject, let's check out the breathtaking outdoor space.
The pool area is by far the highlight of this property, and it's where we'd be spending all of our time if we lived here.
The dazzling mosaic blue- and gold-tiled pool was inspired by the Julia Morgan-designed pool at the Hearst Castle in San Simeon, California, once the home of publishing tycoon William Randolph Hearst.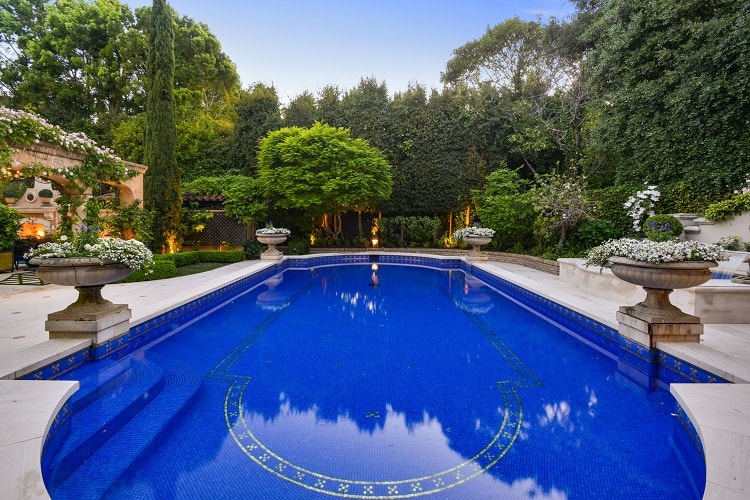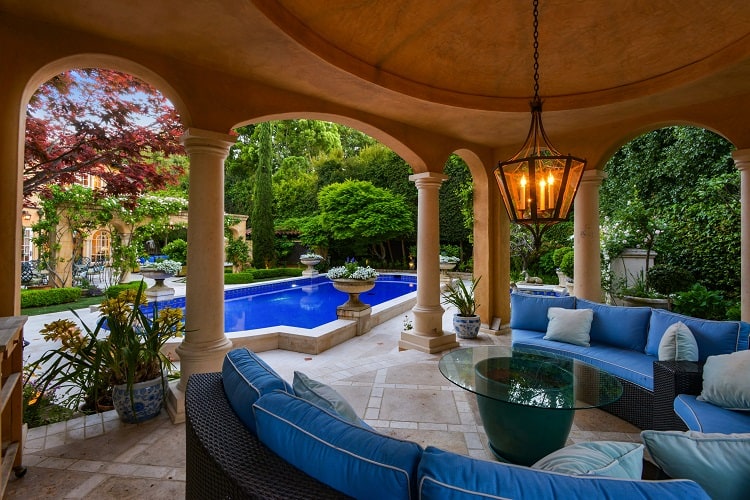 Around the pool area, there is plenty of outdoor dining and fireplace-lit lounging space, all protected by mature cypress, lemon, apple, fig, apricot, orange and pear trees, which work together to give you complete privacy and tranquility.
You'll even forget that not too far from the property lies Palo Alto's buzzing University Avenue, the main hangout destination for students at the nearby Stanford University.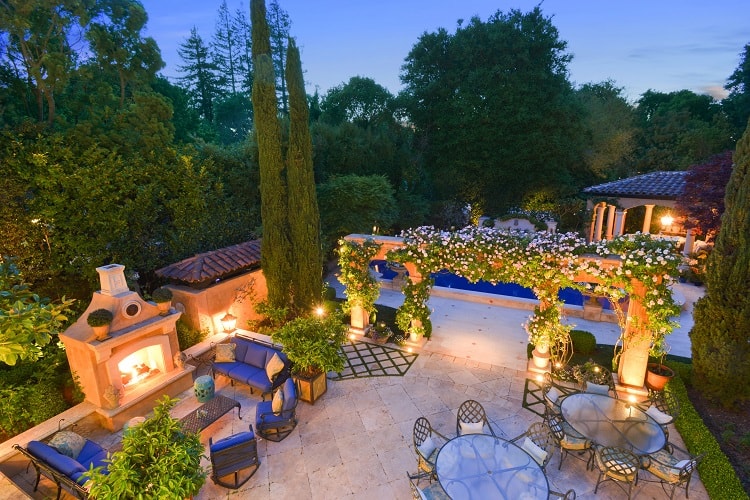 The location of this property is unbeatable. Crescent Park offers access to some of the best school districts in California and to a plethora of shopping and dining destinations.
Not to mention job opportunities, as some of the biggest names in tech are headquartered in this part of Silicon Valley, including names like Tesla or HP.
More exquisite homes
This Stunning Modern House Was Built With Fire Safety in Mind
Hillside House Overlooking San Francisco Looks Like the Perfect Villain Lair
Maria Sharapova's Japanese-Inspired House on the Beach is a Minimalist's Dream Come True
Once America's Most Expensive Home, This Bel-Air Mansion Sold for $94 Million