Movie stars often get all the love and fame from the audience.
While the actors get to enjoy the glam life, true cinephiles know that no blockbuster hit is possible without a great director.
These creative visionaries are responsible for bringing a story to life. They have the ability to translate ideas into captivating visual stories, influence our culture, and use their creative and technical expertise to shape the art of filmmaking.
They may be underappreciated at times but directors still make bank. Sometimes, they earn even more than the actors!
What do they do with their millions? Purchase the finest homes that money can buy! Here are 10 directors who have won our hearts with their gorgeous and downright unique properties — which range from liveable Hobbit-hole basements to mega mansions with their own vineyards!
James Cameron's house is a sprawling farm in New Zealand
With a long roster of blockbuster hits like Avatar and Titanic (that ended up becoming the biggest box office hits in box office history), James Cameron is regarded as one of the most successful directors of all time.
And with a net worth estimated at around $700 million, his real estate portfolio is just as impressive as his movies.
The famous director has mansions in Malibu and Calabasas but his biggest splurge is a massive farmland in New Zealand. Cameron purchased the 2,500-acre estate for $16 million in 2012 and uses it as his main residence. 
The property was so big that he had to have an agreement with the government to keep part of it a working farm. They turned it into an organic vegetable farm and there are also several animals, including sheep and cattle that graze the land.
There are several residential structures on the grounds of James Cameron's house: a guest house, a cottage, a barn, and the main house, which is perched high on a small hill. The farmland is brimming with nature and life that it has been referred to as a "mini Pandora".
Tim Burton's unique glass house in London
You wouldn't expect Tim Burton to live in just any regular house now, would you?
Known for his gothic and whimsical work, the Wednesday director wanted a place that matched his artistic sensibilities. His Eglon House, located in Primrose Hill in London, is an Art Deco-inspired house of glass. Its unique structure makes it look like it came straight out of a Burton film!
The 13,000-square-foot, four-story home has five bedrooms, a steam room, a sauna, a cocktail bar, and a swimming pool that doubles as a cinema room. You can take an extensive tour of the property on YouTube.
The place used to be a recording studio in the 1970s and hosted icons like The Clash, David Bowie, and Pink Floyd. Burton rented the place from 2016 to 2019 while he worked on the live-action Dumbo film. The house hit the market in 2021 for a whopping $27 million.
Quentin Tarantino's house is in Israel
After marrying Israeli actress Daniella Pick, Quentin Tarantino left Hollywood and moved to a luxurious mansion in Tel Aviv, Israel.
Here, the couple purchased a six-bedroom villa in Tel Aviv and initially wanted to return to L.A. but the pandemic had other plans.
In 2020, Tarantino rented another beautiful home in the swanky part of Tel Aviv, adding more houses to his list. Aside from his Israel homes, he also has an L.A. mansion and an upscale apartment in New York.
Guillermo del Toro has a "House Of Horrors" man cave
With a penchant for dark storytelling, it's no surprise that Guillermo del Toro owns a "house of horrors". The Pan's Labyrinth director is proud to have a man cave, named Bleak House, that is filled with over 10,000 horror-themed artifacts, toys, and other collectibles.
While the two-story house isn't his main residence, he uses it as a library, private museum, and office, where he does research and writing. Which basically means he lives there, so we're counting this one!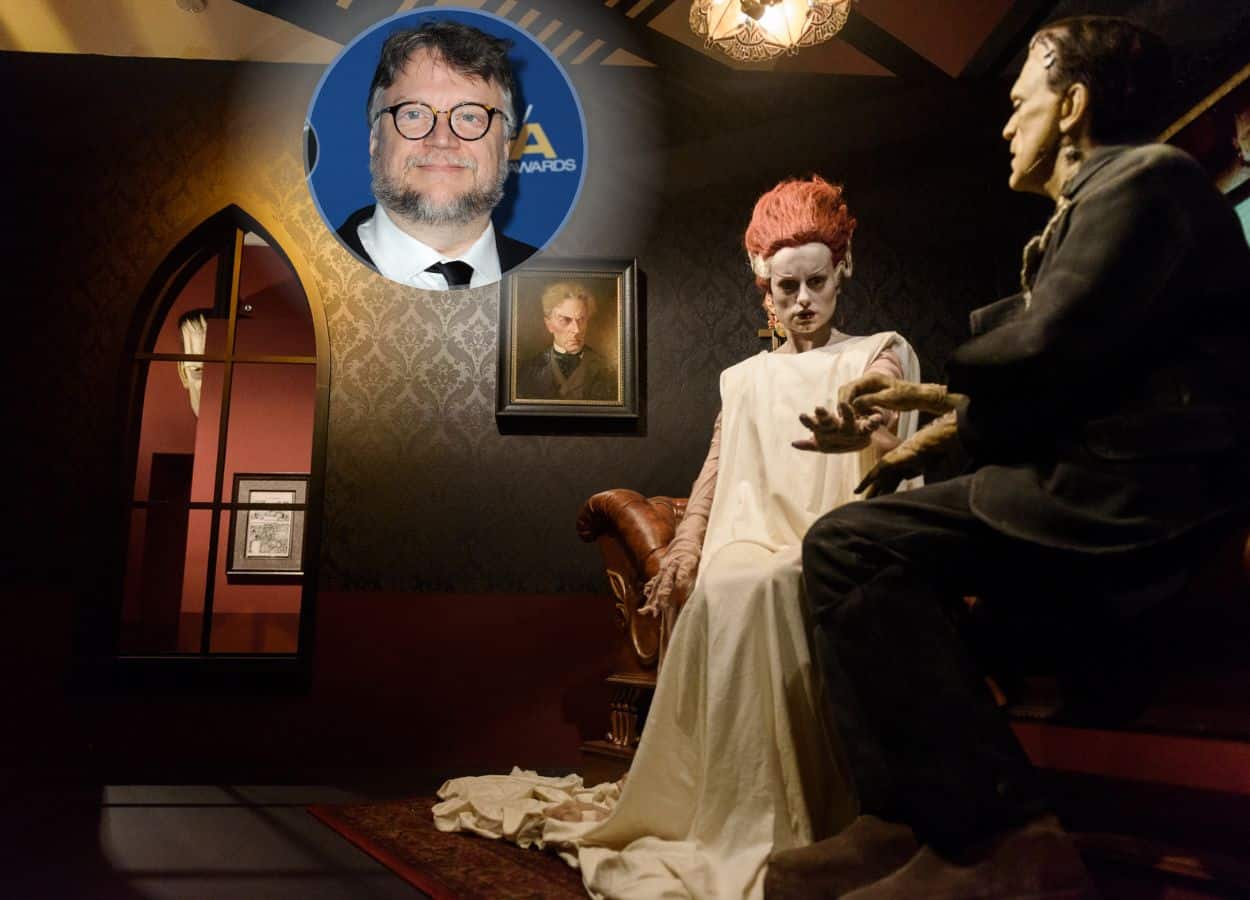 Del Toro and his family live in a bungalow in Santa Monica, which he purchased for around $4.5 million. The stylish property is a far cry from his Bleak House but still has a unique look.
The 5,600-square-foot home has a neoclassical Gothic Tudor design, with castle-like turrets and exposed beams. The interiors come equipped with spacious living areas, a modern kitchen, a private backyard, and a saltwater swimming pool.
Martin Scorsese's Upper East Side apartment
A true blue New Yorker, Martin Scorsese's decision to splurge on an Upper East Side apartment was an easy one. The Queens-born director purchased a lavish four-story home in 2007 for $12.5 million.
The 1860s townhouse, boasts 7,000 square feet of living space, with 10 rooms, a garden, and an elevator. Martin Scorsese's house is also filled with memorabilia from his movies, as well as some of his influences. Its interiors feature an opulent vibe, mixed with a "provincial country" look, as per Scorsese's request. 
Scorsese has told Architectural Digest that while he was a die-hard New Yorker, he spent his life living on location. He wasn't quite sure at first what style of living to adapt to in Manhattan, but he was able to find a home in his classic townhouse.
Peter Jackson's house in New Zealand has a Hobbit house replica
The Lord of the Rings fans will be happy to know that Peter Jackson's love for his work extends to his home.
As a tribute to the famous trilogy, Jackson transformed a part of his mansion into Bilbo Baggins' house. To achieve this feat, he commissioned the film's set artist to build the exact replica of the hobbit's abode.
The fantasy playground is located in the basement, which can be accessed through secret doorways.
"You have to go under tunnels to get to it. You got the house, then you go down to the wine cellar and you pull a bottle, and it opens up a door, then you step out a look down this corridor – about 35 meters, we had to create it, then you go down one part, then there's a skeleton and some bodies, then you come out to a mock torture chamber, then you pull a book in a bookcase and the bookcase opens, and you walk into Bag End," the set artist explained in an interview.
Nancy Meyers' house is a dreamy, French Country Style LA home
It's been said before that Nancy Meyers' house looks like it's been taken straight out of a Nancy Meyers movie.
Famous for creating sets with a cozy, warm vibe – which can be seen in her movies Something's Gotta Give, The Holiday (you can learn more about the two houses on The Holiday here), and It's Complicated — Meyers has taken inspiration from her beloved films to revamp her old house.
Her Provençal-style L.A. home measures 10,000 square feet, with five bedrooms, an office, a library, and its own screening room. Initially, Meyers planned on moving out of the house after her daughter left for college and then building a smaller one next door.
All I want is to live in a Nancy Meyers house. Sharing in case anyone else needed this today… https://t.co/4SFSQyEA3F

— Leigh Walters (@LeighinStL) July 6, 2022
While plans for the new house were being finalized, she decided to freshen up her old home. In the process, she fell in love with the new look of her revitalized space and decided to stay in her longtime home.
Sofia Coppola's idyllic hideaway in Belize
To get away from the hustle and bustle of city life, Sofia Coppola had an idyllic hideaway built in Belize. The modern-tropical abode sits inside the Turtle Inn, a resort opened by her father, Francis Ford Coppola. Being the daughter of the famed director definitely has major perks!
Designed by architect Laurent Deroo, Sofia's stunning holiday home has an open-plan main house and two guest bungalows. It has an open-air living and dining room, a full kitchen, a seafront media room, a pool, and sizeable bedrooms with en-suite bathrooms.
Just a few steps away from the Caribbean Sea, the home offers scenic views of the beach, making it the perfect getaway. 
Spike Lee's historic townhouse in Manhattan
Spike Lee's old townhouse in Manhattan has an interesting history, which makes it even more valuable. Located on the Upper East Side, the three-story home, called "Hatch House" was once listed for $32 million. It was designed in 1916 for Barbara Hatch, the great-granddaughter of railroad tycoon Cornelius Vanderbilt. 
The 9,000-square-foot home boasts five bedrooms, three fireplaces, and a stunning courtyard. Other famous names who have resided in the Hatch House include artist Jasper Johns and burlesque dancer Gypsy Rose Lee.
Steven Spielberg's house in Pacific Palisades
Steven Spielberg has an impressive real estate portfolio totaling over $200 million! He has collected million-dollar estates from Malibu to New York and he just keeps adding more to the list.
One of Spielberg's most stunning properties is his Pacific Palisades mega mansion, his first major purchase, and the place he calls home.
He acquired the Spanish-Mediterranean-style property for $6.5 million and stripped it down so he could transform it into his own. He gave his architect the directive to make it look "a little French, a little Italian, and a little Spanish".
The renovation expanded the space from 10,000 to 20,000 square feet. The whole property sits across 3.5 acres of land and has five bedrooms, six bathrooms, a huge pool, a Hobbit-inspired room, and its own vineyard overlooking the ocean.
From fantastical spaces to lavish mansions, these directors sure know how to spend their millions! Let's tip our hats to these creative geniuses who have not only conquered the silver screen but also the real estate market!
More stories
George Lucas' Skywalker Ranch is a fanboy paradise with Victorian roots
Brad Pitt's home in Carmel, the historic D.L. James house
Denzel Washington's house, a mega-mansion he's called home for 20+ years