Britney Spears ruled the late 90s and early 2000s pop scene with hits like Baby One More Time, Oops!… I Did it Again, and Toxic.
In fact, she has sold over 100 million records worldwide, including over 70 million solely in the United States, making her one of the world's best-selling music artists — which rightfully earned her the title of Princess of Pop.
And while her crown has often been challenged by contenders like Katy Perry, Lady Gaga or Ariana Grande, if there's one thing we can agree on, it's that Britney is as resilient as they come.
Despite the many ups and downs in her personal life and being the center of the media circus ever so often, she continues to be a timeless icon.
Thanks to Hulu's latest documentary, Framing Britney Spears, the limelight is once again on the pop star's life and conservatorship, as well as the way in which both the media and the public have treated her during her struggles.
One thing's for sure: the documentary, and its depiction of the media's mistreatment of the pop icon, is also a well-deserved slap on the wrist to tabloid junkies everywhere for enabling the gossip media industry to tear down celebrities and revel in their humiliation.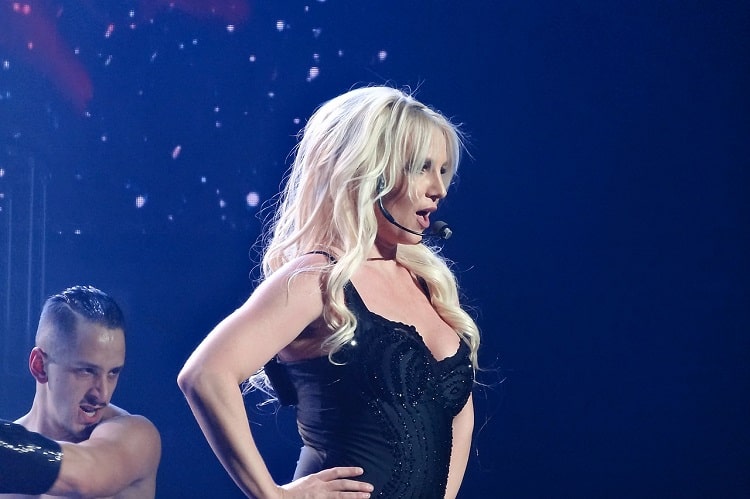 Right after the Framing Britney Spears premiere, the phrase "We are sorry, Britney" started trending on Twitter, with thousands of tweets showing appreciation and support for the pop star and apologizing to Spears for the public's role in her difficulties.
While the #FreeBritney campaign is far from over, a judge recently denied a request by her father to exert more control over her finances. He will continue to work with the private trust company, Bessemer Trust to manage Britney's finances. It's all about small victories at the end of the day.
After Hulu, Netflix also plans to release a documentary on the singer's life. We suppose there's no better time than now to take a closer look at the pop star's life and home.
Britney Spears' mansion in Thousand Oaks
Britney Spears bought her latest home — a Neoclassical Italianate Style mansion — in 2015.
She paid a whopping $7.4 million for the home, which proudly sits in Thousand Oaks. Located in between Los Angeles and Santa Barbara in Ventura County, Thousand Oaks is nestled against the Santa Monica Mountains, and is recognized as one of the most desirable places in all of California to live, work, recreate, and raise a family.
Reminiscent of a beautiful Italian villa, the 13,264 square feet home sits on 21 sprawling acres of private land and is hidden away by two private gates.
Needless to say, the pop star takes her privacy and security very seriously. But the lucky few that do walk through the gates will feel like they've been transported to beautiful Italy. Bellissimo!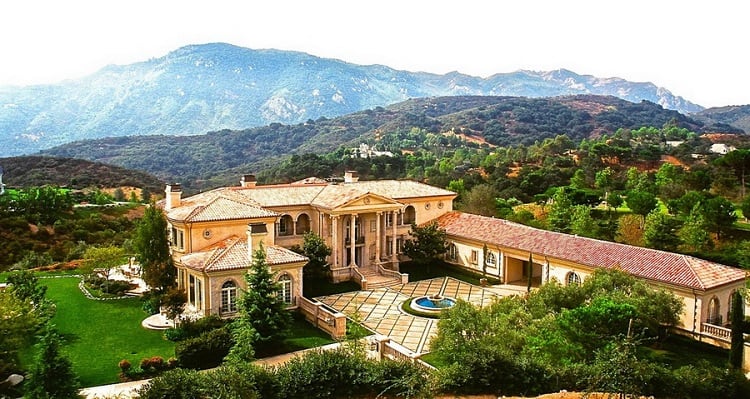 The estate has beautiful manicured lawns, a rear motor court with access to a six-car garage, flowering gardens, an infinity pool, a stand-alone spa and an orchard.
There's also a lighted tennis court and a three-hole golf course on the estate's grounds, giving the pop star tons of options for spending quality time outside.
Inside Britney's house
If the exterior of the house seems grand, just wait until you see what's inside. The entrance has a marbled floor, massive pillars, and floor-to-ceiling windows that let in plenty of natural light.
Talking about ceilings — this home features 35-feet high ceilings that give the whole place a palatial feel. There's also a large black marble fireplace where the star can cozy up with boyfriend Sam Asghari.
A grand staircase leads to the second floor where there are five bedrooms and eight bathrooms. The master bedroom has an enviable closet perfect for a world-famous pop star.
What's a celebrity home without a killer view, you ask? Well, the views of the LA skyline and Santa Monica mountains from Britney's home are spectacular, to say the least. Even the wood-paneled library overlooks the mountains making it the perfect reading nook.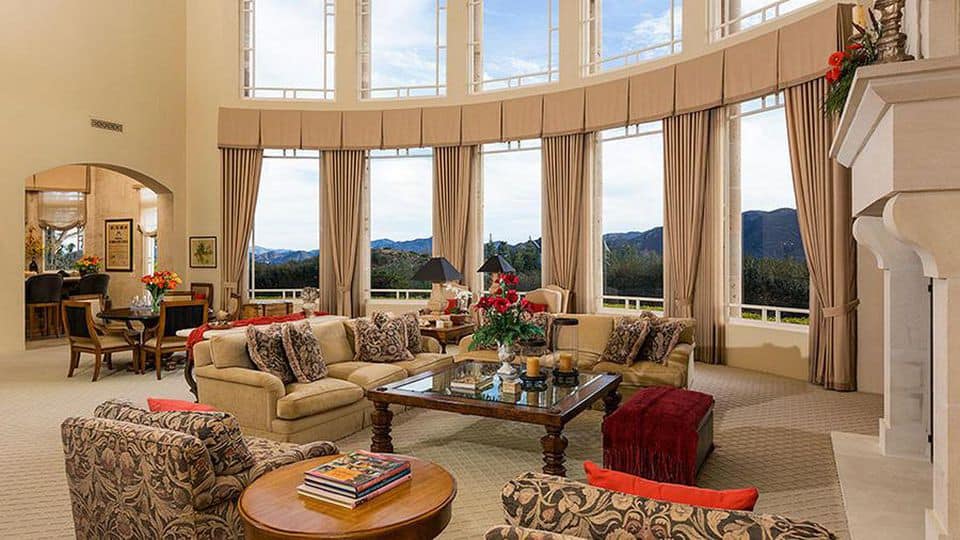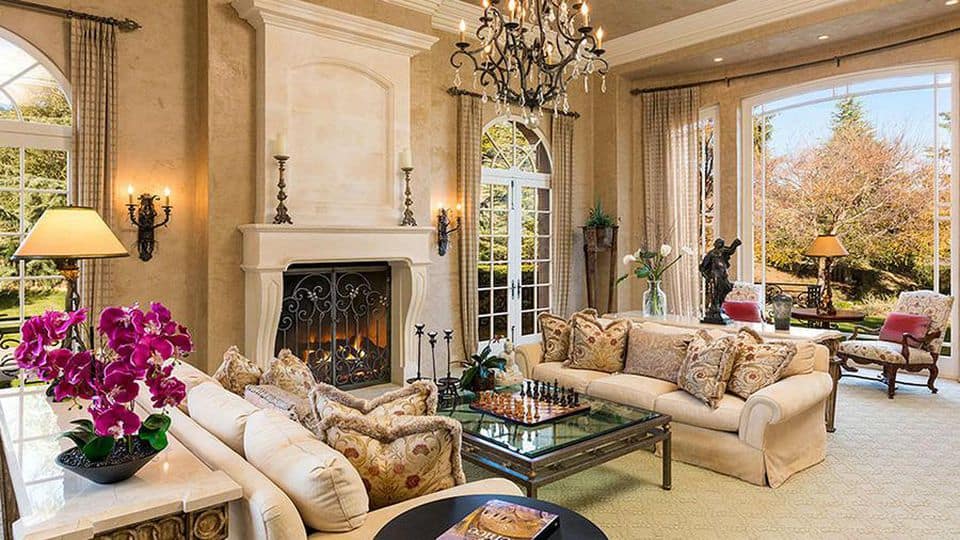 Neither Britney nor Sam shy away from showing their affection for one another. They often surprise each other with delicious home-cooked meals so it's perfect that they have a massive open kitchen with moody dark wooden cabinets and a large center island.
The house also a wine cellar that can accommodate 3,500 bottles, so bring on the romance! The couple also spends a lot of time in their media and game room. We can only imagine how handy those rooms were during the quarantine.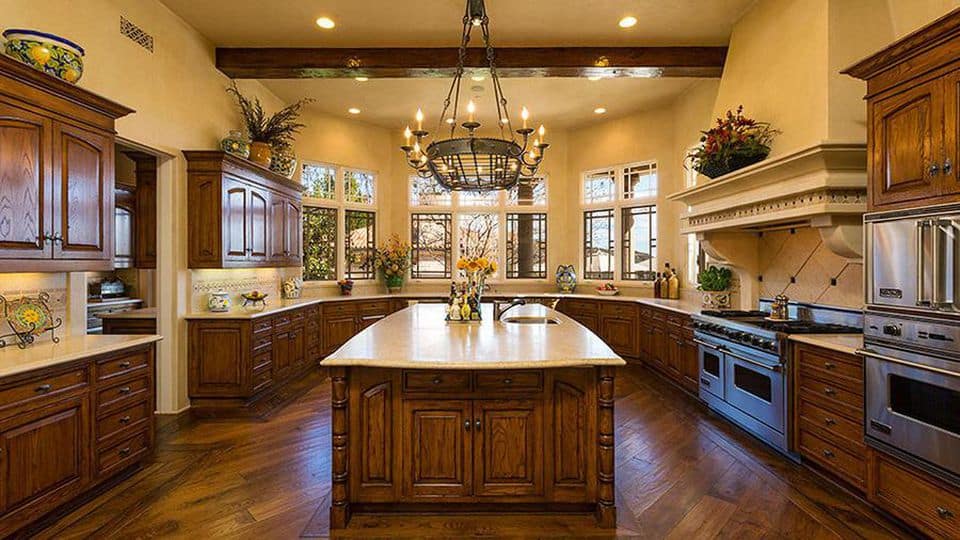 The couple loves to enjoy the Californian sun in the luxurious infinity pool. In fact, they have a 1,200-square-foot poolside pavilion with its own full kitchen, 3,500-bottle wine cellar, and bath, so no one has to leave the pool party.
The grounds even have a tennis court, a separate spa, and a three-green golf course with sand traps.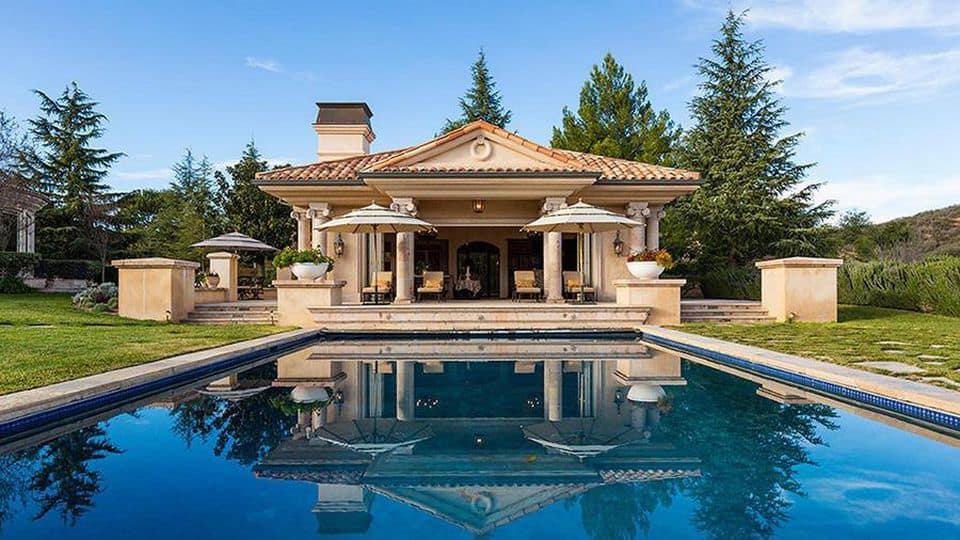 To see more of Britney's house, go to the star's Instagram profile
If you really want to get up, close, and personal with the Toxic singer, check out her Instagram feed. She often posts videos of herself dancing, working out, cooking, and even painting in her grand home.
Britney has come a long way from her modest childhood home in Kentwood and we love that she gives fans a glimpse of her life and her home in all its glory!
Lead image credit: Property photo – Zillow.com, Britney headshot – Drew de F Fawkes via Wikimedia Commons.
More celebrity homes
Beyoncé Lives in a Bel-Air Mansion Fit for Royalty
The Story of Taylor Swift's Holiday House — Home to "the Last Great American Dynasty"
Spotlight On: the Razor House — Alicia Keys' Crazy New Mansion
Where Does Lady Gaga Live? See Inside Her 'Gypsy Palace' in Malibu