The highly exclusive boutique condo building in Manhattan's NoHo neighborhood has recently unveiled its newest designer co-op, giving us a peek inside the unique building — whose interiors bear the signature of celeb-go-to interior designer Ryan Korban.
Hitting the market at a whopping  $5.7 million, one of the newest condos at 40 Bleecker channels Coco Chanel and 1970s Parisian design, and is among the priciest units still available in the highly exclusive 12-story building.
Despite its record-setting prices (reaching $3,000/sq ft, a new high for the neighborhood), well over half of the 61 designer residences at 40 Bleecker have been sold by early 2021, including five out of the six penthouses.
Credit for that goes to the stellar broker team in charge of marketing the development, led by Douglas Elliman Sales Director Sarah Burke, along with MDLNY star Fredrik Eklund, John Gomes and Adam Widener of the Eklund|Gomes team.
Ryan Korban-designed interiors invoke 1970s Paris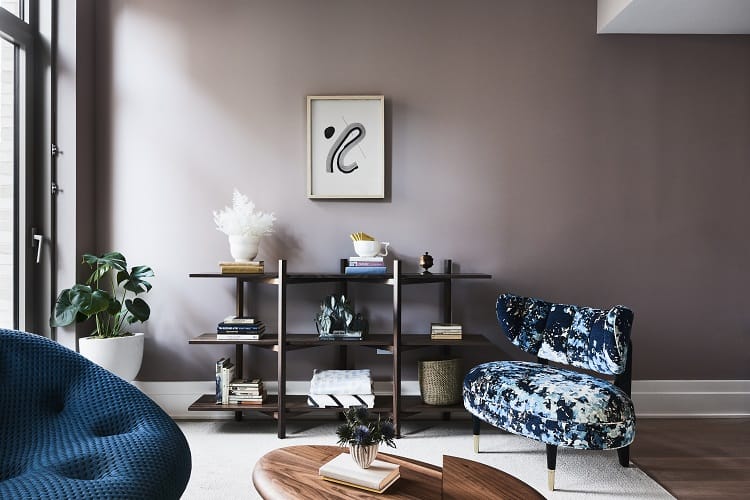 40 Bleecker's interiors are the eye-popping hallmark of the project, all conceived by Ryan Korban – the AD100 designer known for his flagship luxury apparel stores (Balenciaga, Alexander Wang, Aquazzura, Fivestory) and private homes for a bevy of fashion designers, models, actors and other prominent cultural figures.
The elegant residence takes cues from moments in fashion history and experiments with textures, fabrications, and forms with a rich historical connection.
Restrained art deco details grace the large home and pieces like the curved legs of Vonnegut/Kraft's Releve table, hexagonal brass insets of KWH Furniture's oak Etagere, and fine European bedding and linens from Sferra define the space as equally decadent and inviting.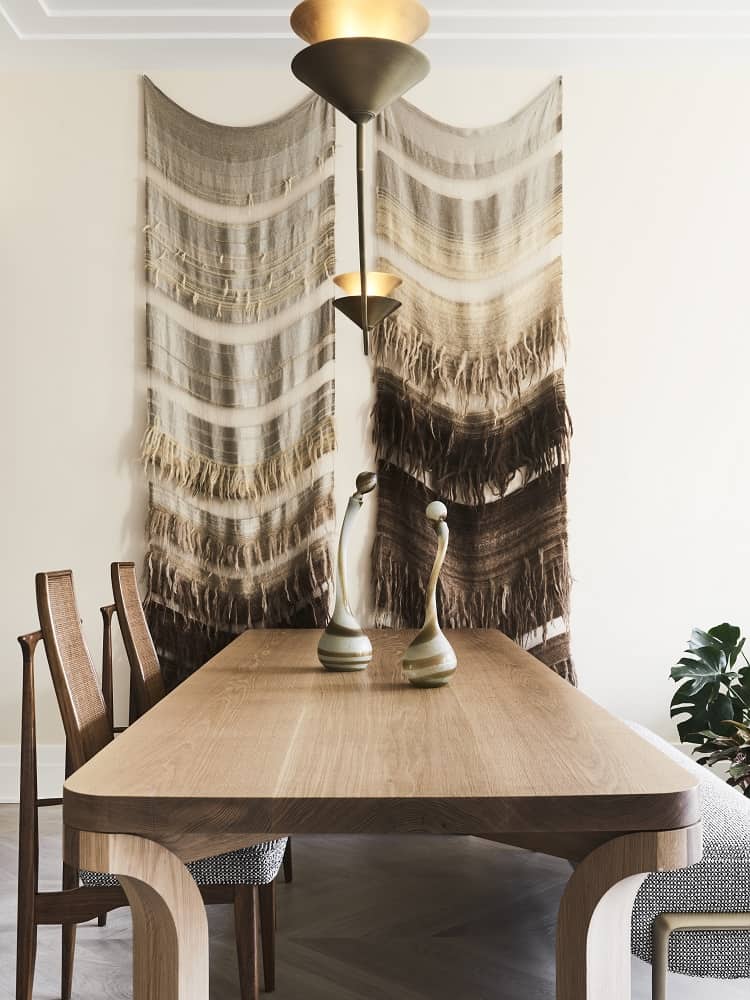 Korban's imprint on the building isn't limited at individual residences.
The celebrated designer brought his expertise to the common areas as well, seamlessly combining luxe materials and old-world textures to add an extra note of exclusivity to an already unique building.
Honed statuary marble and dove gray terrazzo flooring immediately set the tone at the reception, where residents are welcomed by suede-paneled and Beauval limestone walls, which are just a couple of the special touches Ryan Korban left on the building.
But more on that in a minute, we're not yet done with this stunning unit.
The stylish condo has 3 beds, 3.5 baths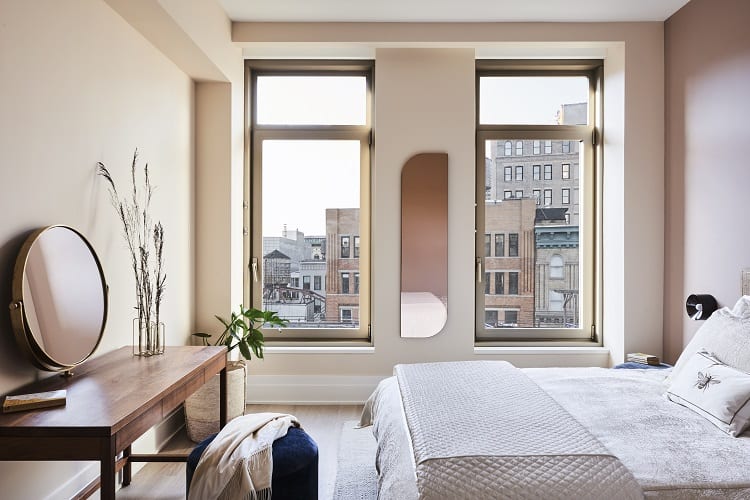 With tall windows flooding the bedrooms with natural light, the apartment invites rest and relaxation, while maintaining the note of sophistication throughout its 3 bedrooms.
They all feature a richly layered palette of materials and colors hand-selected by Korban which come together in a highly stylized living experience that's perfectly in tune with the vibe of the building.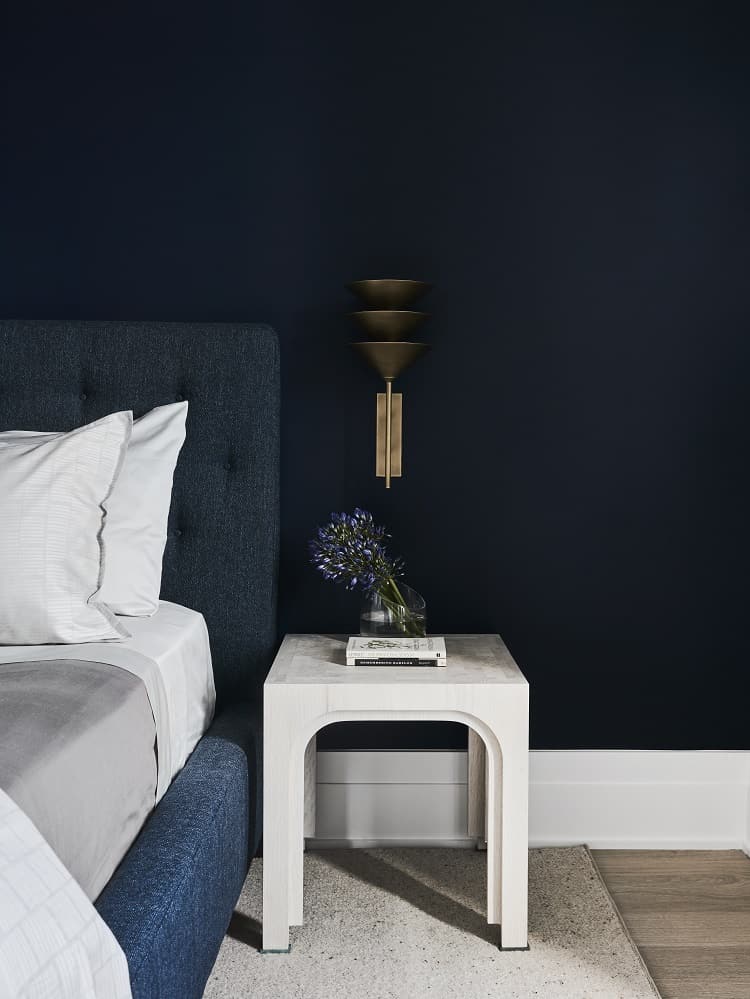 In the master baths, Korban has custom-designed the marble vanities that are surrounded by a reflective layer of mirrors and glass to amplify both space and light.
Echoing the adjacent living rooms, the master baths floors consist of Grigio dove and Calcutta moon light marble layered in a chevron pattern.
In the powder rooms, hand-selected statuary marble envelops the area and a unique custom lighting design by Bil Schwinghammer illuminates the interiors — and is rightfully touted in marketing materials as selfie-friendly lighting.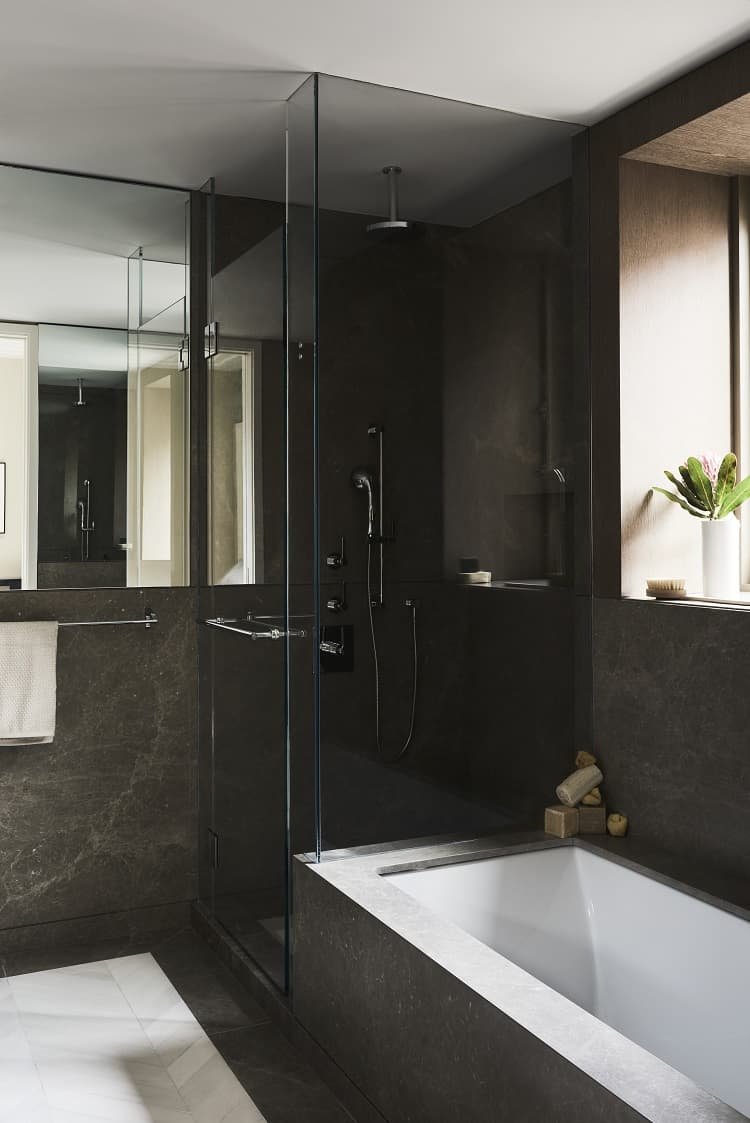 An exclusive building with unique, wellness-centered amenities
Beyond the glamor of the individual units, 40 Bleecker offers a bevy of standout features, ranging from great architecture to some unique, wellness-centered amenities.
In fact, the building made waves when it first announced it will offer room service for IV therapy, cryotherapy and other exotic treatments, courtesy of wellness provider Clean Market.
According to Forbes, Clean Market's experts will be on call for 40 Bleecker residents and their guests, offering booster shots and a menu of 14 different IV therapy drips that deliver fluids and 100 percent bioavailable vitamins and minerals straight into the bloodstream — all meant to boost energy, reduce inflammation, relieve pain, and speed up muscle recovery. Or provide a quick and efficient cure for hangovers.
Adding to the wellness-centric aspect is an indoor pool and a 5,600-square-foot sculpture garden that sits at the heart of the building. Appointed with lush, sustainably sourced greenery and seasonal flora, the area is punctuated by reflecting pools, Zen waterfalls and chevron paths, and private seating.
But we can't talk about the uniqueness of the building without giving a nod to the architecture itself.
Designed by Rawlings Architects, 40 Bleecker features a striking brick and metal façade with punched glass window openings.
Undulating in a step-like fashion at the top three penthouse levels and gently curving at its corners to maximize light and views, 40 Bleecker offers a boldly contemporary exterior design that fits in nicely with the historically industrial pre-war buildings that surround it.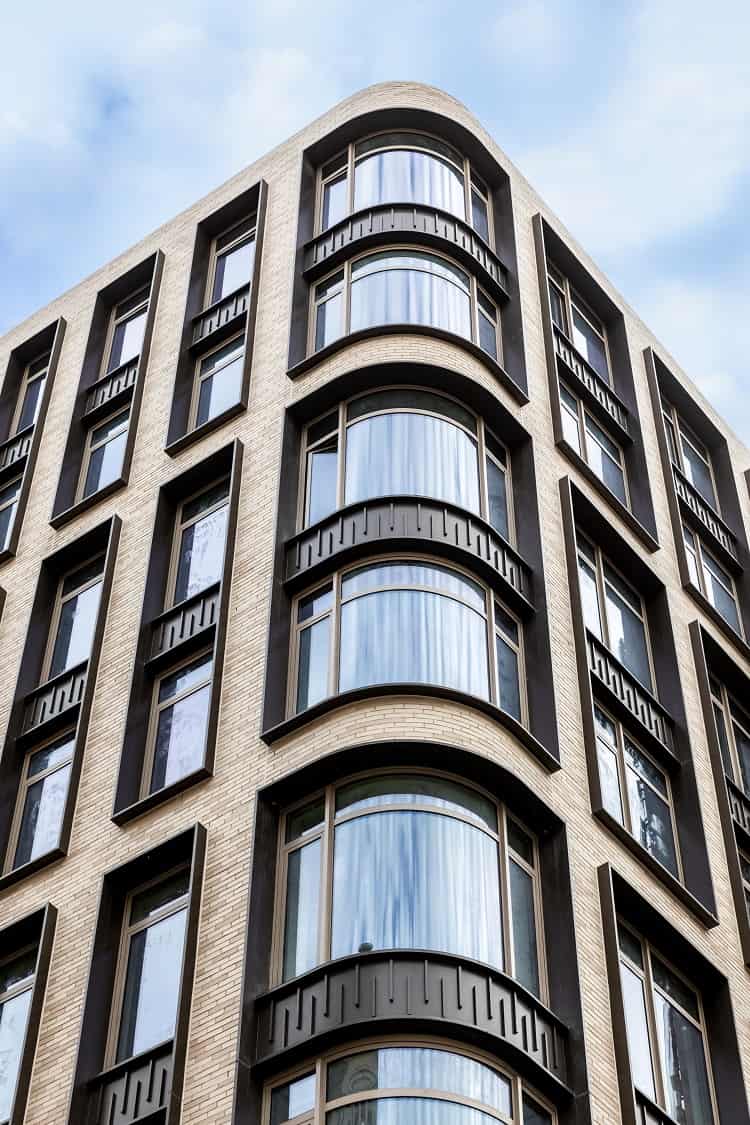 More luxury NYC homes
The Dakota, the city's most exclusive apartment building
Greta Garbo's Longtime Apartment in New York is Very Vogues
Audrey Gelman's house in New York is full of character (and color)