A unique hillside estate located in South Lake Tahoe has recently come to market at $19.8 million. Gunbarrel Lodge sits adjacent to Heavenly Ski Resort and was named after Gunbarrel Run, the ski spot's iconic slopes.
But the chalet-style mansion is more than your ordinary luxury lodge.
It has gained quite a bit of TV fame, after having appeared on The Kardashians, The Real Housewives of Beverly Hills, and The Bachelor.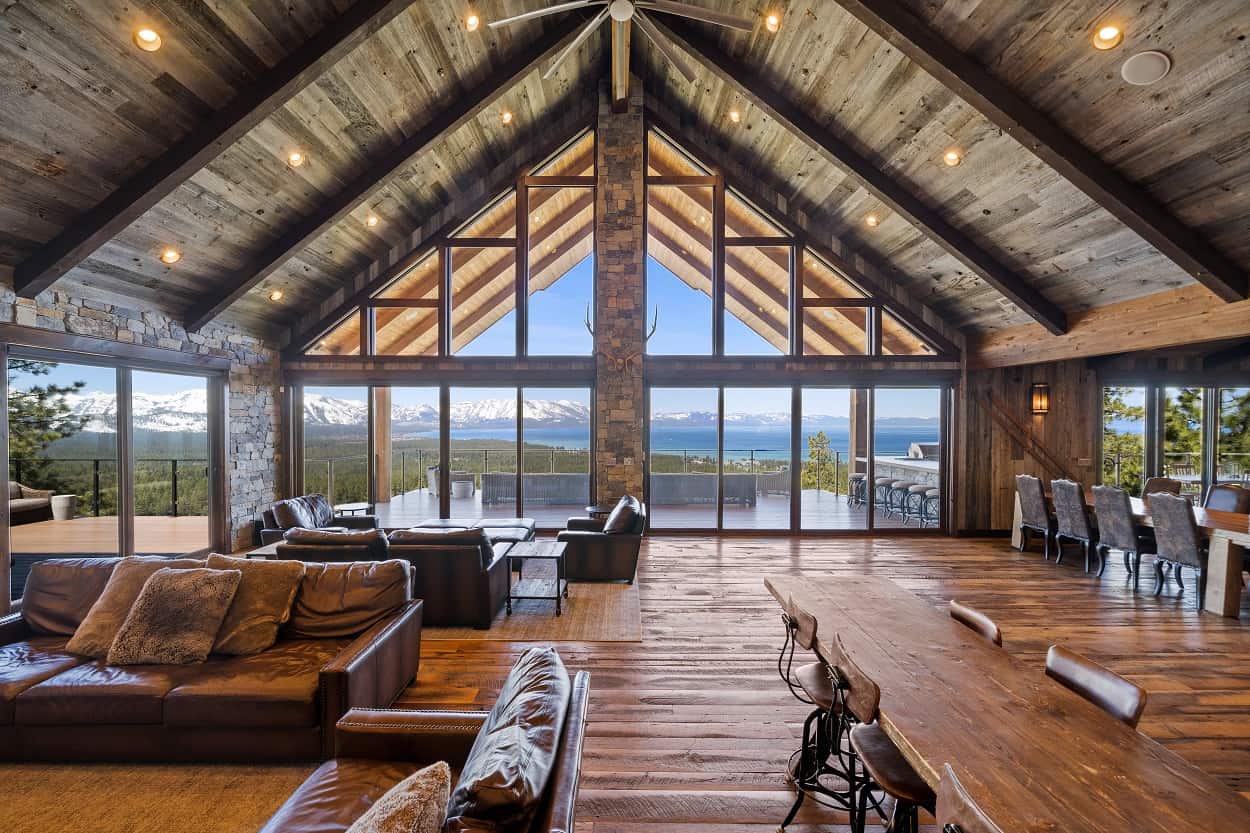 This lodge is a favorite filming spot of reality TV stars
Spanning 17,000 square feet of living space with 17 bedrooms and 18 bathrooms, the stunning home, which was built in 2017, has hosted some of the most popular reality shows. 
The Kardashian clan filmed the finale of Keeping Up with the Kardashians here, before moving to a new network.
It also served as a one-on-one date destination in an episode of The Bachelor. 
BRAVO star Lisa Rinna also rented the property for a glamorous getaway with her castmates.
Related: Where do the 'Real Housewives of Beverly Hills' Live?
In the second episode of season 11, the Housewives of Beverly Hills retreated to the lodge amid the pandemic (and we know the RHOB have impeccable taste when it comes to their luxury retreats, their gorgeous Aspen rental from Season 12 stands as proof of that).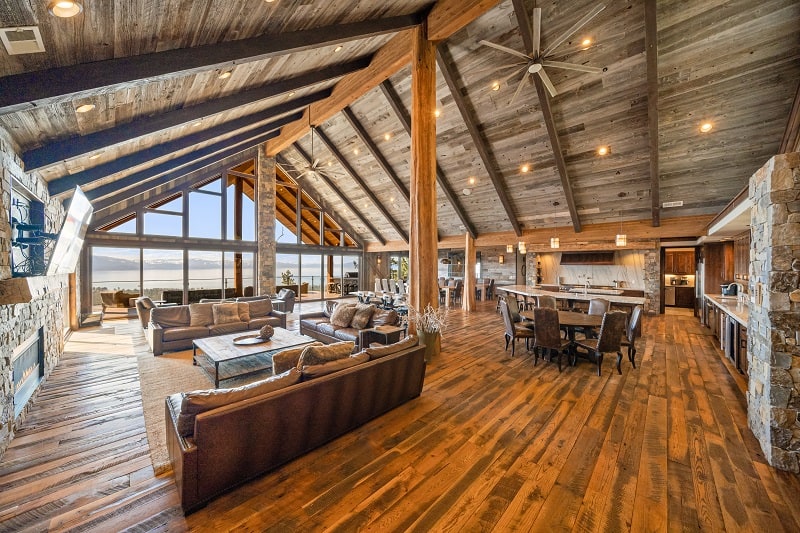 Combining rustic elegance and contemporary details
It comes as no surprise that the Gunbarrel Lodge draws in high-profile names.
With vast living areas and gorgeous views from every angle, it is built for entertainment.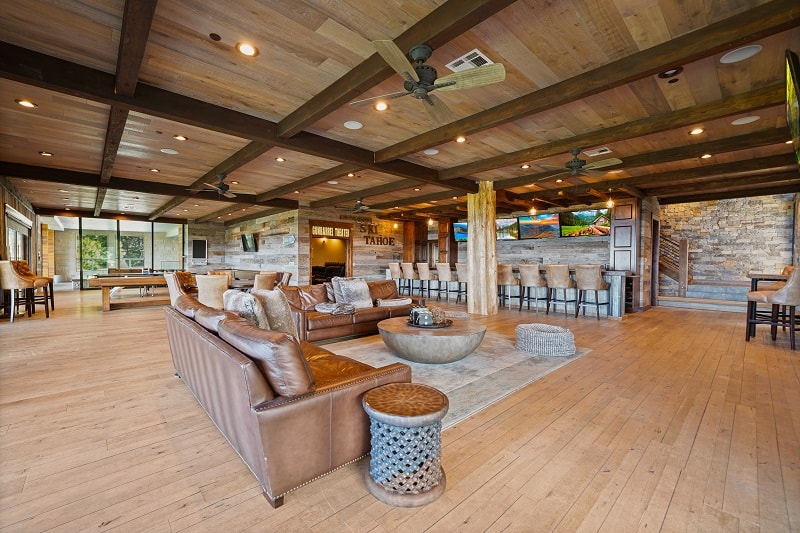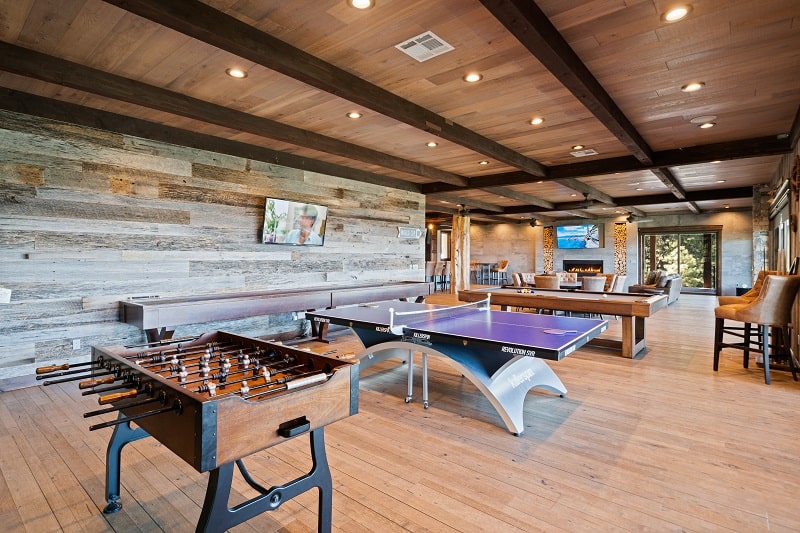 Tahoe builder Bob McIntyre conceptualized the home, combining rustic elegance and contemporary details. Reclaimed materials were incorporated all throughout for a rugged, cabin-style finish.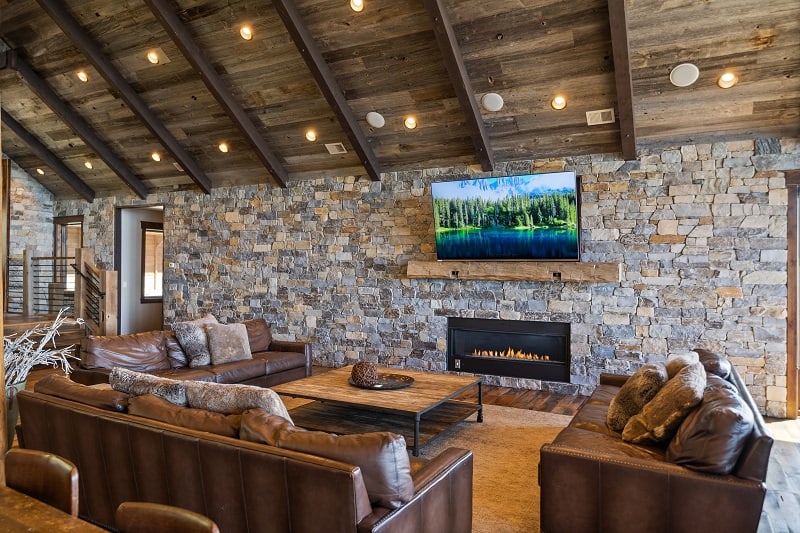 "The idea was to maintain the traditional rustic feel of a classic Tahoe lodge," explains Compass agent Mark Salmon, who currently holds the listing.
What's inside Gunbarrel Lodge?
A private gated entrance and scenic driveway lead to a grand Porte-cochere entry and a six-car garage. The property has two sections — a main house and a guest house — linked together by a bridge-like staircase and grassy lawn.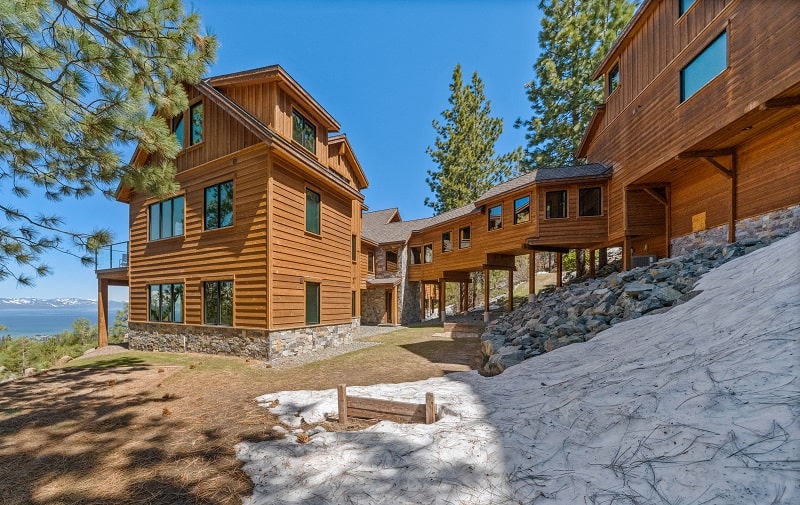 Inside the lodge, there are two fully-equipped kitchens, over a dozen fireplaces, spacious rooms, and two dining tables. The semi-detached guest house has four bedrooms, four bathrooms, a covered outdoor deck, and a rooftop viewing area.
The expansive abode can comfortably house 30 to 40 people.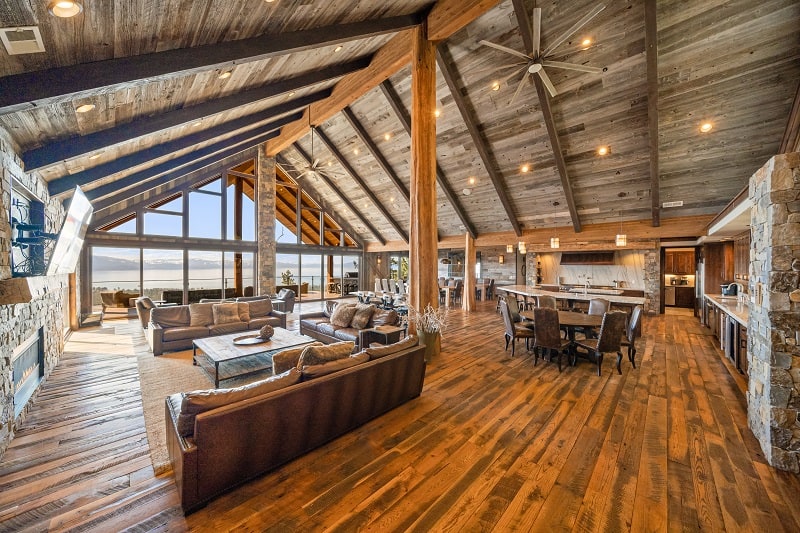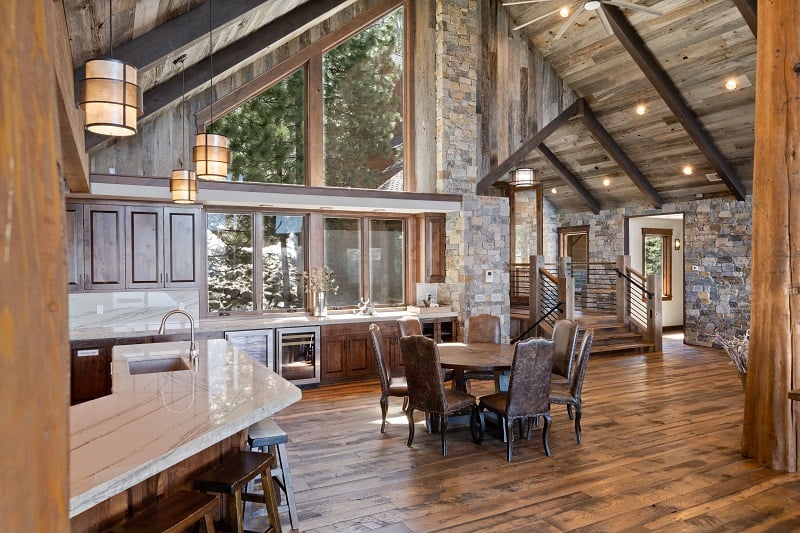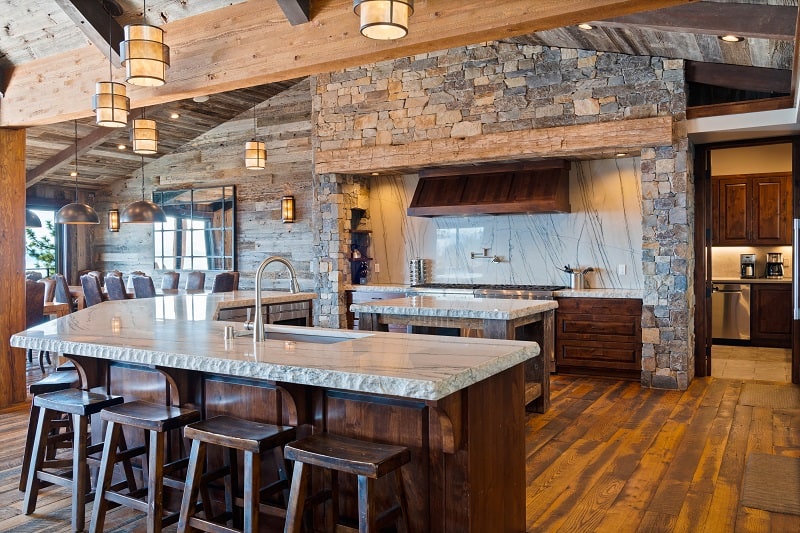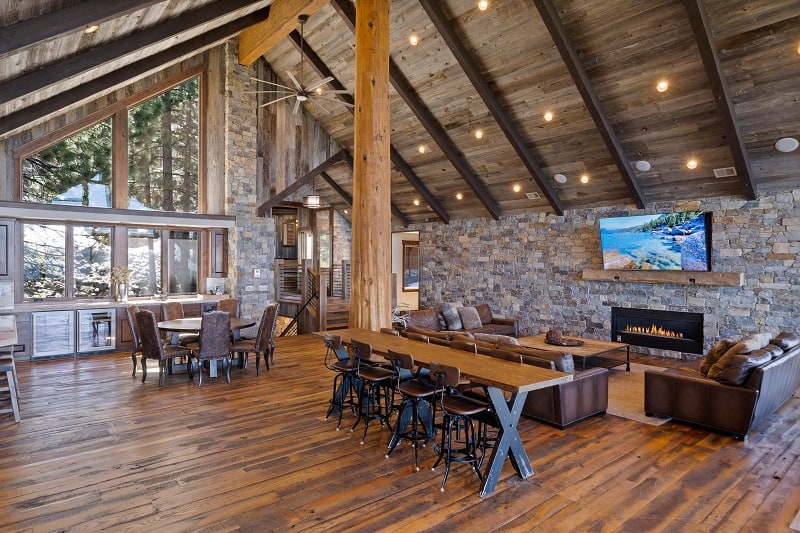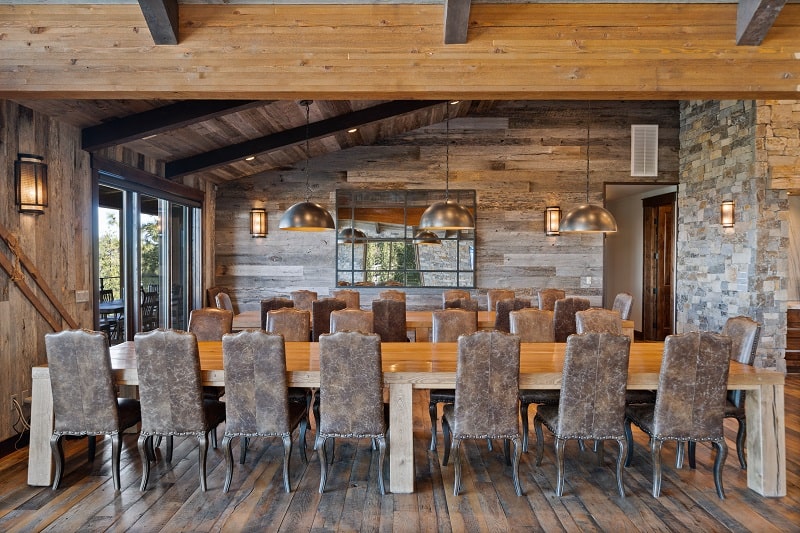 Most bedrooms have an ensuite bathroom and a private terrace that offers stunning views of the lush surroundings. Large glass windows bring plenty of natural light in, creating an inviting indoor-outdoor ambiance.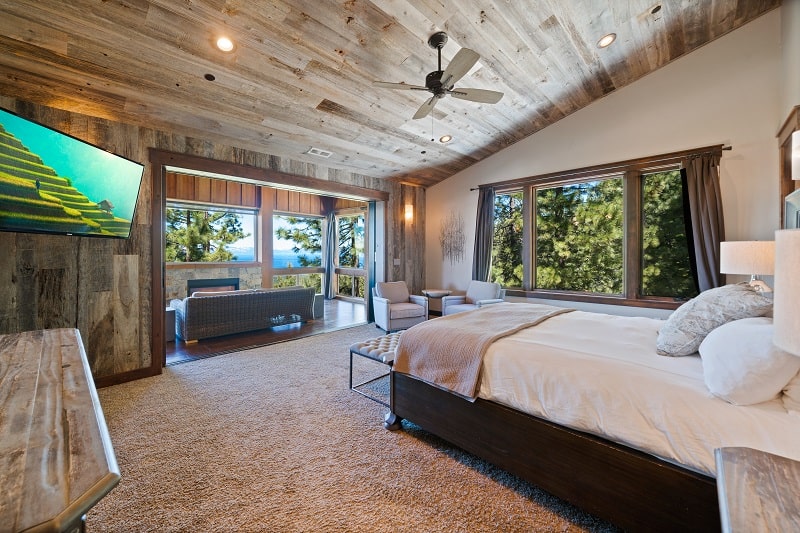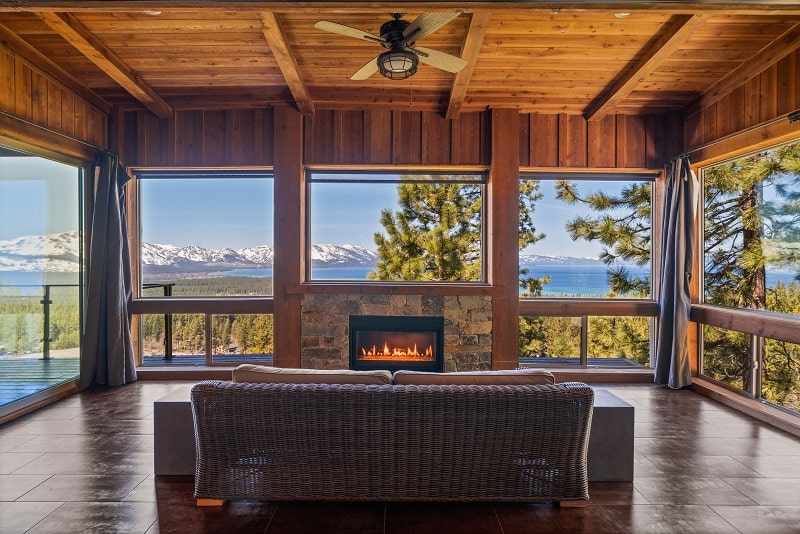 One of the most notable areas is the great room — a grand entertainment space with a wrap-around terrace that provides a sweeping panoramic view of the lake below.
Amenities include a heated indoor pool, game rooms, a rooftop hot tub, a sauna, a steam room, and a 24-seat private movie theater. As the lodge is situated just above the base of the resort, it also has convenient ski-in/ski-out access.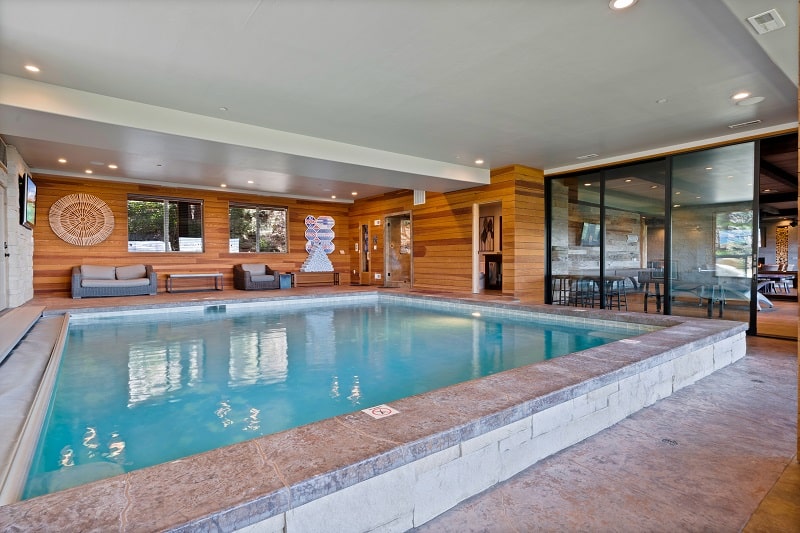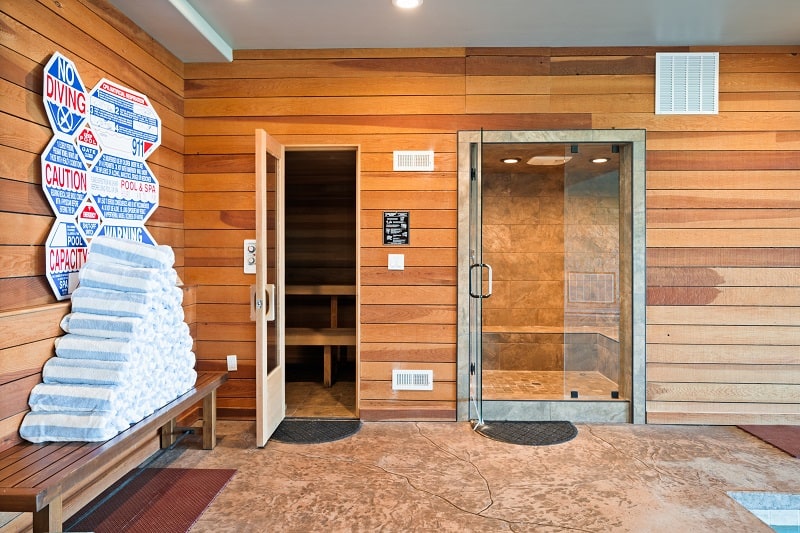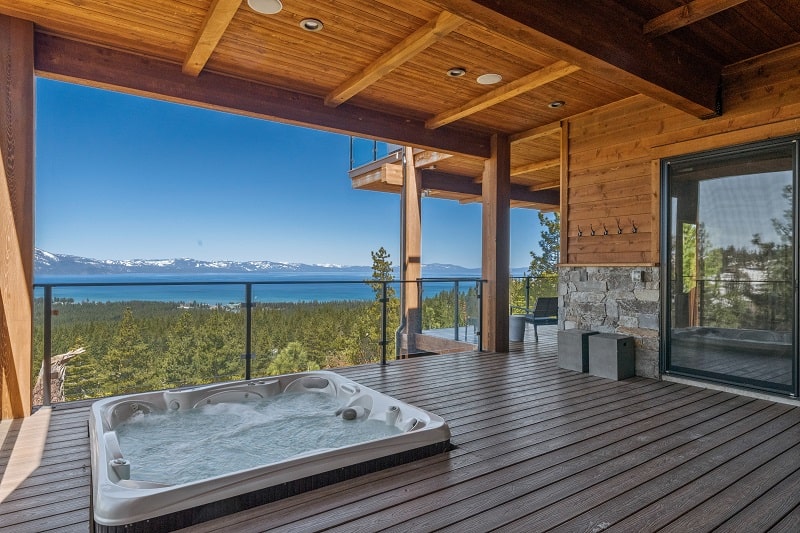 Discerning buyers can enjoy luxurious cabin living and also get bragging rights for owning a property that has been heavily featured on the small screen. Compass agent Mark Salmon holds the listing.
More stories you might like
It will cost you $12.5k/night to stay in the Aspen rental from RHOBH
What $25 million buys you in Montana: A sprawling 4,880+ acre ranch & hunting paradise
Zooming In on the Stanley Hotel in Colorado, Stephen King's Inspiration for 'The Shining'