There's a certain charm that's specific to Old Hollywood. And this sprawling estate that used to belong to Sunset Boulevard actress Gloria Swanson is a fit display of the elegance and sophistication of those times.
The Gloria Crest Estate in Englewood, New Jersey was originally brought to market in 2013 with a hyper expensive price tag of $39 million.
It then came dangerously close to hitting the auction block in 2017, only to be re-listed in the first half of 2019 for (just) $9.9 million. Despite the massive price cut, the 24,000-square-foot, 8-bedroom mansion built in 1926 still failed to attract a buyer.
According to the listing agent's website — Michelle Pais of Signature Realty New Jersey holds the listing — the property is now asking $5,999,000, which marks an additional $4 million price cut and is a far cry from the ambitious price it sought back in 2013. But that doesn't make this palatial estate any less impressive.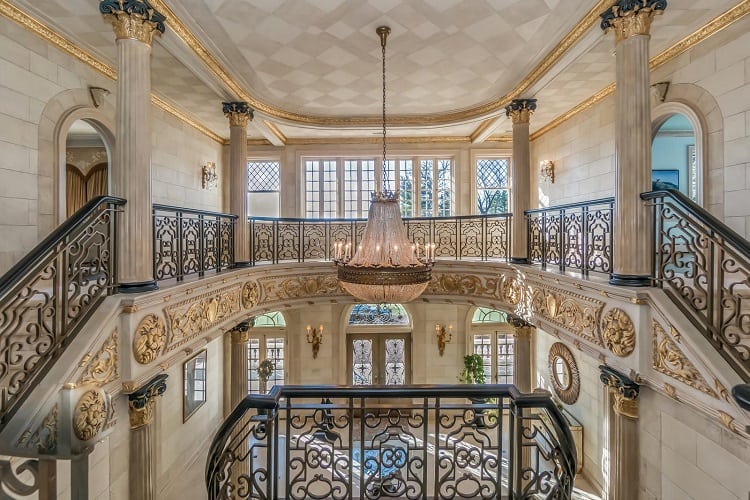 The former home of Sunset Boulevard actress Norma Desmond
Unsurprisingly, the Gloria Crest estate was once home to Hollywood royalty; American actress and producer Gloria Swanson, an acclaimed silent film star and unforgettable screen presence, was the previous owner of the opulent Gloria Crest estate.
Swanson is most known for her role as Norma Desmond in the iconic 1950's film noir Sunset Boulevard, role that earned her an Academy Award nomination and a Golden Globe Award win. The memorable character will soon to be reprised by Glenn Close in the upcoming remake of the movie, which was set to be released last year, but production was put on hold due to social distancing concerns.
Aside from her successful Hollywood career, Gloria Swanson was also known for having a very public affair in the 1920s with Joseph P. Kennedy, none other than the father of President John F. Kennedy. Which makes it likely that she opened the doors of her palatial New Jersey mansion to some very prominent figures.
The Gloria Crest estate, a home fit for royalty
If you're under the impression that the home's Old Hollywood ties are the estate's only claims to fame, you'd be sorely mistaken. The Gloria Crest Estate traces its history all the way back to Polish blue blood, as it was commissioned by Poland's Count Stefan de Poniatowski.
The mansion, which lies on a 5-acre site in the prestigious East Hill area of Englewood — just 5 miles away from Manhattan — has 8 bedrooms and 14 bathrooms. The Mediterranean-style villa has all the characteristics of a classic Hollywood estate mixed with modern-day amenities like a home theater, a private gym and a home office.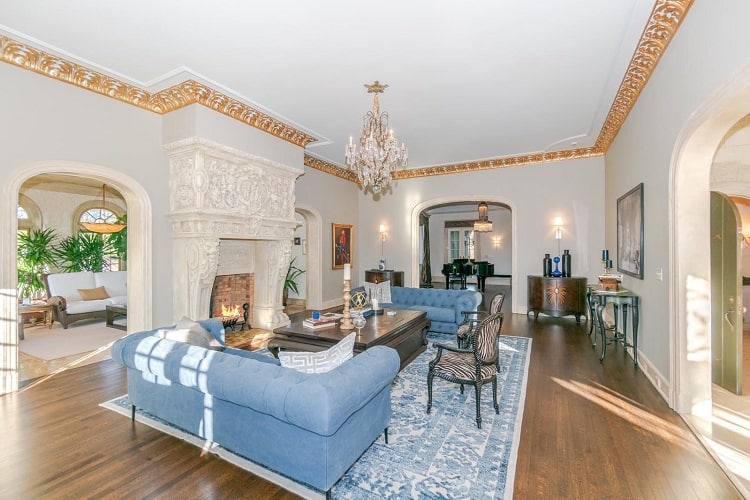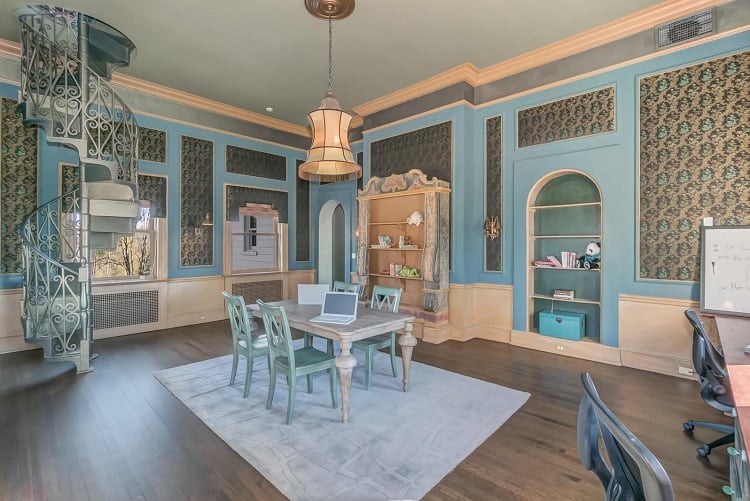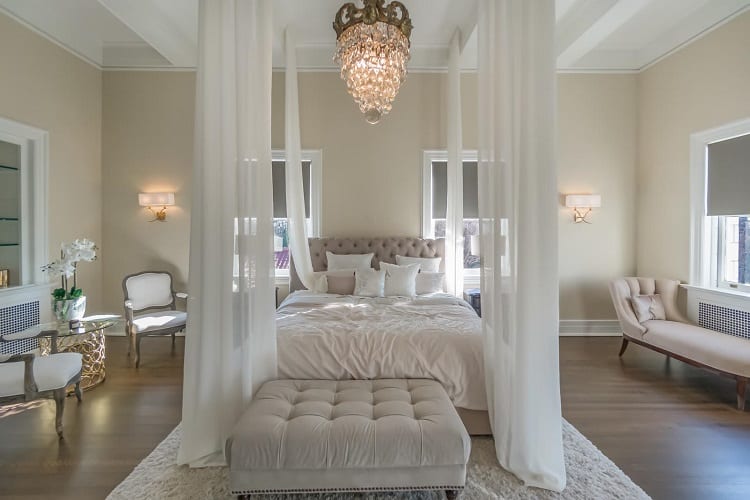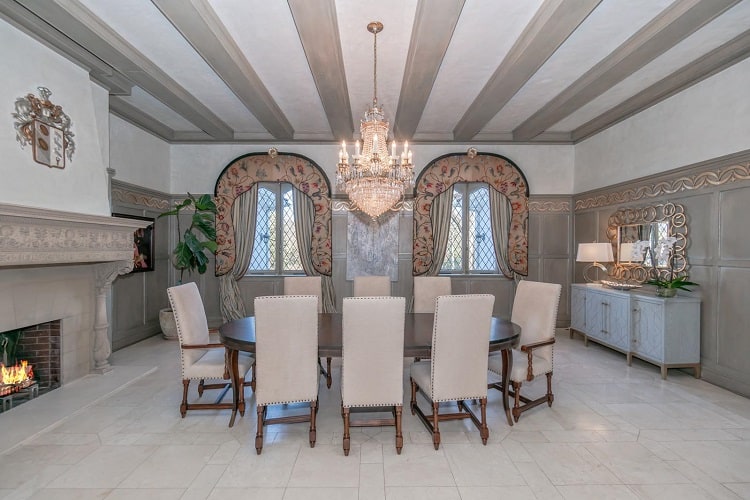 The outdoor space includes expansive patios, an infinity pool, an eight-car garage, as well as a hot tub and cabana overlooking a private lake with waterfalls. An important feature that is a must-have for celebrities is privacy, and this mansion offers plenty of it. The grounds are enclosed by a 10-foot wall and tall, lush trees, and access is possible only through a gated entrance.
Inside the estate, luxury features abound, and you are welcomed by a formal marble entry with a majestic double staircase.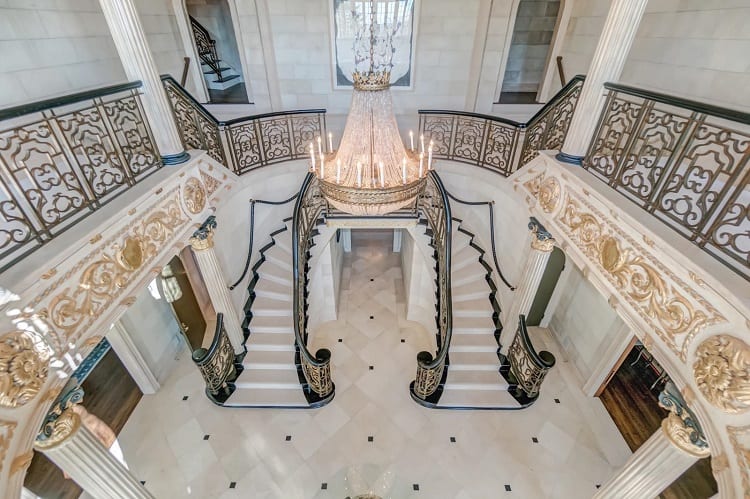 The house features a banquet-sized dining room for throwing private but lavish gatherings, and multiple living rooms, one of which includes a beautiful stone fireplace and gilded mouldings.
Gloria Crest Estate also includes an opulent, state-of-the-art chef's kitchen, and a three-room master suite that boasts a separate seating area with a fireplace, as well as an en suite master bath with a fabulous marble tub.
More celebrity real estate
The Thrilling History of The Breakers, the Vanderbilts' Iconic Summer Estate in Newport
Jackie O Turned a Sheep Farm into her Dream Retreat on Martha's Vineyard; It Now Costs $65M
Power Couple Loren & JR Ridinger Selling Palatial Unit in Jean Nouvel-Designed Building
Kerry Washington's New York Apartment Is Just as Stylish as You'd Expect