Who would have thought that Daniel Craig, aka Bond, James Bond, would be able to charm his way into becoming a modern, American version of Hercule Poirot, dazzling us with his unique Southern drawl?
Not even Agatha Christie could have seen this coming.
Yet here we are, eyes glued to the screen to watch the latest adventure of detective Benoit Blanc, played by Craig, as he gears up to untangle yet another crazily-concocted murder plot (once again, with a striking mansion in the backdrop).
We've been anxiously waiting for the sequel to Knives Out for roughly three years, and we couldn't wait to see what the writing team comes up with next. And boy, we were not disappointed.
After his puzzle-solving adventure at the Knives Out mansion in gloomy Massachusetts, the detective now finds himself invited to a secluded Greek island by elusive tech entrepreneur Miles Bron, played by Edward Norton — all similarities to Elon Musk are purely coincidental, allegedly.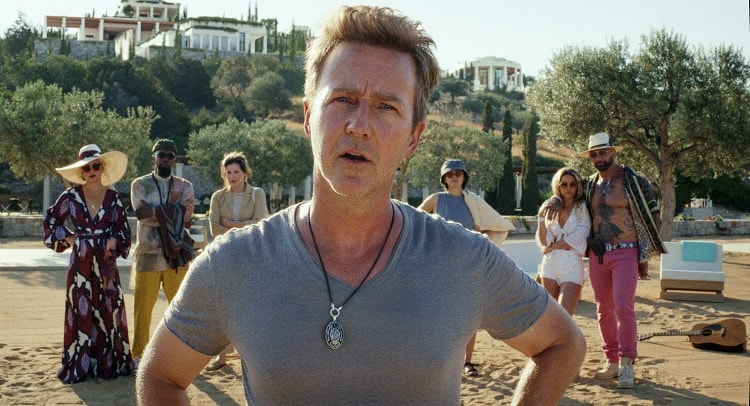 Unfortunately, Blanc is not headed for a relaxing seaside vacation; instead, he finds himself in the midst of (yet another) complicated murder plot — an unintended working vacation, if you will.
But first, he's dazzled by the host's elaborate, ultra-futuristic secluded mansion that's 100% environmentally friendly and decked out with all the modern tech you can think of.
Not to mention the cherry, or in this case, the onion on top: a round, onion-shaped glass room where billionaire Miles Bron spends his time coming up with ingenious (or so he thinks) murder mysteries.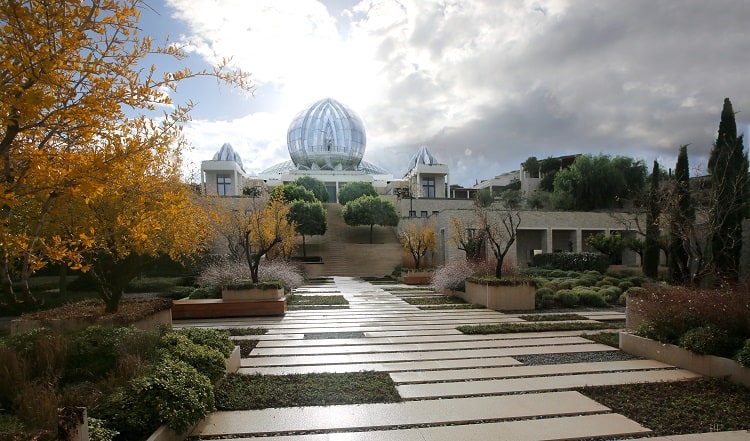 Is the Glass Onion house real?
There are certainly similarities between the two locations in Knives Out and Glass Onion, in that they're both only partly real.
In the first movie, the action takes place on the Thrombey estate, which was a mix of real-life locations and built sets (which we've covered extensively here). The exterior shots were filmed at a private, Gothic revival residence just outside of Boston, while the interiors were shot at the Ames Mansion in Easton, Mass.
How about the Glass Onion house? Where would one find Miles Bron's mansion in real life?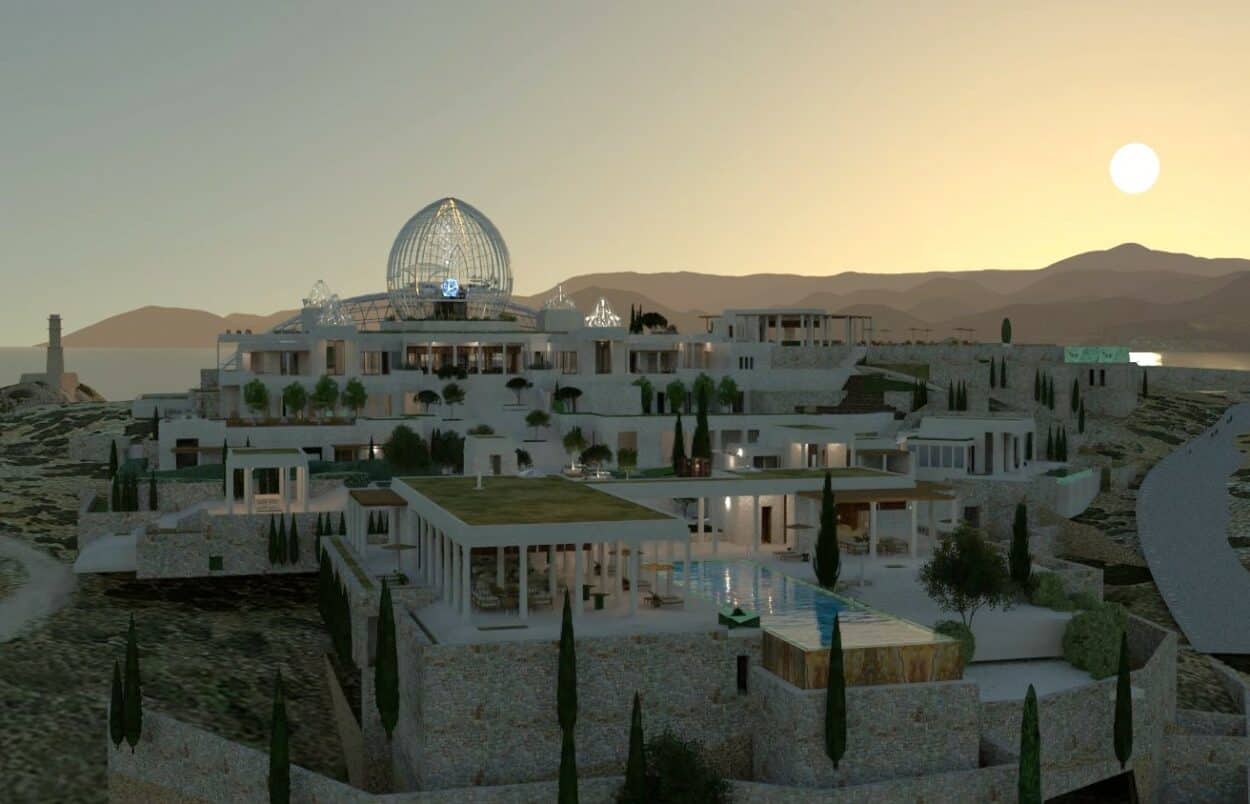 Exterior shots of the Glass Onion house were filmed at Villa 20, a luxury Aman vacation resort in Porto Heli, Greece, on the east coast of the Peloponnese. It's not technically an island, per se, but it's isolated enough to make it the perfect fit for Miles Bron's futuristic mansion.
However, there's no sports car parked on the roof and there's sadly no glass onion, either — that was all added through special effects.
The good news is that you can actually visit, and stay, at the property where a lot of the filming took place – if you can afford it, that is.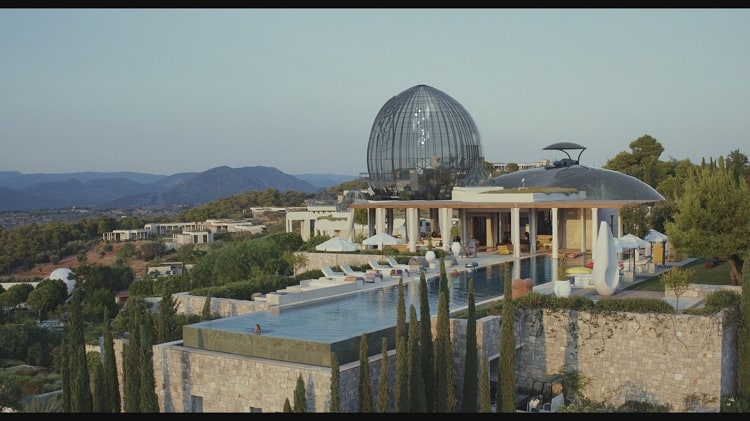 And no, we're not talking about that $450 million Zillow listing that made the news lately — that's just a fun promo campaign for the movie done in collaboration with Netflix.
In reality, Villa 20 at the Amanzoe resort features suites that run roughly $2,000 a night.
How much did Glass Onion cost?
The budget used to create the murder-mystery movie was $40 million, and it pales in comparison to the fictitious price of the Glass Onion house listed on Zillow at $450 million.
The money was, however, well spent, because the movie already snagged a bunch of nominations, including two Golden Globes nominations.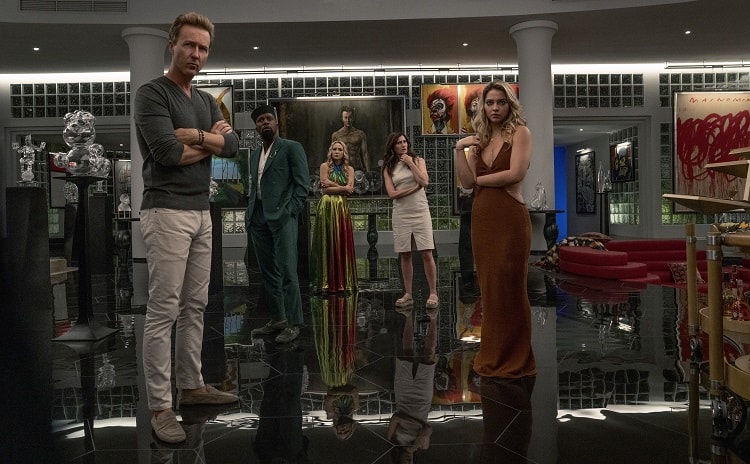 It was also praised by critics for the clever writing and superb acting by the A-list cast, which includes Janelle Monáe, Kate Hudson, Leslie Odom Jr., and Kathryn Hahn, among others.
Where exactly is the Glass Onion house located?
The Glass Onion house is in fact Villa 20 at the Amanzoe luxury resort located on the Peloponnese peninsula, in Porto Heli, Greece.
While not technically an island, the Villa was chosen because of its stunning, imposing, Colosseum-like architecture, which stood out to production designer Rick Heinrichs.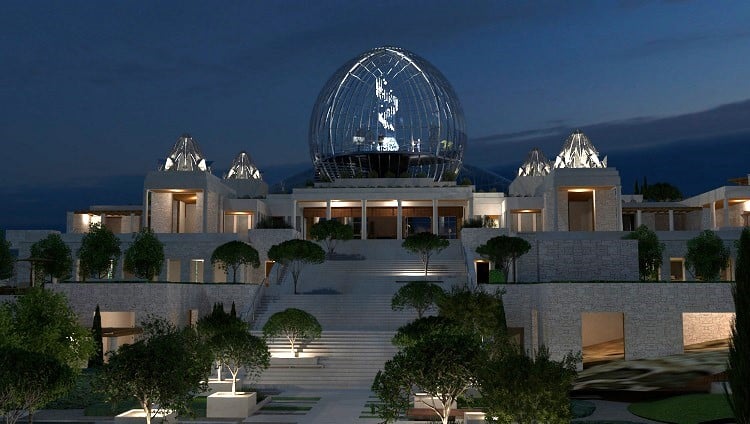 Heinrichs told Conde Nast Traveler that the team scouted various potential filming locations to match the vision of the Glass Onion house as it was in the script.
"We actually spotted the Aman villa early on as something that could really work, but we didn't know whether we would ever get permission to shoot there. The people who own such a thing don't really need a motion picture company to come in there," says Rick Heinrichs, Production designer for Glass Onion.
Ultimately, he returned to Villa 20 because of its imposing, majestic structure resembling a Greek acropolis.
The Villa was designed by Ed Tuttle and Marios Angelopoulos and offers stunning views of the Aegean Sea and the Peloponnese.
It features all kinds of luxurious amenities, including a private spa, six swimming pools, outdoor barbecue areas, and even a traditional Greek taverna under the olive trees.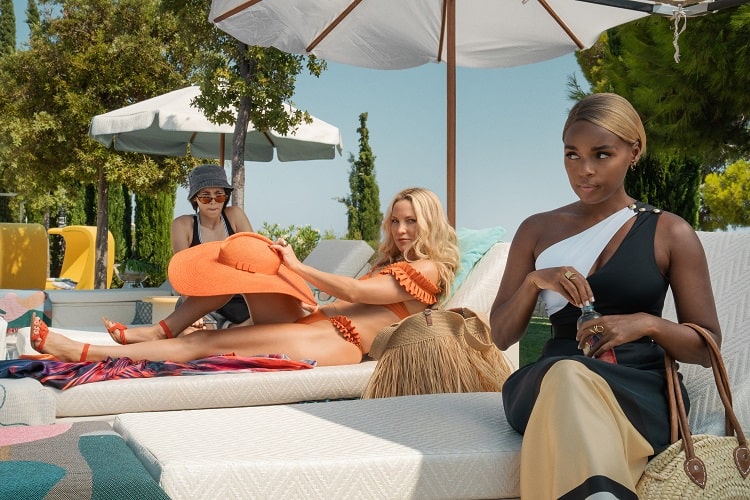 It's no wonder that some of the cast and crew of Glass Onion brought their families to the resort so they could all enjoy everything that it had to offer while filming on location. 
If you're planning a trip to Greece and want to stay at the Amanzoe resort featured in the Knives Out sequel, you can book your villa here.
Though expect quite a hefty price, as the villas are part of an Aman luxury resort, a hospitality brand known worldwide for its upscale wellness amenities (including extensive spa facilities, with some resorts offering immersive wellness retreats).
Aman resorts are a favorite among celebrities ranging from the Kardashians to Mark Zuckerberg and Bill Gates, so don't be too surprised if the rates are completely out of your budget.
If you're looking for more affordable vacation rentals in Greece close to where Glass Onion filmed, here's a handy map showing some of the best options in the area:
Was Glass Onion filmed exclusively in Greece?
While the cast and crew spent roughly two weeks shooting at Amanzoe in Greece, they spent even more time shooting interior scenes in Belgrade, Serbia.
That's where all the futuristic sets were created, like the room inside the glass onion, and the main hall adorned with glass sculptures and Banksy and Francis Bacon artwork.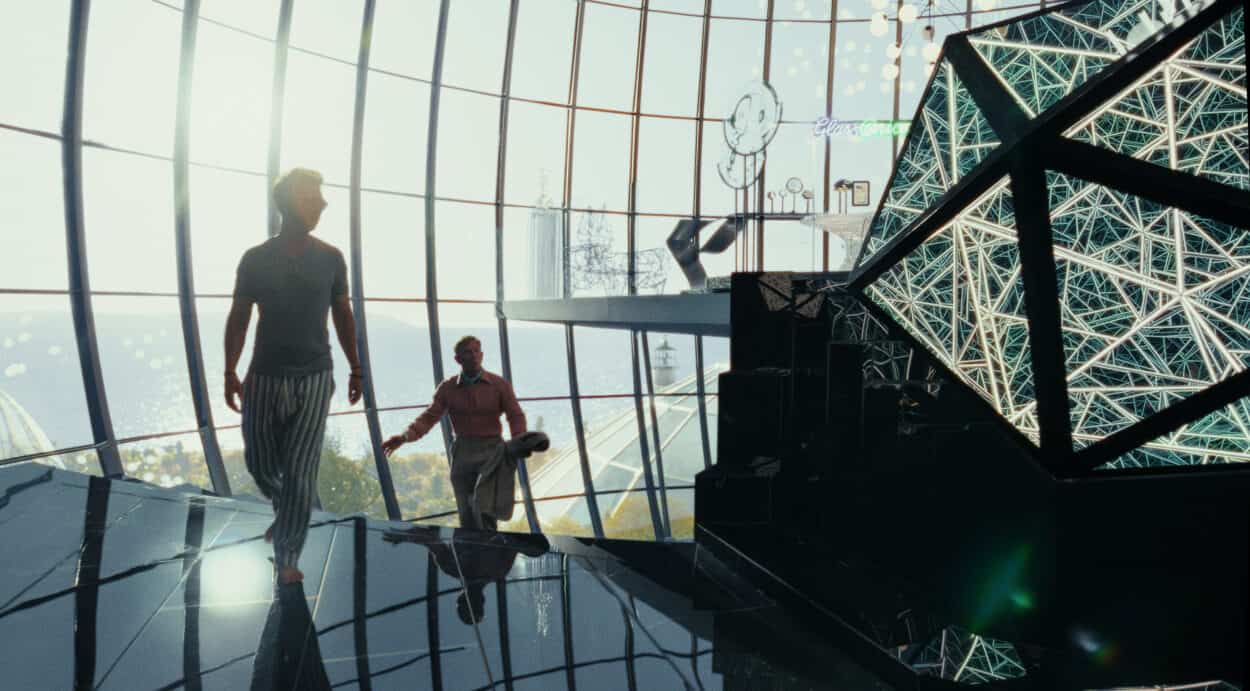 Basically, all the kitschy things that Miles Bron thinks will impress his guests are actually fake, and that's a good thing if you ask us.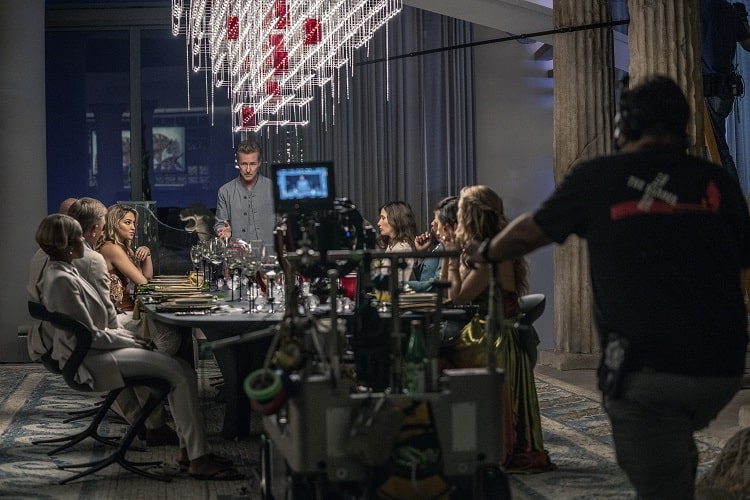 Not all of the scenes were shot in Europe, though, as some scenes were filmed in Northeastern U.S.
One of the filming locations was reportedly Connecticut Governor Claire Debella's mansion in Harrison, N.Y. Scenes taking place in Benoit Blanc's penthouse were filmed at 778 Park Avenue in NYC, a luxury residential property on the Upper East Side and one of the most coveted buildings in the city.
So, you can definitely visit the real-life Glass Onion house in Greece, if you've got the budget for it. And luckily, in reality, it's not at all a 'Pisceshite.'
More stories like this
Unveiling the mystery behind the Knives Out house, Thrombey mansion
Skyfall, James Bond's Childhood Home in the Scottish Highlands
Is it Real? The Futuristic, Secluded House in the Movie 'Ex Machina'
The Invisible Man house is real, but it's a continent away