Action movie fans everywhere have anxiously watched (and rewatched) the American neo-noir action franchise that sees Keanu Reeves play John Wick, a hitman that comes out of retirements in his quest for vengeance.
These action-packed Hollywood movies were met with positive reviews, with critics labeling them as some of Reeves' best performances. And no doubt about it, the character fits Reeves like a glove.
Keanu Reeves and John Wick actually have a lot in common, if you think about it. First, they're both badasses; one is a trained assassin and the other trains hard in order to play a trained assassin. One is into vintage cars, while the other loves – and builds – motorcycles. Last but not least, they both love puppies. 
Another thing that Reeves and his eponymous character have in common is the fact that they both treasure their privacy. However, John Wick also likes to splurge a bit, living in an architecturally stunning, remote house in Mill Neck, N.Y.
John Wick's house hints at the character's complexity
The first John Wick movie presents us with a broken, devastated main character that has lost all hope following the death of his wife.
His secluded house by the lake enhances that feeling of loss and loneliness, and it only adds to the heartbreak because it looks like it would have been a beautiful family home.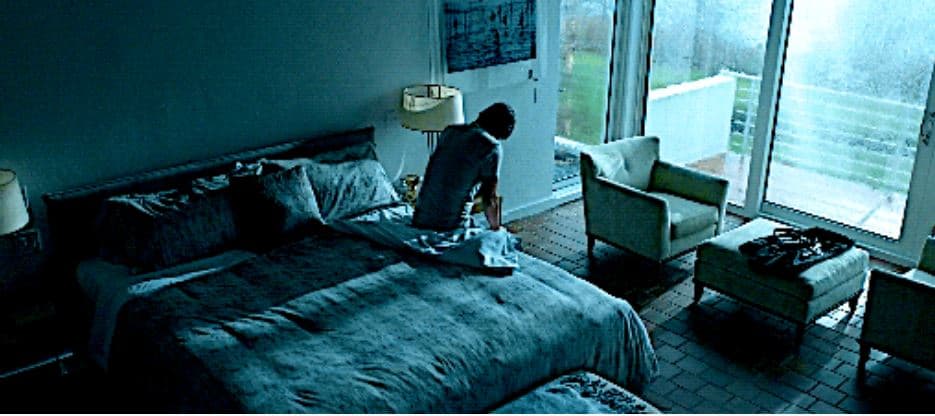 The house comes alive again, even if just for a short time, when Daisy, an adorable little beagle puppy, comes into Wick's life.
Daisy's fate, however, is too tragic, and we're still not over it, so we'll just leave it at that. For anybody who has ever had a pet, it's perfectly understandable that Daisy's death is the final straw that triggers Wick's killer instincts, and all hell breaks loose as he looks to avenge his puppy. 
Before Wick's house turns into a shooting range, we get a glimpse of the stunning interiors and carefully placed items around the house. The home is bathed in natural light and seems to blend with the exterior via the floor-to-ceiling windows that overlook the lake. Glass walls, however, make break-ins a little easier, as the movie stands to show. 
The interior is tasteful, modern and clean, with small details that remain open to interpretation. In one scene, we spot a carefully placed coffee table book on Alvaro Siza, a modernist Portuguese architect who won the coveted Pritzker Prize in 1992. 
Many have come up with their own theories regarding what the director was trying to convey through this subtle detail. We think Siza's style of architecture is a perfect match to John Wick's character. Pritzker Prize jury members stated that Siza's shapes, 'molded by light, have a deceptive simplicity about them; they are honest.' Are you starting to connect the dots?
The jury explains further: 'that simplicity, upon closer examination however, is revealed as great complexity. There is a subtle mastery underlying what appears to be natural creations. To paraphrase Siza's own words, his is a response to a problem, a situation in transformation, in which he participates.' If that's not a perfect description of John Wick's character, we don't know what is.
The house is real and it's almost like it was custom-designed for Keanu Reeves' character
Unfortunately, we don't get to see much of John Wick's house in the series, as the character's life is turned upside down in the first few scenes of the first movie. But since it makes such an impression, we were naturally intrigued.
So we set out to track the house's real life counterpart and maybe catch a glimpse of that driveway that housed Wick's Ford Mustang Mach 1 — the car that basically started this whole thing.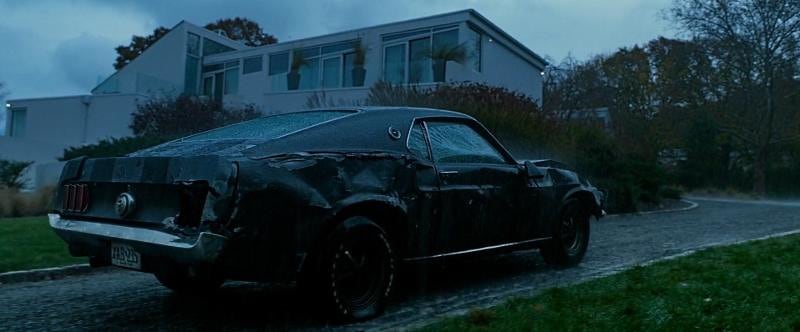 As it turns out, the house is as real as it gets, but the owners, much like Reeves and his John Wick character, like their privacy, so details are rather scarce. We weren't even able to find an exact address, but we do know it's located at the end of Horseshoe Road in Mill Neck, N.Y. 
Even from the outside, the house looks stunning in its simplicity, reminiscent of Alvaro Siza's works.
The inside does not disappoint, either, as we see in images presented by Narofsky Architecture/Ways2Design, the architectural firm that envisioned the project. According to their website, in 2009, the firm was tasked with reimagining and upgrading the original white stucco house built in 1971.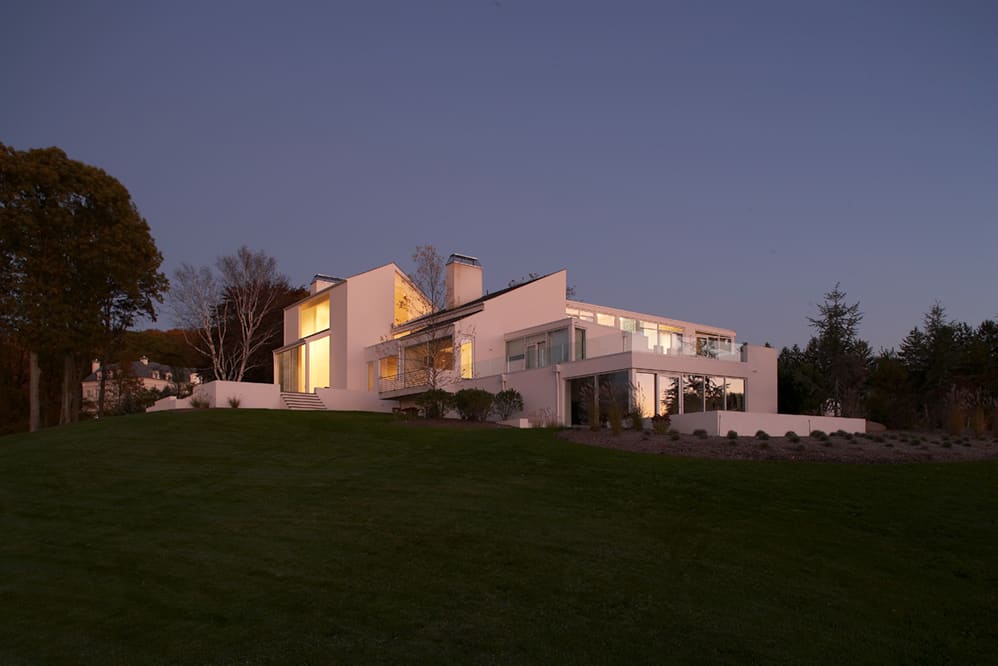 The home owners decided to keep the original structure instead of demolishing the house, even though it was in poor condition. Stuart Narofsky and his team repaired the remaining stucco facades and all new construction was sheathed in stucco to match the original materials.
The team carefully handled construction as to preserve the glazing areas and details, and modified the roof line to place more emphasis on the previously understated front entry.
A highlight of the Mill Neck house is the fact that it wraps around a courtyard on two sides, where the architects were careful to preserve the cherry and magnolia trees that it houses.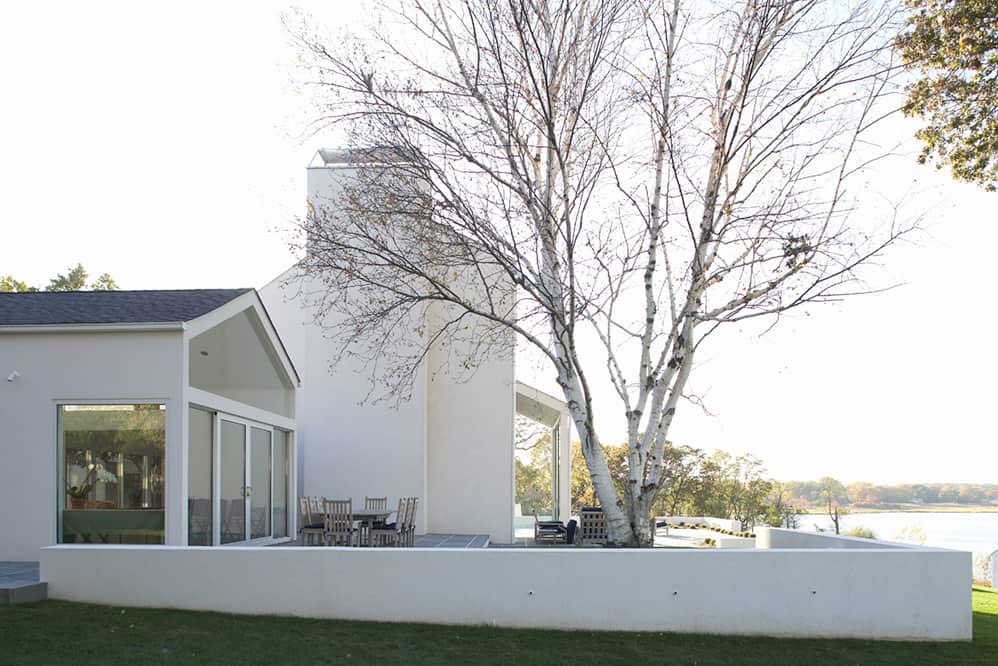 The Narofsky team also incorporated a new atrium space to attach to a new wing that would include a garage, a maid's room, and a mudroom.
The owners of the property also decided to turn a second-floor three-bedroom suite wing into a media and recreation room with stunning water views. 
John Wick's house, both by real design and on-screen fame, has become so popular that it's even made an appearance in the online video game Fortnite, timed along with the release of John Wick: Parabellum, the third movie in the series. 
Not to mention that the modern home is a long-time Minecraft favorite, with plenty of online tutorials available to fans of the movie looking to recreate its architecture in the game world. And you know what? The replicas are actually pretty good!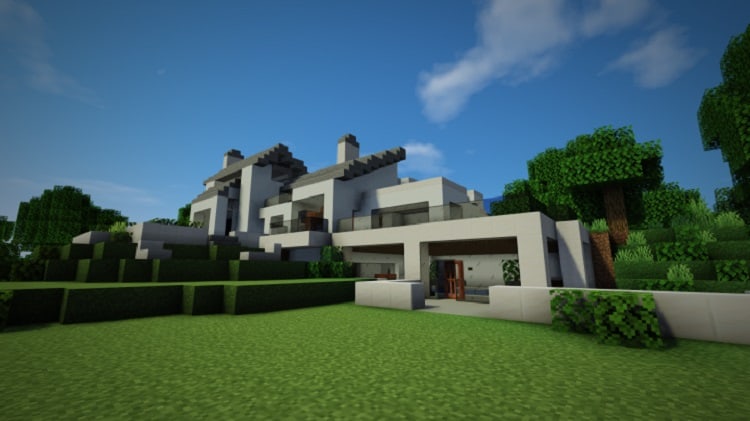 More homes from movies
Is it Real? The Futuristic, Secluded House in the Movie 'Ex Machina'
The Story Behind Tony Stark's Insane Malibu Mansion in the Iron Man Movies
Rick Dalton's House in "Once Upon a Time in… Hollywood"
Bruce Wayne's Manor in Nolan's Dark Knight Trilogy is a Palatial Estate Fit For Gotham's Prodigal Son