"In a hole in the ground there lived a hobbit. Not a nasty, dirty, wet hole, filled with the ends of worms and an oozy smell, nor yet a dry, bare, sandy hole with nothing in it to sit down on or to eat: it was a hobbit-hole, and that means comfort." – J.R.R. Tolkien
---
The real home of Bilbo Baggins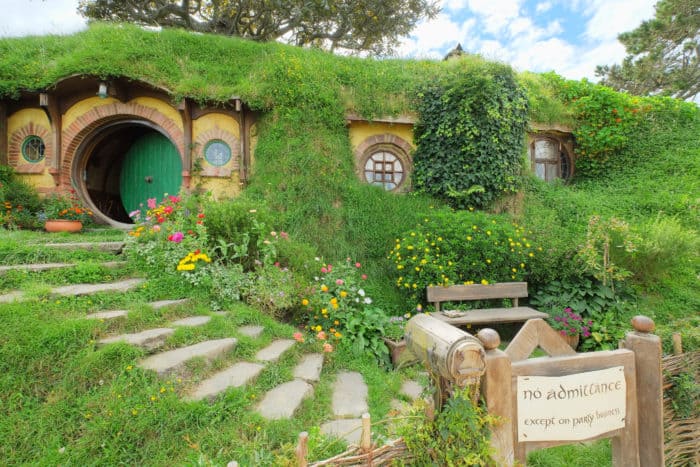 While many of Tolkien's fans have created their own replicas of Bilbo Baggins' home, the real deal is in Matamata, New Zealand, where you'll find a 12-acre movie set going by the name of Hobbiton that Peter Jackson put together to create an environment worthy of his otherworldly saga.
The original set from The Lord of the Rings wasn't made to last: the hobbit house façades were made out of timber, ply and polystyrene, that were shown little love after they had fulfilled their purpose.
But by the time the director started working on The Hobbit, Peter Jackson brought an army together to recreate the shire so that it matched Tolkien's tale.
SEE ALSO: You Can Now Stay in Tony Stark's 'Avengers: Endgame' Cabin on Airbnb for $1,000/Night
Bilbo Baggins' home, just as you've seen in the movie, has a mossy roof as it's built into a hillside. The exterior is decorated with some impish ornaments and a bunch of pretty flowers are placed on the stairs that lead to the front door – a perfectly round green door with a yellow brass knob placed right in the middle.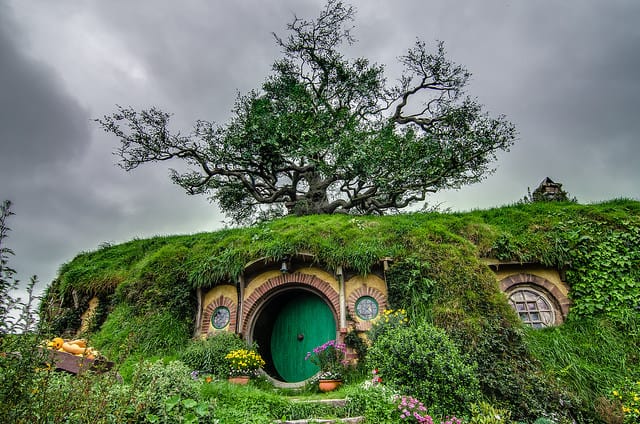 Just above the house there's an old huge tree overlooking Bag End that comes with its own interesting story.
The old tree is the only artificial tree in the Hobbiton movie set and it was carefully crafted out of steel and silicon, with its leaves being attached to the branches one by one.
---
You can look, but you cannot enter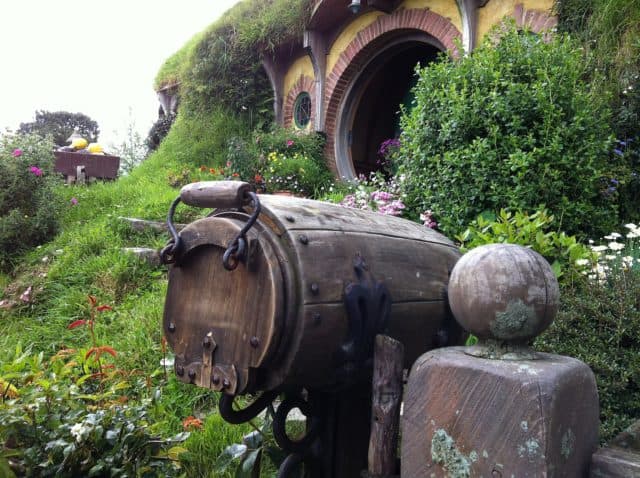 The sad news is that you can't actually get a tour of Bilbo's house.
All hobbit homes were designed for exterior filming and, of course, to fit the needs of tiny little hobbitses. Remember how Gandalf hit his head when visiting his friend? You probably wouldn't want that.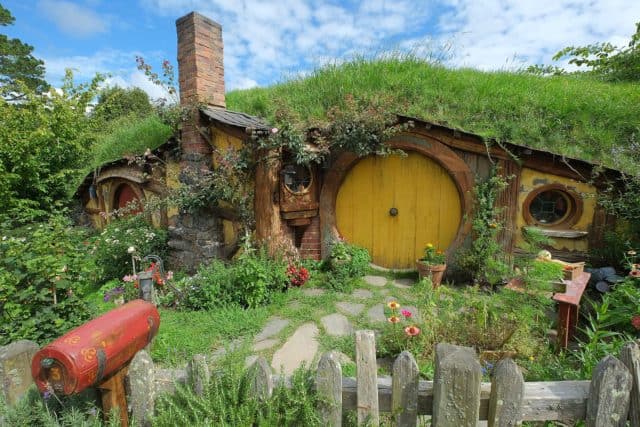 The interior of the house was digitally mastered (created) in a studio down south in Wellington and Sir Peter Jackson apparently got the best of it (because who doesn't want a live-in hobbit house?) So the director actually built one for himself in the basement of his New Zealand mansion based on the digitally engineered interiors of Bilbo Baggins' home.
---
Visiting Hobbiton – a land of magic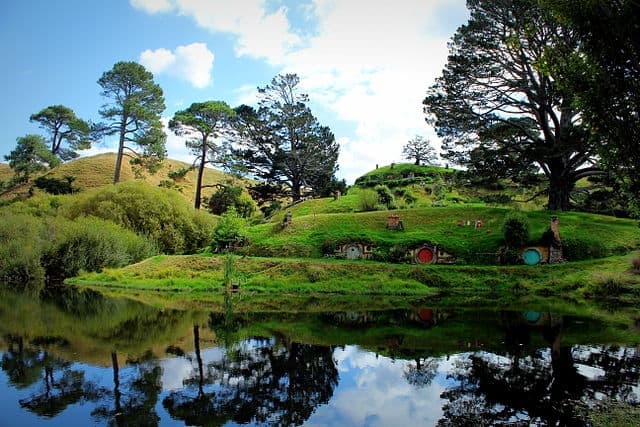 However, this shouldn't stop you from seeing Hobbiton at least once in your lifetime.
Bilbo and Frodo's home may be the main attraction, but there's so much more to it. It is a beautiful, magical place that will remind you of the days when life was simple and people less stressed.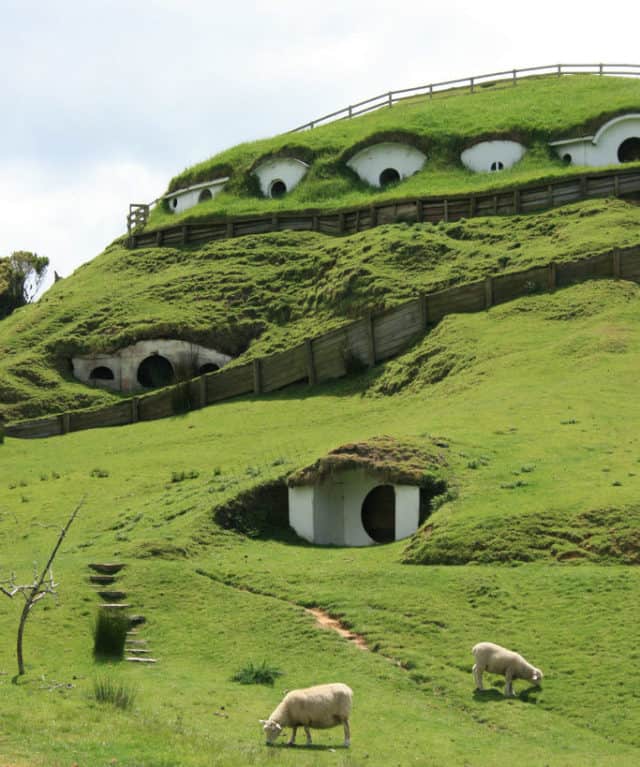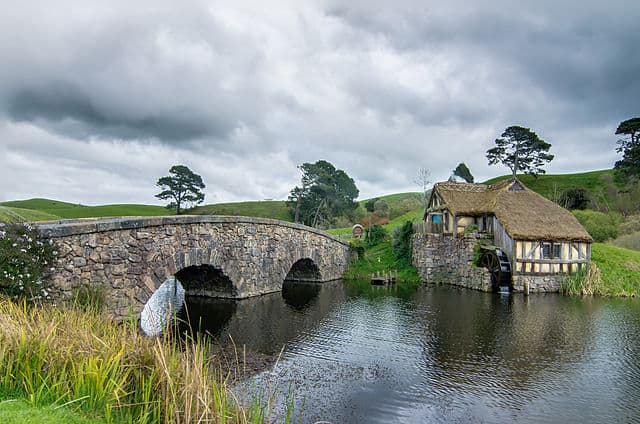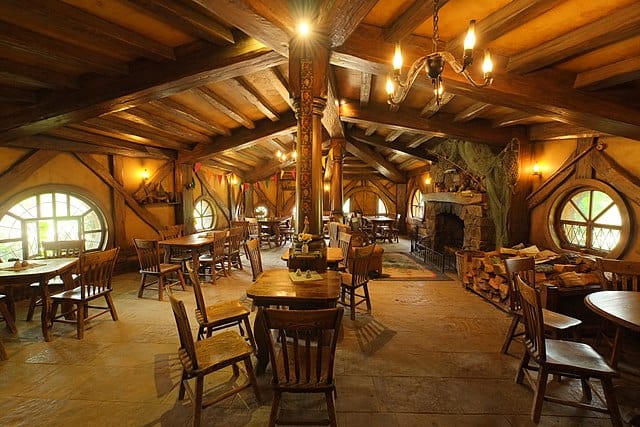 It took nine months to build the mythical village filled with 44 Munchkin-sized houses, inside a fully operational farm. And they left it there so you can have a unique experience.
Strolling along the shire will allow you to re-create some of the movie scenes that took place there and — to make everything even more real — you can finish your tour by relaxing and having a complimentary ginger beer at The Green Dragon Inn.
More homes from movies:
Behind the Evil Eyes: The (Real) Story of the Amityville House
Is it Real? The Story Behind Tony Stark's Insane Malibu Mansion in the Iron Man Movies
Is It Real? Edward Cullen's Sleek Glass House in the Twilight Saga
We Are the Ones Who Knock — on Walter White's Fictional Door in Breaking Bad