A stunning, hacienda-style mansion on Costa Rica's buzzing Nicoya Peninsula is looking for a new, loving owner.
Dubbed Villa Paraiso, the sprawling, 16,408-square-foot property is located in Montezuma, and it's being marketed by The Agency's Michael Grady with an asking price of $5 million.
According to the brokerage, this is the priciest oceanfront estate to ever hit the Costa Rica market, and it's easy to see why.
Built in 2007 as a 13-acre, private oceanfront compound with breathtaking views of the Pacific, Villa Paraiso is a year-round summer getaway.
It was designed by renowned Costa Rican architect Ronald Zurcher, who is known for designing the region's only Four Season Hotel, and features 6 bedrooms and a total of 10 bathrooms.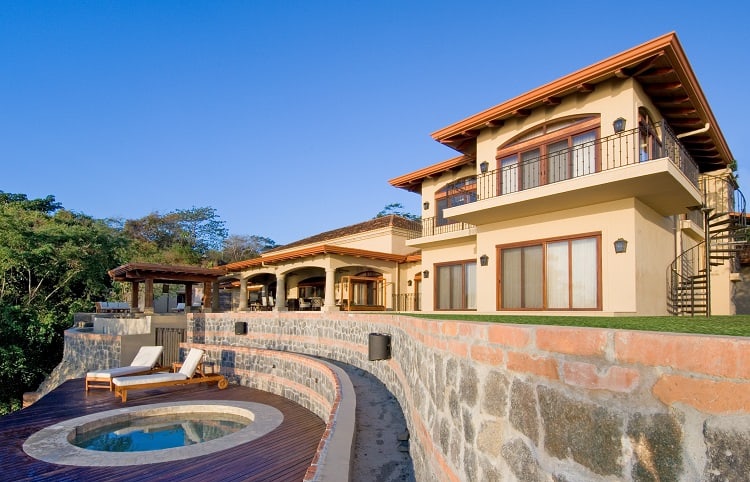 The estate includes a Spanish-style, 10,600-square-foot main villa featuring four ground-level guest rooms and a second-level master suite, a separate coach house, a garage, a heli-pad, an infinity swimming pool, and a four-horse stable.
The main villa incorporates a state-of-the-art eight-seat home theater with over 200 widescreen, high-def channels, and hand-crafted details like vaulted brick ceilings, 35-teak columns and custom iron works.
The villa also offers access to the gorgeous outdoor space, which includes a large free-form infinity pool with a swim-up bar that can seat 12 people, a barbecue grill, a wood-fired pizza oven, an oversized jacuzzi and a 42-inch LCD screen for outdoor viewing.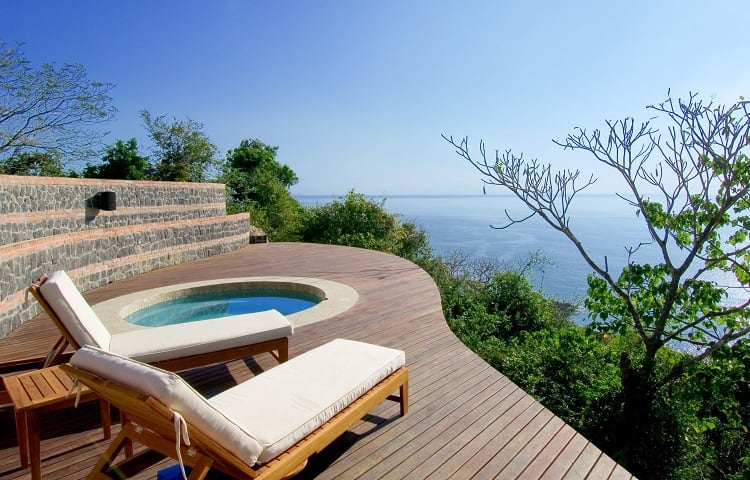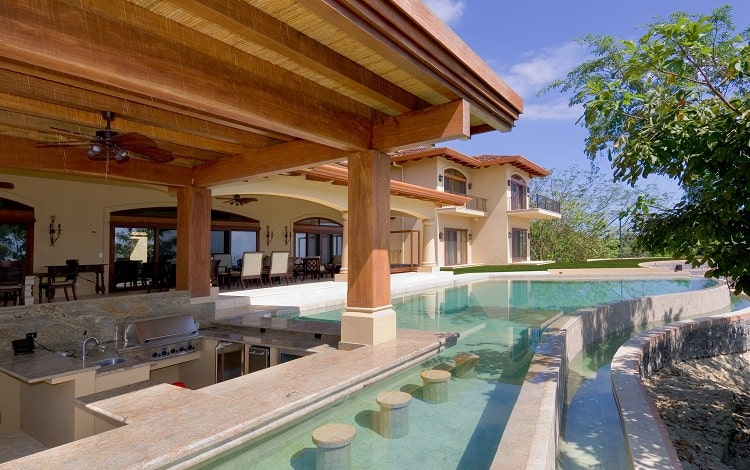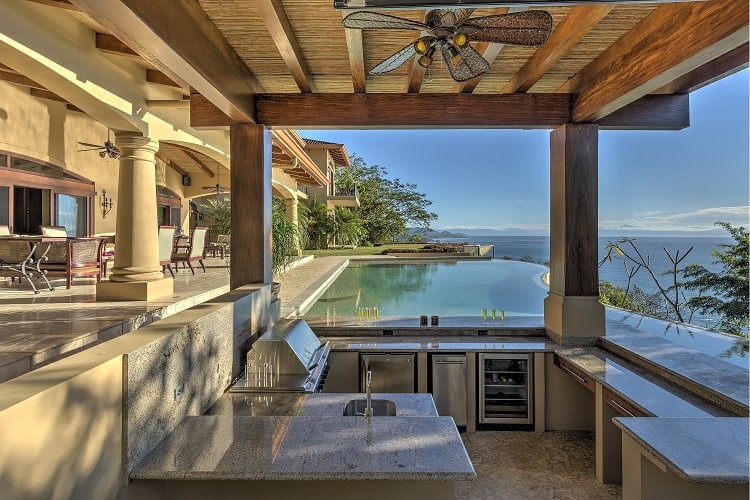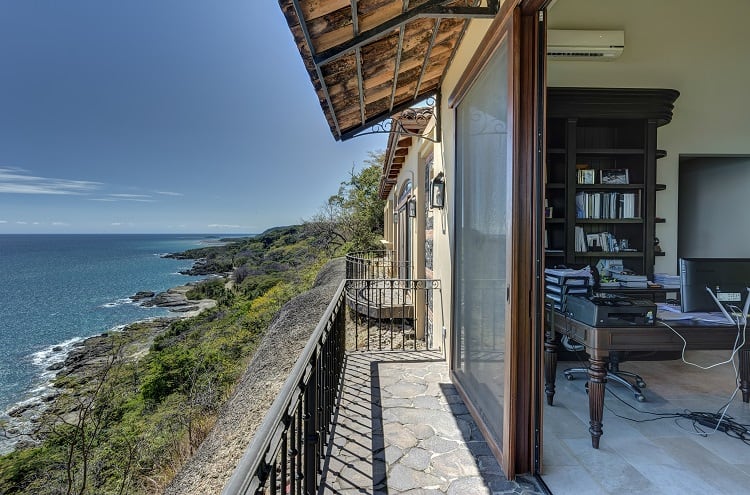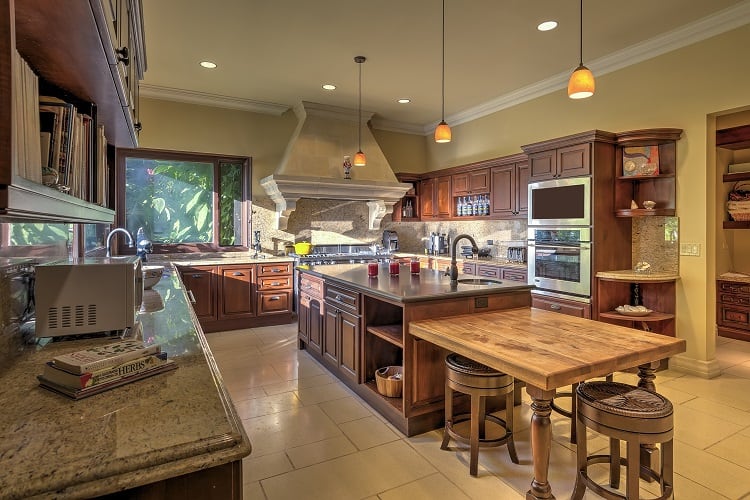 The property includes a separate coach house that is perched up on a cliff near the main villa, offering stunning 180-degree views of the ocean. The structure incorporates an executive office suite, a gym and also a design studio.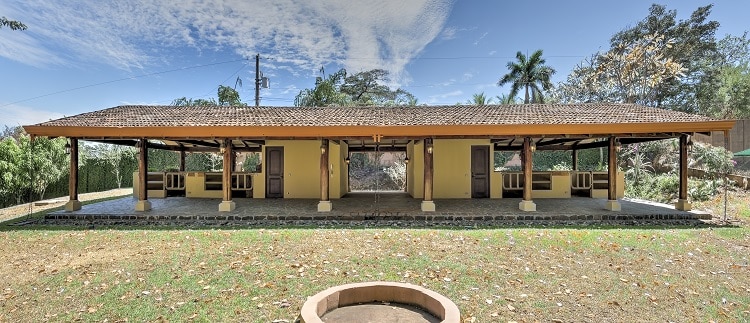 Every room in Villa Paraiso offers breathtaking, dramatic views of the ocean through large floor-to-ceiling windows, bathing in gorgeous, relaxing natural light. The outdoor relaxation area is the perfect spot to watch the sun set and entertain guests.
The estate is not easily accessible, thus offering privacy and peace of mind. It can be reached via car or SUV, or via a custom 300-foot suspension bridge connecting it to the nearby beach town of Montezuma.
You can, however, get to Villa Paraiso by helicopter, as an auto court is included on the property to accommodate helicopter service from Costa Rica's two international airports. 
"We're thrilled to be representing such a prestigious property in Costa Rica's coveted Nicoya Peninsula," says Michael Grady of The Agency. "The location offers everything one could wish for in a tropical paradise including panoramic ocean views, crashing waves on little private beaches and its very own backyard jungle, complete with monkeys and scarlet macaws. Villa Paraiso truly offers the ultimate living experience in one of the most beautiful settings in the world."
Villa Paraiso is also available as a rental, only that would set you back by $8,000/week.
More luxury homes
Cindy Crawford's Impeccably Designed Beach House in Malibu Is On the Market
The Beautiful Beach House in 'Grace & Frankie' Is As Real As It Gets
The Troubled History of Gianni Versace's Mansion, a Miami Beach Treasure
The Beverly House, where Jackie O & JFK Honeymooned and where Coppola Shot "The Godfather" Is No Easy Sell