Given Elon Musk's many controversial and outright bizarre tweets in the past weeks, you'd be forgiven for missing the one he sent out renouncing all physical possessions.
But apparently, the Tesla CEO very much meant what he tweeted on May 1st, when he said he'll be selling all his earthly possessions and "devoting himself to Earth and Mars", concluding that "possessions just weight you down".
The first possessions to go: Elon Musk's homes in the posh Bel Air neighborhood of Los Angeles, CA. According to CNBC, two days after the tweet, Elon Musk listed both of his Bel Air homes for sale, one a 16,000-square-foot mansion and the second a smaller, 2,756-square-foot ranch home set across the street — which used to belong to Gene Wilder.
In typical Musk fashion, the entrepreneur ditched the traditional route and listed the properties himself, as FSBOs (for sale by owner). Which explains the horrific listing photos — and lock thereof.
The bigger mansion is priced at $30 million and has 7 bedrooms and 11 bathrooms. The listing notes that the property was built in 1990, then extensively remodeled to accommodate large entertaining spaces, high ceilings and fine finishes. There's a large master suite with separate dual baths and closets, a family wing, a 2-story library, theater, 2-room guest suite, a championship tennis court, and many other amenities (including a fruit orchard and a motor court with 5-car garage).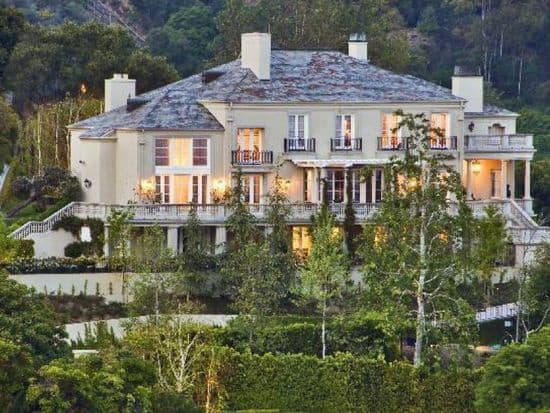 The second property, while considerably less opulent, is all the more charming. The unique, carefully preserved ranch style home belonged to original Willy Wonka, Gene Wilder. Priced at $9,500,000, the 2,756-square-foot home has 5 bedrooms and 5 bathrooms, and gorgeous views overlooking the stream, trees and white sand traps of the 13th green and 14th fairway on the Bel-Air Country Club Golf Course.
Now father to a newborn — as girlfriend Grimes recently gave birth to a boy the couple named X Æ A-12 — Musk's priorities may have shifted, and isn't that keen in sprawling Bel Air properties anymore. But if you're worried about where Elon Musk will live, know that the Tesla CEO spent roughly $100 million on California mansions in the past decade.
According to Business Insider, six of Elon Musk's houses are set a stone's throw from one another in Bel-Air, two of them now for sale. Musk also owns a large estate near Tesla's headquarters in Northern California.
More celebrity homes
Mark Cuban's Million-Dollar-Mansions are the Definition of Luxury Living
Everything You Need to Know About Bill Gates' Extraordinary House, Xanadu 2.0
Drake's House in Toronto, the Setting of 'Toosie Slide'
Tom Brady's Custom-Built Home in Brookline, Massachusetts