In 2021, Mötley Crüe drummer Tommy Lee changed his address and traded the celebrity-packed city of Calabasas for Brentwood, one of L.A.' coolest neighborhoods.
The rock star bought a Zen-inspired property that's spread on a double lot to make way for all of its waterfalls, magical pathways, lush trees, and Koi ponds.
Tommy Lee's new house and surrounding grounds stand in stark contrast to the wild party house (with a disco in the basement) that the rocker once owned in Malibu, when he gave fans the tour on MTV Cribs.
With his wild past lifestyle back into the spotlight thanks to the Hulu miniseries Pam & Tommy — which takes an in-depth look at the drummer's widely publicized marriage to Pamela Anderson — we thought fans would like an update on where Tommy Lee lives now, and what his present-day house looks like.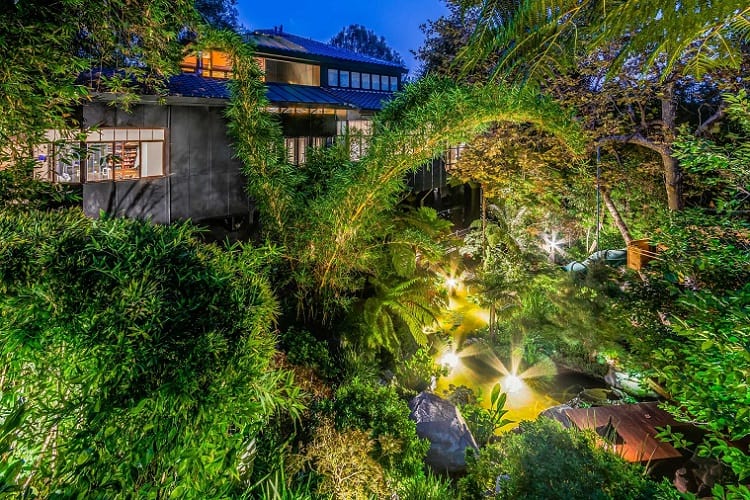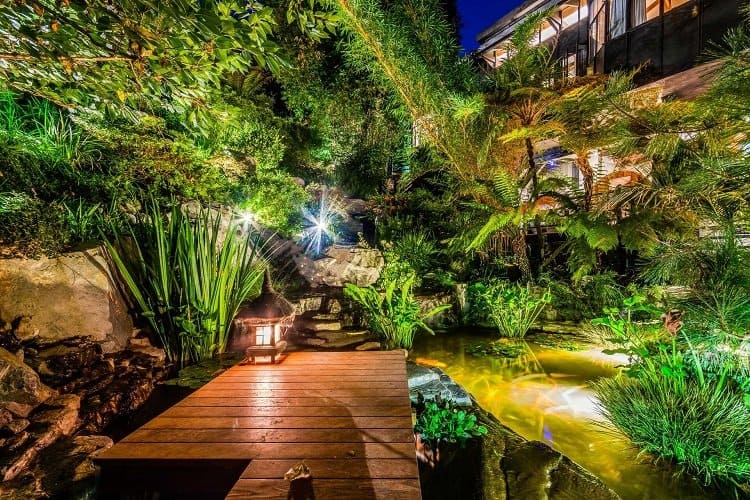 Tommy Lee's house in Brentwood is a Zen oasis
The former Mötley Crüe drummer lives in his new home with wife Brittany.
Brittany Furlan, Tommy Lee's fourth wife, is a celebrity in her own right. An influencer that rose to fame as the most followed female video star on Vine, Brittany was crowned as "one of the most influential people on the Internet" by TIME Magazine in 2015.
Tommy Lee, who was one of her many followers, connected with the social media star on Instagram, and the rest is, as they say, history. The couple tied the knot on Valentine's Day, 2019. And it only makes sense that they then went on to find the perfect home to spend their lives together.
Lee, who's been trying to sell his Calabasas compound for a year, didn't wait for a buyer to snap up his previous digs before finding a new place.
He moved on from the 10,000-square-foot spread he's been living in from 2007 and paid $4.15 million for the 4-bedroom, Japanese-inspired home back in May, 2021.
And while his new house clocks in at around 4,300 square feet (which makes it about half the size of his previous home), it trades indoor space for extraordinary outdoor areas and original interior touches.
Tommy Lee's house has an open floorplan with Zen-inspired interiors surrounded by wraparound glass and features unique artisan woodwork such as Japanese tansu cabinetry and Brazilian mahogany.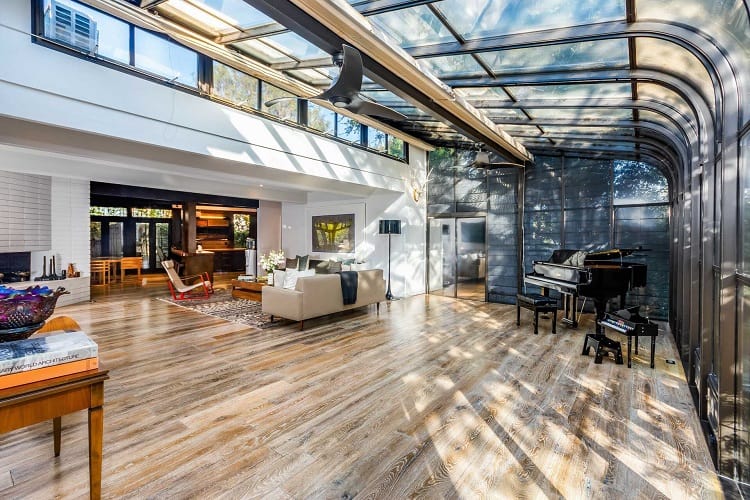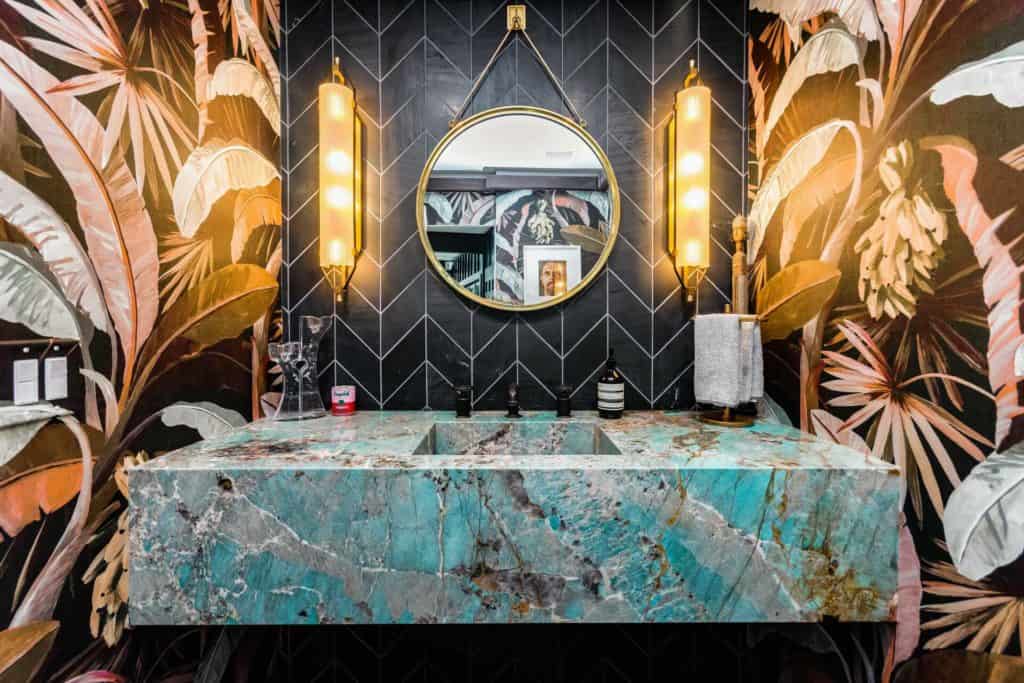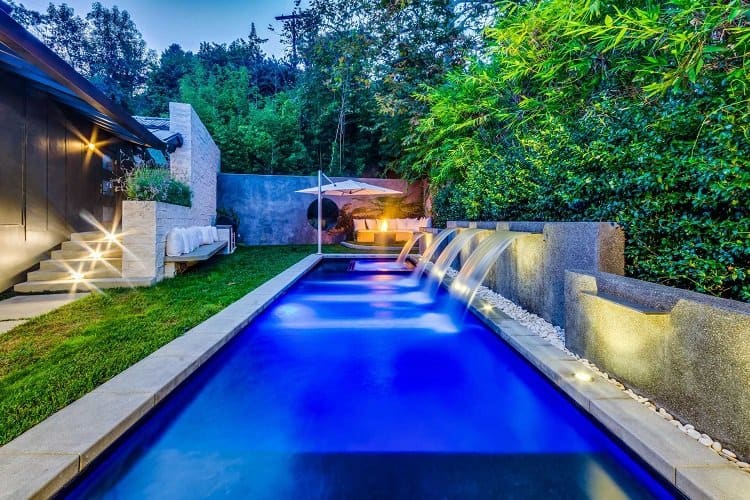 The spacious dining and kitchen area opens up to a pool with waterfalls, dining deck, fire pit, barbecue island, and enclosed greenhouse-style garden room.
The owner's retreat has double-height ceilings, clearstory lighting, heated floors, a window wall with built-in cabinetry, a garden courtyard, dual baths, and custom closets.
There's also a bedroom-office with a spiral staircase that leads to a huge yoga and meditation space and/or art-room, and two extra bedrooms that occupy a separate wing.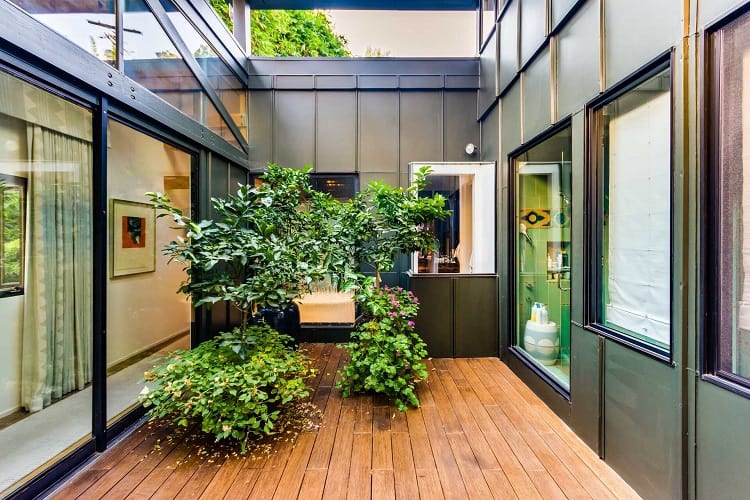 What truly sets the home apart are the unique outdoor spaces. Despite being just steps away from everything L.A. has to offer, Tommy Lee's house is a true sanctuary home tucked between trees and lush greenery.
With its cascading gardens of trees, unique plants, ferns, bamboo, extensive stonework, magical pathways, waterfalls, herb garden and Koi pond, the property is a true oasis.
There's also an authentic Japanese teahouse on the property.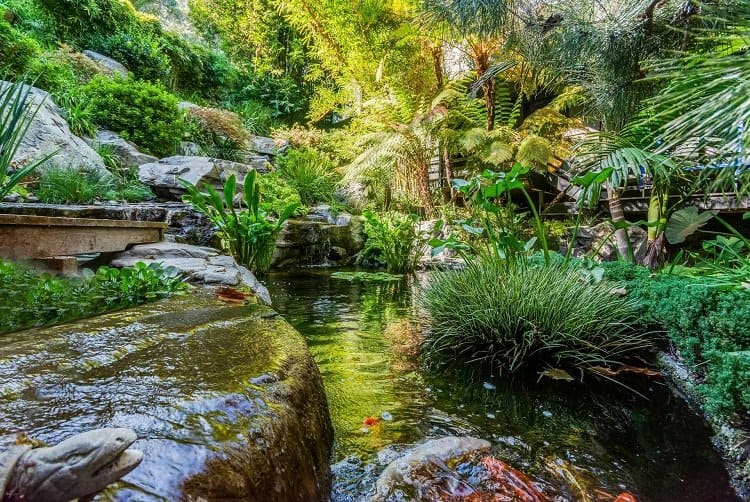 Marco Rufo of The Agency held the listing, while Emil Hartoonian (also with The Agency) represented Tommy Lee in the transaction.
What happened to Tommy Lee's Malibu mansion?
The house Tommy Lee shared with his previous wife, Baywatch star Pamela Anderson, is long gone. The Malibu home that was featured on MTV Cribs was completely destroyed by California wildfires.
Back in 2019, Lee took a tour of what was once his glitzy party pad, showing his Instagram fans the utter devastation left in the aftermath of the fires.
Of course, by the time the wildfires razed the property to the ground, Tommy Lee had long parted ways with the Malibu mansion.
Soon after his split from Pamela Anderson, he sold the property to Boys Don't Cry frontman Nick Richards.
*A previous version of this article was first published on May 11, 2021, when the musician purchased his new house. The article has been updated to reflect the most recent information available.
More stories you might like
Mötley Crüe's Nikki Sixx Sells His Palatial House in Los Angeles for a Little Over $5 Million
Queen Frontman Adam Lambert Sells Hollywood Hills Home for $2.92 Million
Everything We Know About Adam Levine's House in Los Angeles
Music Exec Scooter Braun Buys $65 Million Manse to Call Home Following Split from Wife Yael Cohen