Adam Lambert, American Idol alum and current lead singer for legendary rock band Queen, has long been looking to part ways with his Hollywood Hills digs.
The singer recently re-listed his three-bedroom, 3,049-square-foot home nestled above the Sunset Strip for $3.35 million, after a failed previous attempt at selling the contemporary home. The house was first listed for sale back in 2017 for $3.995 million, with different representation.
But it wasn't until The Agency's Emil Hartoonian and Nicholas Siegfried took charge of the listing that the right buyer came in sight and Adam Lambert's house finally sold for $2.92 million.
Granted, that's $430,000 less than Lambert was asking — and $75k shy of what he paid for the home six years ago — but it's worth noting that the artist has long moved on (he bought a $6.5 million house in a neighboring area back in 2018).
But that doesn't mean we won't take a moment to soak in his former home's beauty and bid it a proper farewell.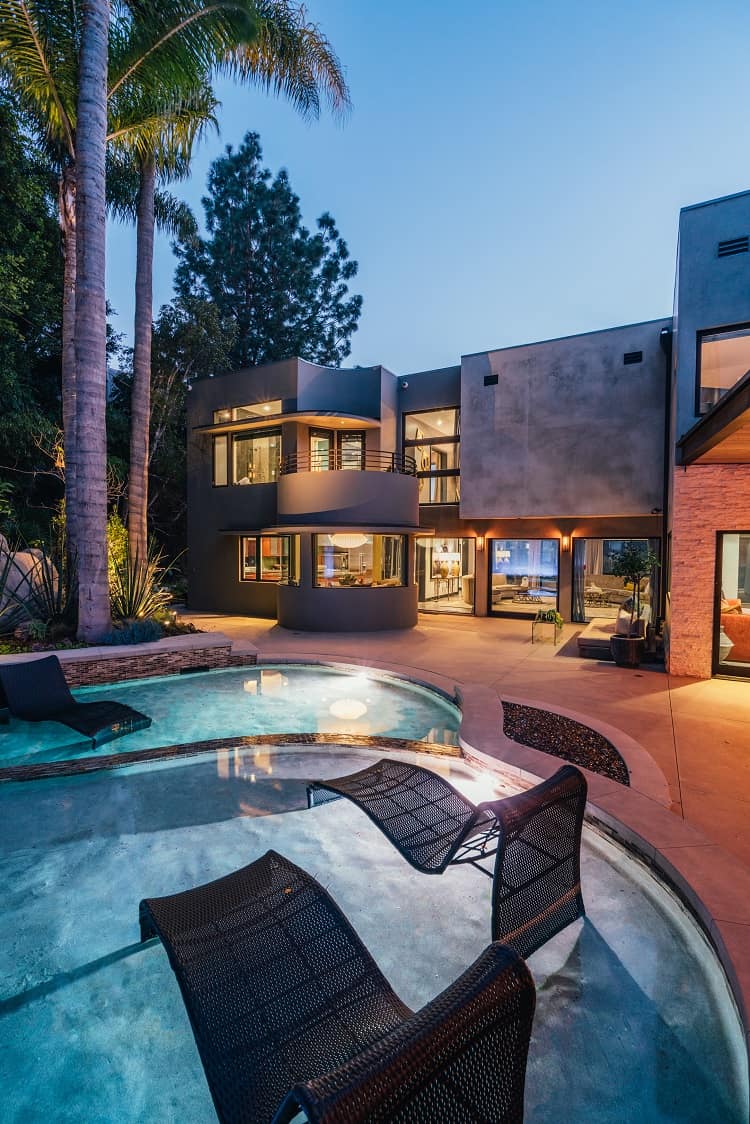 From the outside, Lambert's house oozes rock-star coolness.
The architecture of the Los Angeles home is reminiscent of Frank Lloyd Wright's clean-cut lines and geometric details. Most of the living spaces inside offer views of the outdoor swimming pool, and light flows in through massive, floor-to-ceiling windows throughout the house. 
The 1947-built house looks fresh and modern, but it also has a timeless vibe.
The main level houses a light-filled, spacious living room, perfect for entertaining guests, and it features a sliding glass wall connecting it to the outdoor pool area.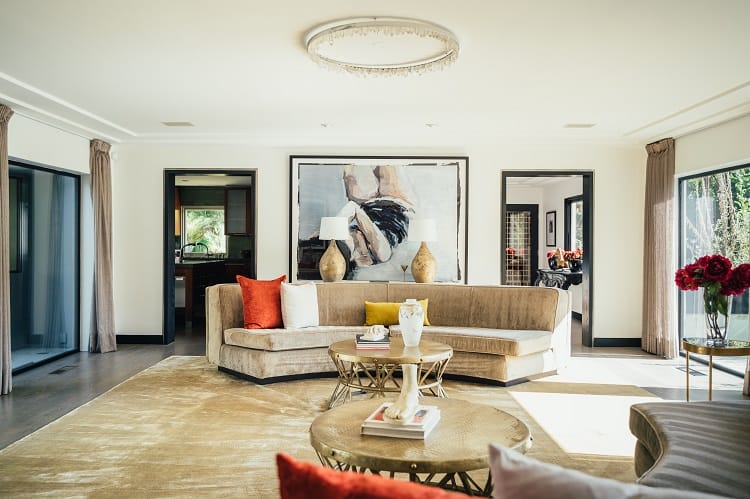 The lower level also houses a fab designer kitchen featuring a massive kitchen island, marble finishes, high-end appliances, and an intimate breakfast setting. The kitchen also offers views of the poolside area.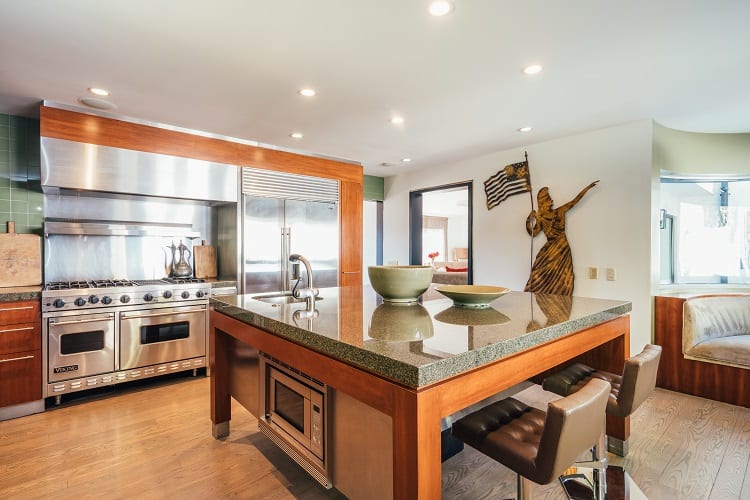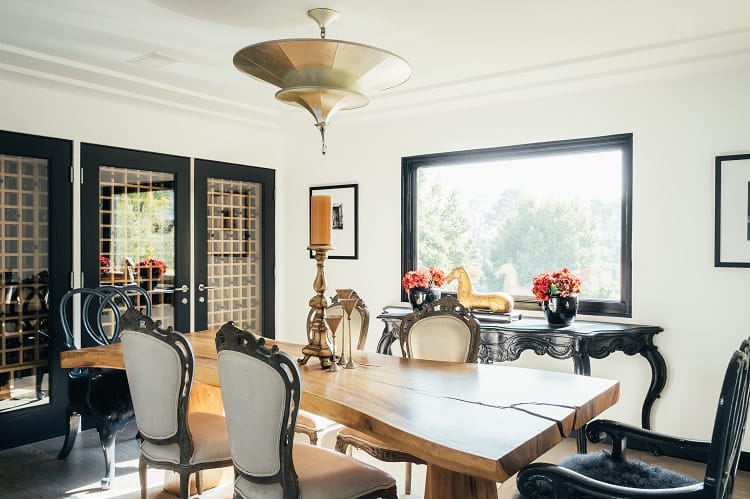 Upstairs, the master bedroom offers stunning views of the city lights and the glamorous Hollywood Hills. The suite also incorporates a gorgeous walk-in closet, a master spa, as well as a private terrace overlooking the pool.
Adam Lambert's former home also includes an additional suite that comes with its own private entrance. This room could be used as a private studio, a home office, a gym or even a home theater.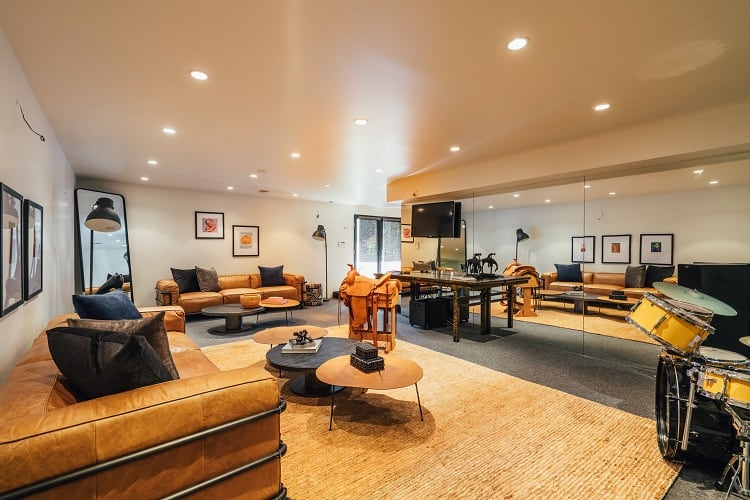 More celebrity homes
The private gated estate is also perfect for entertaining guests or just relaxing after a long day. The poolside lounge area offers complete privacy, right in the heart of Los Angeles, incorporating comfy couches and offering views of the house and the Hollywood Hills.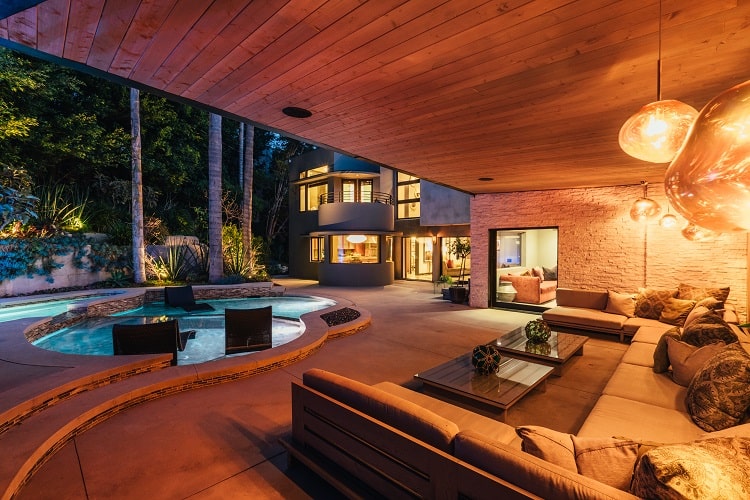 According to the Los Angeles Times, Lambert won't be moving far, as he paid $6.5 million back in 2018 for a bigger home just a mile away, in Hollywood Hills West.
Adam Lambert first rose to fame in 2009 after finishing as runner-up on the eighth season of American Idol.
Since then, he has sold over 3 million albums and 5 million singles worldwide, with his second studio album, Trespassing, released in 2012, premiering at number one on the U.S. Billboard 200 — making Lambert the first openly gay artist to top the charts.
He followed that success with the release of his third album, The Original High, in 2015.
On top of his successful solo career, Lambert has been collaborating — and going on several worldwide tours — with legendary rock band Queen as lead vocalist for Queen + Adam Lambert.
A recent Netflix documentary called The Show Must Go On: the Queen + Adam Lambert story chronicled how Adam Lambert took over from the legendary Freddie Mercury as the frontman for the rock group.
More celebrity homes
Tommy Lee Pays $4.15 Million for a Japanese-Inspired Sanctuary Home
Scooter Braun's houses are worth over $100 million
Mötley Crüe's Nikki Sixx Sells Palatial House in Los Angeles for a Little Over $5 Million
Tour Dakota Johnson's House in Hollywood, which She Calls 'Her Anchor'