It's been a whirlwind of wedded bliss for Travis Barker and Kourtney Kardashian.
Following their October engagement, the A-listers traveled to Las Vegas in April for a practice wedding. Although the Elvis impersonator did not have a marriage license, the couple were legally wed on May 15th in Santa Barbara, Calif.
Then on May 22nd, the lovebirds said "I do" once again in Italy. They hosted the ceremony at L'Olivetta, a villa in Portofino owned by Dolce & Gabbana, and the reception was held at Castello Brown in Portofino.
In true Hollywood style, the couple are also planning a reception back home in Los Angeles.
Can't keep up with Kravis' love story?
No worries, we're happy to deep dive into their real estate portfolio which is equally as impressive.
Every bit the proud homeowner, Barker welcomes Architectural Digest inside the Calabasas compound he shares with his growing family, including step daughter Atiana, 29, daughter Alabama, 16, and 18-year-old son Landon.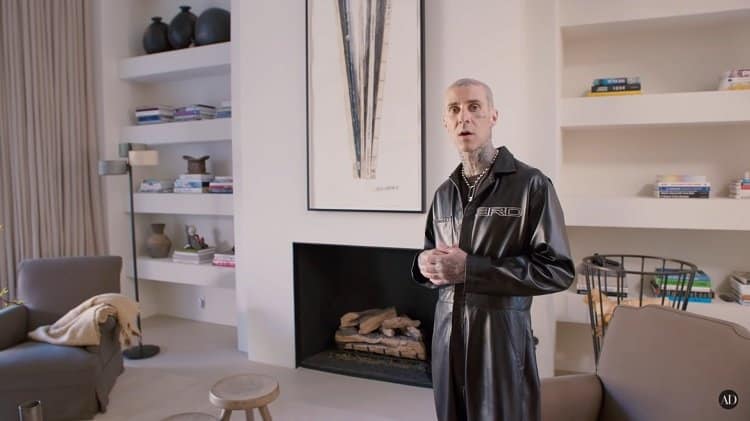 Continue reading about Barker's stunning yet understated, modern home that is just a block away from his bride's beautiful house in an elite gated community in Calabasas, Calif.
Barker's cozy & "zen" design style
While Travis Barker has owned his cozy Calabasas compound for 15 years, the Blink-182 drummer recently did a full remodel to the beautiful manse.
At the recommendation of his now MIL, Kris Jenner, the rock star hired celebrity designer Waldo Fernandez.
"I loved the simplicity and zen quality of his work. We connected immediately," Barker says of working with the design legend.
According to Fernandez, Barker isn't your typical rock star client.
"Travis wasn't looking for a major statement or any kind of caricatured rock-star style," Fernandez shares. "He wanted a home that would allow him to think and be at peace with himself."
Admittedly, it's a bit of a stretch from his previous taste in decor.
"I've had homes with lots of flashy cars, murals, and bikes hanging from the ceiling," Barker shares. "But with three children of my own, plus Kourtney's kids, this place felt right for this moment in my life. I wanted a house where I can rest and enjoy my family, a place where we can create memories."
And it sounds like they're well on their way to making beautiful memories.
The celebrated drummer describes typical Sunday gatherings at Casa Barker, which include a vegan meal, followed by puzzles and board games (Othello is a favorite) or simply chilling out and watching movies.
Beyond his interest in board games, Barker also digs designing.
In addition to being a co-owner of the DTA (Don't Trust Anyone) clothing brand, the father-of-three recently launched a collection of skull-themed homewares and accessories with the London-based company Buster + Punch.
"I like finding different ways to express myself, especially projects that cross the lines between music, fashion, art, and design," Barker shares.
It's been a busy time, but he feels "incredibly blessed and grateful"
While he recently produced Machine Gun Kelly's latest album Mainstream Sellout (which hit #1 on the Billboard charts) and is currently in the studio working on his own label DTA Records, Barker's been saying "I do" all across the globe.
"It was a perfect month," Barker gushes of their wedded bliss.
As for setting up shop as husband and wife, Kravis plans to keep two separate homes for now.
"Kourtney has a great house a block away from here," says Barker, whose bride lives nearby, in the same star-studded Calabasas community.
"Right now I'm just planning to convert my home studio into a bunk room so her kids are comfortable here. In the future, I suppose we'll wait to find something better than what we have. Wherever we end up, we feel incredibly blessed and grateful."
A look inside Travis Barker's house in Calabasas
After the instant connection with Fernandez, Barker went on tour with Blink-182 and gave the designer complete control of remodeling the entire home (as opposed to a couple rooms like he had originally planned).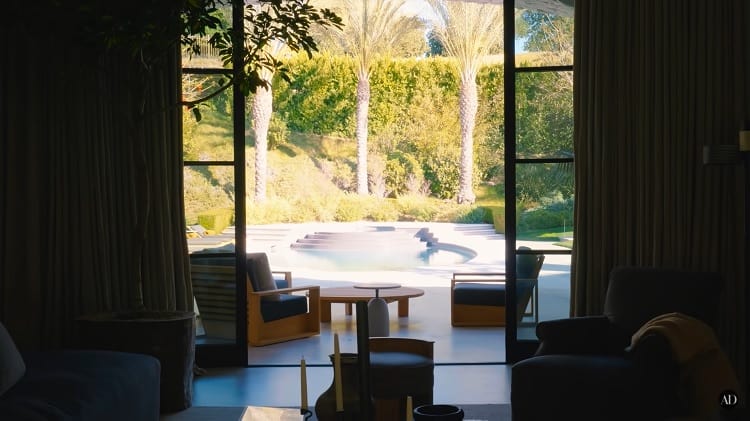 "It was the most amazing experience to come back a year later," Barker shares. "I was floored, like, jaw to the ground… he does a phenomenal job."
Spanning just under 10,000 square feet, the one-story house is a welcome change from his previous three-story home in Bel-Air.
The dining room includes a custom table and chairs in the style of Pierre Jeanneret.
"It was important that we had a big table that could fit our whole family and guests," Barker says of the impressive dining room table.
Admitting that he likes a minimal aesthetic, the drummer invites viewers to walk-through his beautifully remodeled kitchen.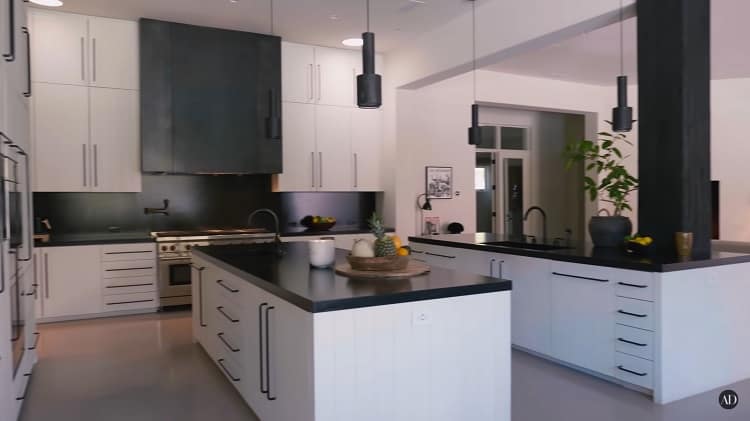 Featuring floor-to-ceiling white cupboards and black countertops, the gourmet kitchen offers Wolf wall ovens, paneled Sub-Zero refrigerator, and Alvar Aalto pendant lights for Artek.
During the video home tour, Kourntey sips on homemade matcha tea and Barker claims he makes the best in the city.
"Why don't you show the little matcha station." Kourtney shares. "One of my favorite things is this matcha station over here," Barker adds.
Offering several indoor-outdoor features, the plush property includes a stunning outdoor pool and a covered living area where Barker loves to feed his four frenchies. Awww…
For a closer look inside the stunning estate, check out the house tour given by Barker himself:
More celebrity homes you might like
Keeping Up With the Incredible Homes of the Kardashians — the 2022 Edition
Tommy Lee's House in L.A. is a Japanese-Style Oasis
Music Mogul Scooter Braun Buys $65 Million Manse to Call Home
Where Does Adam Levine Live Now? Inside the New Montecito House he Shares with Wife Behati Prinsloo