James Harris, the lovable British real estate broker that's keeping us sane and drama-free in Bravo!'s Million Dollar Listing Los Angeles is now taking his charm to other media outlets. More specifically, he's launching his own podcast, titled Positively Chaotic — which you can stream for free on YouTube, Spotify or Apple starting August 25.
While Harris's podcast is not necessarily real estate-focused, the top producing broker will be sharing insights from his career, road to stardom, and the chaotic path that got him to where he is today — all the while tapping into his roster of celebrity friends and past clients, asking them to do the same.
The celebrity guest line-up for Positively Chaotic so far includes Kelly Rowland, Kyle Richards (of Real Housewives fame), Jodie Sweetin (Full House), Eugenio Derbez, Gregg Sulkin, and Nick Cassavetes; and all of them will be opening up about the moments that changed their lives, the lessons they've learned along the way, and all the chaos in between.
"I have always had a positive outlook throughout my very chaotic life, and the more people I met along my journey, the more I came to realize that so many who have achieved great success approached their lives in a similar way," said Harris.
"The title seems so very fitting in today's world, and I hope that 'Positively Chaotic with James Harris' will be a great way to share inspiring memories, moments, and pivotal points in people's lives and allow for many good laughs along the way," he added.
And there's lots to look forward to in the new podcast; born and raised in London, Harris' entrepreneurial drive started at the tender age of 16. After working as a residential investment agent in the UK, Harris and business partner David Parnes headed to Los Angeles with the goal of breaking into the high-end residential real estate market.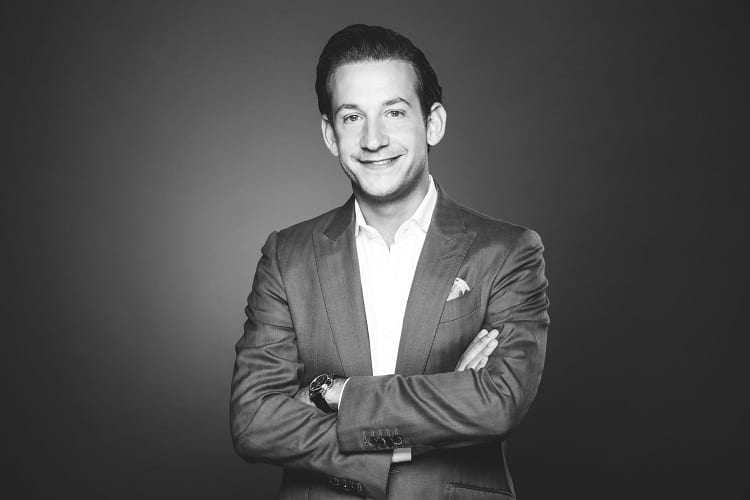 From humble beginnings, the duo persevered and with hard work and determination, they quickly went up the ranks, and are now listed among the top producing real estate agents in the U.S. In 2019, the duo recorded more than $392 million worth of transactions, have broken countless sales records, and represented the sellers in the $119.5 million sale of the former Spelling residence, The Manor.
Despite the countless sales achievements, celebrity clients, and landmark deals, Harris remains humble, hardworking, and dedicated to his family, which makes his new podcast all the more relatable. So make sure you tune in starting August 25.
Keep reading
A Charming Home Featured on HGTV's 'Property Brothers' is Looking for New Owners
Mitch and Cam's Duplex from the 'Modern Family' Pilot is On the Market & It's Absolutely Lovely
Hollywood Hills Mansion Featured in Netflix's 'Selling Sunset' Sold for $35.5M
Ryan Serhant & Casey Neistat Offer 1 Year of Free Rent in NYC to a Passionate Dreamer