It's that time of year again, when we all go into summer mode and think of nothing else but sandy beaches and pool parties.
We drag ourselves to work every sunny morning and endure suffocating heatwaves, daydreaming about the weekend, when we get a chance to escape from the overcrowded city. 
Today, with the help of Compass, we're showing you 5 exquisite properties for sale that can serve as year-round getaways, conveniently located just an hour away from Manhattan in Westchester County.
We'll be looking at 5 classic-yet-modern estates that offer plenty of living and entertainment space, lush outdoor spaces and lots of privacy. 
Check them out below, in no particular order:
4 Obry Drive, Scarsdale | $4,695,000
This gorgeous Tudor-style estate built in 1926 is the dream summer getaway home, and it's being listed by Dawn Knief and Brett Mitchell of Compass.
Nevermind the 5 bedrooms, 6 bathrooms and the 3-car garage, the main attraction at 4 Obry Drive in Scarsdale is the fabulous 22×42 saltwater pool.
The lush surroundings also come with a beautiful pergola that features a sound system and cooling fans, making you feel like you're truly on vacation.
The 7,890-square-foot home is situated on a private cul-de-sac in Heathcote, and boasts stunning architectural details throughout.
It's also been renovated to include environmentally friendly features, like recycling rainwater for the sprinkler use.
Other highlights of this property include a spacious terrace, a heated driveway, a cabana room/game area, a home gym, plenty of natural light, and even a pet grooming station.
51 Echo Bay Drive, New Rochelle | $2,695,200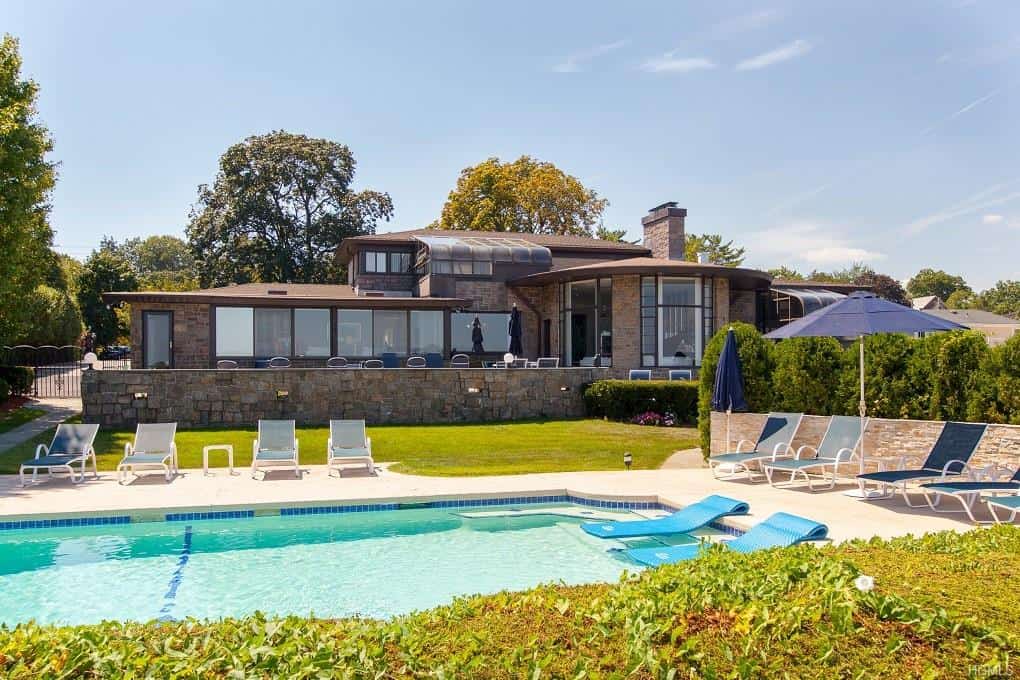 This home is another perfect summer escape, and it has both a swimming pool and a lake view.
The 5,292-square-foot home at 51 Echo Bay Drive in New Rochelle is a private waterfront estate that's on sale for close to $2.7 million. Assad Masri and Adam Solomon of Compass are handling the task of finding a new owner for the 5-bedroom, 5-bathroom property.
Built back in 1948, this gated estate offers gorgeous, unobstructed views of the Long Island Sound, and lies on almost a full acre of landscaped grounds.
Whether you're chilling beside the pool or cozying up to a fireplace in the formal dining room or the family room, you'll be able to enjoy views of the water – the living room boasts double-height panoramic windows letting in plenty of natural light. 
Besides the 5 spacious bedrooms, this house also features a large entertainment room with a stone fireplace, a fitness room, a summer kitchen, as well as a 2-car attached parking garage and a circle driveway.
41 Morris Lane, Scarsdale | $8,995,000
The next home we're looking at is located at 41 Morris Lane in Scarsdale, and it's on sale for $8.9 million via Heather Harrison of Compass.
The expansive Colonial-style mansion features 6 bedrooms, 8 bathrooms, and a total of 13,833 square feet. It lies on nearly 2 acres of land and was designed by an award-winning architect and designer.
The home was built in 2012 and comes with a gorgeous heated swimming pool, covered patio, pergola and tennis court, so you can fully enjoy your summer days outdoors.
Yet there's no shortage of indoor amenities, either; the house also features an indoor basketball court, a gym, as well as a crafts and media room.
The design is fresh and stylish, boasting neutral colors and modern finishes bathed in natural light. There are plenty of lounging and relaxation areas, cozy fireplaces, as well as a richly panelled library and a regal dining room.
7 Shaw Road, Scarsdale | $7,150,000
The next property we're looking at is definitely the perfect summer escape. Nestled between lush tall trees offering complete privacy, the home at 7 Shaw Road in Scarsdale features a wide range of outdoor entertainment options, and it's on sale for $7.2 million.
Compass' Heather Harrison and Shane Brier Barry are in charge of finding a new owner for the Colonial-style, 1989-built property.
The interior of the 12,325-square-foot mansion features 7 bedrooms and 8 bathrooms, a majestic staircase, high ceilings and magnificent views of the expansive grounds.
The home offers both formal and informal rooms, as well as a fully equipped gourmet kitchen and a playroom/cabana for indoor and outdoor entertaining.
Speaking of entertainment, this house has various options to keep you busy and active throughout the summer, including a swimming pool, golf court, tennis court, indoor ping pong table, gym, and home movie theater. Not to mention that it's only 30 minutes away from Manhattan. 
15 Richbell Road, Scarsdale | $5,999,999
Last but definitely not least, we're looking at a gorgeous, 1917-built mansion, once again in Scarsdale at 15 Richbell Road. Rebecca Kirschner and Heather Harrison of Compass are handling the sale of the property, which comes with a price tag of just under $6 million.
Located in the heart of Murray Hill on 1.62 acres of land, this magnificent estate perfectly blends timeless elegance and modern finishes, and it looks like it's plucked right out of a Hollywood movie (think of the Home Alone house in Illinois and its similar cozy vibes). 
The 9,959-square-foot home features 7 bedrooms and 7 bathrooms, and it is the epitome of elegance. With hardwood floors, vibrant colors and wood accents throughout, this Scarsdale property can best be described as 'classy.'
It also incorporates a grand staircase, a massive wardrobe/vanity room fit for a glamorous Hollywood celebrity, a movie theater, a library, media and storage rooms, fitness room, office, and a wine cellar. 
These five exquisite Westchester County homes are ideal summer getaways, but they also offer plenty of indoor entertainment options that you can enjoy year-round. If any of them caught your eye, be sure to contact the agents and schedule a tour before summer ends.
More exquisite homes
Winfield Hall, the Historic Woolworth Mansion in Glen Cove, Sells for $8.25M
This $11 Million Waterfront Chateau Neighbors Jon Bon Jovi's New Jersey Mansion
40 Years Ago, Jackie O Turned a Sheep Farm into her Dream Retreat on Martha's Vineyard; It Now Costs $65M
This $13M Gilded Age-Style Mansion Takes Luxury to a Whole New Level