"When nowhere feels like home, you just retreat into yourself."
As two strangers become obsessed with revenge after a road-rage-filled conflict in an LA parking lot, Netflix's smash hit series, Beef gives a masterclass in conveying character development through flawless interior design. 
Okay, I'm just going to say it, Beef is an incredible show.
It's masterfully written, full of epic twists and turns, genuinely hilarious, and, unlike a lot of shows out there right now, it actually has something to say about the state of the world and the people that live in it.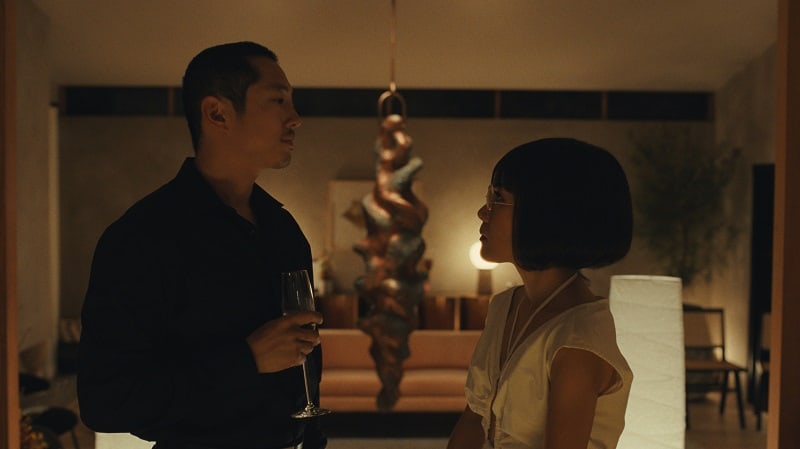 However. This may or may not come as a surprise (definitely the latter) but after finishing the final and truly unforgettable tenth episode, all I can think about is how completely and utterly perfect Amy's (Ali Wong) house was!
I was desperately hoping it was real (like I'm about to relocate to L.A. and buy it or something?!), so at first I was sad to find out the house doesn't really exist.
But, when I realized that this house not being real meant the team on Beef must have built it completely from the ground up, I genuinely felt even more excited. I needed to find out how they came up with such a faultless design – and also where on earth they went about constructing it.
My guess? You're dying to know too…
377 Bon Homme
While Ali Wong's house in Beef isn't real, nor is it located at the address given on the show — 377 Bon Homme, which isn't a real address — the series stays true to the facts, as there really is a Bon Homme street in Calabasas.
The Netflix show places Wong's character in Calabasas, a city in the southwestern region of the San Fernando Valley in Los Angeles County that's notoriously popular among the rich and famous (even the Kardashians have called it home) and gives her a prime address on a street lined with million-dollar homes.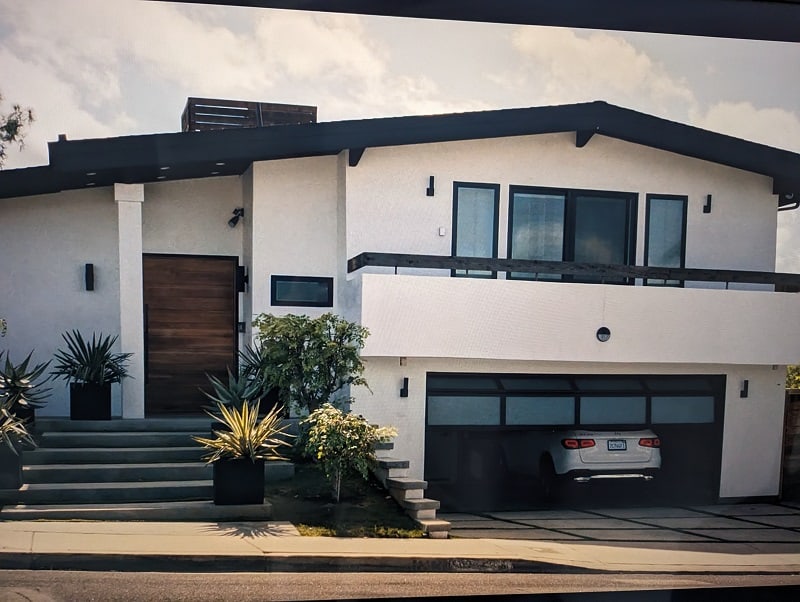 In a recent interview with Netflix, location manager, Michael Percival said, "We looked for a house that had all the elements we [needed], but we couldn't find that all-in-one location".
Actually, they had tracked down the ideal home earlier on but the owners, unfortunately, or so it seemed at the time, weren't open to the idea of them shooting Beef there.
So, instead of continuing the search, the team took it upon themselves to create Amy, George, and Junie's home from scratch. With production designer, Grace Yun heading up the operation, they constructed the entire thing on a soundstage which as we know turned out, well, *chef's kiss*!
SEE ALSO: Is Madre Linda Real? Tracking down Joe and Love's Hell-burban home from 'You' Season 3
Now, when I say I love everything about Amy Lau's ultra-contemporary SoCal home, I really mean everything.
The slatted wooden wall dividers that make the open-plan living area feel spacious yet cozy and warm. The sleek and sculptural light fixtures that hang from the ceiling with a gentle nod to both Amy and George's (Joseph Lee) artistic backgrounds.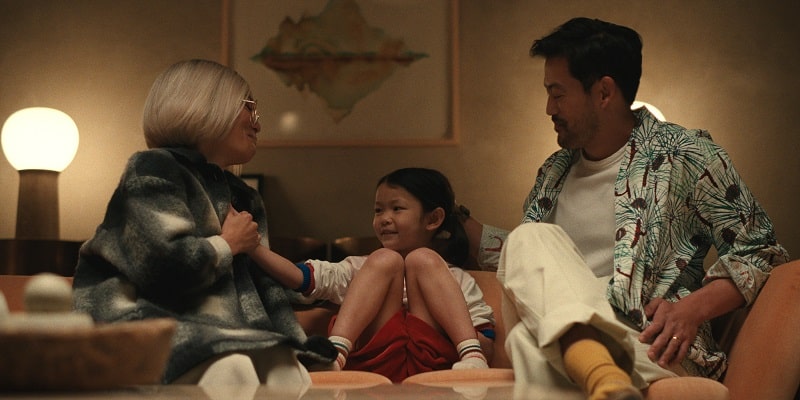 In an ode to biophilic design, there's even a perfect mix of neutrals and colors thanks to natural materials (like brushed concrete and oak) forming the bones of the property alongside shrewdly selected autumnal-hued furniture pieces. These bring a certain affability to even the most meticulously designed corners of the house.
Amy's house design cleverly alludes to her state of mind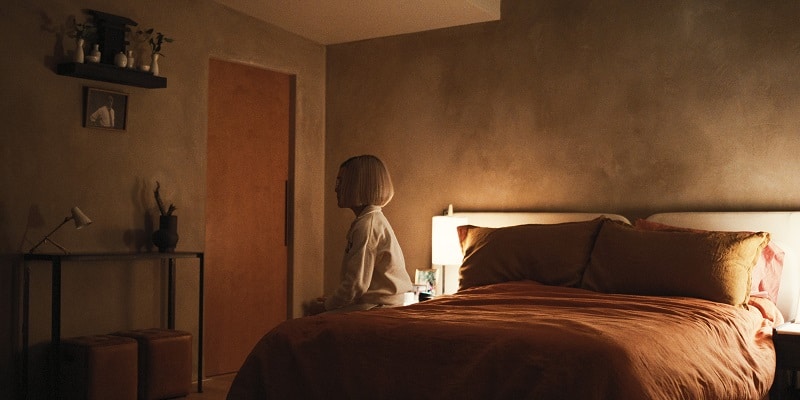 As Yun explains in her part of the interview, Amy has "…a certain vision for her life. It had to feel curated." She goes on to point out that there are no curves in the home that could serve to make the space feel more soothing and calm.
Instead, everything is a straight line, perfectly formed, organized, and in its place.
In fact, every element, though undeniably coveted and genuinely stunning, serves a purpose in portraying Amy's current mindset.
SEE ALSO: The sleek Parasite house and how it came to be
As we start to learn how trapped she feels and see her attempt to secretly break free of the constraints she feels in her work and family life, those gorgeous slatted wood dividers can start to look like the most beautifully constructed prison bars. Even the 'outdoor space' is enclosed by high walls and lets in limited natural light.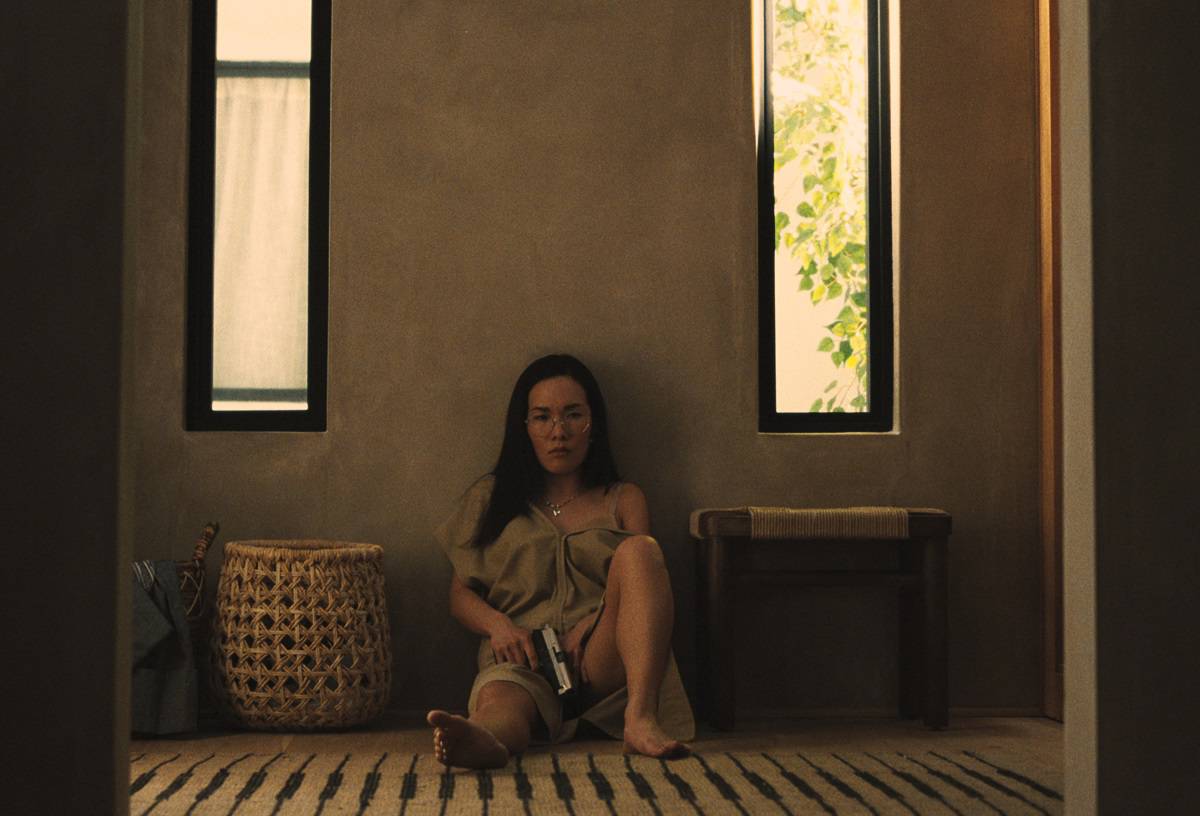 Where is Amy's 'real' Beef house?
I know what you're thinking — in episode one after Danny (Steven Yeun) kindly, um… embellished? the bathroom rug and tiles, we saw Amy run out of a very real-looking house to chase him down a very real-looking street.
Well, remember the original West Valley property that production found but wasn't able to film inside? As it turns out, they did manage to secure a residence a couple of doors down to film the exterior shots of Amy Lau's house.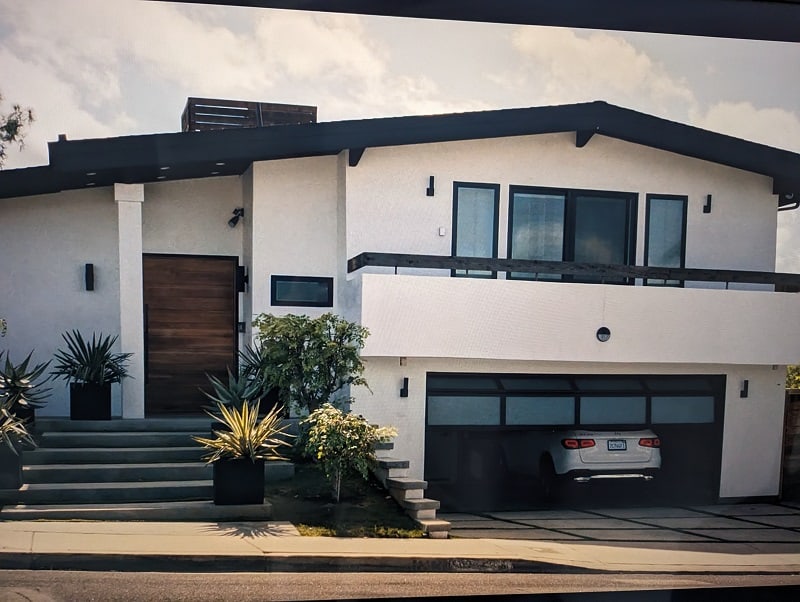 If the inside of the first house is anything like the outside of this one, we can see why the team fell in love and based their interior design on it!
"You have to keep up the illusion, people always prefer it to the reality." – Jordan Forster
Jordan's jaw-dropping Californian estate
Before I sign off, I have to mention Jordan's (Maria Bello) billion-dollar house… if you can even call it a house being the size of a small, walled village.
With vastly open spaces, sky-high ceilings, and hundreds of millions of dollars worth of historical artifacts displayed in an exhibition style even the Louvre would be proud of, it's undeniably less welcoming than Amy's house though certainly no less impressive.
SEE ALSO: All the 'Bridgerton' houses and where to find them in real life
Also unlike Amy's, this house really does exist. According to robbreport.com, it was specifically chosen to intimidate and upstage both Amy and her more humble (but not really humble) abode.
This architectural masterpiece located in Simi Valley, California is called The House Of The Book. Built in 1973, the structure sits upon the campus grounds of the American Jewish University's Brandeis-Bardin Institute.
Unsurprisingly, it's the largest hall on the 2,700-acre campus and currently serves as a performance space as well as a sought-after filming location of course.
Eagle-eyed movie and television fans may even recognize it from past productions. House Of The Book is also featured in Star Trek VI: The Undiscovered Country.
It also acted as headquarters for none other than the Mighty Morphin Power Rangers back in the 1990s!
More stories you might like
'The Watcher' house is real, but it's not the one you see in the Netflix series
Hampsie, Lady Phoebe's country house in 'You' & where to find it in real life
Netflix's 'Dead to Me' Series will Have You Day-Dreaming about Jen's Perfect House
The Real-Life House from Netflix's 'The Stranger'