You never run out of one-of-a-kind homes in Los Angeles. Each new residence brings something new to the table — whether it's a fresh take on an old concept, an exciting new way to mix colors and patterns, or the touch of a revolutionary mind. 
Today we're looking at a home in Venice that's truly unique, created by a toy company executive that wanted to showcase his style — and his eclectic art collection.
With a distinct design, vibrant color hues, and artwork to match, the beautiful home set at 813 Palms Boulevard is reminiscent of an urban warehouse and is a truly out-of-the-ordinary home. Its merits have not gone unnoticed, with the Los Angeles Times recently featuring it as their Home of the Week.
To add extra flair to the home, the owner commissioned acclaimed French urban artist, Invader (whose real identity is unknown, much like fellow street artist, Bansky) to add his signature street art to the home's design.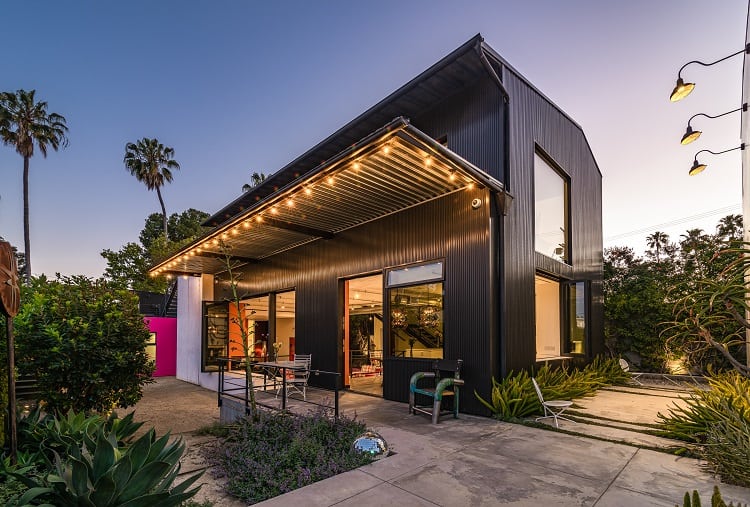 A modern work of art
The three-bedroom, 3,414-square-foot architectural compound was inspired by urban warehouses in Austin and Los Angeles.
The owner, Mattel toy company executive Todd Piccus, had a unique vision that included outdoor staircases that look like fire escapes, and a patio modeled after a loading dock at Bergamot Station in Santa Monica.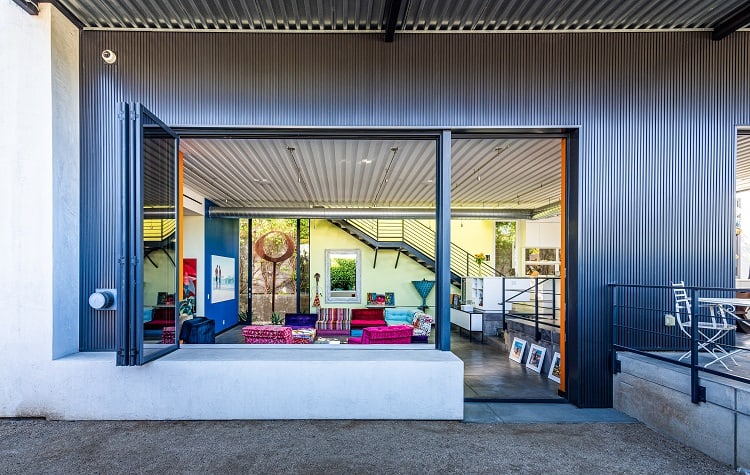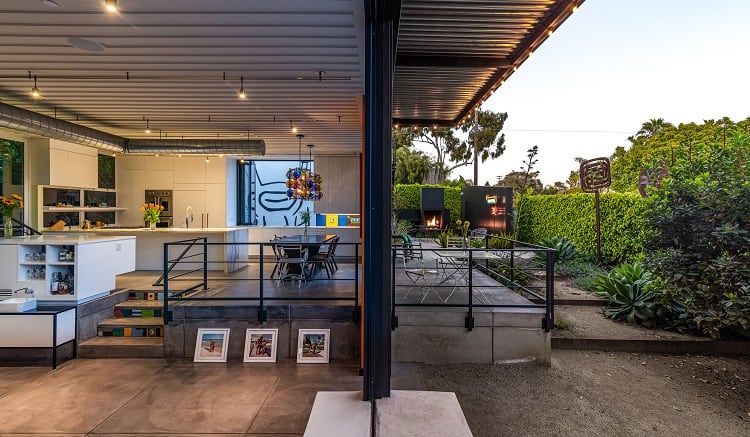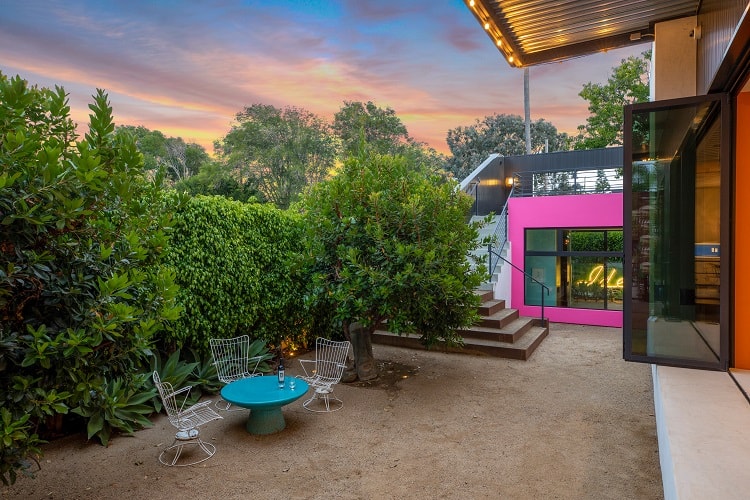 Piccus tapped the urban artist known as Invader to add his special touch to the property, which was completed in 2014. Construction was halted for a week to allow Invader to install his work during the night and maintain his anonymity.
What resulted from the collaboration is a unique mosaic piece of three pixelated, alien-like creatures (a staple for the artist). 
It's Invader's first mosaic that wraps around a corner and appears on two sides of a building. 
Like all of Invader's recent mosaics, it's permanently attached to the building – and if anyone tries to remove it, it will disintegrate and fall apart.  (Invader now installs his mosaics in this fashion because his earlier works were sometimes stolen by over-zealous fans.)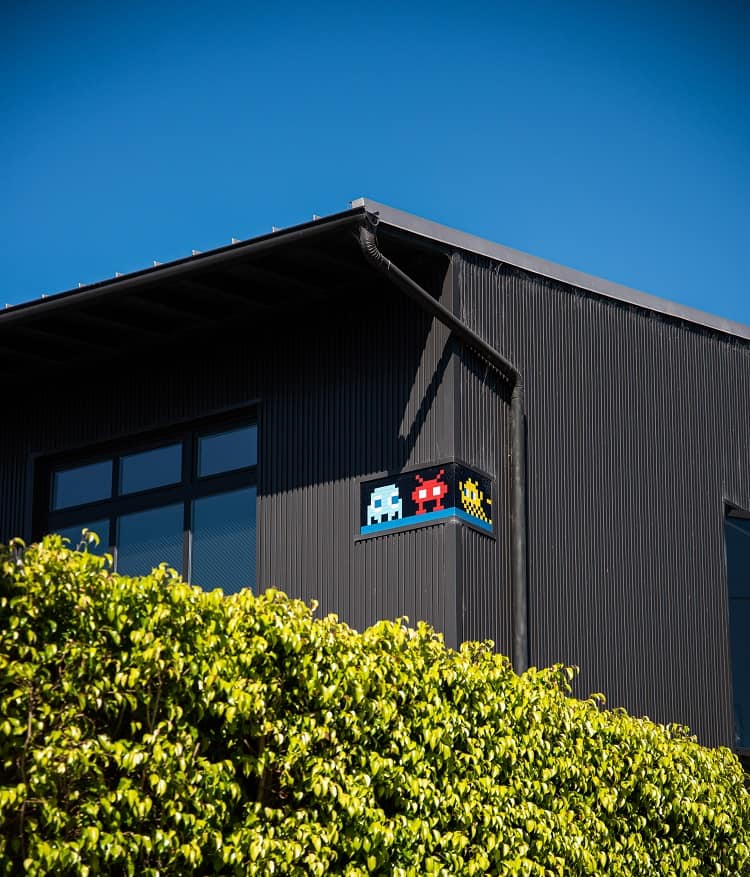 Anonymous French artist Invader started his work sometime in the late 1990s, plastering the streets of Paris with mosaic Pac-Man ghosts, Space Invaders from the 1978 Atari game, and other popular 8-bit characters.
"Going into a city with tiles and cement and invading it," says Invader, "…is the most addictive game I have ever played." His creations can be seen all around the globe, in over 65 cities across 33 countries. 
More homes you might like
Bright, open interiors & vibrant colors
If you think this Venice home has a distinct, street-art-loving target audience in mind just by looking at the exterior, wait until you take a look inside.
The interior of the house boasts an open-space concept, and provides abundant natural light and high ceilings throughout.
Amenities include polished concrete floors, vibrant colors, stunning views and ocean breezes, and plenty of modern artwork all around, giving the home a breezy-yet-complex vibe that perfectly complements its exteriors.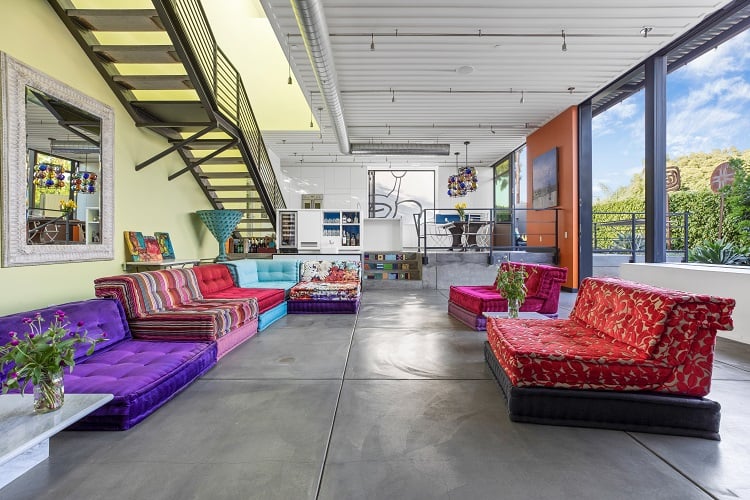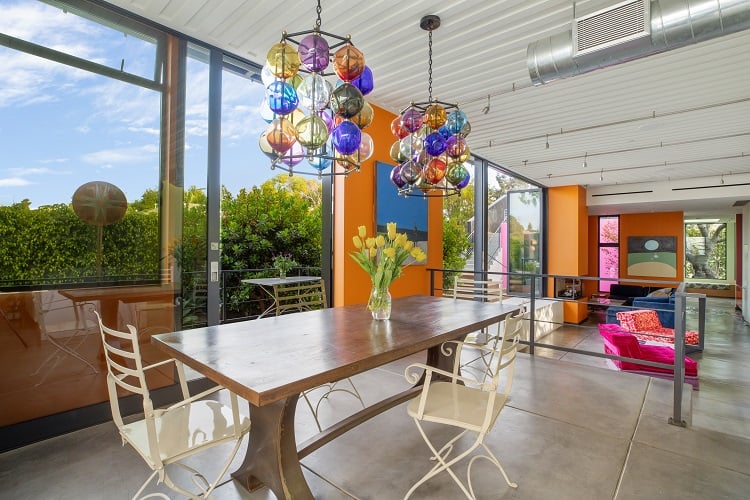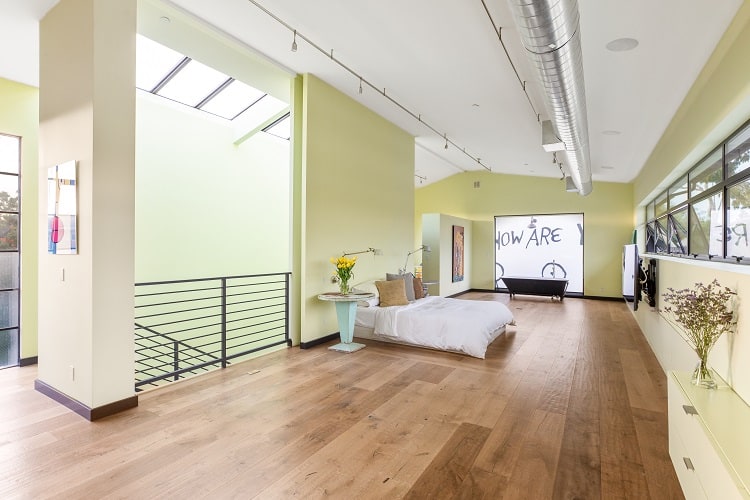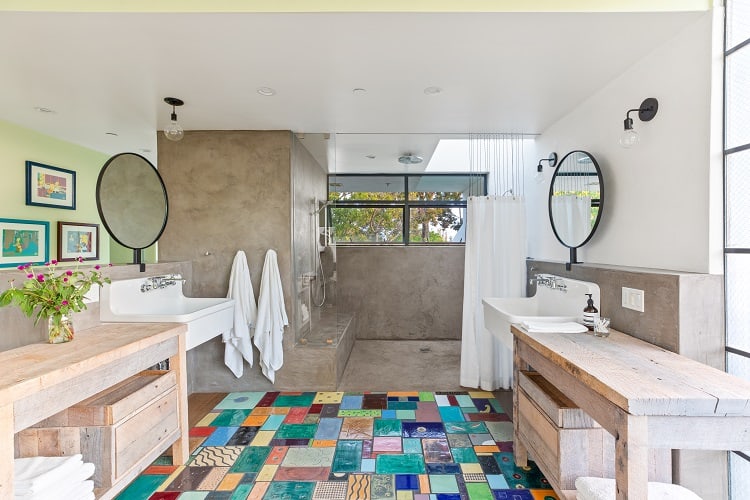 The interior opens to the outdoor living areas on all sides, and looks like it was made for entertaining guests. It boasts a fireplace conversation area, two roof decks, and a sunken courtyard that can fit large gatherings.
There's also a detached studio with a bath, as well as two covered parking spaces and one extra parking space.
The home is currently on the market, asking $8,250,000; Jerry Jaffe of Compass holds the listing.
Keep reading
Is the Practical Magic House Real?
The Modern Family houses and where to find them in real life
Madre Linda and the house from YOU
Fresh Prince of Bel-Air house and where to find it