Massive amounts of space and elegant, lavish interiors are staples of Cali luxury living, and over the years we've shown you tons of such examples.
But today we're taking you on a tour of a home that is so quirky, relaxed, and unique, that it's basically a big breath of fresh air. 
The distinct home in Venice has been drawing people's attention for years, with its dramatic-yet-fresh design — marked by a poppy silhouette laser-cut into an aluminum screen that wraps the second-floor facade — that earned it the moniker California Poppy House.
There are also pops of poppy red on the walls and ceilings of the house, and another aluminum poppy-paneled screen gracing the interior courtyard, all paying tribute to California's state flower.
It's now being listed for sale for the very first time, after a previous stint on the rental market, when the unique home was asking $16,500/mo.
Lindsay Guttman and Alexandria Brunkhorst with The Agency hold the listing, currently on the market for $3,395,000.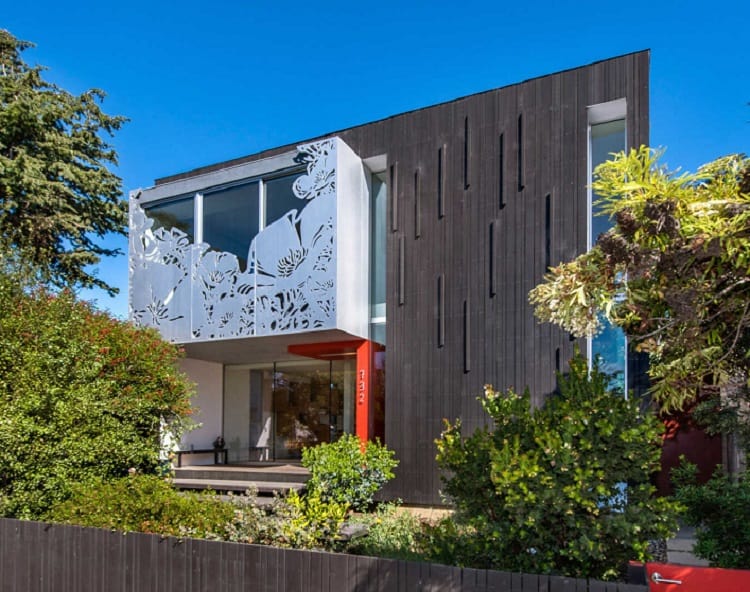 A distinctive design, credited to the home's architect owners
The California Poppy House was designed by architect couple Jin Ah Park and Jonathan Ward of NBBJ, in a relaxed and contemporary style that blends different architectural styles into one.
The couple was allegedly inspired to design their Venice home after spending two years backpacking around the world.
The two architects drew inspiration from architecture that they saw in places like Thailand, Morocco, Mali, Peru, Australia, China and South Korea, among others — and it shows.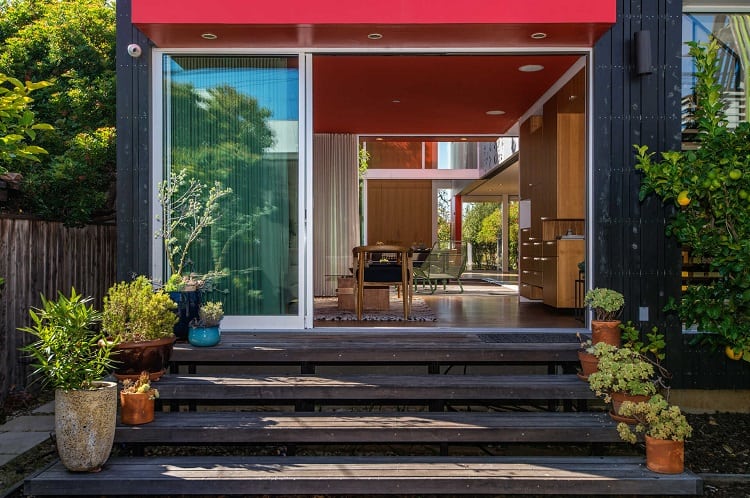 The end result is a 2,966-square-foot, three-bedroom, three-bathroom property that's so distinctive that it quickly garnered interest from the press, and landed features in architecture magazines.
It has also become known among residents, as it's easily visible to passers-by walking the streets of Venice.
More spectacular homes like this
Another unique design decision that played into that was when the owners decided to go against the trend that most homeowners have embraced in California, which is to put an emphasis on safety and privacy and build massive walls that block all visual access.
The couple wanted to share the beauty of their home with others, from a safe distance, of course.
Jonathan Ward explained his decision in a past interview with the Los Angeles Times, stating that for a long time, city residents "built big, tall fences; they walled themselves in," adding that "We feel it's important to have a porch that engages the street, engages the city, so we get the opportunity to know our neighbors."
Inside the California Poppy House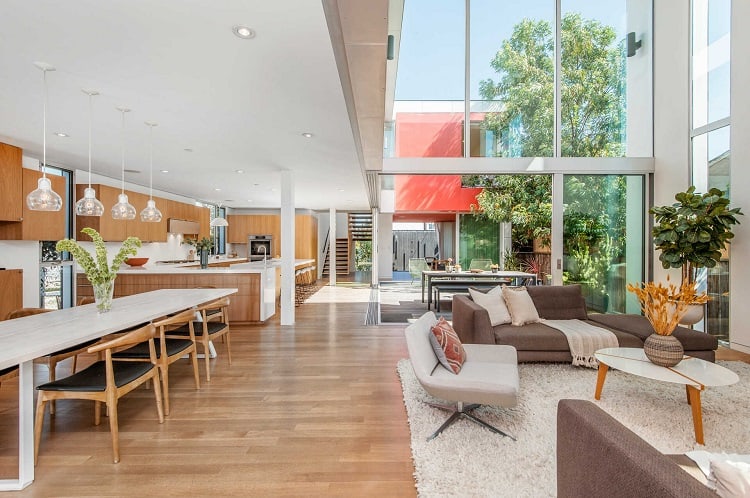 The inside of the house boasts a relaxed and inviting vibe, seamlessly blending indoor-outdoor living and showcasing a connection to nature.
The architect duo drew inspiration from courtyard homes they saw abroad to build their dream home, and the result is stunning. 
The main level features voluminous, glass-enclosed spaces with a gourmet and open kitchen, dining room, and living room, as well as a music room/third bedroom.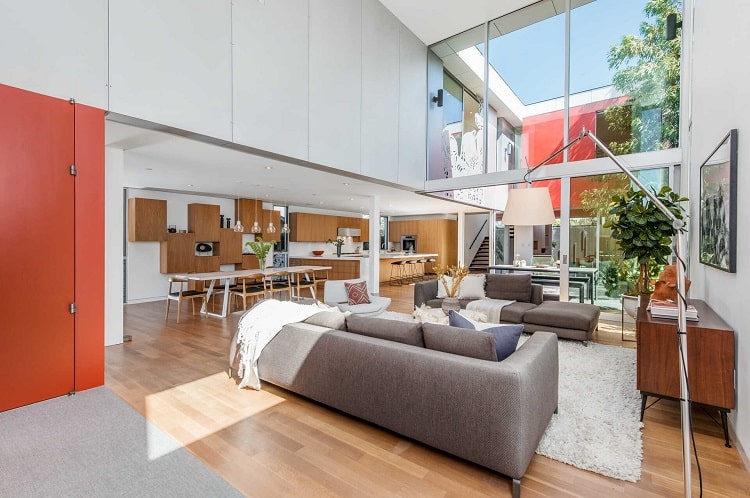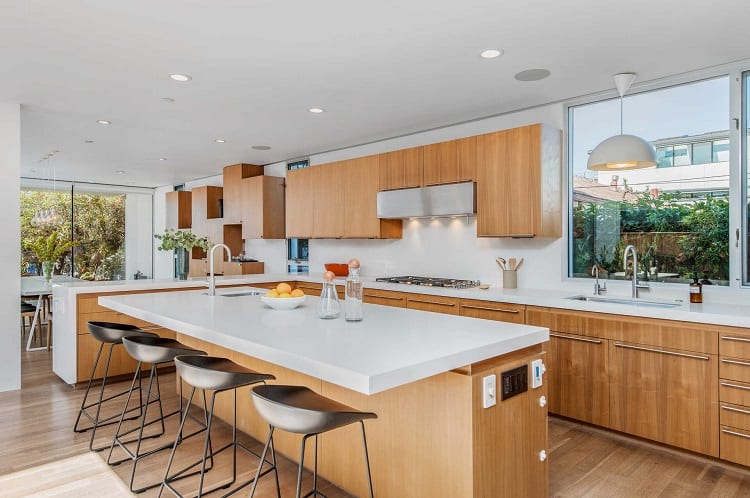 Going upstairs via the beautiful staircase that seems to float above ground, you find two bedrooms and a separate area for watching television or hanging out with guests.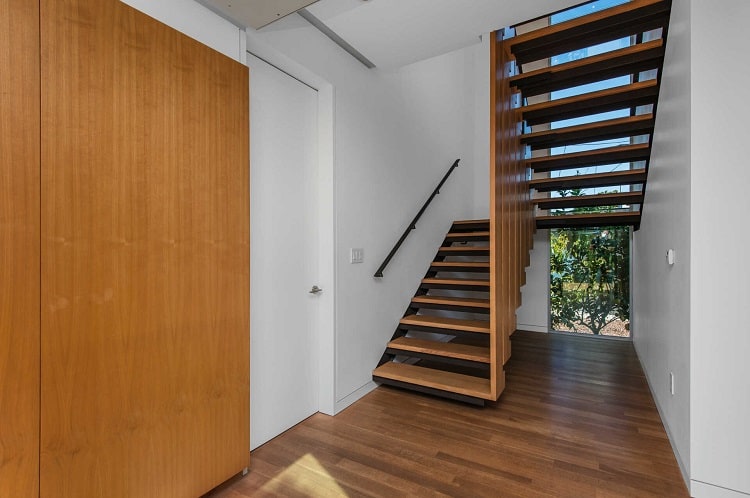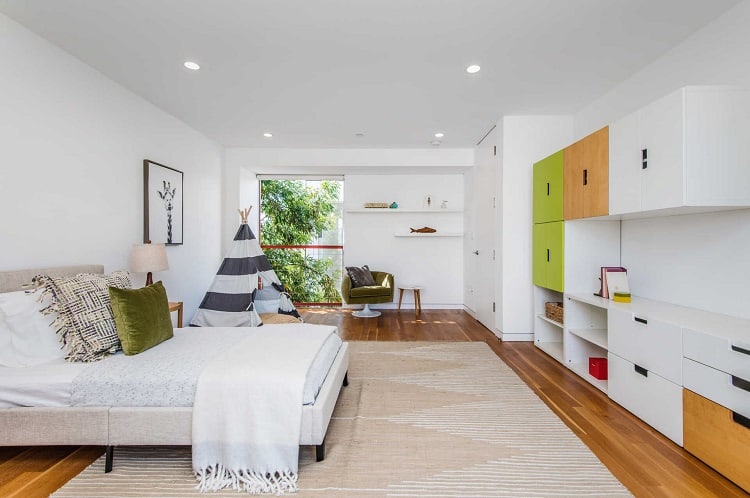 An interesting feature of the Poppy House is the lack of air conditioning. Given that the house is so close to the ocean, temperatures are cooler, and the owners decided instead to rely on cross-ventilation in each room, to allow the house to capture the breeze.
The emphasis on sustainability is also present on the roof, where the owners installed solar panels to allow net-zero energy usage. 
Outside, there are two private yards with exotic fruit trees, a two-car garage, a playhouse, and a courtyard that's perfect for entertaining friends and family.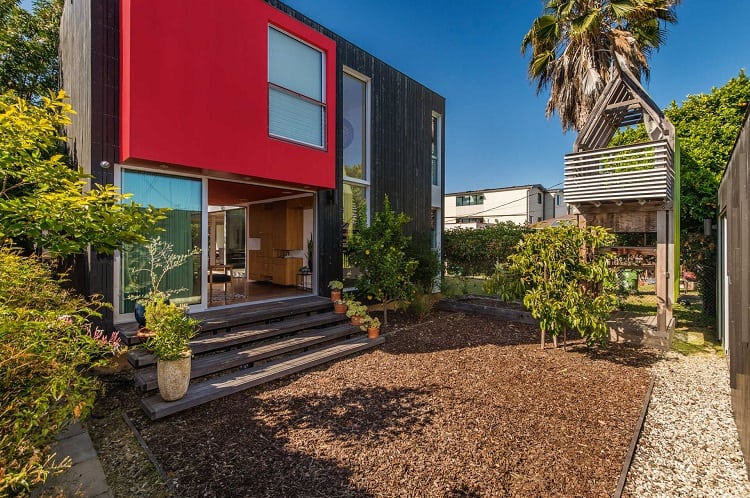 It's no wonder that the unique home turned out as fabulous as it did.
The architect couple behind it works with NBBJ, and both were involved in challenging architectural projects like Amazon's biospheres in Seattle, the University of Kentucky Rupp Arena, the Tencent/Wechat HQ, the Blackrock HQ in New York City, and Samsung's Silicon Valley office. 
More stunning homes
The Remarkable Sheats-Goldstein Residence in LA: Past, Present and Future
Lady Gaga's house in Malibu, her gipsy palace
Beverly Park, a Privacy Haven for Hollywood's Biggest Celebrities
The Encino neighborhood in L.A.