With a total of 7 seasons and 94 episodes, Grace and Frankie holds the record for the longest-running original series on Netflix. And its sharp-tongued, quirky leading ladies, coupled with a lighthearted take on the realities of aging and impeccable performances from all of its cast members made it a fan favorite.
The perfectly harmonized cast — which includes bona fide stars like Jane Fonda, Lily Tomlin, Martin Sheen, and Sam Waterston — is just one of the reasons households around the world fell in love with this series.
With a 90% score on Rotten Tomatoes (a rare achievement for a sitcom and a nod to the show's stellar cast), Grace and Frankie doesn't shy away from tackling heavy subject matter with poise and lighthearted humor.
Add to that: some quite spectacular homes to serve as a backdrop to all the heartwarming and fun moments. From Grace and Frankie's beach house to Sol and Robert's new Spanish Colonial, the homes featured on the show have been carefully picked to complement the story — and match the unique personalities of its characters.
Finding Grace and Frankie's beach house in real life
Fans of the show are no doubt familiar with the stunning beach house that Grace and Frankie moved into when their husbands announced they had been lovers for over 20 years and now wanted to divorce them so they can marry each other.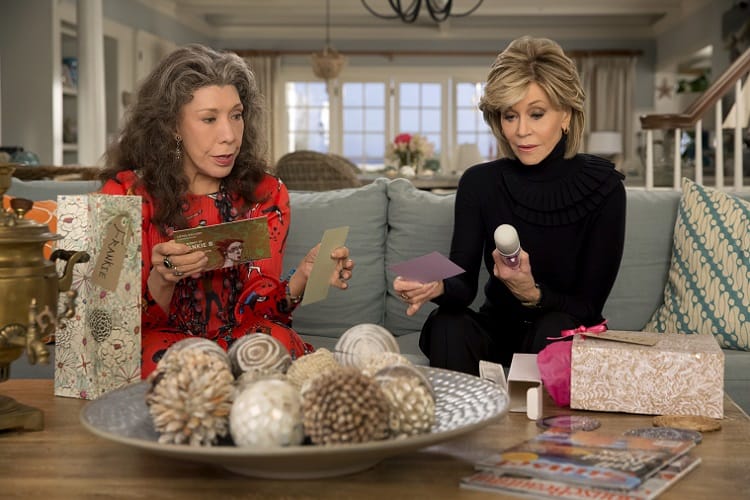 Moving into the beach house where they vacationed over the years with their families, Grace and Frankie merged their (very distinct) styles and personalities together in this flawless oceanfront home.
The show mentions that the house is located in La Jolla — a hilly, seaside neighborhood within the city of San Diego, California that's quite popular among celebrities, with stars like Alicia Keys and her producer husband Swizz Beatz calling it home — but that's not really the case.
So where is Grace and Frankie's beach house in real life? You'll find the actual house pictured onscreen in the prestigious city of Malibu, and it comes with a highly desirable Broad Beach Road address.
The Broad Beach area of Malibu is extremely popular among celebrities, so it wouldn't be at all out of touch with reality if Grace and Frankie would stumble upon A-listers during their daily walks, including Pierce Brosnan, Mel Gibson, Robert DeNiro, or Cindy Crawford, as they all live in the area.
This location can't take credit for the gorgeous interior but it does supply all exterior views including the notable Dutch-style red door that we get to see in some episodes.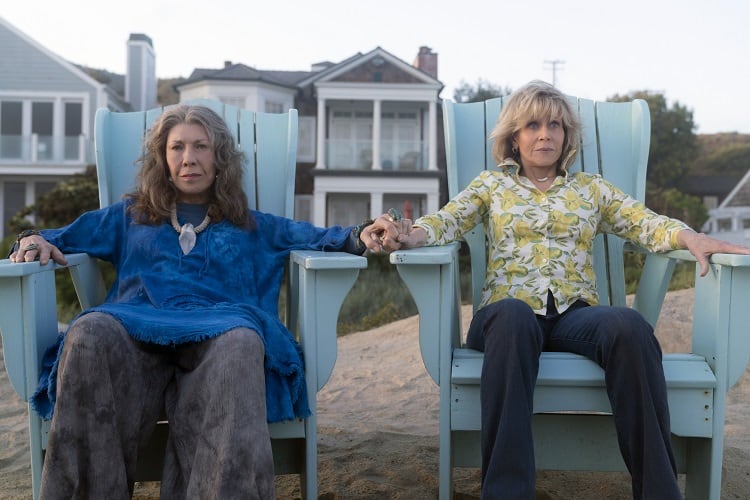 The actual home has about 4,000 square feet of living space and accommodates 4 bathrooms and 4 bedrooms between its walls, with its windows opening up to unobstructed ocean views.
It was apparently last sold in 2006 for well over $15 million, The Cinemaholic reports. Nowadays, it's valued well above $20 million.
Sadly, shots that show Grace and Frankie's house interiors were not filmed at the real-life location. While the filmmakers took inspiration from the Malibu house when recreating the interiors, most of what we see onscreen is filmed on a sound stage at Paramount Studios.
Two very different styles merge to create the beautiful interior design of the beach house
When watching the show you can see the fusion of styles however, it is obvious to fans that Grace would have had the decorating upper hand when the two couples shared the holiday house.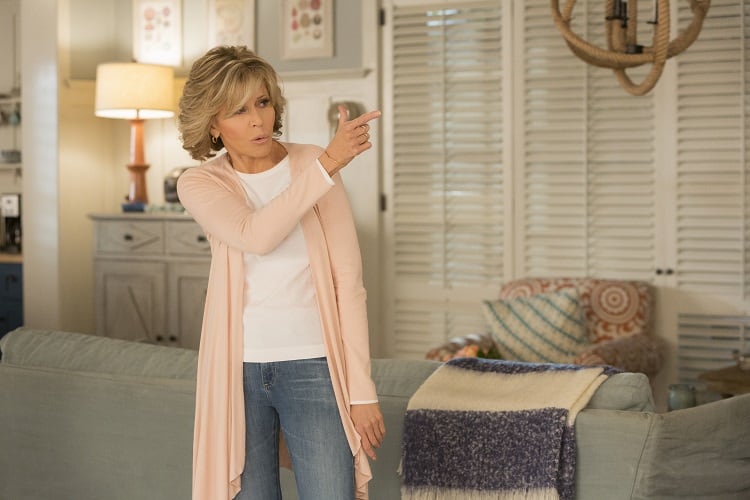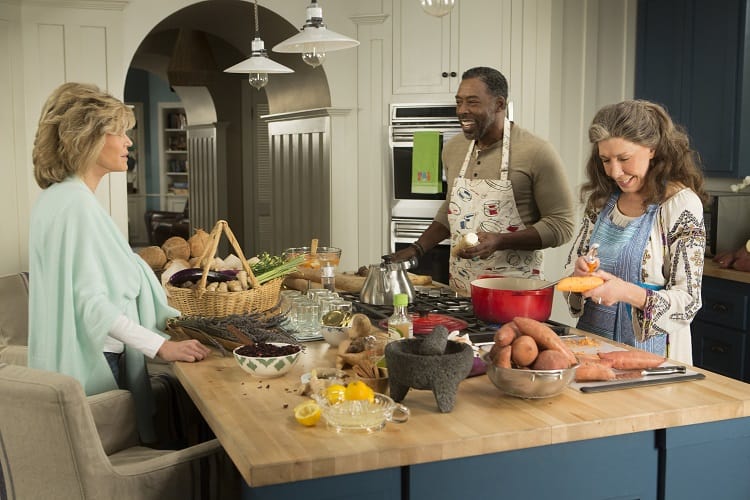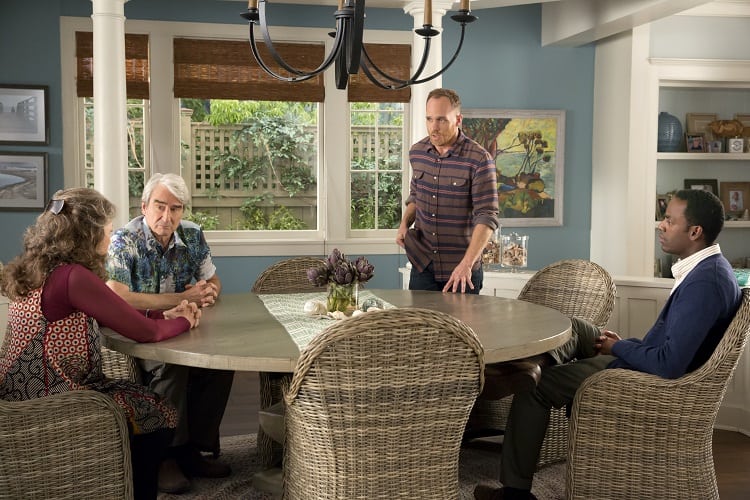 The white and neutral interior is accented by nautical-themed décor that's a staple of the coastal living aesthetic. The stunning French doors open to views of the Pacific Ocean and the perfect area to sit and chat about the dramas of dating as a senior-aged woman.
While we do see some touches of Frankie's style and taste throughout the house, it is the iconic meditation room that oozes Frankie.
SEE ALSO: The Picture-Perfect Houses of Wisteria Lane in 'Desperate Housewives'
Featuring warmer tones than the rest of the house, this room stands out and clearly, Grace would have had no say in its layout. The eclectic mismatched artifacts and boho cushions and throws make this room cozy and just the right spot to partake in Frankie-themed activities.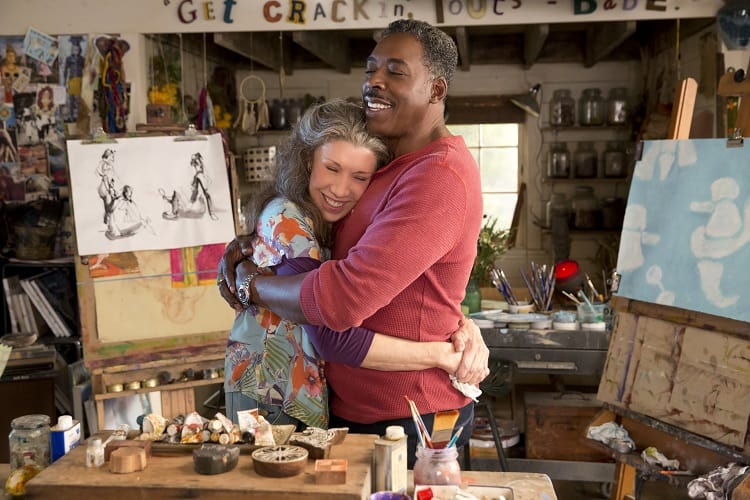 Sol and Robert's house is equally beautiful
After Sol moved into the house where Robert raised his daughters with Grace, the newly married couple wanted their own home and bought a downright gorgeous Spanish Colonial-Style house in Season 3 of the show.
Just like Grace and Frankie's beach house, Sol and Robert's home is a wonderful mix of its owners' different styles and lively personalities.
Filled with earthy warmth in a nod to Sol's bohemian influence, the couple's new home also offers glimpses of Robert's traditional style in his study and the bedroom interior. Even though Robert brought pieces with him from the family home he shared with Grace, once combined with Sol's laid-back style, they seem to take on a new life and vibe.
Also filmed in the studio, this interior set was designed BEFORE an exterior location was even sourced. It is a gorgeous nod to Southern California influence and a favorite set amongst the cast (we can totally see why!)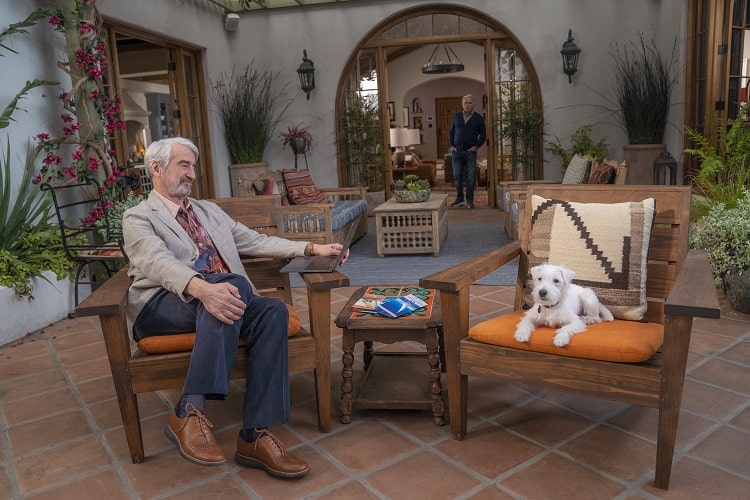 The Spanish Colonial was envisioned by production designer Devorah Herbert
According to production designer Devorah Herbert, "We decided that the house should marry two different architectural styles at the same time. Interestingly, sometimes we'll start with a house by finding a location, and then design a house to fit an actual location. In this case, we didn't have a location when we started building the house, so we designed the house first, and found the location second."
SEE ALSO: Is the 'Gilmore Girls' House Real? Lorelai And Rory's Cozy Stars Hollow Home
Talking about the design elements incorporated in the set to reflect the distinct personalities of the two characters, Devorah told Deadline that "What we decided was that we would use the bones of a traditional Spanish Colonial, which is very emblematic of Southern California; also, traditional, like Robert is. Then, we decided that the house would've been remodeled completely, almost like a metaphor for how they remodeled their own lives."
The show did such a great job at getting us hooked to the story that, at times, we really do feel and believe their houses are real and that the characters we know and love do, in fact, live there.
Credit for that rightfully goes to Emmy-nominated production designer Devorah Herbert, who rightfully earned two Emmy nominations for her work on Grace and Frankie.
And if you're feeling nostalgic and miss the beach house Grace and Frankie shared, here's a short throwback video from when our two favorite ladies first moved in together (or rather, were about to):
More iconic homes from popular TV shows
Is It Real? Charlie's Beach House in 'Two and a Half Men'
Daniel LaRusso's House on Cobra Kai: A Real-Life Tuscan-Style Villa
Netflix's 'Dead to Me' Series will Have You Day-Dreaming about Jen's Perfect House
The Watcher house is real, but it's not the one you see in the Netflix series