Your living room is more often than not the focal point of your home. Not only is it the space where you, your friends, and your family gather, but it's one of the most prominent living areas in your home — and likely the one to give a first impression of your household.
Knowing all too well how long-lasting first impressions are, you'll want your living room to look the part. And if your own personal and decorative style skew towards elegance and sophistication, you'll likely want your living room to look a little more expensive and luxurious.
Whatever the theme of your living room is, there are many ways for you to make it look luxurious — without splurging on redecorating or revamping the space. It all starts with your personality, style, and even the feel you're trying to create in your home.
To help you get things started, here are a few handy tricks to make your living room look expensive without making any major changes:
1. Decorate With a Fresh Flower Arrangement
Fresh flowers are always nice to have in a home. In addition to their undeniable beauty, having fresh flowers shows you've put a lot of thought into your home's maintenance and upkeep.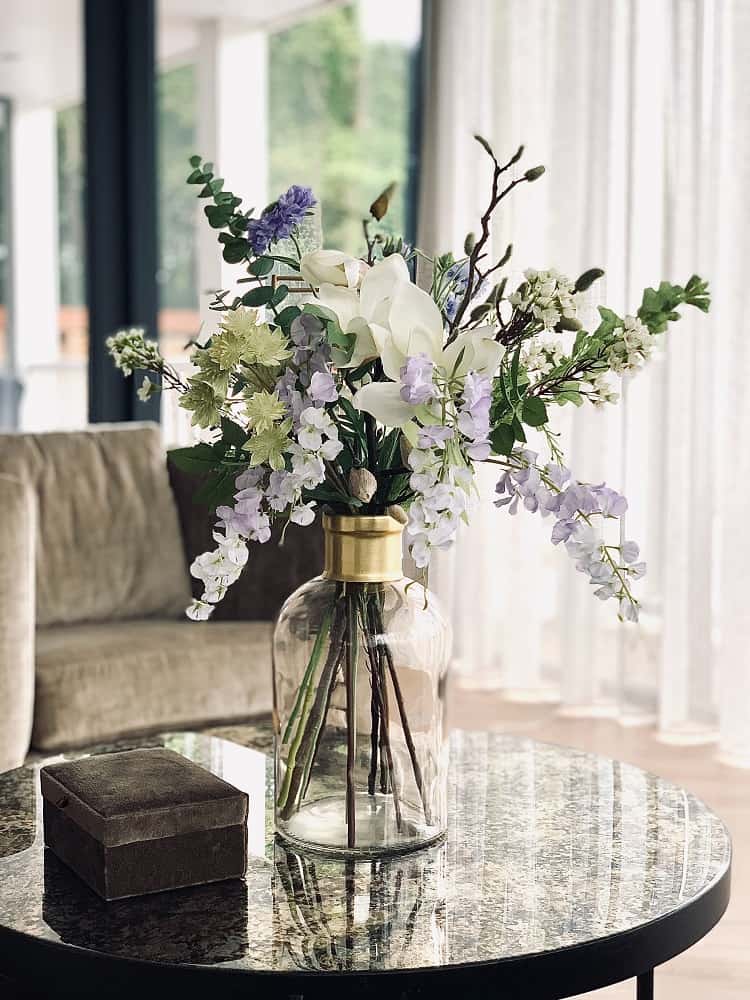 However, with this approach, you have to learn how to choose the best flower selection. Ideally, your chosen arrangements should match your living room style and color pattern (either to mimic it or complement it). Be sure you also have elegant and classy vases to put those nice flowers in.
Here are some helpful tips when it comes to decorating your living space with fresh flowers:
Place some fresh flowers in your living area's entryway or foyer. This is the very first place your guests see when they visit your home, and having fresh flowers is always a nice way to welcome them.
Focus on the substance and style of the floral arrangements. For instance, with a traditional-looking living room, you can play around with lush arrangements. On the other hand, sleek arrangements in neutral colors are great for contemporary homes and minimalist spaces.
2. Update Old Lighting Fixtures
Nothing cheapens a home more than outdated and poorly-maintained light fixtures. After all, your goal is for your living room to strike a good impression. This should extend to all details of your living room, lighting included.
Lighting is a key factor that can shape the overall feel of your home. And you'll want this feel to be expensive, luxurious, and cozy. Keep your lighting on point by taking note of the following suggestions:
Use the lighting fixture as the centerpiece in your living room, directly on top of the coffee table. Let your imagination run wild. Whether it's a modern piece or a classic chandelier, your lighting can be that one, conversational piece in your living room.
Consider it as an art piece. If you're not a fan of wall art, your lighting fixture can also serve as your art piece. It's like an illuminating sculpture in your living room, which immediately adds to the luxurious vibe you're after.
Have a floor lamp. Apart from the main ceiling lighting fixture, floor lamps are also great additions, as long as you opt for classic, elegant pieces.
3. Shape Your Living Room With a Rug
What's a living room without a rug? And because you're up for a luxurious look, think of a plush rug or carpet, much like those you see in hotel lobbies.
Rugs are more than just a design element in your living room. They add to the room's wow factor, as well as shaping the space. All your furniture pieces are going to look more put-together when they're centered by a rug.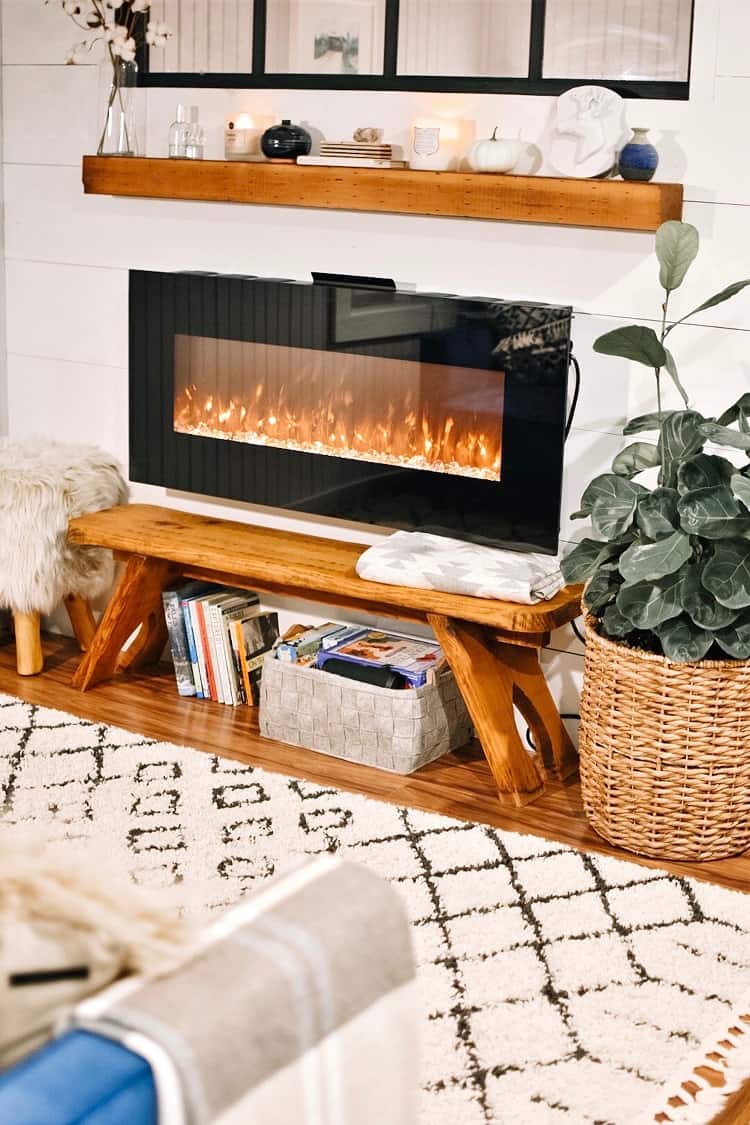 While there are so many rugs or carpets to choose from, picking the right one is crucial, so here are some tips that might come in handy:
Factor in the color palette of your space so that your rug will seamlessly blend with everything else in your living room.
Consider the size of the living room, as your rug should neither be too big or too small—the wrong size will automatically cheapen the space.
4. Hang Up a Painting
A painting done by a renowned artist is an investment piece for any home. You don't need to have a gallery. If you can just have one—of the right size and on the right wall—this is more than enough to make your living room more glamorous and give it that upscale feel.
Why is that? That's because a painting is a timeless piece in itself, and its sheer complexity adds value visually. It stands out from merely having printed photos in your living room, particularly those that hold no value.
Plus, with a painting, you also have a good conversation starter at home. Each painting has a story to tell, and you can live to tell the story behind the artist and the work that they created.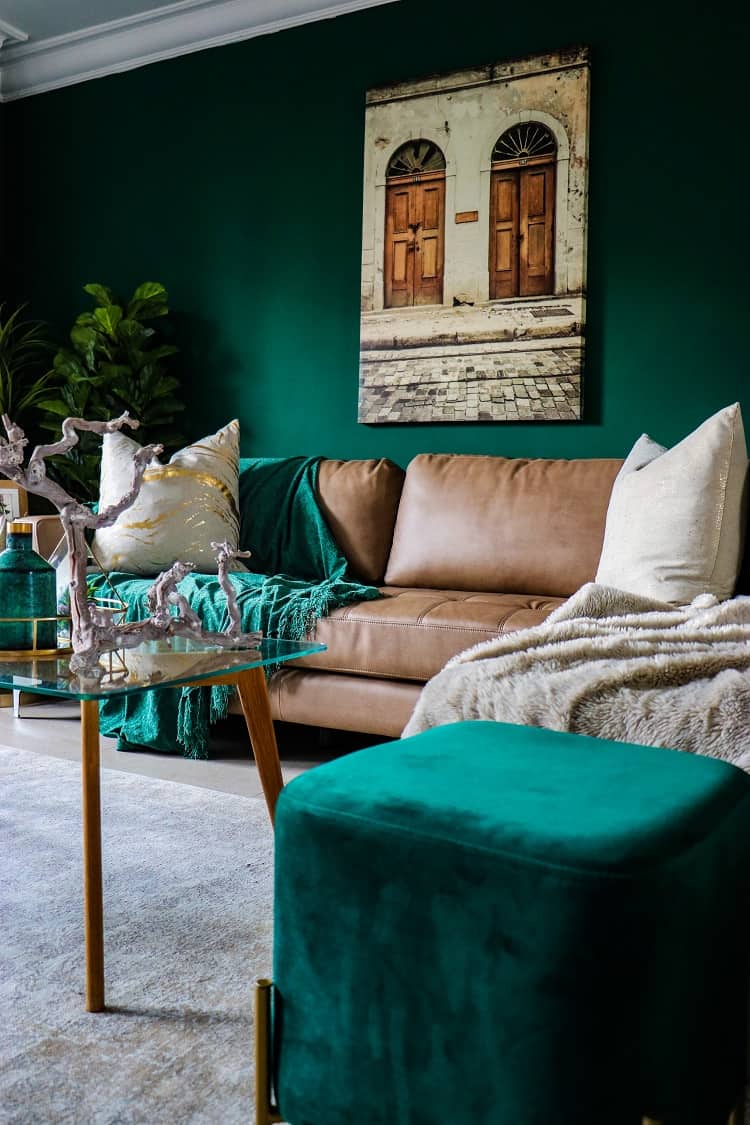 5. Use Mirrors for a Striking Effect
If investing in artwork isn't something you're interested in (or you simply don't have the budget for it), mirrors are a great replacement. Strategically placed, mirrors can truly enhance a room — both aesthetically and physically, giving the impression that the space is larger than it actually is.
To truly transform the space, create a whole wall of mirrors that faces the most flattering part of your living room — doubling the eye-catching part and adding a nice symmetry to the space. You'd be surprised how striking the overall effect is.
6. Add Shiny Metals to Your Décor
Similarly to the way fresh flowers can liven up a space, metallic accents can add an extra note of elegance and class. Copper has been a very popular choice in recent years, but based on your existing décor, silver or gold accents can work very well too (and, at the end of the day, you will want your living room to reflect your personality and style, so it's definitely a matter of personal preference).
Pick larger objects, like a nice vase, big luxury candles wrapped in metallic elements, photo frames, decorative pieces, or sets of storage containers with a nice design. Streaks of gold or silver can also look fabulous on your fabrics (think curtains or pillows).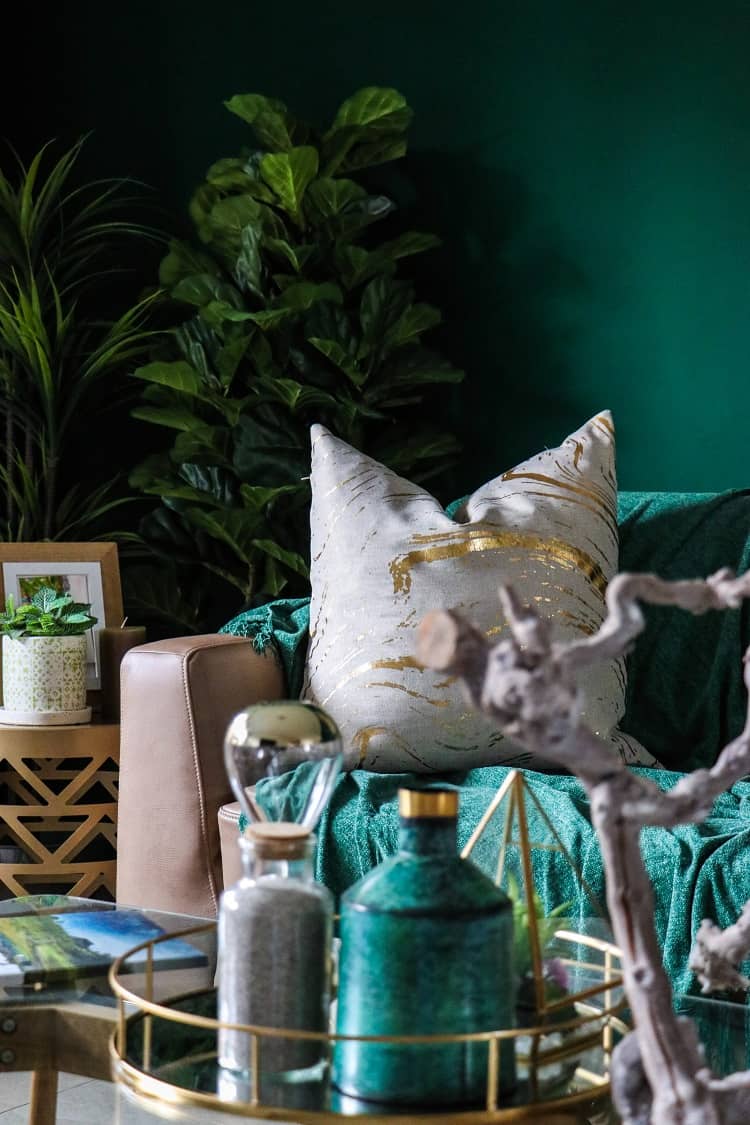 End notes
The living room is rightfully named, as it breathes life into the home, and welcomes you, your family, and any and all guests that you entertain. It's a place for gatherings, for spending quality moments together, a room for fun, and laughter, and joy. It's also the space in your home where you can play around most with design elements, something that's harder to do in the kitchen and dining areas where functionality reigns supreme.
So don't hesitate to go a little more bold with your décor for this special room of the house. There are so many nifty tricks you can turn to and add an extra note of luxury to your living room, make sure you give them a try before you embark on any redecoration or costly furniture replacement. Sometimes, all it takes is one or two design elements to bring a room together.
Featured image credit: Photo by Greg Rivers on Unsplash
Keep reading
Why Hire a Professional Interior Designer? Here are 6 Top Reasons
How to Add a Touch of Luxury to Your Home without a Costly Renovation
How to Turn a Finished Attic Into a Nice Living Space
How to Keep Your House Plants Alive: 6 Top Tips