The autumn season is finally upon us, and there's no better way to embrace the fall spirit than to go down the spooky path.
There's nothing like it, really; once that crisp morning air hits, it's like everything comes back to life, and all we want to do as the day grows shorter is to curl under a fluffy blanket and watch scary movies.
As Halloween (arguably the most fun event of the year) approaches, we thought we'd help you get into the spirit with a round-up of 5 homes for sale that give off spooky vibes.
If you're looking for a new place and are a fan of horror movies or unique homes with dark exteriors, then look no further, we've got some great options for you.
76 North Broadway | Irvington, NY | $1,150,000
The original owner of this stunning, castle-like home in Irvington was a very unlucky chap, apparently. Legend goes that the pitchfork he was holding on to while admiring his charming house was struck by lightning, instantly killing him.
Legend also goes that his spirit still haunts the grounds to this day, probably still in awe of the beauty of the property.
The 13,052-square-foot home known as Strawberry Hill Manor was built back in 1850 in a Gothic Revival style, which gives it an old-timey spooky charm.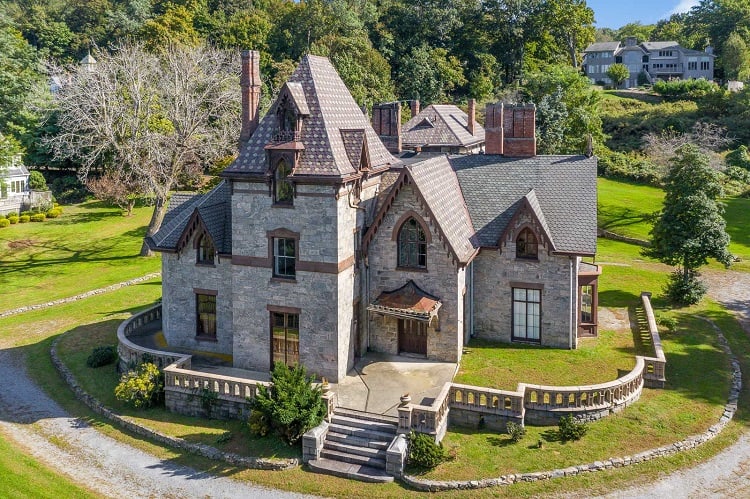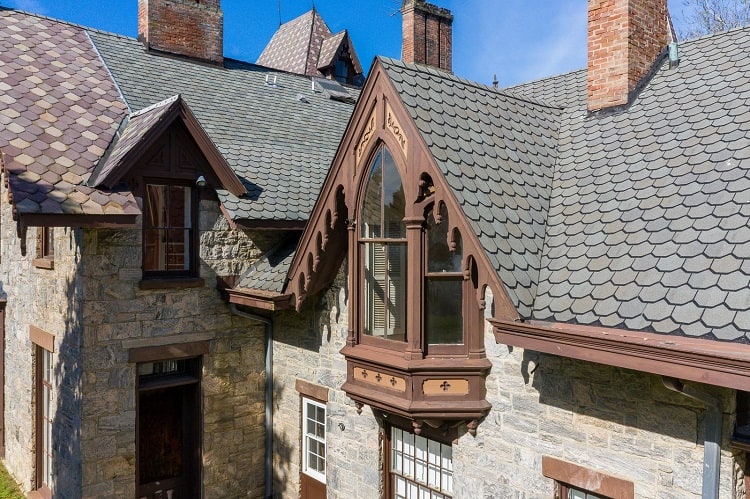 Located at 76 North Broadway in Irvington, the home offers 14 bedrooms and 7 bathrooms, and it's being marketed by Theresa Ferrero and Carl Ed Hardesty of Compass.
It's asking $1.15 million and it's being sold 'as is,' yet it still retains many of its original features, including pocket doors, decorative moldings, inlaid floors, wood-paneled doors, and fireplaces with marble mantles.
The home also presents a remarkable opportunity for restoration/renovation to its original castle-like grandeur. Some rooms feature crumbling interiors in need of a makeover, so this would be the perfect chance for the new owner to tweak the property to their own taste.
The home also boasts a full attic and a full basement, which you might want to avoid if you don't want to run into the original owner's ghost.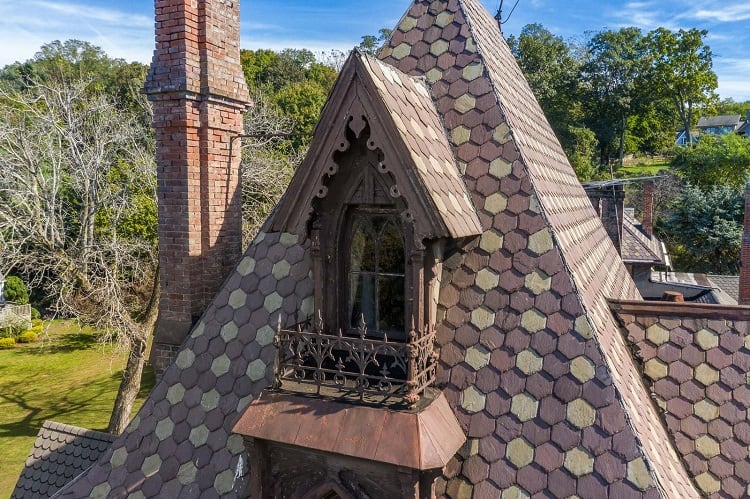 176 Deforest Road | Montauk, NY | $33,950,000
The historic Montauk home known as Tick Hall has a dark and sad past that it's been able to overcome thanks to its owners and the love they shared for their home.
Located at 176 Deforest Road, the 7,000-square-foot home was built in the late 1800s as part of a group of Shingle-style homes dubbed the 'Seven Sisters.'
Tick Hall was constructed to serve as a private summer retreat for real estate developer Arthur Benson and his friends, and later ended up in the hands of talk show host Dick Cavett and his wife, actress Carrie Nye.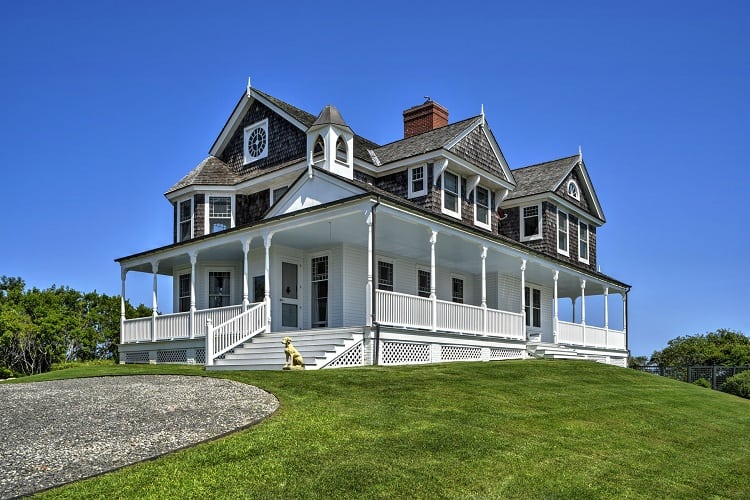 The couple lived in the home for 30 years, and were devastated when the house burned down in a 1997 fire, leaving only the chimney standing.
They were determined to rebuild the home they were so fond of, and chronicled that three-year effort in a documentary dubbed From the Ashes: The Life and Times of Tick Hall.
Cavett and Nye used old photographs and records to reconstruct the original house down to the most minute details.
The home currently features 6 bedrooms and 4 bathrooms on 20 private acres of unparalleled oceanfront. It's being marketed for sale by Greg and Ryan Burns of Compass, with an asking price of $33.9 million.
Tick Hall would make the perfect retreat for someone who is looking for privacy, seclusion, magnificent ocean views, and who's not afraid of isolation and dark autumn nights with nothing to see but the ocean.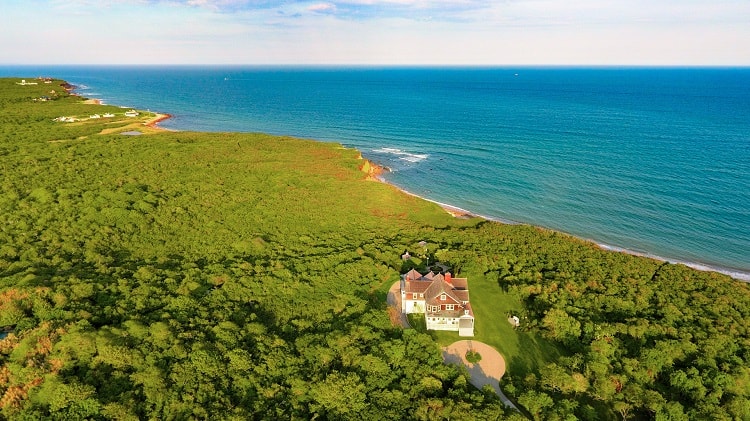 The home sits on a bluff bordered by protected reserves, so every room offers views of the ocean and the private coastline.
It also boasts various modern amenities, including central AC, an attached garage, hardwood floors, outdoor showers, a library, and office and media room, swimming pool, and a finished basement.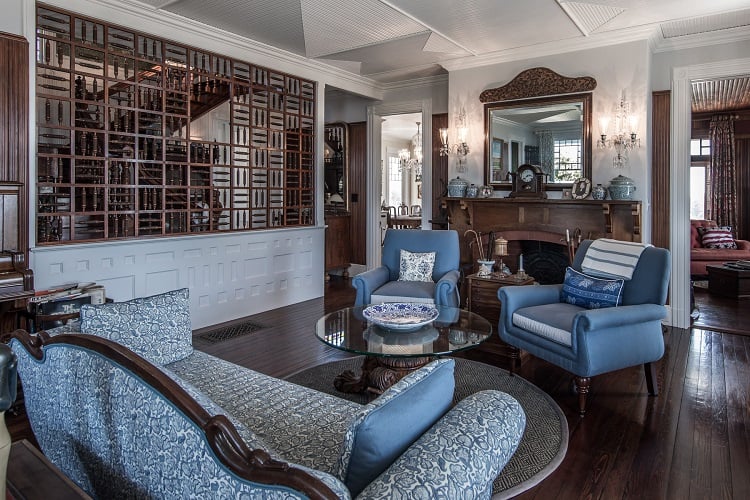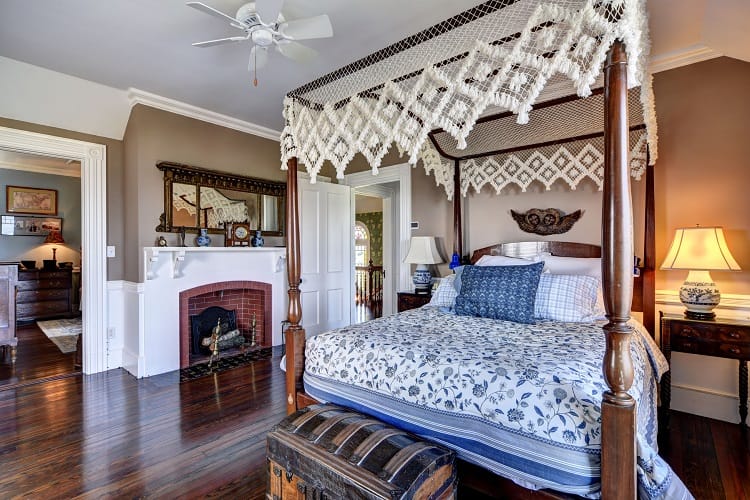 294 Hawthorne Avenue | Haddonfield, NJ | $684,000
This is a home for the true horror movie connoisseur, even if the house itself doesn't have a dark past or a bunch of ghosts lurking around (that we know of).
The 4-bedroom home is located in Haddonfield, New Jersey, which, if you've seen Halloween, you'll know is the inspiration for Haddonfield, Illinois — the setting of the iconic movie series.
Apparently, Debra Hill, the wife of Halloween director John Carpenter, was born in Haddonfield and wanted the movies to be set in her hometown.
However, she thought it might not be a good idea to bring that kind of publicity to her small town, so she created the fictional town of Haddonfield, Illinois, which looks exactly like its real-life counterpart, down to specific streets.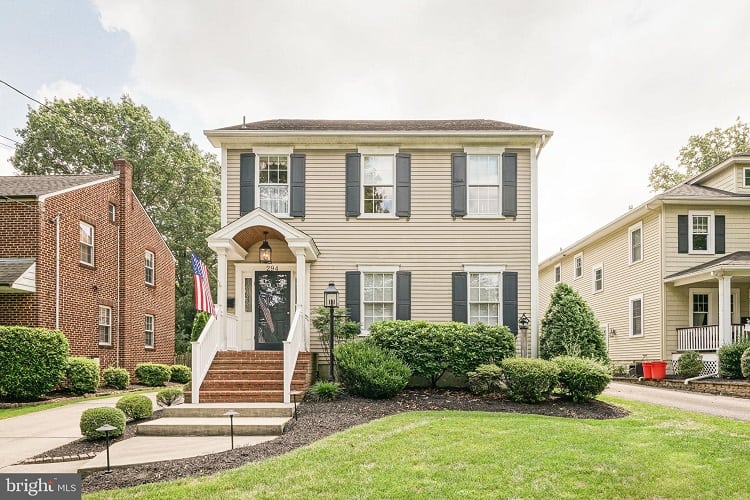 This Haddonfield home is located at 294 Hawthorne Avenue and is being marketed for sale by Michala Costello and Lori Cooper of Compass, with an asking price of $684,000.
According to the listing page, the property is already under contract, so a new owner may already be holding the keys to the home come this Halloween.
The home features 3,198 square feet, 4 bedrooms and 2 bathrooms, and was designed in a classic Colonial style. It boasts a plethora of amenities, including hardwood floors, a family room/kitchen for entertaining, an optional 5th bedroom on the third floor, and a basement that serves as a great man (or woman) cave, featuring a bar, a wine fridge, a wet bat, media equipment and a half-bath.
The 1999-built home also boasts several security features, like NEST interior and exterior cameras, an electric fence, and hard-wired security systems. These come in handy if you're scared of Michael Myers lurking around town at night.
2407 Boulder Road Southeast | Atlanta, GA | $300,000
This next home on our list is ideal for someone who likes the fall season in all of its spookiness, but isn't really drawn to living in a house with a creepy past in a spooky town.
Located at 2407 Boulder Road Southeast in Atlanta, this 1,620-square-foot home certainly looks the part, being clad in a fresh coat of black paint that will certainly increase its creepiness factor at night.
It's set on a quiet, dead-end street and features 3 bedrooms and 2 bathrooms, along with hardwood floors, a new roof, new lighting systems, new landscaping, and updated kitchen appliances.
It also boasts an expansive backyard and a huge front porch with newly installed outdoor fans, so you can sit and greet your trick-or-treaters on Halloween.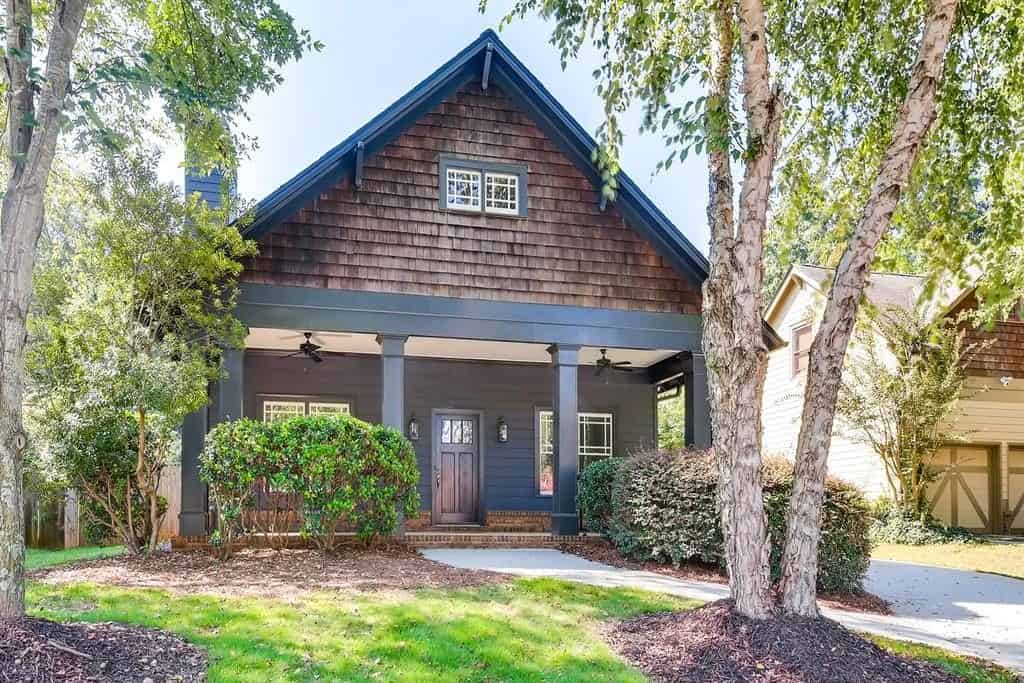 The 2007-built home is being marketed for sale by Robin Fink of Compass, with an asking price of $300,000.
Its location is also excellent, being just minutes away from East Atlanta and Grant Park/Beltline. And with such attractive exteriors, great location, and an unbeatable price, it's no wonder the property is already under contract, with a sale likely to finalize soon.
65 Irving Place | Manhattan, NY | $21,500,000
The last home on our list is one that blends the spook factor with timeless style and high-end fashion, as the seller is an LLC associated with Hedi Slimane, creative director at Celine and former creative director for Yves Saint Laurent.
Located at 65 Irving Place in Gramercy Park, Manhattan, the 2-bedroom, 3-bathroom home features 8,573 square feet of living space within a really menacing-looking townhome clad in dark paint.
It's giving off a strange H.H. Holmes vibe if you ask us, however, it's a vibe that dissipates when you step inside the house. The interior, while really minimal and stern, exudes timeless elegance and classic simplicity, fit for the creative mind behind YSL and Celine.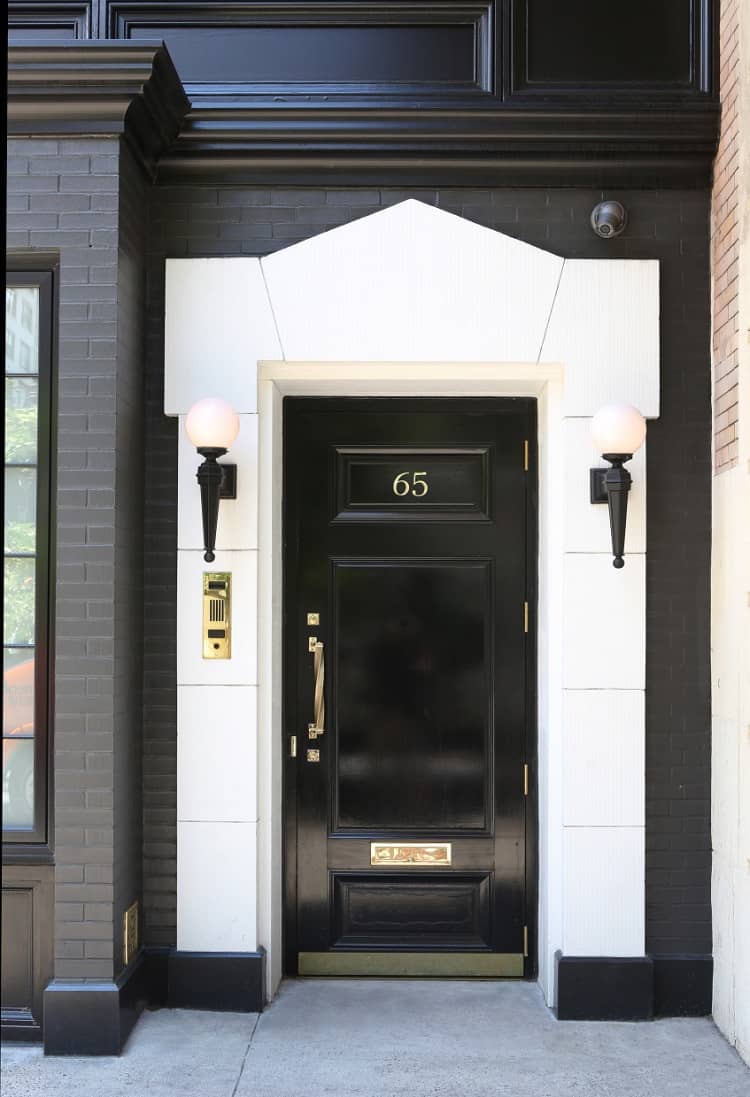 The home was built in 1846 on a coveted corner in one of the most historic and charming blocks in Gramercy, and was recently renovated.
It features 5 floors of living space that culminate in a 6th-floor, full roof deck with exquisite views of Manhattan.
Touches include imported Hungarian reclaimed oak flooring, custom-designed kitchen and bathrooms, a superb master bath with a separate sauna and steam shower, and grand living and entertainment spaces.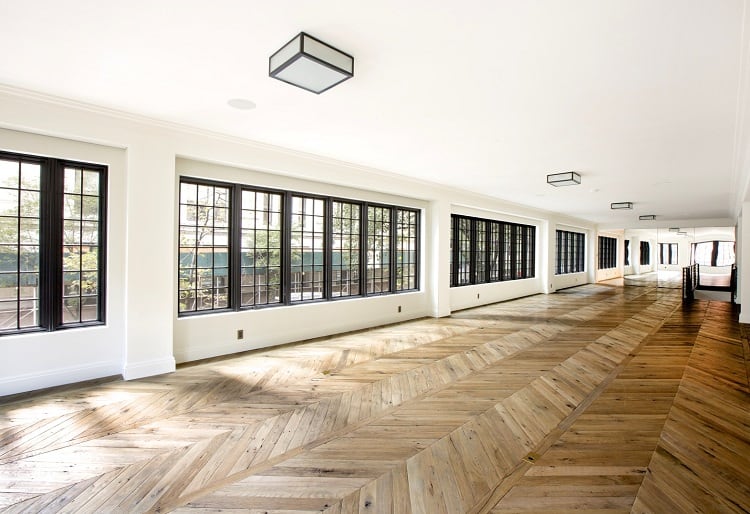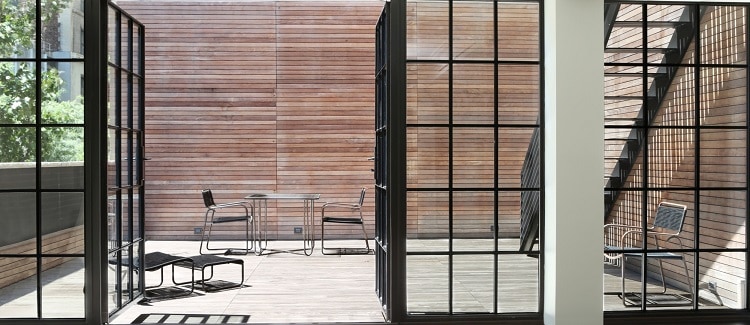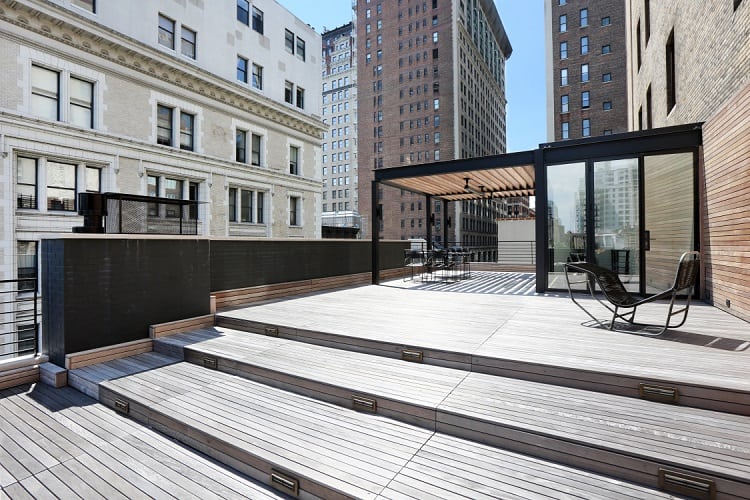 The home features 3 generous decks with private outdoor space, as well as 2 separate entrances with voice intercom.
Other features include central AC, private storage, a home office, a media room, a chef's kitchen, a working fireplace, an art studio, expensive closet, a music room, a full basement, and video security, among many others.
The gorgeous, yet-scary-looking townhouse in Gramercy is being marketed for sale by Camille McKinley of Compass, with an asking price of $21.5 million. If you're both a spooky-season buff and a fashion addict, then this home might be perfect for you.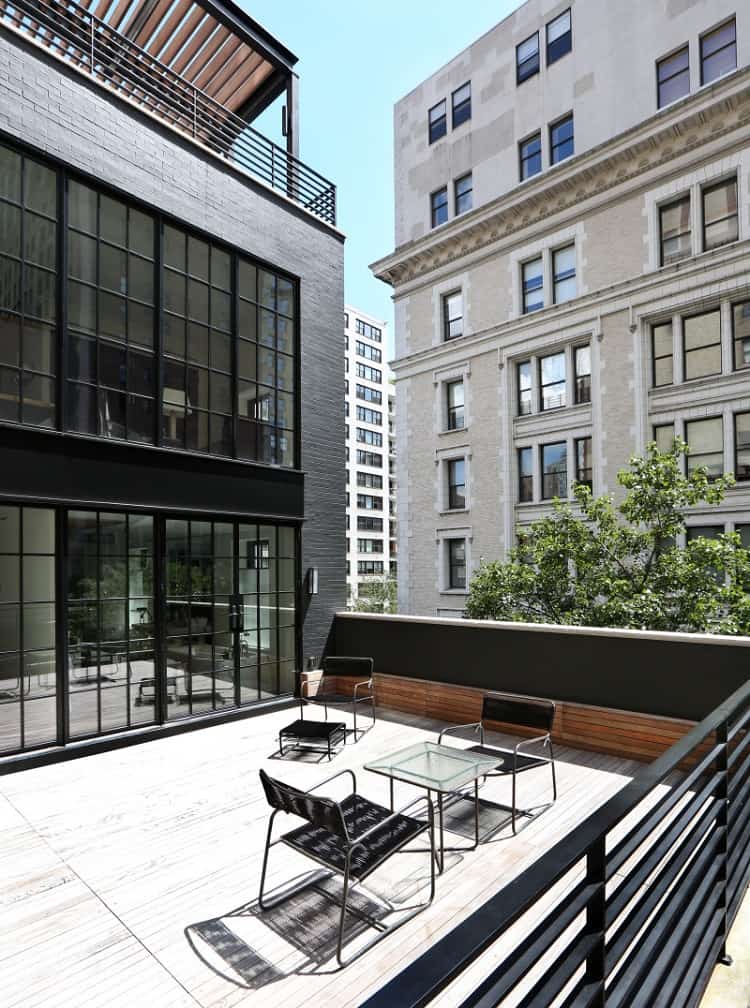 More unique homes
Westchester's Iconic Skinny House Has Way More Heart and Charm than its Humble $275K Asking Price
The Conjuring House Sells for Over $1.5 Million Despite its Sordid History
John Wick's House is Real & Just as Mysterious as Our Favorite Badass Character
The Mysterious Allure of Stephen King's House, the Beating Heart of Bangor, Maine