From a young age, Ariana Grande was already destined for stardom.
The petite girl with a big voice would conquer the world of pop and amass millions of followers. As she climbed her way to success and grew her net worth to $220 million, Ari also expanded her real estate portfolio.
The musician has collected a number of beautiful properties on both the East and West Coast. And as we try to pin down where Ariana Grande lives now, we take a look at all the impressive homes she has called home over the years.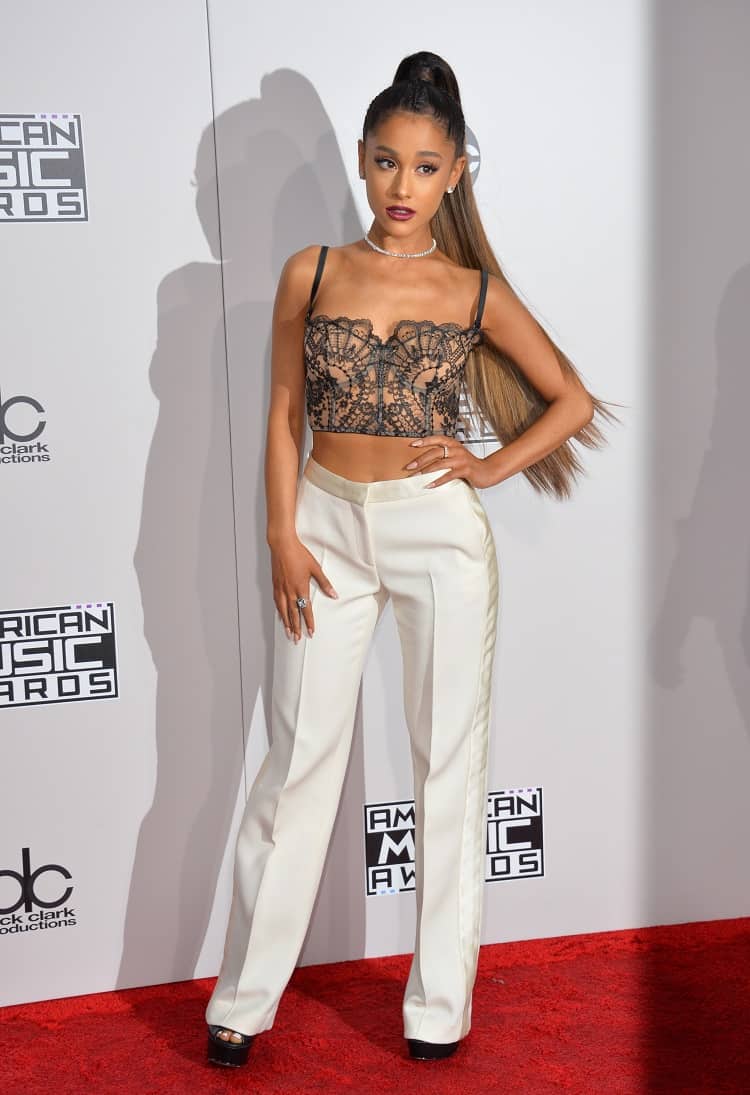 Ariana Grande's childhood homes
Born in Boca Raton, Florida, Ariana Grande had a comfortable life growing up.
Her first childhood home in Vintage Estate was purchased for $714,200 by her parents before the singer was born. She lived there until she was six years old when the family moved to a larger waterfront property.
Also set in Boca Raton, FL — a city on Florida's southeastern coast, known for its affluent and wealthy lifestyle — the 7,590-square-foot home featured five bedrooms, seven bedrooms, a home theater, a music studio, and a pool and spa area.
Grande lived here for four years before moving to New York to pursue her singing career.
The singer rented in Los Angeles for years before buying her first house
After her stint on Broadway, the singer eventually moved to LA, as she was cast in Nickelodeon's Victorious. Ariana, along with her mom, lived in luxurious rental properties in the 2010s.
They rented a French manor located in Toluca Lake, LA. The 10,000-square-foot mansion boasted high, coffered ceilings, hand-carved mantels, wood and stone floors, and seven fireplaces.
Another noteworthy rental property the Grandes lived in is a six-bedroom Tudor-style home that once belonged to famed director Francis Ford Coppola.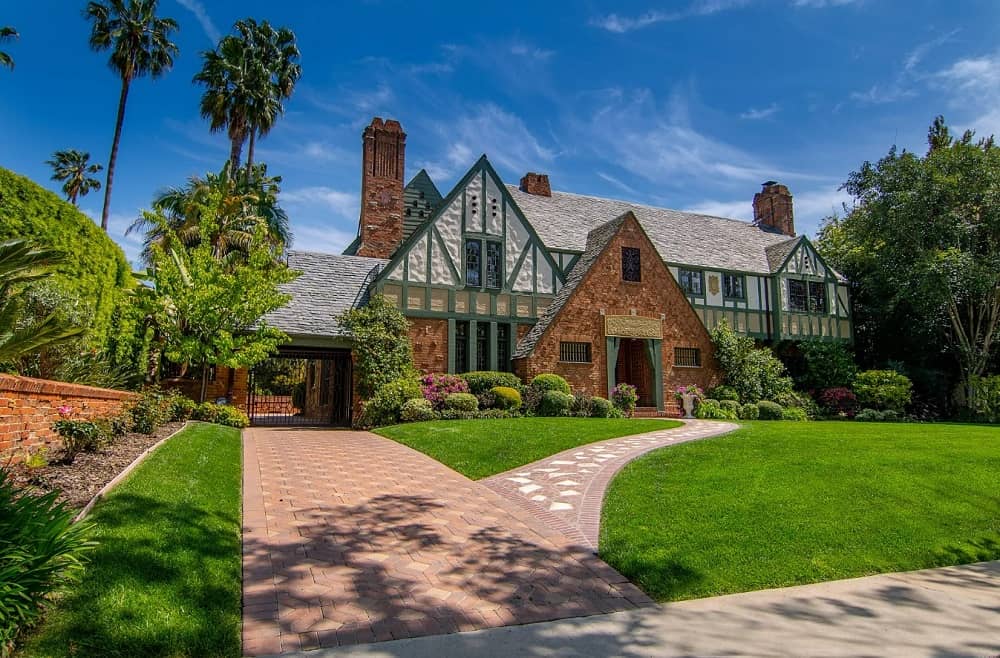 The stunning house measured 6,041 square feet and featured a gourmet kitchen, a sunroom, a formal dining room, and a pool area. Grande also added a recording studio inside the house. According to reports, this property had an estimated $18,900/month rent price back in 2012.
Next, Ariana also rented a Mediterranean-style mansion, which is reported to be in the rental market for $40,000 per month. The 6,000-square-foot gated property is tucked in Benedict Canyon, a secluded part of LA. The lavish villa has five bedrooms and features marble interiors, a huge kitchen area, and gorgeous views of the canyon.
Ariana Grande's houses, from Hollywood Hills to the Big Apple
With a beautiful voice, incredible scene presence, and an army of loyal fans, it didn't take long for Ariana Grande to become one of the highest-paid and most-popular celebrities on the planet.
Her net worth followed suit, and the singer has an impressive net worth estimated to be around $240 million. Naturally, she took part of her hard-earned money and invested them in real estate, making a series of savvy investments over the years.
And while some of the properties she bought (and later sold) were masked under an LLC — which is often the case when it comes to celebrity real estate — we've managed to track down most of Ariana Grande's houses.
So let's take a look at all the beautiful houses the award-winning singer has lived in over the years.
SEE ALSO: Pete Davidson Lives in a Posh $1.2 Million Waterfront Condo
Though it's worth noting that Ariana's husband, Dalton Gomez, is a skilled real estate agent working for one of the most prolific luxury brokerages in California — the Aaron Kirman Group — which makes it very likely that he'll be advising her moving forward. It wouldn't be at all surprising to see Ariana Grande and Dalton Gomez becoming the next Ellen Degeneres and Portia DeRossi, the biggest power couple right now when it comes to flipping luxury properties to extraordinary gains.
$16 Million Chelsea apartment
It wasn't until 2018, when Grande had her whirlwind romance with Pete Davidson, that she decided to buy her own place.
She bought a fancy apartment in Chelsea, Manhattan. Known for being the arts district, the area is a popular nesting place among other celebrities including Katie Holmes, Nicole Kidman, Cameron Diaz, and Kate Winslet.
Ari shelled out $16 million for the Chelsea apartment — her first real estate investment.
The unit measures 4,000 square feet, with five bedrooms and four and a half bathrooms. The pop star made sure her new abode was set up with top-tier amenities. It was equipped with a sauna, a private spa, a pool, and the building also had an IMAX theater.
Ariana Grande later sold her apartment at 520 West 28th Street, which bears the signature of the late "Queen of the Curve", architect Zaha Hadid.
$13.7 Million Hollywood Hills mansion
By 2020, Ariana continued to expand her real estate portfolio and started buying more properties on the West Coast.
Grande purchased a three-story property in Hollywood Hills — set on one of the famed Bird Streets — for $13.7 million. The mansion has 10,000 square feet of space and featured a modern minimalist aesthetic.
Ariana Grande has purchased a $13.7 million home in the Hollywood Hills https://t.co/SavM8kDItZ pic.twitter.com/nnQUs5QlBU

— Rap-Up (@RapUp) June 11, 2020
Ariana's Bird Streets house had four bedrooms, seven bathrooms, and a whole host of amenities including a fitness studio, a wellness center, an infinity-edge swimming pool, and a 300-bottle wine cellar. Among the highlights of the hillside property is its panoramic view of the canyon and ocean.
While the property is stunning, Grande didn't stay here for a long time and sold it in 2021 for $14 million.
$9.1 Million Tudor-Style Montecito home
Continuing her real estate shopping spree, Ariana also bought a home in Montecito, which was once owned by Ellen de Generes and Portia de Rossi. The Tudor-style home is where the singer tied the knot with then-boyfriend Dalton Gomez.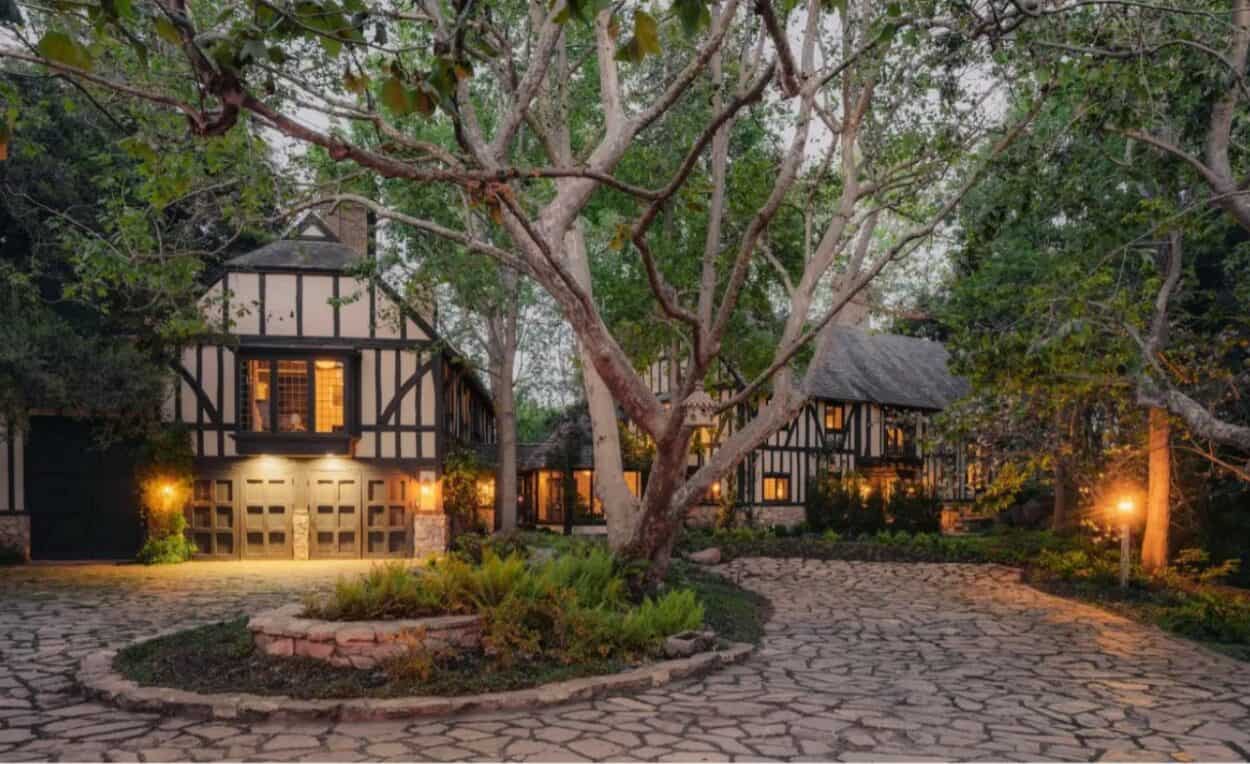 This special property — and our personal favorite Ariana Grande house — features a one-of-a-kind design and stunning interiors, with wood beam ceilings, antique casement windows, and brick fireplaces.
Previously known as the Porter House, the home consists of two separate barns built in Surrey, England in the 1700s. The barns were dismantled, moved to California, and reconstructed into one home. The house has 5,500 square feet, with two bedrooms, two upgraded kitchens, two full, and two half bathrooms.
Unfortunately, it wasn't hers for keeps. Ariana Grande sold the house in late September 2022, cashing in $9.1 million for the property she bought just two years prior for $6.8 million.
$8.9 Million Bird Streets cottage
The Thank U, Next singer developed a taste for distinctive homes and added a charming cottage located on one of the sought-after Bird Streets in Los Angeles to her list of properties.
And while we don't know this with certainty, we believe this is the house where Ariana Grande lives with her husband Dalton Gomez (particularly since she sold every other home on our list, with the exception of her latest purchase, a $4.9 million house she bought from Cameron Diaz).
Acquired in 2021, the house has 1,590 square feet of living space and is sitting on a 0.74-acre hillside plot that overlooks the Sunset Strip and West Hollywood. Initially thought to be a modest cottage, with some media outlets even calling it a "teardown", it would seem that the property has been heavily updated over the years.
While it is modest in size compared to other mansions she's owned over the years, Ariana Grande's house is still a stunning abode with an $8.9 million price tag. According to Dirt, the property is invisible from the public roads. It is hidden behind tall trees and hedges, affording the Billboard-topper the privacy she needs.
$4.9 Million Hollywood Hills Mid-Century house
Her latest acquisition in 2022 is a mid-century house in Hollywood Hills that was previously owned by Cameron Diaz and Benji Madden.
CELEBRITY REAL ESTATE: Ariana Grande Buys Cameron Diaz's Spare House in the Hills https://t.co/LjnHirlxsM #REALESTATE #realtor #realtors #realtorlife #losangeles #hollywood #hollywoodhills #sold #ArianaGrande

— Pete Buonocore (@PeteBuonocore) June 13, 2022
Except for the fact that Ari bought it for $4.9 million, we don't know a lot of details about this property because it was never on the market.
According to reports, it was originally built in 1950 and measures about 1,800 square feet. It is located at the end of a small cul-de-sac and protected by big gates and towering hedges.
Grande's interest in real estate doesn't seem to be slowing down any time soon. The pop star's net worth continues to grow with her new projects and successful beauty brand.
With a real estate agent hubby by her side, we're foreseeing more stunning properties will be added to her real estate portfolio in the near future.
More stories you might like
The Weeknd's house in Bel Air, a striking $70 million mansion
Scooter Braun's houses are worth well over $100 million
Selena Gomez's house has a star-studded, dark past
Zendaya's house is Fit for a Disney Princess